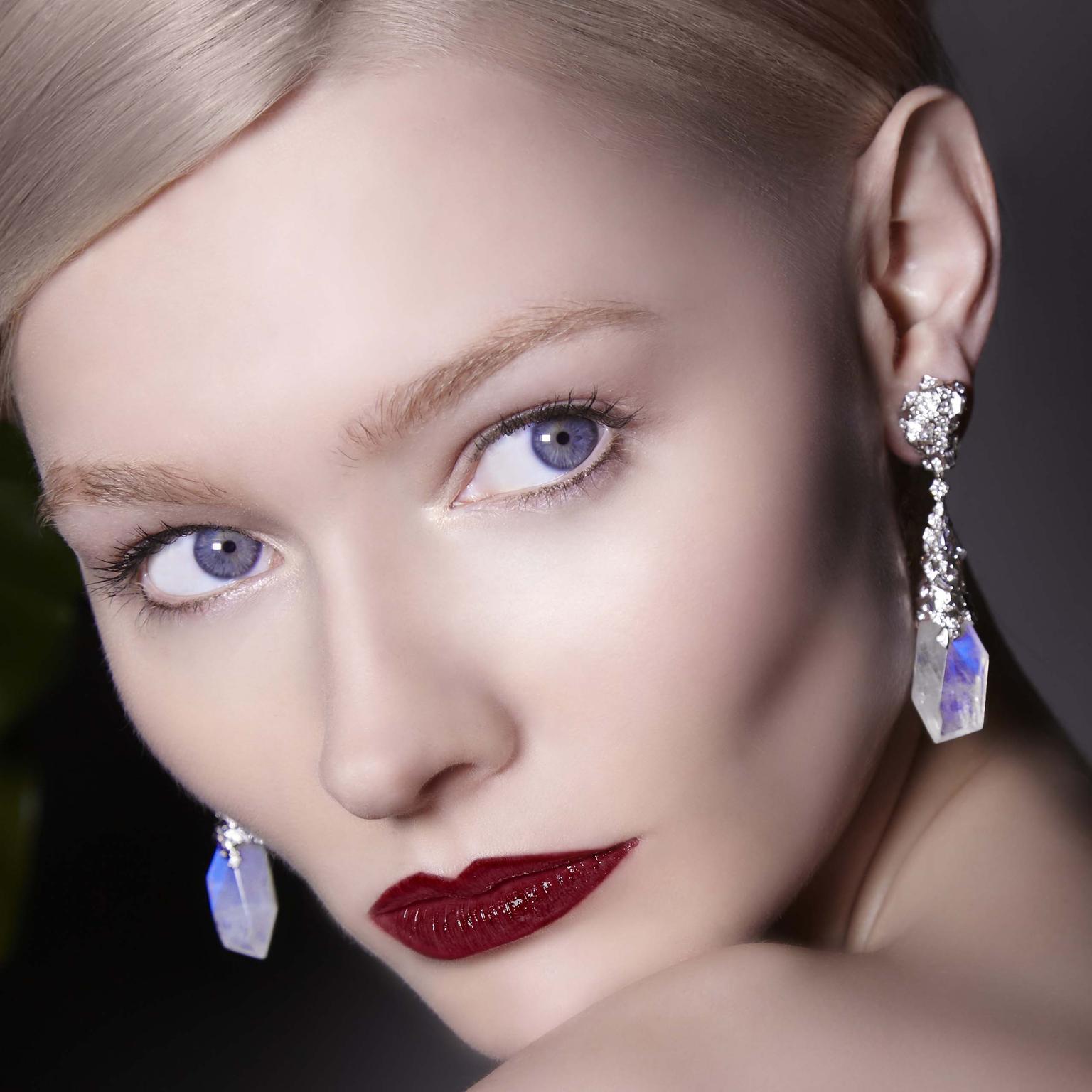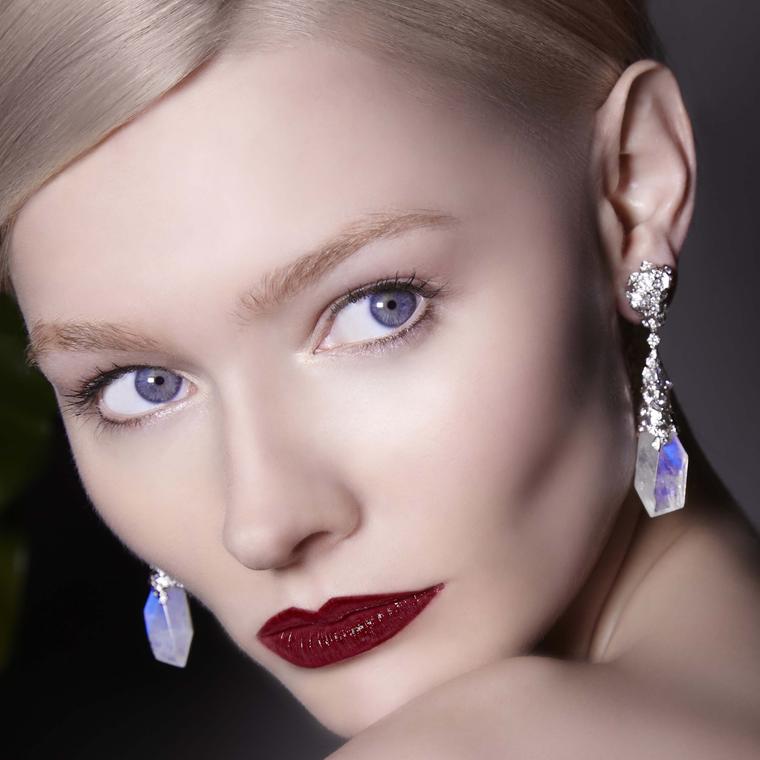 Capturing organic forms with a surreal touch, Dani's jewels are inspired by Nature from majestic glaciers to cresting waves or further afield in the cosmos.  Writhing, rippling and blooming Neha Dani's jewels are often painted with vibrant colour rhodium finishes for a richly ornate yet futuristic look.
Since formerly launching her brand in 2014, Dani has created some 60 pieces of jewellery, each with a story to tell and a strong emotional message. Already Neha Dani has won the Rising Stars Award in 2014 at the JCK show in Las Vegas and has been included in Juliet Weir-de la Rochefoucauld's book 'Women Jewellery Designers'. She won the FGI's 2019 Rising Star Award and most recently her Amarante hand cuff (below) and Brassica earrings is part of the Sotheby's 'In Bloom' selling exhibition in New York.
I spoke to Neha Dani from her home in New Delhi to find out more about this up and coming jeweller.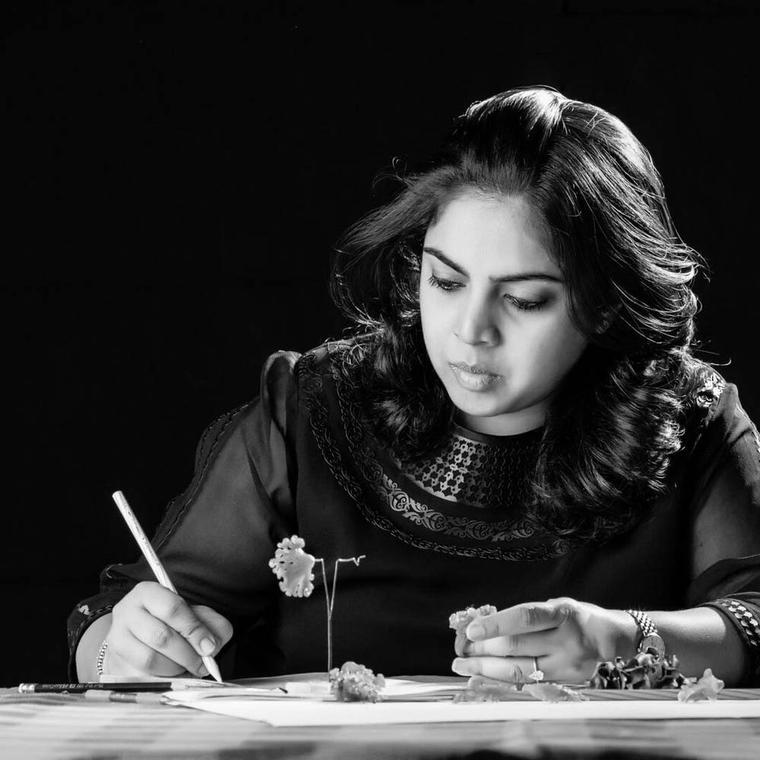 How did you become a jewellery designer?
I don't come from a jewellery family. My family were in the business of logistics and I grew up in a small town of Coimbatore in Southern India. My family are open-minded and allowed me and my sister to do what a boy would. We travelled extensively with my parents and from a young age I soaked up fine art in museums around the world. But it was not just museums, I vividly remember going to the Great Barrier Reef in Australia at the age of 13 and being in awe of the colours, the fishes and corals. It has become part of my memory and mixed up with the feelings I had at the time, which even today comes out in the many layers of my jewels.
When it came to studying, one year was the maximum time my family allowed me to be abroad. I enrolled at the Gemological Institute in Santa Monica, California where I studied gemmology as well as jewellery design so I carried on studying from India with a distance-learning course from the British Gem-A Institute.
I was then chosen to head up the International Gemological Institute in Mumbai. But that didn't last too long as my family didn't want me working for a company. You have to remember that in India for my social group, it is taboo for women to work.  But with what I had learnt at the GIA and all the diamonds and gemstones I saw through my work, I began making jewellery for my friends and family.  Scribbling and visualising my own creative designs I found that using small pavé set stones rather than large ones gave me freedom to create shapes and forms. I also realised I had inherited my family's talent for visualising complex shapes.
My first solo exhibition was in 2004 in Bangalore and one thing led to another. By 2005 I opened my own workshop in Mumbai when I was just 29. My 2006 solo show sold out but despite this I knew that I needed more skilled artisans to bring my ideas to life. This is when I started experimenting and moving production to Hong Kong and Bangkok. I have done this all on my own so it has been a longer journey than for most – and I stopped to have a child as well.
How do you describe your style?
My jewels have a deeper meaning than is immediately obvious, they are like soul mates to me. So while my style is always evolving as I am constantly looking for new inspiration, my designs are based not just on what I see but the emotions connected to that moment. People have to understand this to really appreciate my jewels. For example, my Sea Wave ring does literally look like an ocean spray but it also connects me to the ocean, the place where I find peace. So the Sea Wave ring is both a visual link to the sea as well as a representation of the profound relationship I have with it. I have found that this is a feeling common to many people who have a deep bond with a place or an element or even an emotion. And on another level, aquatic plants and coral are hidden under the waves, like the parts of us that we keep secret. Sometimes they are revealed when among friends and family, but they are not always on show. So there is a lot of symbolism on many levels in my jewels. I love working with layers in my jewellery as just like us, we are all made up of many tiers.
Why do you only make one-off jewels?
An artist never paints the same picture twice. This is something I realised as a child visiting museums around the world. I only make one-off jewels as I believe that each piece is a collectors' item, a piece of art. It keeps me creative and stops me doing the same things over again. Even if I am asked to re-make a piece in a different colour, no two pieces should be identical so that each woman has a unique piece.
This is a challenge when it comes to manufacturing the jewels as we have to make dozens of different parts with crazy articulations that then they have to be soldered together like a jigsaw puzzle as my jewels are complex structures with gem-settings on, under and around each component and on many layers. I feel that the effort is worth it even if it is not the most logical way to work.
Tell me about how you choose materials?
My choice of materials is guided by wanting to do something different. For example, I used coloured rhodium for the underwater collection to capture the colours and swaying rhythms of the aquatic world.
But it is not always about fluid forms and using just the most precious stones. The Aialik bracelet (above) was inspired by a trip to Alaska. It was mesmerising to see an iceberg break and you don't know in which direction the look to see the next one crashing into the water. Moonstone seemed to best represent the crystallisation of water and the blue sheen of the frozen landscape. I had each of the moonstones cut in panes and set around them 147 baguette-cut diamonds in angular patterns like ice, which is unlike my usual designs that are flowing and delicate. And my next collection is totally different and inspired by outer space.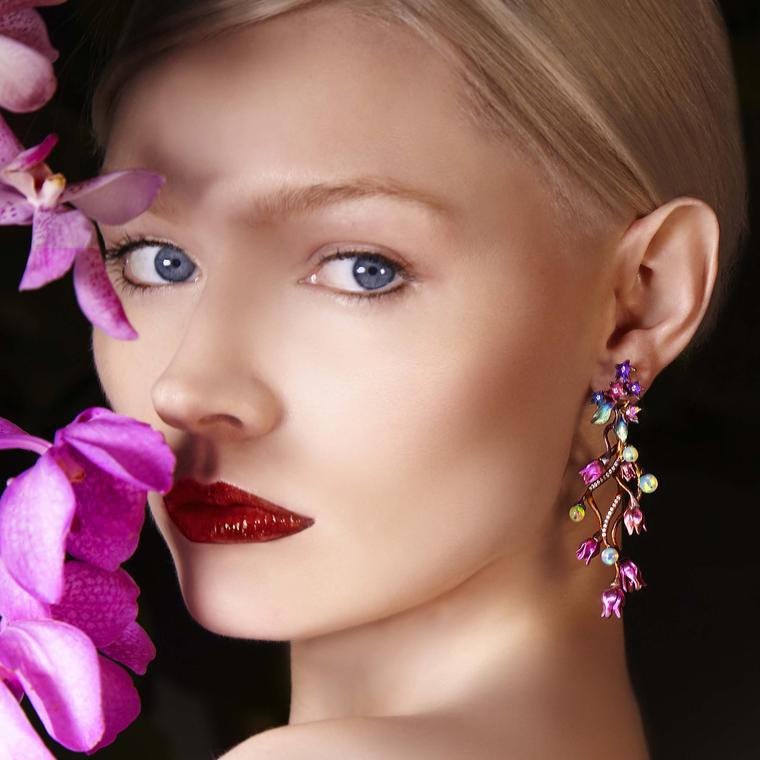 Moving forward I believe that titanium (above) will be more important for me as it allows me to be more creative and to work with bigger sizes. Space is important as in earrings for example, 35mm is the widest you can go, which is a very small canvas for an artist. But titanium gives you ability to work on many layers and colour so that you can add expression. With titanium I am not constantly thinking about the weight but concentrating on being creative.
My jewels are large so they make a statement, but at the same time they are very delicate because of all the workmanship and levels of detail that I put in them.  I balance details with being bold but always very feminine.
46.21 carats of yellow diamonds adorn the Neha Dani Autumn Feuille bracelet that evokes falling leaves and their nearly diaphanous quality.  Price: $147,000

This beautiful cuff from Neha Dani, which symbolises the cosmic energy that protects us, has been named Vruta, Universe in Sanskrit. The centre water blue opal is like a soul and the use of colours is inspired by the cosmic world. It has been made in titanium, a metal used in aerospace material well known for its resistance and lightness.  

Playful and unexpected titanium give a lightness to the Brionne earrings set with opal beads and diamonds that cascade down the neck. Price  $9,600

The Teal ring undulates like underwater vegetation and captures the light with diamonds and tsavorites set into the folds of furling forms here worn with Parisa earrings. 

Capturing the icy splendour of a glacial plane, these Neha Dani Margerie earrings feature facetted moonstone stalactite drops set in white gold with 2.85 carats of diamonds. Price $15,800
How are your jewels manufactured?
I have workshop in Delhi where I build the three-dimensional wax models that are later made in the best workshops I can find around the world. I am part and parcel of manufacturing process and I spend a lot of time on the manufacturing part of my jewellery supervising the details. The whole process from conception of design to completion of each jewel easily  takes around six months to a year.
How useful is your GIA course in your everyday business?
I will never be confused over gradings as it is embedded in my memory, which is important especially as I didn't come from a jewellery family. The strength of knowing I am right comes from an institution, the GIA. I could have been pushed around as there are not too many women working in the jewellery in India or in the diamond market.
At want point do you step back and say that a piece is finished?
When it is looking its best and the aesthetic balance is right and the symmetry is perfect, then it then stays on my desk for a couple of days until I am absolutely sure.  There are so many minor details to consider, the curves, the fall, the colours, the gem-setting. Take the Dancing Girl earrings (above), it took months to put it together, the balance of each element, to make sure it doesn't click, that the flow is right. For every piece, there is a good amount of thinking and time that goes into it.