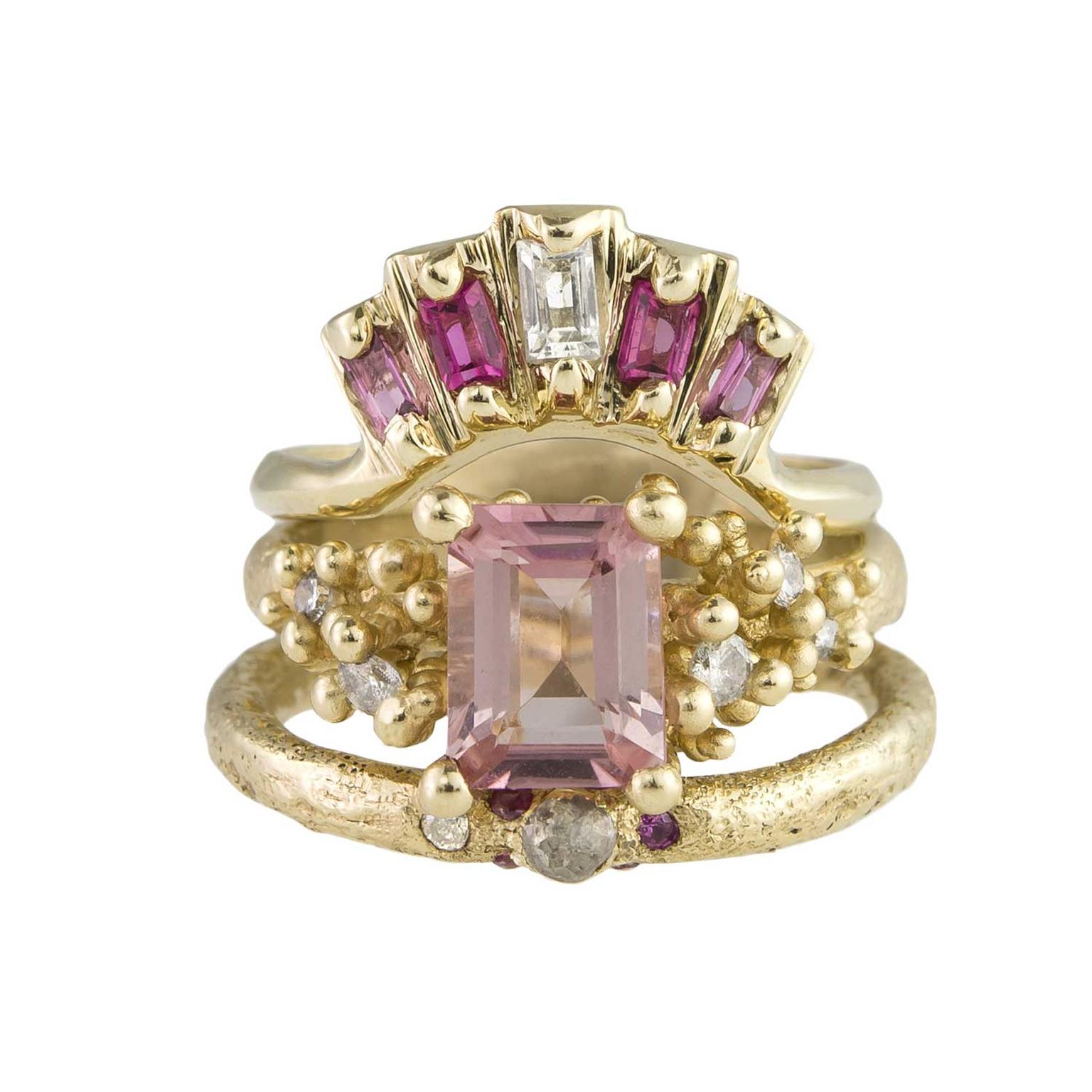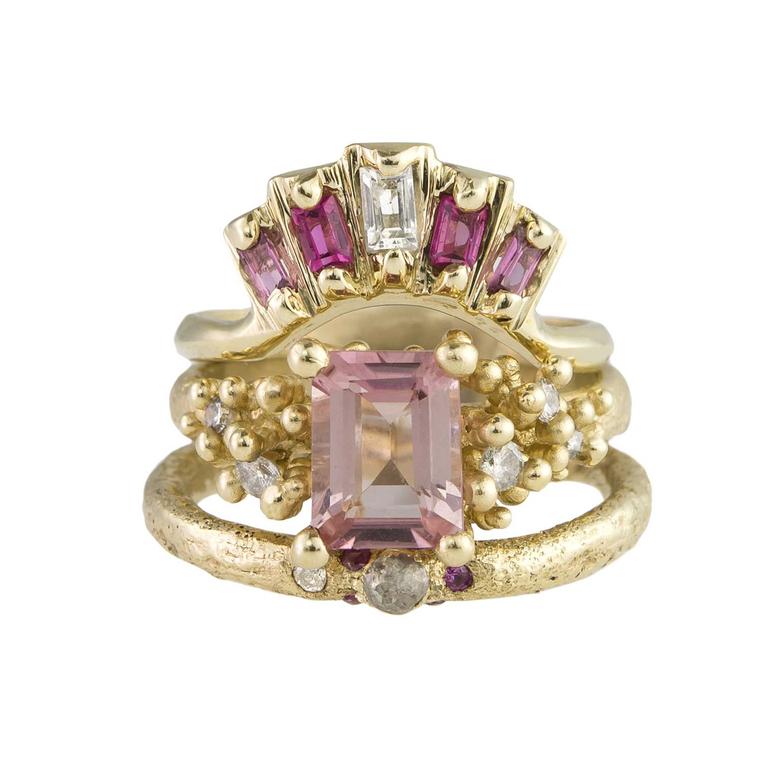 If you're not planning on wearing a long white dress on your wedding day, there's every chance you won't be looking for a classic solitaire engagement ring. Not so long ago it was tradition to wear a white gown to the church, but today the alternative bridalwear market is thriving. Exactly the same can be said for engagement rings, and it is this anything-goes attitude that Tomfoolery is embracing with its in-store Alt Bride 2019 event – an extensive showcase of contemporary jewels from independent designers that opens up an exciting new world of creativity.
A chic bridal stack that is all about the sleek angles of the baguette cut featuring diamond rings by Artemer paired with two Polly Wales sapphire and diamond bands. Top to bottom, Artemer ring (£2,100); Polly Wales band (£3,545); Artemer ring (£5,120); Polly Wales band (£4,400).

A sugar-coated bridal stack from Tomfoolery featuring brushed gold textures and muted pastel diamonds and gemstones. Top to bottom, Muse by Tomfoolery ring (1,870); Sonny Bailey-Aird ring (£600); Shimara Carlow ring (£1,510); Muse by Tomfoolery ring (£5,595).

A dusky grey diamond described as "salt and pepper" dominates this beautiful alternative bridal stack at Tomfoolery London. Top to bottom, Ruth Tomlinson band (£880); Polly Wales ring (£12,900); Polly Wales ring (£5,470).

A sensational bridal stack comprised of a sunray-style solitaire ring paired with a diamond jacket beneath. Artemer ring (£8,200); DMD ring (£465).

This cool bridal stack, available at Tomfoolery London, juxtaposes different diamond cuts, shapes and textures. Muse by Tomfoolery eternity band (£1,650); Muse by Tomfoolery ring (£2,395); Jo Hayes Ward ring (£2,625); Muse by Tomfoolery ring (£3,500); Muse by Tomfoolery ring (£11,250).

A beautiful, organic bridal stack set with different coloured sapphires that, on first glance, looks like a single ring. Eily O'Connell ring (£325); WWAKE ring (£1,610); WWAKE ring (£2,915).

The definition of an alternative bridal ring stack that combines diamonds with a luxe yellow gold skull. Hélène Turbé ring (£364); Polly Wales ring (£4,650); Polly Wales ring (£3,650); Polly Wales ring (£5,995). 

Mixing different coloured diamonds - white and lemon yellow - creates a subtle but striking contrast in this Tomfoolery bridal stack. Artemer ring (£2,780); Shimell & Madden ring (£4,800); DMD ring (£440); DMD ring (£440).

A colourful and quirky bridal stack that mixes a light blue topaz with rubies and sapphires. Les Merveilleuses ring (£545); Polly Wales band (£2,800).

A uniquely pretty bridal stack combining pink tourmalines and diamonds. Top to bottom, Katie Lees ring (£1,025); Ruth Tomlinson ring (£1,820); Eva Posnel ring (£1,475).
Based in Muswell Hill in North London, the Tomfoolery boutique might be off the beaten track compared to other, more mainstream jewellers, but if you make the journey you will be rewarded with the UK's finest collection of alternative engagement rings. Among the many names on display are homegrown talent such as Shimell & Madden, Ruth Tomlinson and Shaun Leane, while from further afield are designers including WWAKE and Artemer, whose artisanal designs reimagine the classic solitaire ring for women who want their diamonds to do a lot more than just sparkle.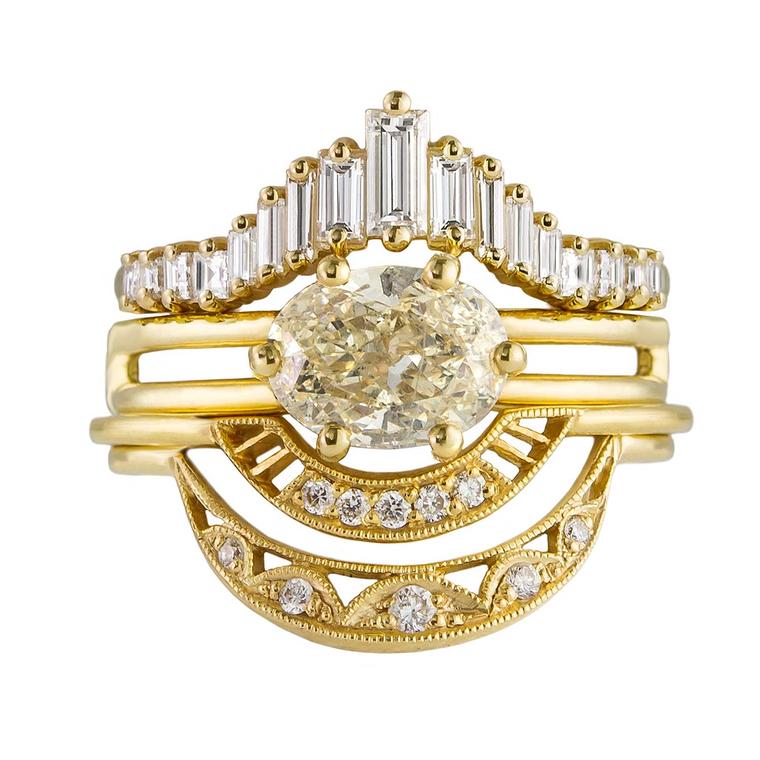 Running from 23rd March - 4 May 2019 in Tomfoolery's wedding atelier, the aim of the event is to showcase the sheer variety of rings on show, from writhing gemstone clusters to beautifully individual wedding bands, illustrated by an extraordinary selection of ring stacks that couldn't be more alt bridal. Delicate and bold, diamonds and spinels, even a skull – the only thing that unites them is their uniqueness. The message is clear: your engagement, your rules.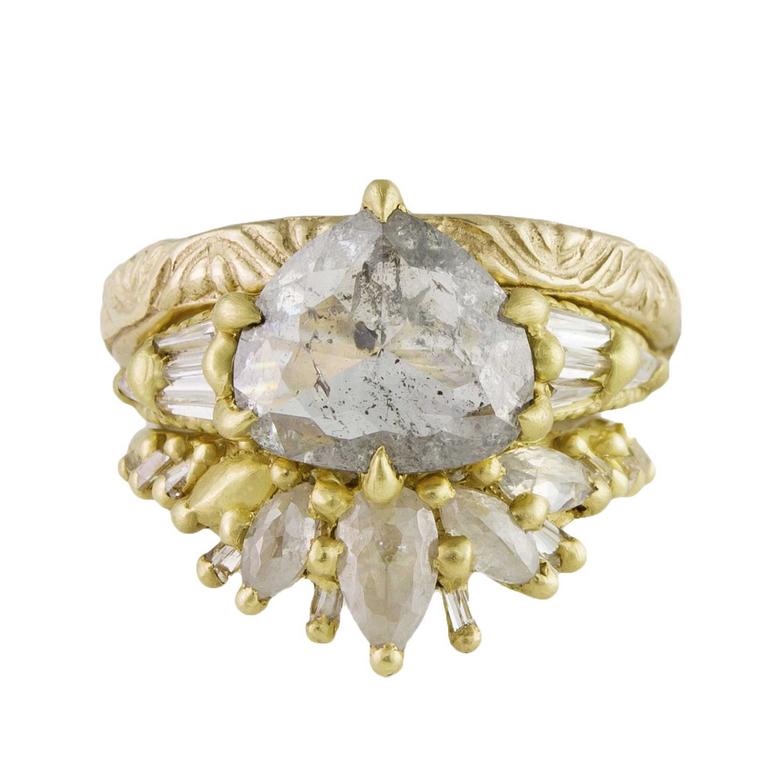 Watch out for one of my favourite designers, Polly Wales, whose whimsical Rapunzel collection I have previously written about on The Jewellery Editor. Since then she has moved to LA and captured the imagination of many alt brides with her artistic, perfectly imperfect designs, and is much loved at Tomfoolery.
Tomfoolery, 109 Fortis Green Rd, London N10 3HP
All designs are also available at tomfoolerylondon.co.uk