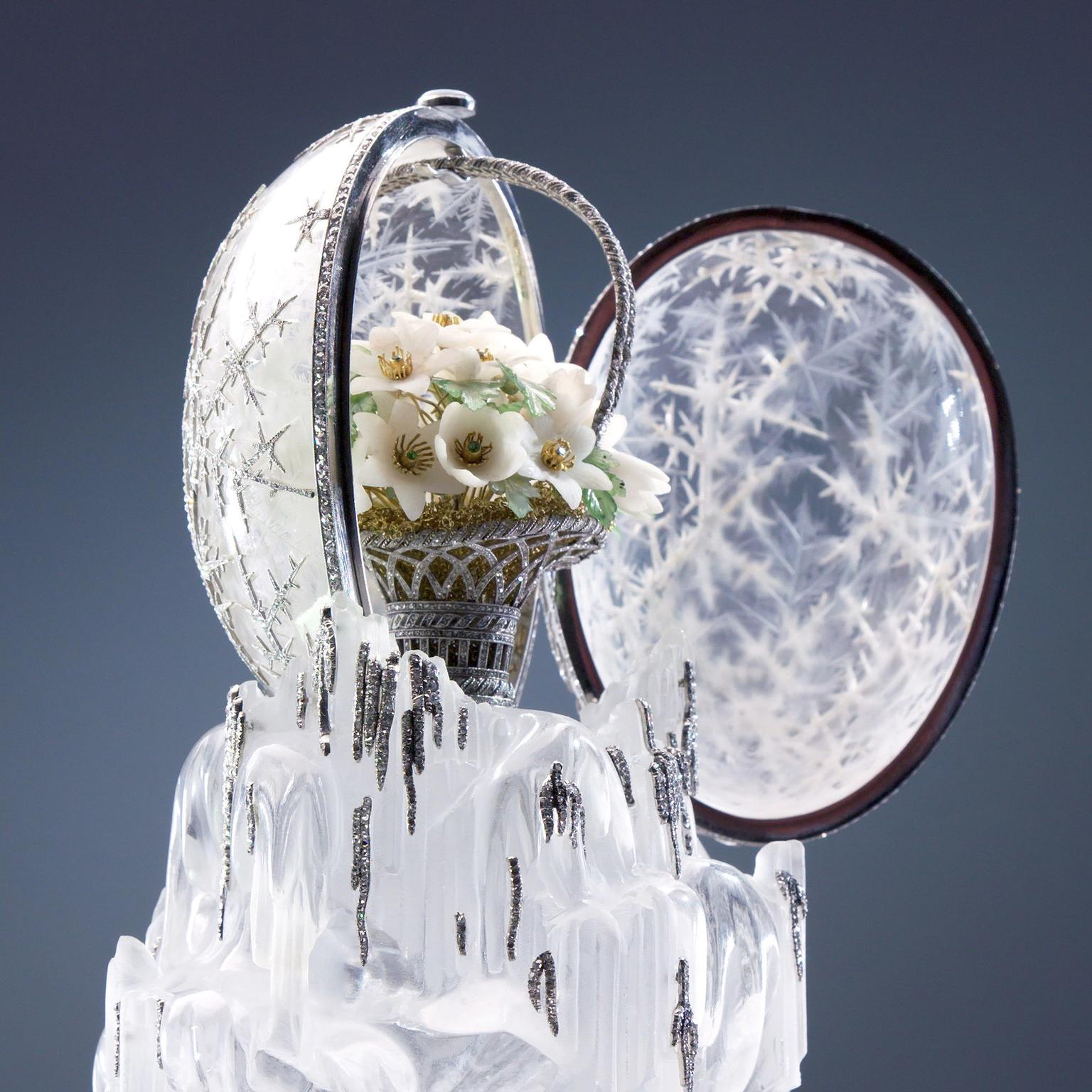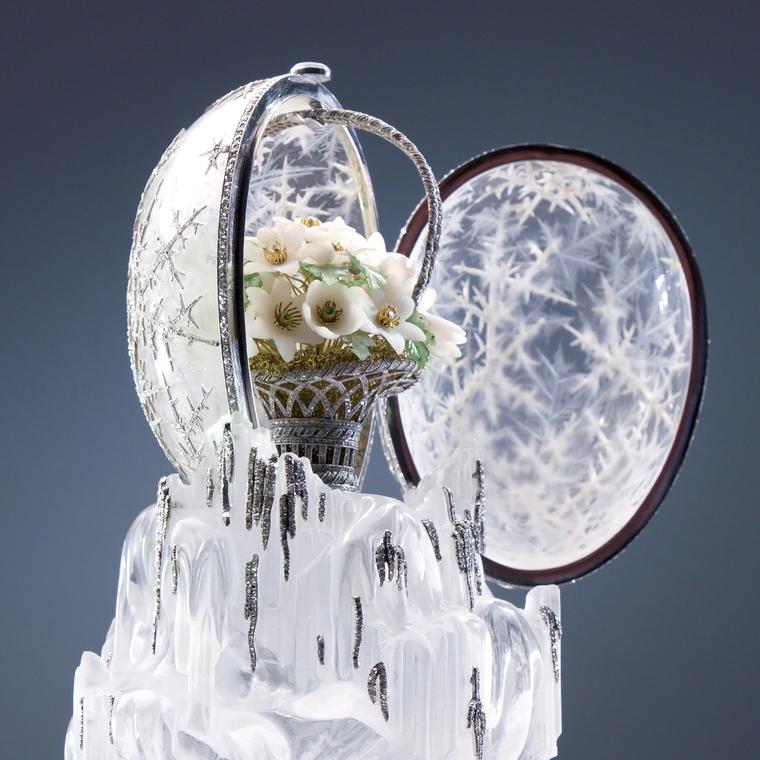 Carl Fabergé created only 50 lavishly decorated eggs that the Russian Royal family gave as extravagant Easter gifts. The eggs carried both the Christian symbolism associated with Easter and re-birth as well as romantic messages of love. The bejewelled eggs that Fabergé created for the Russian royalty are called the 'Imperial' eggs and were gifts to wives and mothers full of romantic and religious symbolism. Fabergé also made eggs for other wealthy clients but these are not included in the 'Imperial' category. 
A selection of rare Fabergé eggs at the Viriginia Museum of Fine Arts clockwise from top: the Imperial Rock, the 1915 Red Cross, the 1912 Tsarevich, the Imperial Pelican and the 1903 Peter the Great.

The first Imperial Fabergé Egg was commissioned by Tsar Alexander III for his wife as a gift. Known as the1885 Hen Egg, it was crafted from gold and its opaque white enamelled shell opened to reveal a matt yellow gold yolk, which in turn opened to reveal a superb gold hen.

The yellow gold Third Imperial Fabergé Easter Egg commissioned in 1887 contains a Vacheron Constantin watch with diamond-set gold hands. The egg sits on a stand with lion's paw feet, decorated with gold garlands and three cabochon blue sapphires topped with rose diamond-set bows.

The Fabergé Caucasus Egg, presented by Tsar Alexander III to his wife, Tsarina Maria Feodorovna, for Easter 1893. 

The celebrated 1897 Fabergé Coronation Egg. Image courtesy of The Forbes Collection.

Tsar Nicholas II presented Empress Alexandra in 1898 with this Fabergé Lilies of the Valley Egg. Made of gold, overlaid with translucent rose pink enamel, the beautiful creation is decorated with enamelled green leaves and pearls, complete with rose-cut diamond dewdrops.

This famous Fabergé Peacock egg was commissioned by Tsar Nicholas II of Russia in 1908 and is one of the world-famous Fabergé Imperial eggs still in existence. The peacock automaton was restored by Michel Parmigiani to full working order. 

The Fabergé Love Trophy Egg, presented by Tsar Nicholas II to his mother, the Dowager Empress Maria Feodorovna, for Easter 1907.

Fabergé Imperial Tsarevich Easter egg, dated 1912 was a gift from  Nicholas II to Alexandra Feodorovna. It is made of lapis lazuli and decorated with gold and diamonds. Inside is a double-headed Imperial eagle holding a portrait of Alexei Nicholaevich, the couple's seven-year son who had haemophilia. 

The famous 1913 Fabergé Winter Egg, which is considered to be the greatest of the 50 glittering Easter eggs created for the Russian royal family.
The first Imperial Fabergé Egg was commissioned by Tsar Alexander III as a gift for his wife the Empress Maria Feodorovna. Known as the1885 Hen Egg, it was crafted from gold and its opaque white enamelled shell opened to reveal a matt yellow gold yolk, which in turn opened to offer a superb gold hen that also opened to delight with a miniature imperial crown and a ruby pendant - both since lost. Over time,  testing both the artistic and mechanical genius of Peter Carl Fabergé and his team, the eggs became increasingly more elaborate, but always with a surprise inside. Some contained miniature clocks or hand-wound automata such as the 1908 Peacock Egg.  Others celebrated victories or historical moments such as the 1897 Coronation Egg or the 1900 Trans-Siberian Railway Egg. 
Along with many other jewels and valuable objects, many of the Imperial Easter Eggs were confiscated by the Bolsheviks following the 1917 revolution and were lost or destroyed.  The most recently re-discovered is the Third Imperial Easter Egg  that came to light in 2014 and was last seen in public 122 years ago. Eight had been missing making the discovery of this egg a very exciting find of one of the great lost treasures of Imperial Russia that experts have spent a lifetime looking for. Each egg has a fascinating story of how it survived and how the Third Imperial Egg that emerged  from the Mid-West of America is a tale full of intrigue. And like a true thriller, this valuable and historical object narrowly escaped being melted down. Watch the video below of my visit to Wartski's to see the egg or READ MORE HERE
So where are the Fabergé Imperial eggs now? Of the 43 eggs that have survived and been recovered, the Kremilin Armoury in Moscow has ten, the largest amount in any one place. Queen Elizabeth owns three Imperial Eggs that form part of the Royal Collection, Viktor Vekselerg, a Russian gas and oil billionaire bought nine Imperial eggs for $100 million in 2004 when Michael Forbes put them up for sale. The rest are dispersed around in museums around the world and notably the Virginia Museum of Fine Arts that has five. Now that the Third Imperial Easter Egg has been found, the hunt is still on for the remaining seven missing Eggs.