Think of the great floor mosaics, one of the best-preserved types of Roman art, then shrink them down to fit in your pocket – this is the essence of micro mosaic, an art form dating back to the late 18th century that was born out of necessity and flourished into a thriving industry in Italy. 
To delve into the history of micro mosaics, we must travel back to the 18th century, when large-scale mosaics, hugely popular in Ancient Rome, were falling out of favour. Reserved mainly for decorating Rome's religious buildings – most notably St Peter's Basilica, which features over 10,000 square metres of mosaic – the artisans responsible for creating and upkeeping them were increasingly short of work. Employed by the Studio del Mosaico della Fabbrica della Basilica di San Pietro, later known as the Vatican Mosaic Workshop, they supplemented their income by creating miniaturised versions of their mosaics to sell to private customers. 
Working with miniature pieces of opaque glass or enamel, cut into pieces known as tesserae and arranged to form an image, each micro mosaic was composed entirely by hand – a feat given that they usually measured no more than a few inches. Portable works of art, their popularity grew with the arrival of a slew of well-heeled travellers, embarking on their Grand Tour – a rite of passage for aristocratic young men intended to introduce them to the history and culture of Italy. The quintessential souvenir, a micro mosaic perfectly capturing Italy's rich artistic tradition in miniature.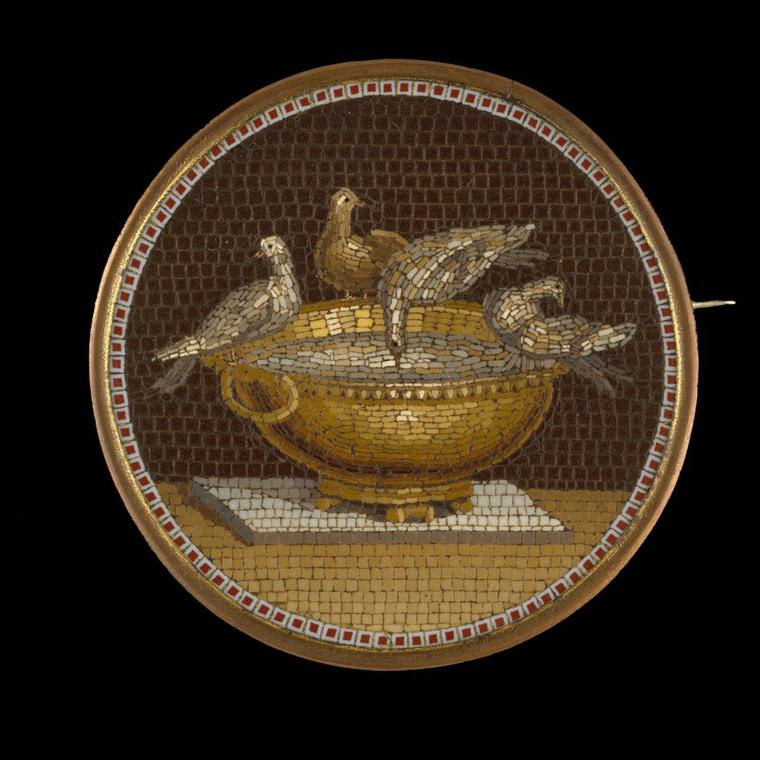 An artist named Giacomo Raffaelli is widely considered to be the founding father of the craft and one of the first to incorporate micro mosaics into jewellery. While typical micro mosaics depicted Rome's neo-classical landmarks – the ruins of the Roman Forum were a particular favourite – Raffaelli created beautifully considered, naturalistic scenes, inspired by Old Master paintings, featuring birds, flowers, animals and landscapes. Said to have hosted the first selling exhibition of micro mosaics at his studio in Rome in 1775, one of his works, Doves of Pliny (on display at the British Museum in London) features the Capitoline Doves from a Roman floor mosaic discovered in 1735 at Hadrian's Villa – a recurring source of inspiration for Raffaelli. 
After founding the School of Mosaics in Milan, in 1806 Raffaelli undertook his most important commission: to recreate Leonardo da Vinci's The Last Supper painting in micro mosaic for Napoleon I. The masterpiece took eight years to complete and by the time he had placed the last tesserae, Napoleon had abdicated, and Milan was under Austrian rule. Francis II of Austria acquired the artwork and installing it in the Minoriten Church in Vienna, where it remains today.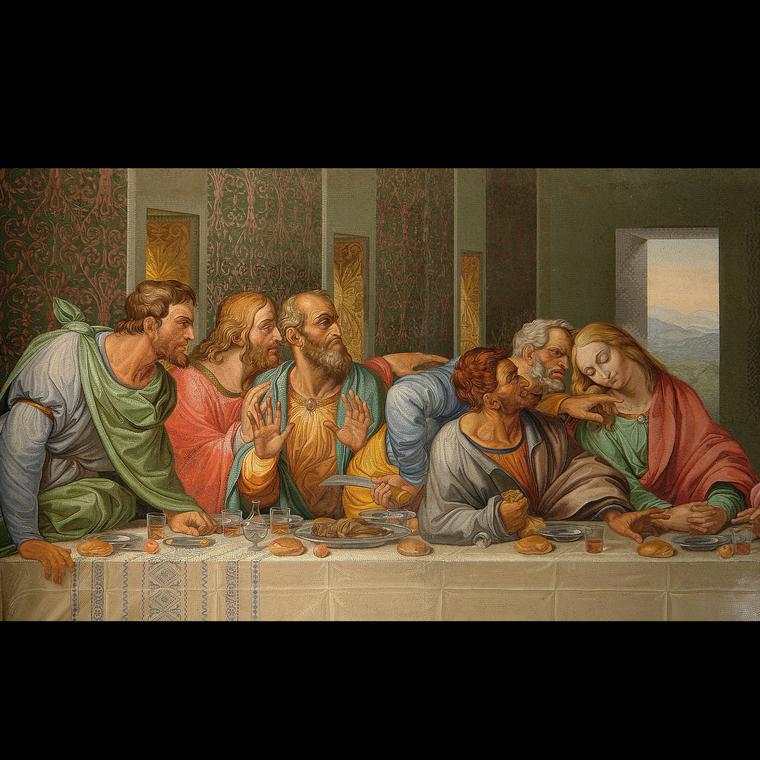 Raffaelli's mastery of the micro mosaic placed him at the forefront of the movement, yet the names of other micro mosaicists who sold their wares in and around Rome's Spanish Steps during the heyday of the Grand Tour have been lost to the passage of time, as evidenced by the magnificent collection of Town & Country editor turned jewellery designer Elizabeth Locke. 
Locke fell in love with the discipline as a graduate in Florence in the 1970s and initially began acquiring these miniature artworks to repurpose into pendants, cuffs, necklaces and earrings. Over the years, she amassed an impressive collection of fine 19th century micro mosaics, which were the subject of exhibitions at the Virginia Museum of Fine Arts in 2019 and the Gibbes Musem in Charleston in 2020. While most of the pieces in her collection cannot be attributed to a particular artisan, several are signed, including a micro mosaic by Gioacchino Barberi.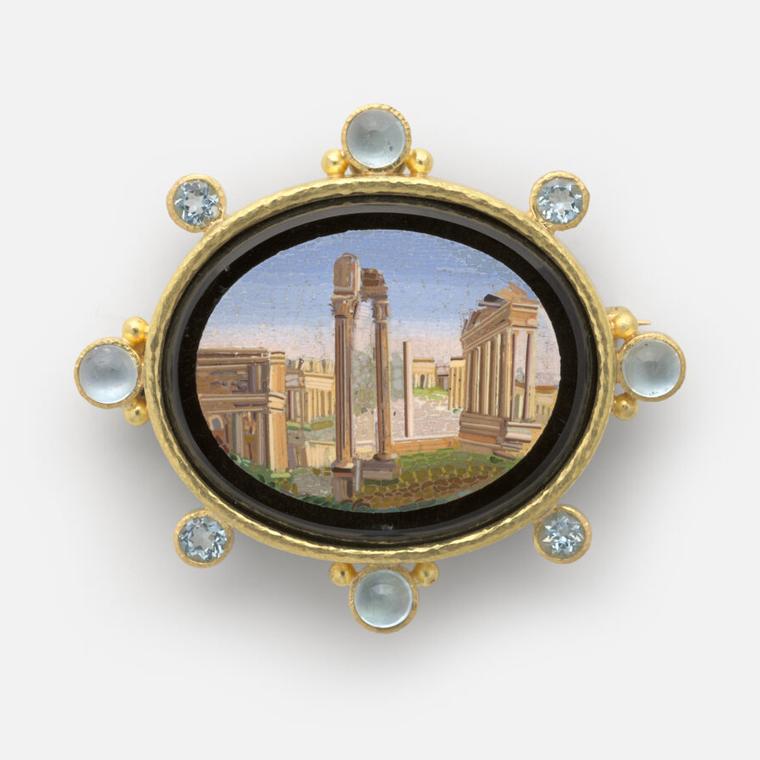 Gioacchino worked in Rome at 99 Piazza de Spagna, close to the Spanish Steps, and was renowned for his expertise at portraying animals. By pioneering the mixing of colours and tones of enamel and the use of tiles in different shapes to give the appearance of paint on canvas, he took the art of micro mosaic to a whole new level.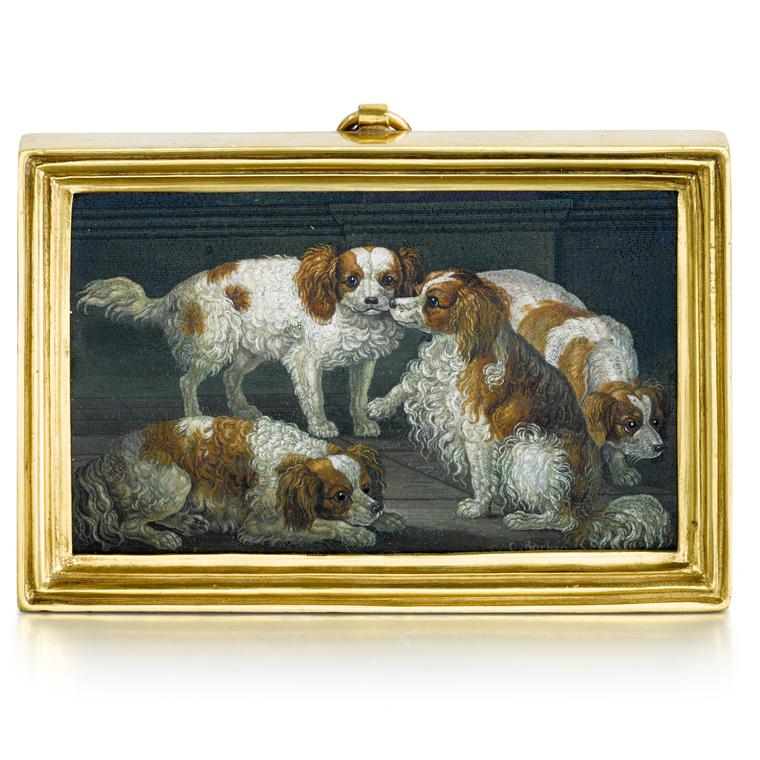 Gioacchino's brother, Michelangelo, was also a celebrated micro mosaicist, feted by members of the European aristocracy for the skilful application of his art. His clients included Napoleon I, whose empresses were both believed to have owned micro mosaic parures by the Roman maestro. (A micro mosaic parure depicting monuments of ancient Rome, acquired from the French Maison Chaumet and gifted by Napoleon to his second wife, Empress Marie-Louise, is displayed at The Museum of Decorative Arts in Prague.)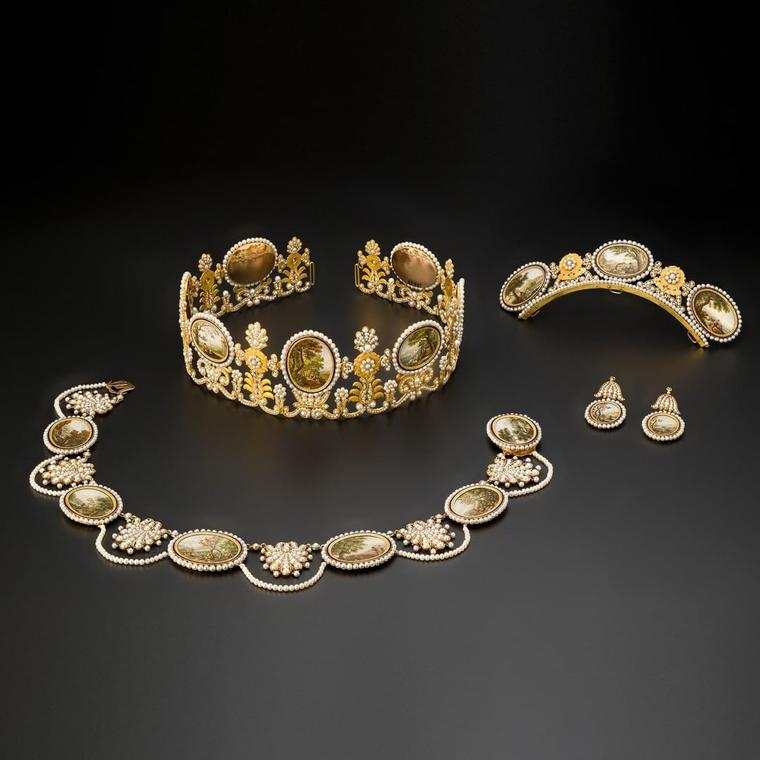 While most of the micro mosaic artisans of the day specialised in more traditional subject matters – ancient ruins, pastoral settings, classic landscapes, flora and fauna, animals – there was one firm that was intent on trailblazing a different look to its contemporaries. Credited with instigating the archaeological revival movement, the name Castellani was mentioned in every Victorian Grand Tour handbook of the Eternal City.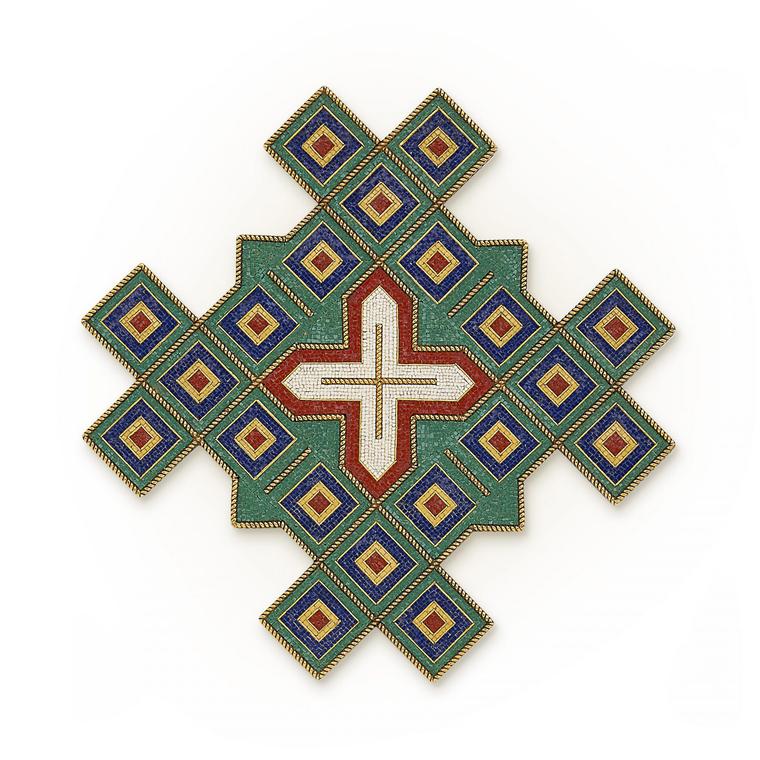 A family of goldsmiths, collectors, antique dealers and potters, the Castellanis collectively ran a studio in the fashionable Piazza di Trevi, overlooked by the Trevi Fountain, and their style was very different from their peers. Influenced by classical antiquity and early Christian and Byzantine church mosaics, their beautifully crafted micro mosaic jewels typically took the form of religious iconography and Latin and Greek inscriptions, complemented by Etruscan, Egyptian and Assyrian archaeological revival pieces. Eschewing the flat, polished surfaces that were typical of the time, instead they placed the tesserae at different heights to create an uneven surface that reflected the light. Complementing the yellow gold in which they were set, gold tesserae were frequently used, enhancing their shimmer. These sumptuous pieces cemented the reputation of Castellani as creator of some of the finest micro mosaics in Rome, and today Castellani-signed jewels command high five-figure prices at auction.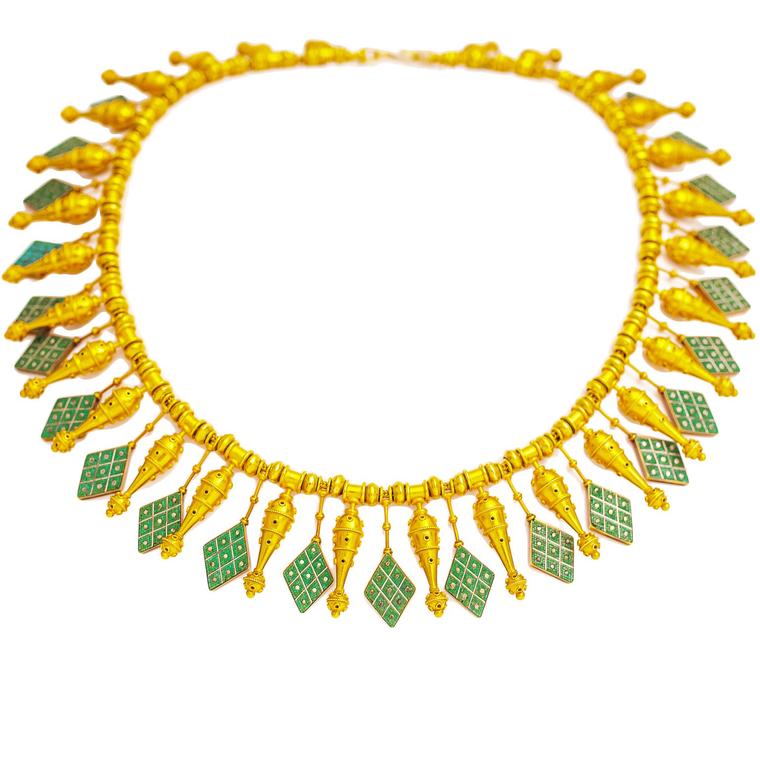 In vogue for more than a century, by the beginning of the 1900s, micro mosaics had lost their sparkle. With their roots in antiquity, they had nothing in common with the modernity and geometry of the newly emerging Art Deco movement. However, they were not lost to the passages of time completely, championed by a small but devoted coterie of collectors like Elizabeth Locke and the late Arthur Gilbert, who coined the term "micro mosaic" in the 1970s. Gilbert compiled one of the largest collections of micro mosaic objects in the world – some 1,200 creations worth around US $300 million – and in 1996 donated the entire collection to the British nation, with key pieces displayed at the Rosalinde and Arthur Gilbert Galleries at the Victoria & Albert Museum in London.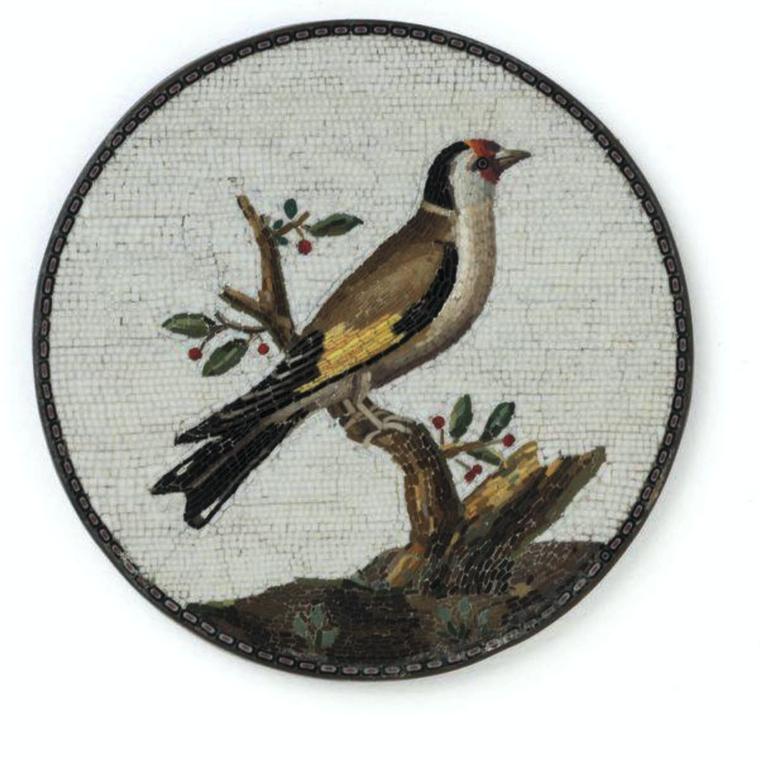 Today, the micro mosaic tradition remains very much alive, thanks to a handful of devoted artisans based in Italy. One of them is Maurizio Fioravanti, a jeweller whose contemporary micro mosaic jewels are so time-consuming to create that he produces a maximum of 10 each year. 
Sold under the name Vamgard, a company he co-founded with Virginie Torroni, a Geneva-based gem dealer, Fioravanti combines old-world techniques with cutting-edge materials, including titanium and carbon fibre, creating masterpieces of such intricacy that it is difficult to tell they are micro mosaics at all. Using tiny glass tesserae in myriad hues to "paint" his art works, coloured using unusual minerals collected on his travels, Fioravanti cuts the glass tesserae into different shapes and sizes to fit his designs, skilfully combining them to create sweeping gradations of colour that perfectly mimic the scales of a snake or the whorl of a snail's shell.
Founded in 1990 by three female friends with a shared passion for art jewellery techniques of the past, Le Sibille is another Rome-based jeweller that is proudly championing the near-extinct art of micro mosaic. Drawing on the traditions of old, their Micromosaico collection is filled with wonderful pieces that bring new relevance to this centuries-old art form. 
Le Sibille considers itself to be a global guardian of the Roman specialism of micro mosaic. From the mixing of the colours and firing of the glass to the cutting of the tesserae into bespoke shapes, each creation is a labour of love combining skill, craftsmanship and minute attention to detail, undertaken in the brand's Rome atelier by a team of artisans who can reproduce the face of an angel, complete with eyes, nose and mouth, on a single tessera. 
Micro mosaics are usually flat, but Le Sibille has pioneered a new style of micromosaic that experiments with volume, creating three-dimensional jewels inspired by Italy's immense artistic heritage. Paired with colourful gemstones, each new creation – including the Vesuvio ring, which features two views of Mount Vesuvius in micro mosaic, reproduced from a 19th century Neopolitan gouache – honours the founders' love of their country and the roots of the craft.
Italy's rich history of art is a subject that Alessio Boschi returns to time and time again in his collector's pieces. Born in the Eternal City, Boschi has previously commissioned Le Sibille to create the micro mosaics for his collector's pieces. He also sources antique micro mosaic plaques and recently collaborated with the maestro Roberto Griecco on his Medusa ring. 
Griecco was employed by the Vatican Mosaic Workshop for more than 30 years and created the micro mosaic that sits at the centre of the jewel. "I spoke to Roberto and asked him to make a perfect reproduction of the 4th century BC mosaic of a Gorgon Medusa that is the centrepiece of the ancient mosaic floor in the Baths of Diocletian [National Museum of Rome]", says Boschi. "Then I created a precious casket in which to showcase it – an opening ring featuring a 3-carat portrait cut diamond." Ever the innovator, Alessio has designed the ring so that the lozenge-shaped micro mosaic plaque can be removed and flipped over, with the reverse revealing a diamond snake with an emerald head. 
The most famous Italian company to specialise in this rare craft is Sicis, a cornerstone of the Italian art of mosaic for more than 30 years. A global organisation with showrooms in Milan, Madrid, Paris and London, 2013 saw the debut of Sicis Jewels. Under the stewardship of Creative Director Gioia Placuzzi, Sicis Jewels produces no more than 100 micro mosaic creations a year in the brand's jewellery workshop in Ravenna. Known for their stunning vibrancy, the brand's signature jewel-like tones are achieved through a patented process that enhances the colours of the glass enamel tesserae by adding precious materials – including gold, diamonds rubellite, jade, peridot – into the mix. 
The jewels range from everyday pieces to extravagant high jewellery creations that juxtapose intricate micro mosaic details with juicy cabochon gems, alongside resolutely contemporary pieces like the new Crazy Moon jewels. Fusing geometric micro mosaic patterns with rainbows of diamonds, amethysts, emeralds and sapphires, there is so much joy in these bold slices of colour.
From the first micro mosaic reproductions of classical Roman paintings to Sicis' beautifully abstract Crazy Moon jewels, it is wonderful to see that an ancient art form that was very close to being lost at the start of the 20th century not only survived but is thriving in 2022.  
Giacomo Raffaelli micro mosaic goldfinch plaque, c. 1775-1800. From the Rosalinde and Arthur Gilbert Collection, on loan to the Victoria and Albert Museum, London. © V&A Museum

Etruscan revival micro mosaic necklace by Castellani, with the woven gold chain suspending a fringe of lozenge-shaped turquoise micro mosaic drops. © 1stDibs

Gold and micro mosaic Castellani brooch edged with twisted gold wire, circa 1880, signed on the reverse with intertwined Cs for Castellani. © Wartski

Giacchino Barberi micro mosaic plaque, Rome, circa 1820-25.

Empress Marie-Louise's Chaumet micro mosaic parure, a wedding gift from Napoleon I © The Museum of Decorative Arts in Prague.

A micro mosaic copy of Leonardo da Vinci's Last Supper by Giacomo Raffaelli, commissioned by Napoleon I.

19th century micro mosaic of the Roman forum in Rome, set in gold as a brooch with aquamarines. From the collection of Elizabeth Locke. © Travis Fullerton/Virginia Museum of Fine Arts.

The Doves of Pliny glass micro mosaic plaque by Giacomo Raffaelli, 1779. © The Trustees of the British Museum