Last January, while staying at Camp Zero, one of my favourite places to ski-ride and skin-ski in the Italian Alps, I came across a brand called Gemology in the hotel spa. Upon chatting with the consultant to find out why a cosmetics company would decide to call itself Gemology, I was immediately fascinated by the brand's story. Stones are often believed to be imbued with healing powers, but Gemology wasn't interested in their spiritual side. Its approach is entirely scientific, based on the chemical composition of each stone and how the trace elements present can help nourish and embellish the skin.
I asked Gemology's CEO and founder, Chrystelle Lannoy, a French businesswoman who started her career at Clarins Group, to explain the thinking behind Gemology in more detail. She told me that a stone is made up of trace elements, such as iron, selenium, copper and zinc, and also microminerals, including sulfur, sodium and magnesium. To function well, the body needs a constant supply of both, which we get from the food that we eat, the water we drink and the nutritional supplements we might add to our diet. Unfortunately for our complexions, the body serves the vital organs first before focusing on the epidermis. If we are not getting the optimum amount of minerals in our diets, our skin is the first to be deprived.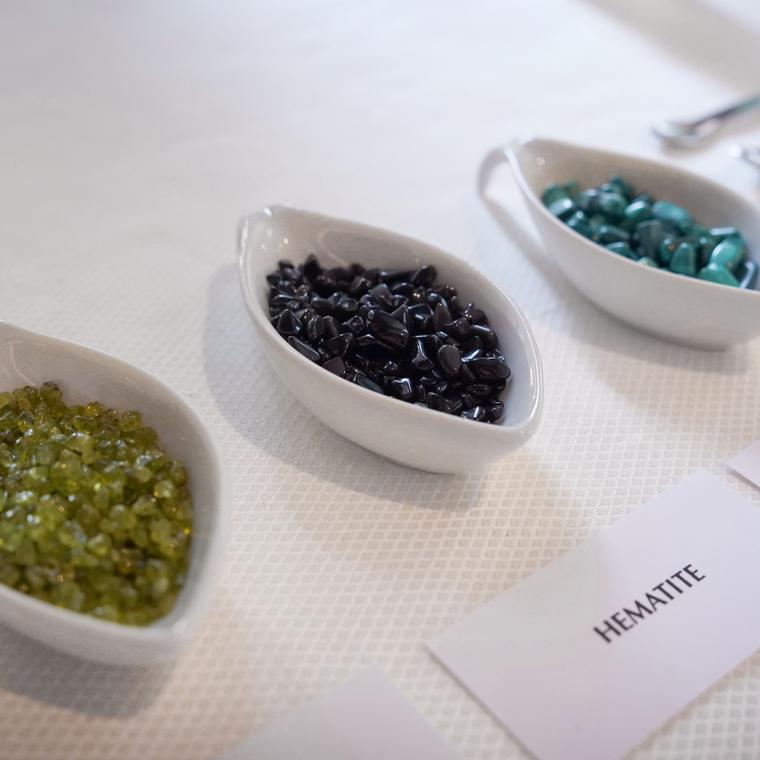 It seems obvious that if we apply creams and lotions containing these minerals, our skin will receive a direct delivery of goodness. But you can't launch a new cosmetics brand based on principle and instinct alone. So, in 2004, Ms Lannoy embarked on a three-year scientific research programme to prove her theory. "When I started my company, only malachite had been confirmed as a stone with beneficial effects for the body," she says. "It is rich in copper and a powerful antioxidant. It was promising, but a single stone was not enough. So I commissioned a laboratory to study in more depth the values and properties of other stones. At the time, it was very precursor. Even if a lot of brands had talked about using stones, nobody had actually done it." Based on this pioneering, mineral-rich concept, Gemology launched in 2007.
The base of all of Gemology's products are the minerals from more than 20 stones, and it is fascinating to discover their individual properties. Silicon from rose quartz, for example, moisturises and firms the skin, and peridot, rich in magnesium, energises skin cells. Combining iron from sapphires and sulfur from lapis lazuli enhances collagen synthesis and strengthens the epidermis, while tourmaline raises the temperature of the skin by 0.5 degrees, increasing the microcirculation. And the diamond, the most precious gem of them all, mixed with other stones, gives the skin an immediate luminosity and glow.
As a child, Ms Lannoy recalls going stone hunting with her grandfather, an antiques dealer with a passion for minerals. She suspects her love of gems was born during these expeditions, and she smiles at the thought of her continuing the family tradition, buying stones from all over the world for Gemology. "We have the same suppliers as jewellers," she explains. "In our case, it doesn't matter if stones have inclusions as the amount of trace elements and microminerals is the same, regardless of the quality of the stone. With the exception of diamonds, all the stones are washed, crushed and turned into a talc or powder in our lab in Limoges.  We don't yet have the right equipment on site to process diamonds, so we receive them directly from a lab in Antwerp, ready to use. With all the ingredients to hand, we manufacture our products in our two French sites, following recipes created by our Research & Development's team, which continues to explore new stones all the time."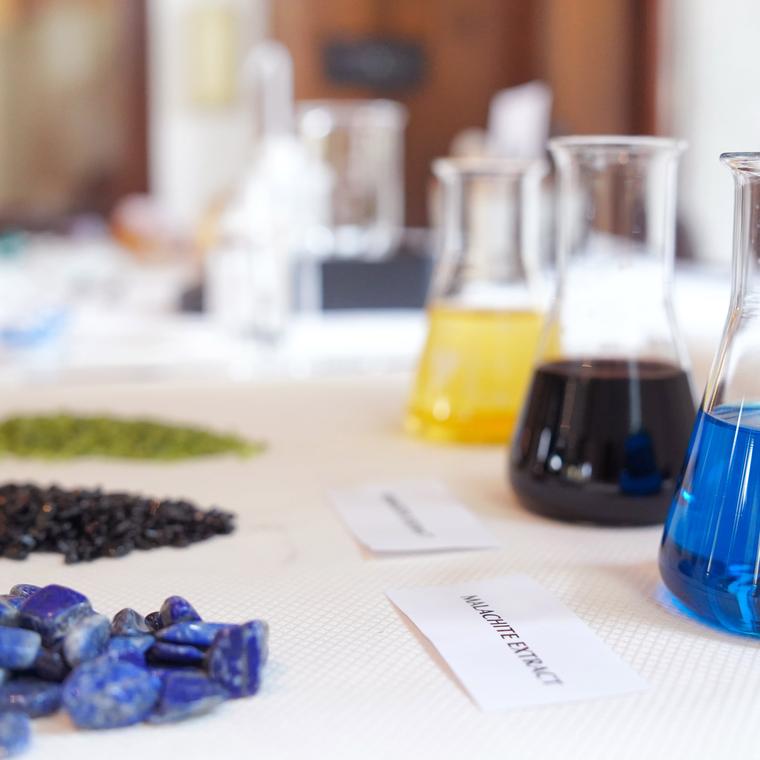 When asked whether gold, silver or emeralds have ever been considered, Ms Lannoy points out that they solely use elements already present in the human body and therefore gold and silver are of no interest. Regarding the emerald, it is composed of beryllium, a harmful substance banned for use in all cosmetics. 
So, do Gemology's products really help to improve the appearance of one's skin? I am far from a cosmetics expert, but they have definitely contributed to a healthier-looking complexion for me, and the texture of the lotions, creams and serums is so smooth and soft that they are a real pleasure to use. And of course, as a jewellery lover, there is something uniquely enjoyable about starting my days by applying luxurious jade, pearl, sapphire and diamond-infused creams to my face before putting on my jewels. 
Chrystelle Lannoy, CEO and founder of Gemology Cosmetics, launched the company in 2004 and spent the first three years demonstrating the scientific benefit of stones for the skin. 

When Gemology started its research to prove the efficacy of stones in cosmetics products in 2004, there were very few studies confirming the positive effects of trace elements on the skin.

Gemology's Research & Development department is constantly exploring the properties of new stones. It takes up to 18 months of tests before the brand is ready to launch a product featuring a new mineral. 

Sourced from all over the world, the stones are processed in one of Gemology's labs in Limoges, where they are washed, crushed and turned into a talc or powder. 

Inclusions do not compromise the trace elements found in gemstones that are beneficial to the skin, so whether the stones in Gemology's products are high or low quality is not important. 

With the exception of diamonds, the stones are placed into large machines alongside blocks of corundum – the third-hardest mineral in the world. The drums in the machines spin for days, crushing the pebbles into powders, ready to be used in Gemology's products.

The stones are transformed into powder before being added into Gemology's creams, serums and lotions.