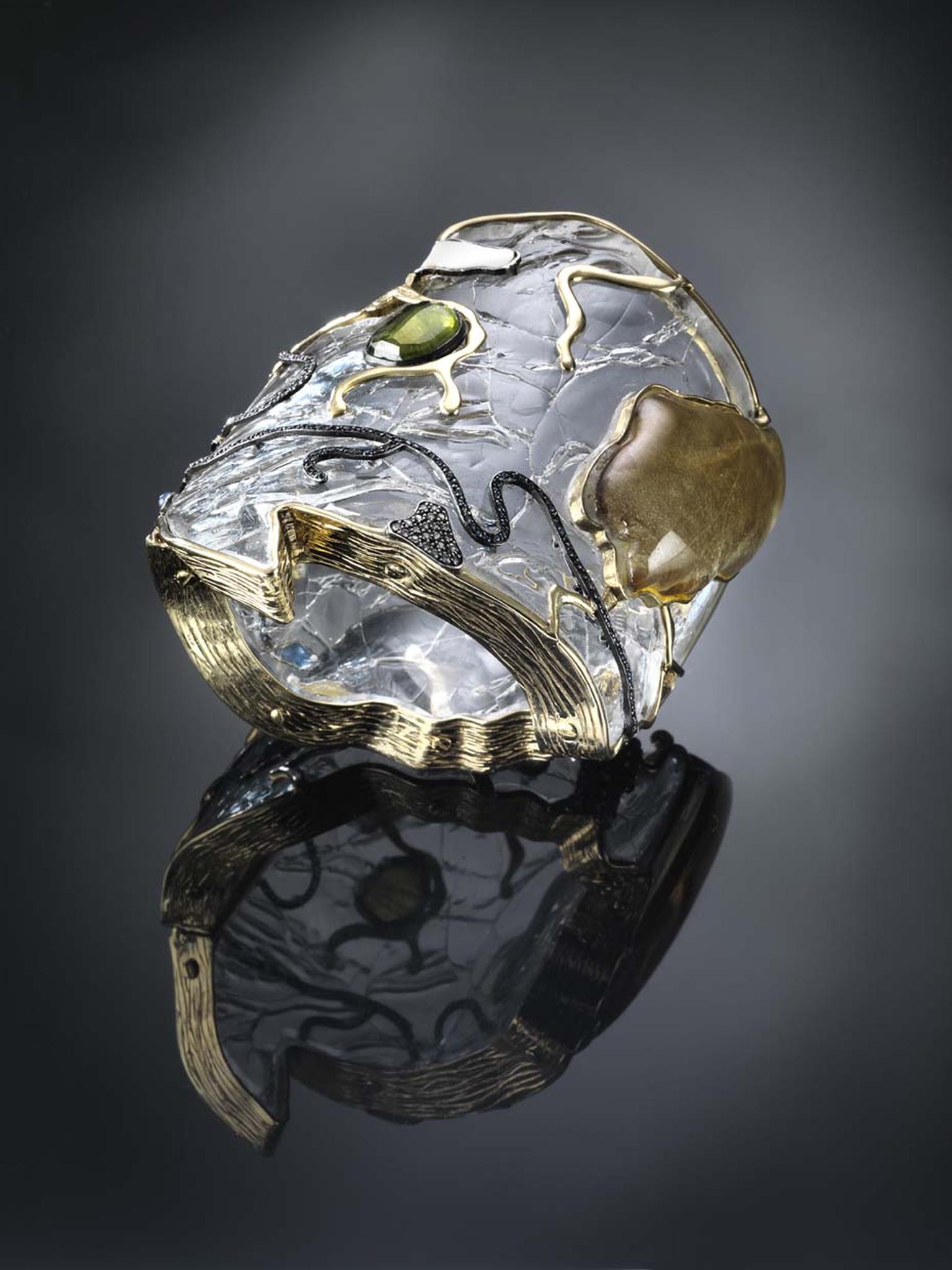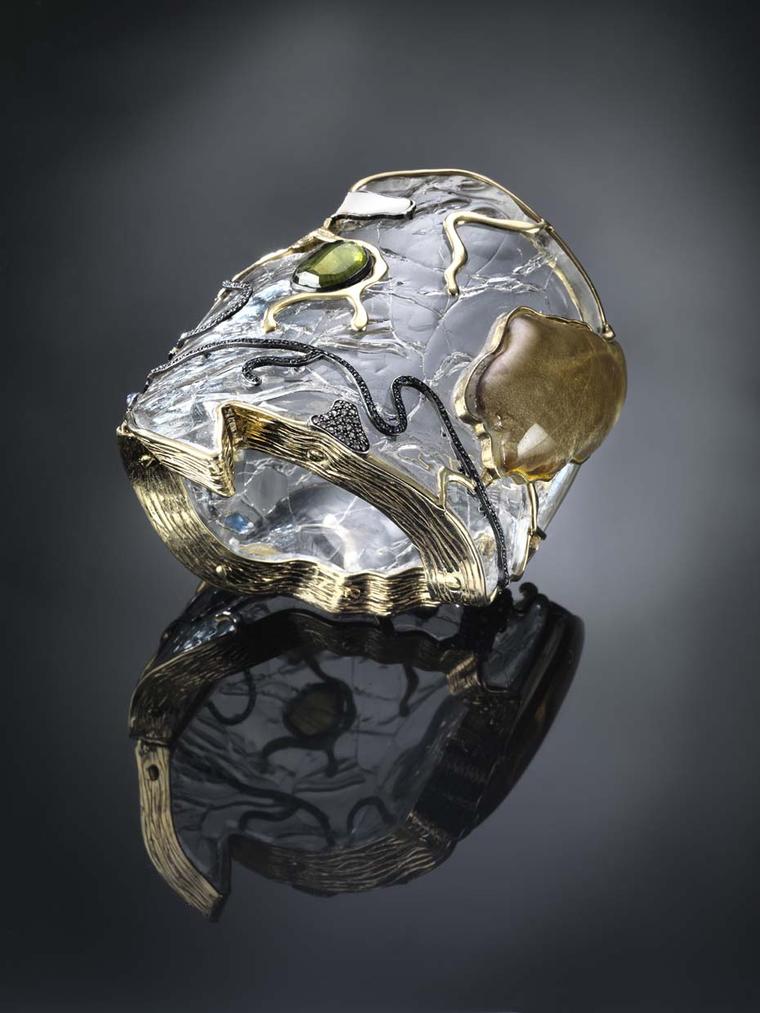 By Rebecca Doulton in Madrid
Luz Camino welcomes me in to view her latest collection. One of the only Spanish jewellers to be represented in the Decorative Arts Museum of Paris and the NY Museum of Art and Design (MAD), Luz is remarkably modest, selling her pieces directly by word of mouth.

Artistically displayed by her son Fernando Tapia, Luz' work bursts forth with life and animation. Two pieces of Luz' work are permanently on display at the Victoria & Albert Museum, including a wildflower poppy brooch arranged with amethyst lavender sprigs and a sheath of wheat. The tremblant amethyst spikes are so lifelike that one can be forgiven for wanting to smell them. A gorgeous enamel and plique-à-jour enamel bird's wing with iridescent green and blue feathers seems ready for flight, and juicy cacti encrusted with tiny river pearls are given their last Madrid farewell before being sent to her exclusive retailer in New York.
"My main source of inspiration is nature," comments Luz. "I lived for 22 years in a house in Navarra and spent a lot of time in my garden. It was there, in the garden, that I decided that all the beauty of the wild flowers had to be translated into brooches for ladies' lapels."

Unlike some jewellers who work exclusively with precious and semi-precious stones, Luz welcomes all sorts of materials into her magical world. "I like to use materials of absolutely no value to create something of great value," she confesses, showing me a delicate Hellebore flower brooch made from resin, with tiny sapphires held in place by bronze and gold filaments, and the back of an orchid, which she assures me is supported by tin cut from a soft drinks can. Luz is also famous for her mastery of plique-à-jour enamel, a complex vitreous enamelling technique that allows light to shine though the enamel, endowing the jewellery with transparency and lightness.

Luz did not originally train as a jeweller but, on the advice of her husband, decided to attend jewellery school in Madrid surrounded by young students who had dropped out of school to master a trade. She was in fact the first woman in Spain to obtain the title of 'Sacador de Fuego' or 'He/she who extracts from fire' - a poetic way of describing the person who melts the metal. "And then one day," she continues, "I realised that the biggest challenge in jewellery is not just making the jewel, but designing the jewel. From then on, all I wanted to do was design."

Sitting on top of an art book on the coffee table is an enormous crystal cuff called Fragmented Africa, a magnificent piece to raise awareness "of all the beautiful things there are in Africa and the terrible injustices that take place there as well."  Decorated with a map of Africa, an area with blue sapphires represents the world's largest refugee camp situated in Dadaab, Kenya where the UNHCR struggles to bring dignity to 600,000 Somali refugees.

Another source of inspiration in Luz' work comes from outer space."The Hubble telescope is like part of my family. I am fascinated by the the images it sends to Earth." Her Galaxy Cat's Eye Opal Cuff is a direct Hubble offspring reminiscent of milky nebulae. But even everyday objects as banal as rubber bands work their way into her creative laboratory. Her asymmetrical 'Rubber Band' earrings, studded with diamonds, came to Luz one day after she dropped a rubber band on the floor and watched how it wriggled and writhed before adopting its final form.
A bright red poppy brooch and a pair of corindum earrings sheath are among the six jewels currently on display at the Beetles & Huxley Gallery in London until 24 December. For our readers on the other side of the Atlantic, Luz's work can be acquired exclusively from Bergdorf Goodman in New York, which is hosting a trunk show through January 2014.
One-of-a-kind Luz Camino Orchid brooch in silver and gold, with resin, vanadinita, diamonds and sapphires.

One-of-a-kind Luz Camino Wing brooch in silver and gold, with sapphires, emeralds, diamonds, enamel and aquamarine.

Luz Camino Rubber Band earrings in sterling silver and gold, set with diamonds. Limited edition of 20.

One-of-a-kind Luz Camino Cat's eye nebula cuff in silver and gold, with opals, labradorite, moon stone, sapphires and diamonds.

One-of-a-kind Luz Camino Corundum earrings in silver and gold, set with Corundum, tourmaline, diamonds and rubies.

The model wears three Luz Camino Lavender brooches in silver and gold, with amethyst and enamel, and three Poppy brooches in silver and gold, with resin and diamonds. Both are a limited edition of 100 (the Lavender brooches are sold out).

One-of-a-kind Luz Camino Triangle pendant/ear pendant in gold, platinum and copper, set with caramel sphalerite, whisky quartz and diamonds.

One-of-a-kind Luz Camino Fragmented Africa Bracelet in gold and silver, with crystal, whisky quartz, sapphires, tanzanite, emerald, diamonds and resin.