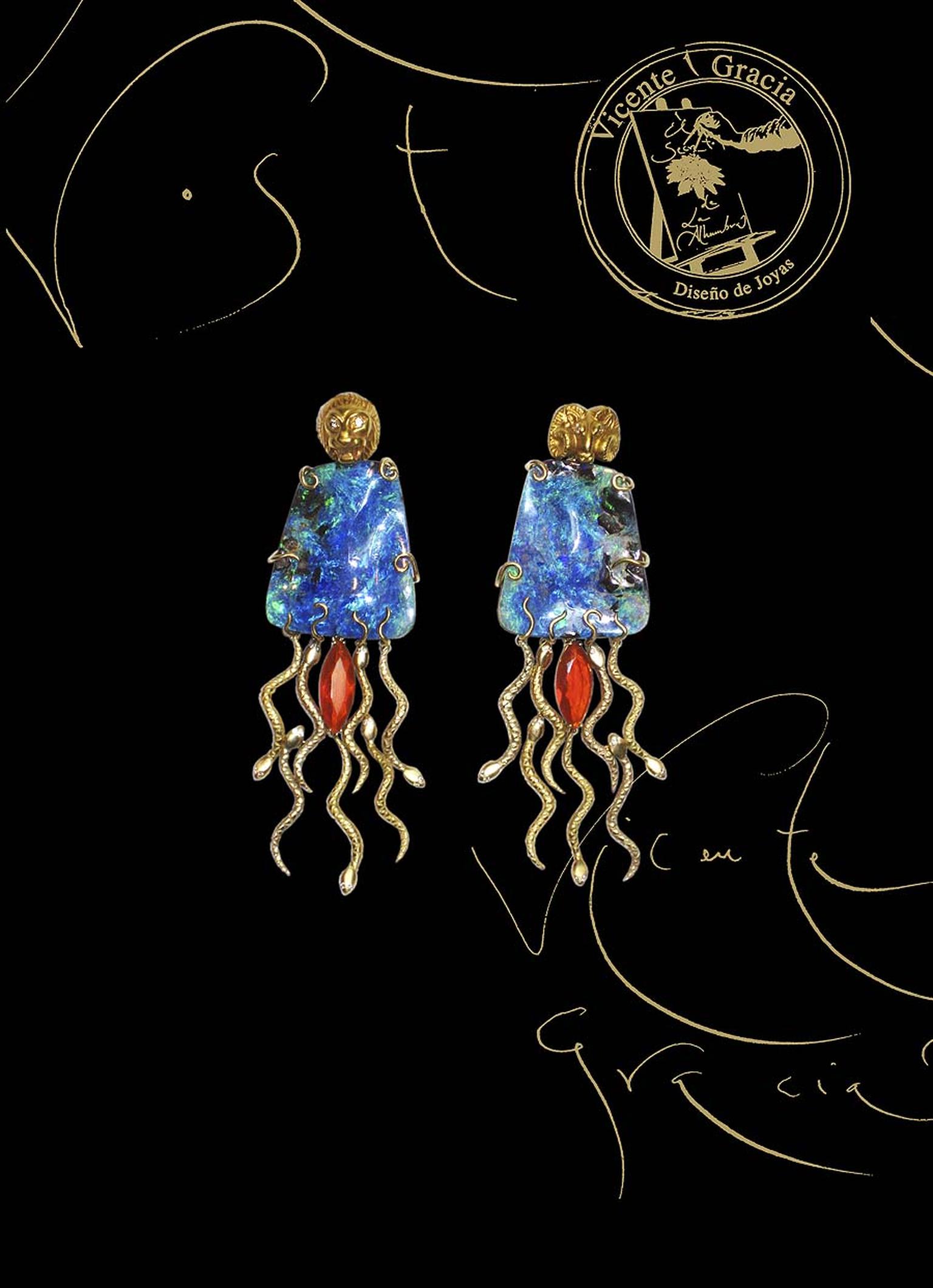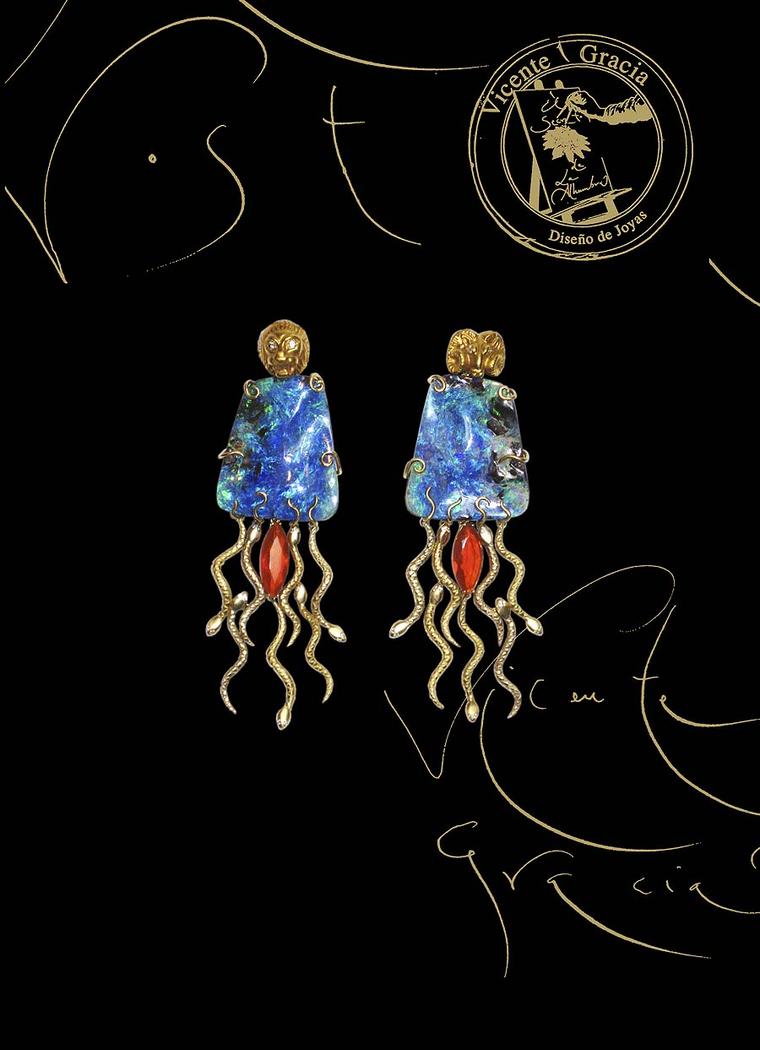 By Rebecca Doulton
Vicente Gracia is a jeweller with a story to tell. "We have the great fortune in Spain to have preserved both our Christian and Islamic inheritance," he points out, and it is this rich cultural heritage that feeds his fantastical universe. Born to a family of jewellers in Valencia, a fertile crossroads where minarets and Gothic churches stand side by side, the sunny city that smells of orange blossom and is cooled by Mediterranean breezes has cast a spell on his work. 
Birds, flowers, fish, plants and floral motifs populate Gracia's oriental-inspired jewellery, evoking the paradisiacal world and gardens of La Alhambra. 'The Rubáiyát of Omar Khayyam', also known as the 'poet of wine', is another source of inspiration. "I am not just a jeweller," he says. "I am a storyteller, and my jewels are inspired by stories and poetry. Jewels are not only luxury adornments, they are cultural messengers." Gracia also embraces Spain's medieval Christian traditions with a collection called Guardians of the Treasure, with wonderful heraldic beasts keeping an eye on the precious stones.
Growing up surrounded by gemstones and the tools of the family trade, Gracia learned the fundamentals of classical jewellery before letting his ripe imagination take over. "I started creating my own pieces during themovida madrileña (the fervid artistic and socio-cultural movement that followed the death of dictator Franco in 1975 and Spain's transition to democracy). I made earrings with spirals that would move in the wind. It was urban poetry to the hilt." In the mid 80s, Gracia was awarded Spain's National Design Prize and set up his own workshop in the historic centre of Valencia.
His craftsmanship, which is characterised by the fusion of different precious metals and the use of rare stones and bright enamels to capture the colours of the Mediterranean, has not, he believes, changed immensely since the Romans conquered Iberia. Fire opals, tourmalines, coral, quartz crystal and sapphires are some of the stones that animate his pieces - miniature sculptures that enchant with their organic forms and lavish ornamentation.
For collectors who make the pilgrimage to his showroom, Gracia offers accommodation in the Casa Azul, a small guesthouse close to Valencia's Central Market. In keeping with the tenets of his favourite poet Omar Khayyam, a special wine for his friends called Vino de la Casa Azul is always at hand.
On the international front, Gracia's pieces came to the attention of Christie's jewellery director David Warren and, in 2007, were included in a select line-up of contemporary jewellers - including JAR and Wallace Chan - to be auctioned in Dubai. Just back from CoutureLab in London, Gracia shared details of his new project with me, which involves setting two extremely rare orange Melo pearls belonging to a private Italian collector. "We are working on setting them in a pair of earrings with garden motifs, and they might be up for auction in Christie's this November. There are only about 100 Melo pearls in the world. They were considered sacred balls of dragon fire by Asian emperors." A rich historical background to get the creative juices flowing, which are also being channelled into a new collection based on the four rivers and trees of the garden of paradise (water, honey, milk and wine and pomegranate, orange, lemon and fig).
Gracia looks forward to attending the Biennale de Paris thanks, in part, to an injection of capital from Juan Roig's start-up fund called Angels Capital. Roig, owner of Valencia's most successful supermarket chain Mercadona, is keen to support the Made in Valencia label. ¡Viva Valencia!
Conference of the Birds brooch, set with a Boulder opal, in 18ct, 24ct and 12ct gold and silver, a new design by Vicente Gracia.

Vicente Gracia at work in his studio.

Vicente Gracia Kingdom of Heaven cuff in gold, with brown and white diamonds.

Vicente Gracia Galaxia gold bracelet with sapphires, fire opals, turquoise and diamonds.

Río de la Vida (River of Life) sketch of a new piece: a gold, diamonds, coloured stones and enamel Vicente Gracia bracelet.

The finished pieces: Vicente Gracia's Splendore earrings and brooch in gold, quartz crystal rock and diamonds.

Vicente Gracia's sketch of his gold, coral and diamond Splendore earrings and brooch.

Gallo Huevos de Oro (Cock with Golden Eggs) gold and silver ring, set with Jade stone.

Vicente Gracia Mare Nostrum earrings in 18 and 24ct gold featuring snakes, a ram and a lion's head, set with Boulder opals, fire opals and diamonds.