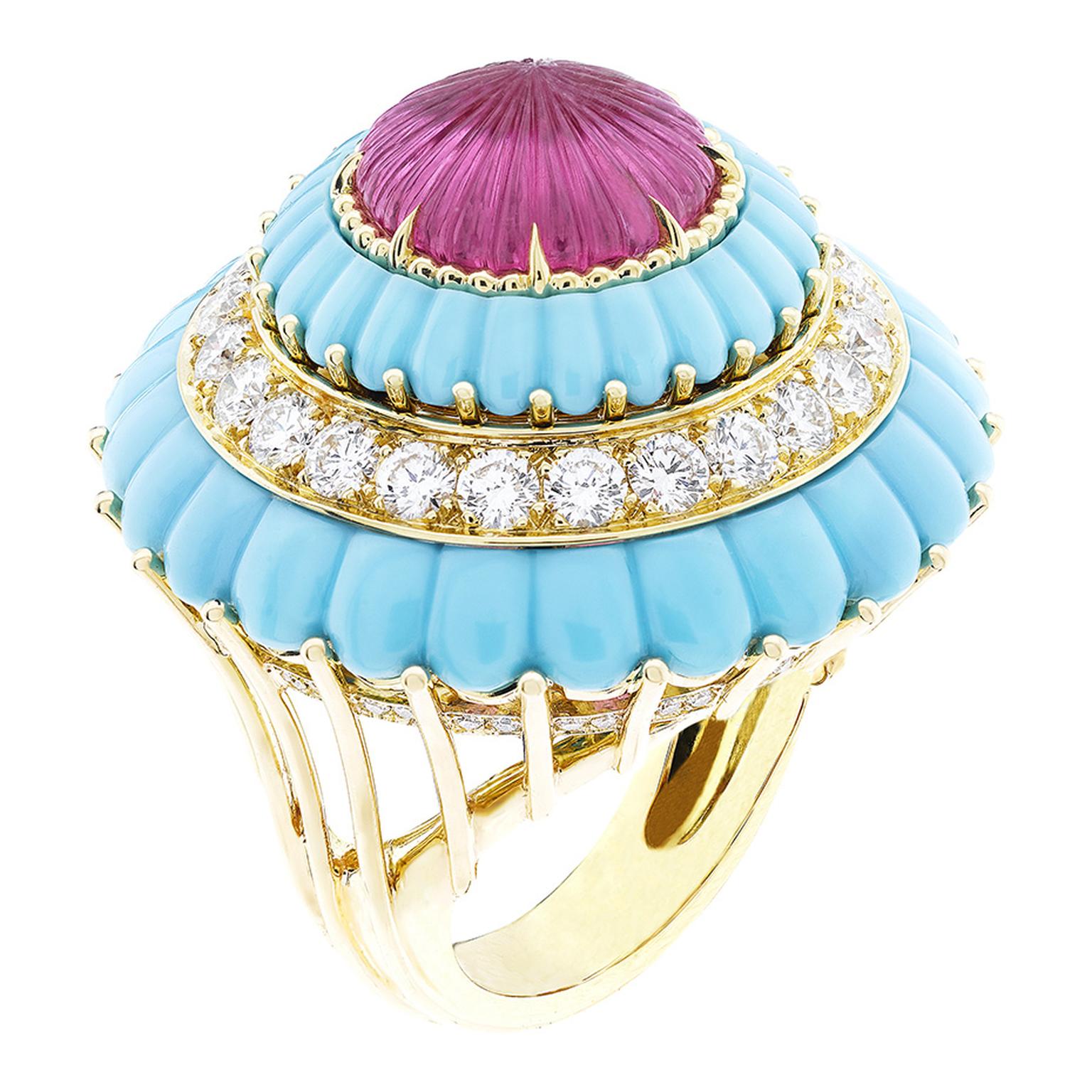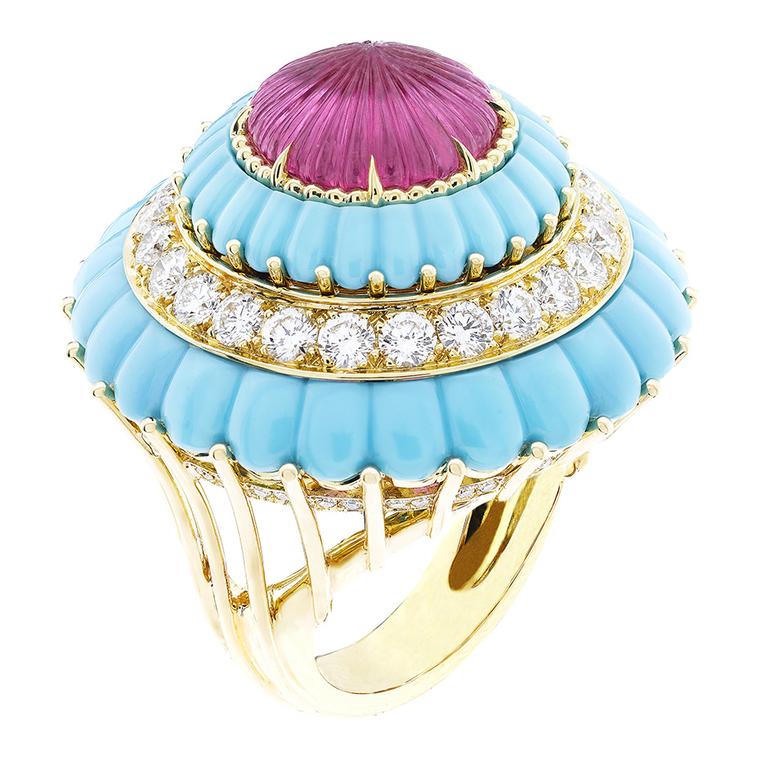 By Jordan Clary in Nevada
When the rocks dream about water, turquoise is born. At least that's one of the myths about this soft blue, and sometimes green, stone found in desert regions around the world. It's been carried as amulets and adorned the necks of nobles from Tibet to Mexico. It's been placed in tombs to help lead the passage to the other world and has been attached to arrows to guide their accuracy.
Turquoise didn't get its name from its colour but from geography. An azure stone first made its way to Europe via mines in central Asia. The trade routes led through Turkey, where merchants bought the stone in Turkish bazaars. The name is translated from the French, 'pierre turquoise', meaning Turkish stone.
There is something soothing about turquoise. It has an earthy quality, and while it's most widely known in Native American jewellery from the American southwest, lately it's been making its way into high-end jewellery, including magnificently colourful cocktail rings by Van Cleef & Arpels and de GRISOGONO and a one-of-a-kind Bulgari necklace that uses circles and shards of turquoise in a style worthy of a queen of ancient Egypt.
Turquoise also adds a colourful flair to watches, such Louis Vuitton's Tambour Bijou Secret watch, with its turquoise face and matching lizard strap. The watch also includes a floral cover that closes to hide the face, turning the watch into a sparkling bangle.
The Tonda Pomellato watch, a collaboration between Swiss watchmaker Parmigiani Fleurier and Italian Jeweller Pomellato, also makes lovely use of turquoise and rose gold. A turquoise stone is set in the dial and enhanced with diamonds on the bezel and lugs for a sleek, classy look.
When I was a child, my parents took me on a road trip to the Grand Canyon in Arizona. We passed through the Navajo nation and stopped along the side of the road, where women were selling silver and turquoise jewellery spread across wooden picnic tables. My mother bought a silver Zuni petit brooch inlaid with bits of sky blue turquoise.
Today I know that turquoise came from the Sleeping Beauty mine in nearby Globe, Arizona. Most North American turquoise is known for its pattern of matrix that runs through it like a spider's web, but Sleeping Beauty is a solid blue, similar to that found in Iran. Since the Sleeping Beauty mine closed last year, this turquoise has become a collector's item.
I still have that Zuni brooch, which I found in my mother's jewellery box after she died. I keep it as a reminder that jewellery is so much more than beauty. It holds memories and is a timeless symbol of love. I'll always associate turquoise with thoughts of my mother and the Arizona desert, a land of high plateaus, harsh weather and a liquid blue sky so deep it feels as if you could fall upwards into it.
Read more on the turquoise jewellery trend
Nikos Koulis ruby and turquoise pendant in black rhodium from the Spectrum collection.

Bulgari Diva high jewellery emerald and turquoise necklace.

Bulgari Diva high jewellery necklace in pink gold with amethysts, rubellites, emeralds, turquoise and diamond pavé.

Pomellato Capri ring in rose gold with turquoise and rubies.

Boghossian Haute Joaillerie earrings with champagne diamonds inlaid into turquoise and Paraiba tourmaline.

Carla Amorim turquoise earrings set in rose gold.

Colette earrings, set with Amazonite, turquoise and diamonds.

La D De Dior Precieuse 21mm watch in white gold, with a turquoise dial and diamonds.

Piaget Altiplano watch in pink gold, with a turquoise face surrounded by brilliant-cut diamonds.

One of the Tonda models captures the spirit of Pomellato's vibrant Capri Collection. The dial features a beautiful turquoise stone set to light with diamonds on the bezel and lugs.

de GRISOGONO aqua blue and purple earrings, from the 'Melody of Colours' collection, set with 74 white diamonds, 118 amethysts, 42 marquise-cut amethysts, two amethyst drops and cylinder-cut turquoise, all set in white gold.

de GRISOGONO's statement aqua-blue ring from its 'Melody of Colours' collection is a beautiful piece featuring 272 amethysts, 18 cabochon-cut turquoises and one turquoise, all set in white gold.