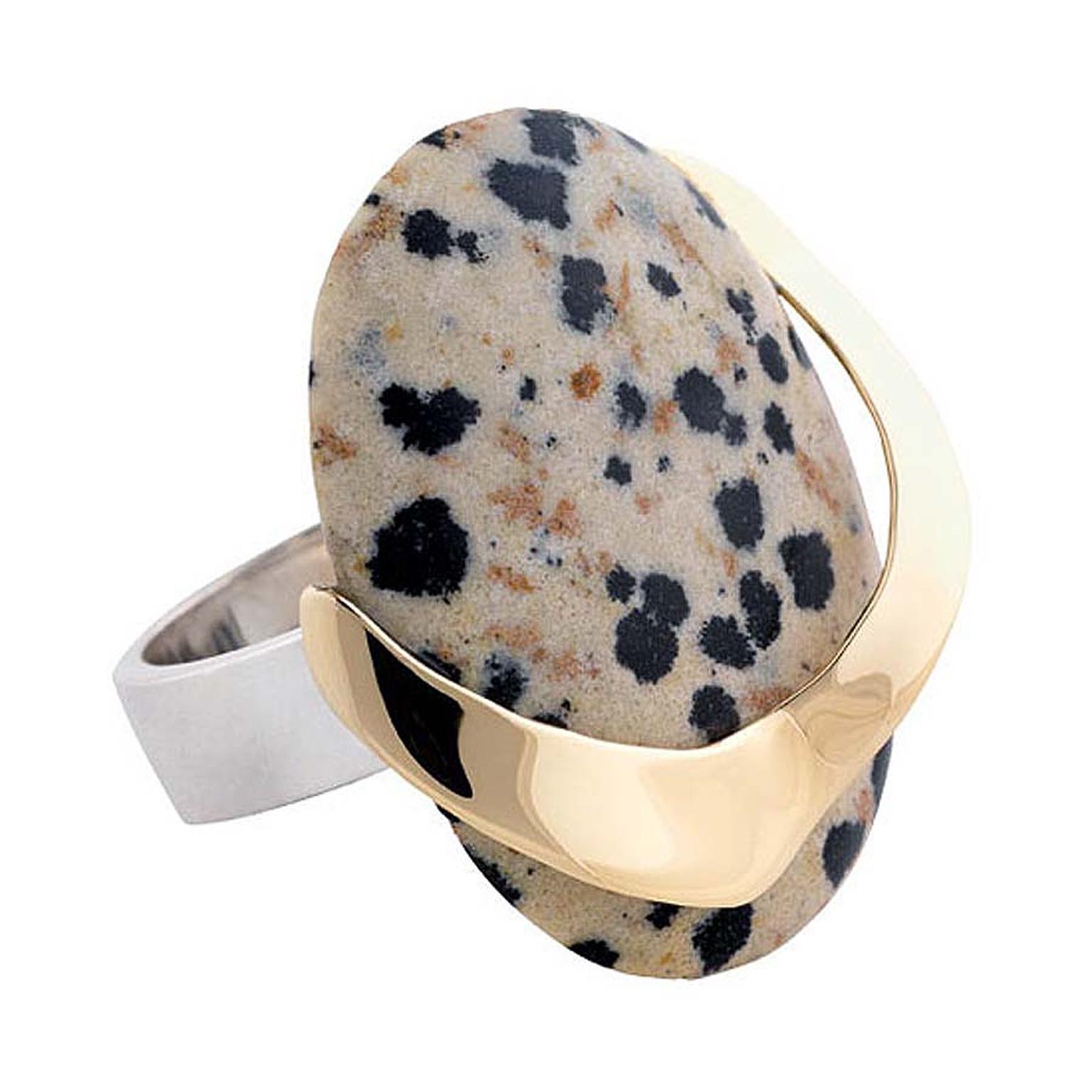 By Rebecca Doulton
Belén Bajo works from a spacious apartment overlooking Gran Vía, Madrid's most famous metropolitan artery. Home to Europe's first skyscraper, Gran Vía is a showcase of XXth century urban architecture, which has always fascinated Bajo. "If I weren't a designer, I would probably be an architect," she confesses. In fact, Bajo is one of Spain's most original contemporary jewellery designers. A graduate of Fine Arts and professor of jewellery design, she has been creating her own pieces since 1996. "My idea is to mix the rationality and geometry of Scandinavian design with the warmth and colours of my culture. I love German designers, for example, but they are missing the warmth of our colourful Spanish Mediterranean culture."
Above the hustle and bustle of Gran Vía, Bajo's studio/showroom is an oasis of serenity and light. Bold orange and black contemporary furniture, colourful walls and a black and white oval polka dot table form part of Bajo's habitat, a vibrant world reminiscent of an Alexander Calder mobile or Joan Miró painting. Her 'characters' - as she likes to call them - in her ongoing jewellery story are artistically displayed in cabinets and under bell jars around the studio: rough chunks of lava and sparkling geodes, metallic cubic pyrites and wafers of natural coloured onyx. Even starfish and nautilus are given pride of place.
Renowned for her jewellery crafted in natural stones, suspended in sculptural gold and silver supports, Bajo steers clear of conventional precious stones like rubies and diamonds and instead embraces nature's more modest and abundant gifts. The flowing organic lines of her miniature modern sculptures, where unusual textures and vibrant colours converge, have often elicited the appellation 'rustic chic'.
"I'm not interested in pursuing traditional jewellery," she says. "I want to introduce an innovative edge to my work, and I get that from the materials and shapes I use. I work a lot with quartz, which as you know is one of the most abundant minerals on Earth, as well as agate and jasper. My biggest thrill is to go to Mineral Fairs. It's just amazing how much variety there are, and I'm always on the look-out for textures, colours and contours."
Her latest 'characters' are druzes from Brazil, the fascinating crystallised interior of an agate geode. Laid out in small black compartments, Bajo extracts two unusual druzes, one with speckled Dalmatian spots against a milky white background and another with delicate floral formations courtesy of Mother Nature. "There are also metallized druses obtained by encrusting 18ct gold powder or titanium on the surface of the crystals," explains Bajo, rubbing her finger over the abrasive, almost asphalt-like surface of one of her rings.
Recently featured on the cover of 'The Sourcebook of Contemporary Jewelry Design'with one of her black and white Op Art-inspired pieces, Bajo's use of semi-precious stones and adroit balance of sculptural, organic lines have found a wider audience abroad. "The problem is that Spain is a very conservative market, and the idea of wearing something with a bit of lava or coloured quartz beads is not some women's idea of jewellery." I couldn't disagree more.
Belén Bajo yellow gold, silver and rutilated quartz ring.

Belén Bajo double-decker ring with hydrothermal quartz (€352).

Belén Bajo is one of Spain's most original contemporary jewellery designers, renowned for her jewellery crafted from natural stones.

Belén Bajo and her team at work in their studio in Madrid.

Jewels in Belén Bajo's monochromatic Op Art series, made from black onyx and white agate with pink gold and silver.

Belén Bajo's 'characters' - the name she uses for her jewellery creations - on paper and worked up into jewels.

Belén Bajo titanium metallized druze, 18ct yellow gold and silver earrings (€510).

Belén Bajo yellow gold, silver and abalone ring (€389).

Belén Bajo natural black druze pendant with lavender jasper bead necklace.

Belén Bajo titanium metallized druze with 18ct gold and silver brooch or pendant (€700).

Belén Bajo Tutti Frutti necklace with jasper and quartz squares, black onyx and lava beads.

Belén Bajo black onyx and lava bead earrings with 18ct gold (€678).