Long before the 90s era of grunge and the trend for diaphanous slip dresses accessorised with a strip of black velvet fastened around the neck, chokers have played a significant role in the history of jewellery. Worn by ancient civilisations as a means of protection, chokers are among the earliest recorded jewels, and whilst their popularity has waxed and waned through the centuries, they have long been representative of power and strength. 
During the Victorian era, royalty developed a fondness for bejewelled chokers, a favourite of Alexandra of Denmark, Queen Consort to King Edward VII, who ruled England from 1901 to 1910. Her love of chokers set with precious stones and pearls, which rose high up the neck and covered the décolletage, filtered down to the general public, who wore brooches and pendants strung on pieces of velvet to emulate their aristocratic sisters. 
I wrote about the return of chokers three years ago and, ever since, what could have proved nothing more than a fleeting trend grew into something more permanent. Versatile (they can be worn with most necklines), original and often edgy, chokers have made the leap from high fashion to high jewellery with elegant ease. 
If you are in any doubt that chokers are here to stay, check out the new collections launched during Couture Week in Paris. From regal designs that spill down the neckline in a shower of precious stones to sleek, simple neck-huggers, chokers, like ear cuffs, are symbolic of a new era of originality in the world of high jewellery. 
Of all the new collections launched this summer, Bulgari's Cinemagia offered the most compelling proof that the choker is worthy of high jewellery status. Inspired by the world of film, the magical collection is Bulgari through and through, with some unexpected surprises, not least a pearl and diamond choker. Better known for its bold use of coloured stones, in the seductive Diamond Cascade choker Bulgari drapes pearls set in blackened gold down the neckline. It's a wonderful piece that references Claudia Cardinale's role of Angelica in Luchino Visconti's film 'The Leopard', a historical epic set in 19th century Italy featuring lavish evening dresses and the jewels to match. The transformable choker can also be worn in the hair, earning it extra princess points.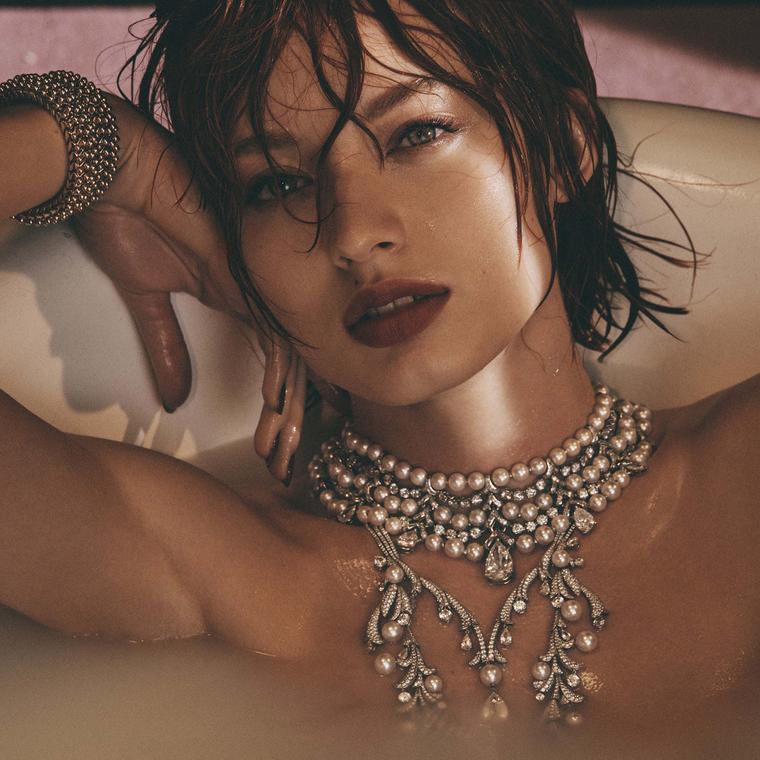 Alexandra of Denmark would have loved David Morris' exquisite chokers, which form part of the new Enchanted Isle collection. Inspired by the London jeweller's holiday home on the Greek island of Mykonos, my favourite is Rhea, which is set with more than 110 carats of conch pearls. Among the rarest gems in the world, Morris has collected conch pearls for decades and normally unveils at least one piece of high jewellery a year starring these elusive pearls that are impossible to cultivate. The Rhea choker, however, trumps them all. It is a masterpiece destined to be treasured by a collector who is well-versed in the extraordinary rarity of these remarkable pink pearls. 
Returning to the powerful women theme, Louis Vuitton's new design director, Francesca Amfitheatrof, celebrates the medieval heroines who, in a man's world, carved their own place in history with the new Riders of the Knight high jewellery collection. Shaped like a chain mail throat-protector, the spectacular Le Royaume choker sits alongside chunky medallion necklaces as a symbol of courage and strength – precious armour for today's warrior women who, like the heroines of old, perceive jewellery as so much more than simple adornment.     
Bulgari Forever Emeralds choker, set with nine antique cushion-cut emeralds and diamonds in white gold, from the new Cinemagia high jewellery collection.

Part of Bulgari's Cinemagia high jewellery collection is this pink gold choker set with 70 pear cut rubellites, pink tourmalines and amethysts, accented with pavé diamonds.  

Reminiscent of a Peter Pan collar, this high jewellery choker in pink gold, set with diamonds, aquamarines and sapphires in mother of pearl, is from Bulgari's Cinemagia collection. 

The Diamond Cascade necklace from Bulgari's Cinemagia collection is a tribute to Claudia Cardinale's role of Angelica in Visconti's film 'The Leopard'. The pearl and diamond necklace can also be worn draped in the hair.