The torque trend has been gaining momentum in the past six months, culminating in some truly extraordinary high jewellery debuted by the French maisons during Paris Couture Week. But what does torque – a term more commonly associated with science – even mean when it is applied to jewellery?
Designed to sit snugly on the body, torque jewellery has no clasps or hinges. Whether solid and inflexible or springy and held on by tension – hence the name – it's a style that has been around for centuries. Think of golden snakes winding their way up the arms of the Ancient Egyptians or the classic Roman torque bracelet, an open design made out of twisted metal.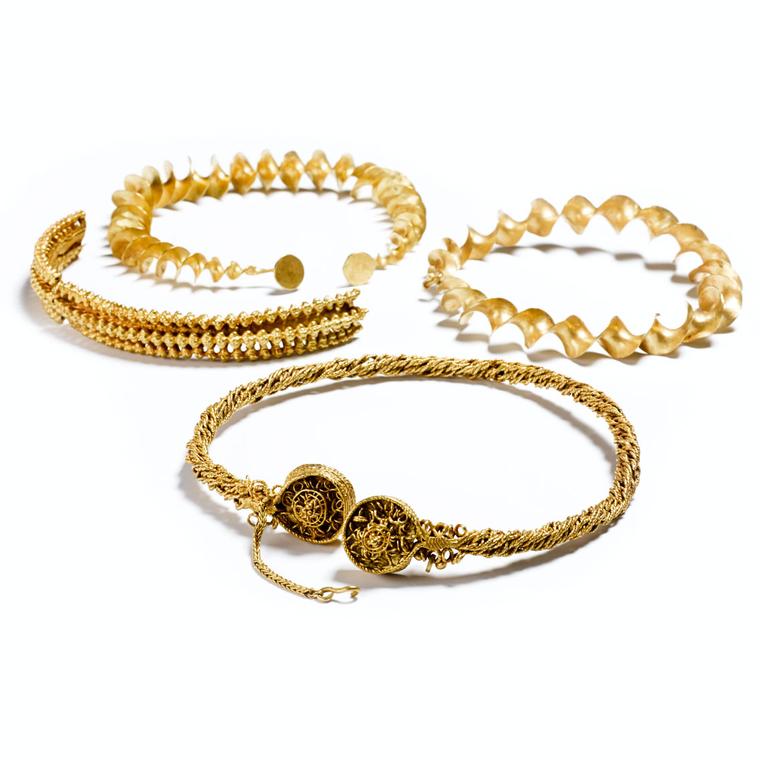 Rigid torques worn around the neck were one of the most important forms of jewellery for the ancient Celts. On display at New York's Met Museum is a very early torque dating from the 4-3rd century BC in bronze, while one of the most famous examples, the ornate Snettisham Great Torc (circa 150 BC-50 BC) – discovered by a farmer in Norfolk, England – is a spectacular piece of Iron Age design comprised of eight flexible ropes of gold alloy. Another recent archaeological find, the Blair Drummond torcs, is evidence that this hugely popular piece of Celtic jewellery came in a wide variety of styles.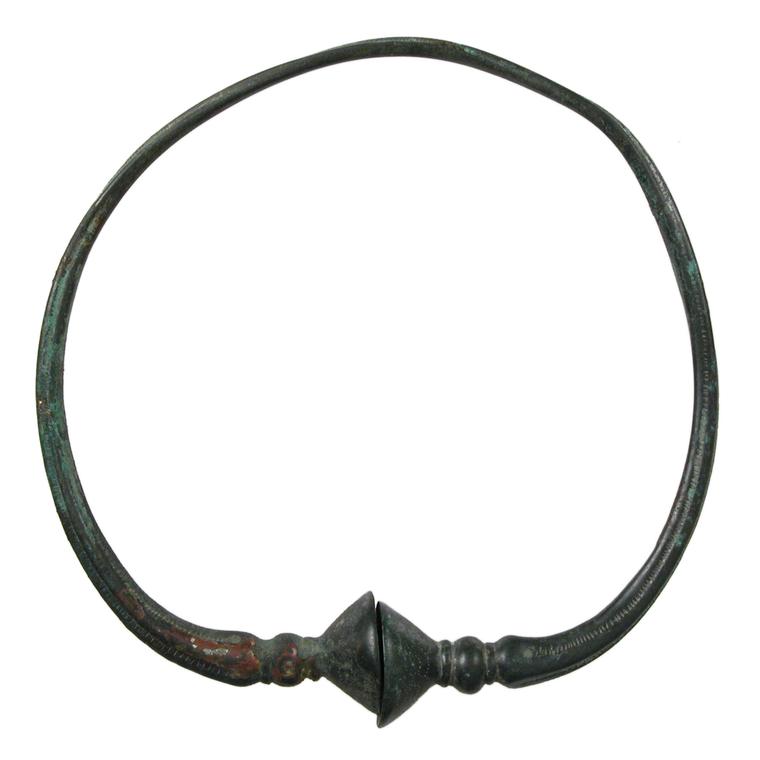 The Celts attached great symbolism to torques. According to the Greek writer Cassius Dio, the Celtic queen Boudica went into battle with the Romans in Britain wearing "a great necklace of twisted gold", a potent symbol of her strength, power, nobility and rank. Torques were believed to have talismanic qualities too, their C shape symbolic of a crescent moon, closely linked in mythology with creativity, growth, metamorphosis and the expulsion of negative energy. Fascinated by these weighty neck ornaments, the Romans awarded them to their bravest soldiers, and soon the torque migrated to wrists.  
Torque necklaces were a popular form of adornment for the Ancient Greeks too, and renowned Greek jeweller Ilias Lalaounis was responsible for recreating many designs from the era before he passed away in 2013. An expert in Greek antiquity, Lalaounis combined ancient goldsmithing techniques with modern-day jewellery-making technology to breathe new life into Greek museum artefacts, from snake bracelets to ornate necklets in twisted gold, adorned with animal heads. It is his Greco-Roman torques that feel so of the moment, though. Compare Lalalounis' lapis lazuli design with fellow Greek designer Nikos Koulis' Spectrum choker and you can feel the weight of history being transferred from old to new.
Tiffany's minimal Infinity cuff in rose gold is a direct descendent of the Roman torque bracelet. The key to slipping on this style of bracelet without forcing it is to find the fleshy part of the wrist, just above the bone. Once on, it hugs the wrist comfortably, the infinity symbol – an ancient motif that denotes connection, energy and vitality – given a luxurious dusting of diamonds.
The Bulgari Serpenti first made its appearance in watch form in the 1940s and remains one of its most iconic designs. Taking torque jewellery one step further, the Italian jeweller developed its own technique known as Tubogas to recreate the springy coils of a snake. By winding strips of gold or steel around a spring like ribbon, with no soldering, Bulgari's master goldsmiths created something truly revolutionary: the ultimate flexible jewel, which clings to the wrist like a second skin.
Van Cleef & Arpels has been designing torque-style bracelets since the 1920s, but nothing tops the design it presented during Couture Week in Paris recently. The Twist Émeraude bracelet features an ingenious, invisible opening system that gives this one-of-a-kind jewel an incredible suppleness, despite its size and stature. Cartier launched something similar as part of its new Magicien high jewellery collection: a torque bracelet made up of individual diamond-set "feathers", inspired by the tropical quetzal bird. Like Bulgari's groundbreaking Tubogas jewels, this bendy bracelet is a feat of engineering as well as a fabulous piece of jewellery. 
On display at New York's Met Museum is a very early Celtic torque from the 4-3rd century BC in bronze. Gift of J. Pierpont Morgan, 1917.

The Blair Drummond gold torcs, circa 300-100 BC, discovered in Scotland in 2009. © National Museums Scotland, Edinburgh.