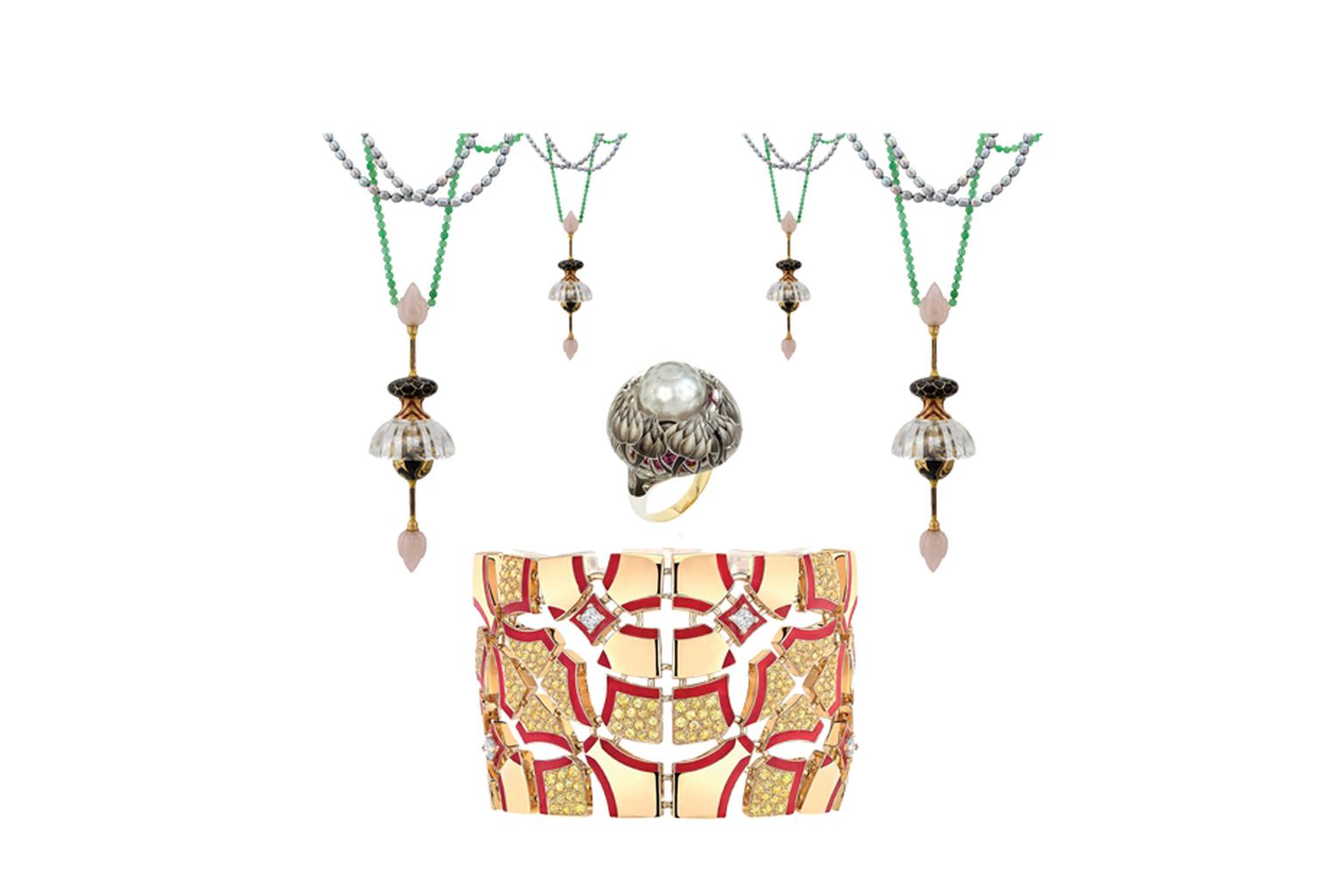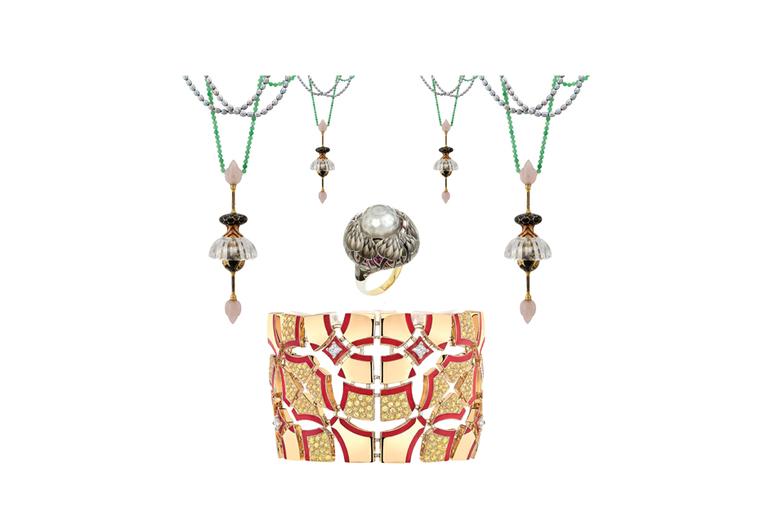 By Åse Anderson
The use of enamelling in jewellery dates back to the ancient Persians, Egyptians, Greeks and Chinese before being popularised by the Romans. Following the expansion of the empire to Byzantium, enamelling techniques spread to Western Europe.
In simple terms, it involves a glass paste being applied to metal and then heated to fuse it to the surface. The finish of the enamel can be translucent or opaque depending on the temperature used to melt the glass. Higher temperatures result in a more transparent and durable enamel while lower temperatures give a more opaque and fragile surface.  
In the 1900s, the technique was adopted by jewellers like Lalique, Fabergé and Tiffany who started using vitreous enamel - a fusion of fired glass with sterling silver - to add lustrous colour to their jewels.
Today, jewellery designers like Alice Cicolini, Raphaele Canot and Hattie Rickards are bringing enamelling bang into the 21st  century with jewels that combine eye-catching design with traditional techniques.
Cicolini  collaborates with craftsmen in India to create her Eastern flavoured jewels and is renowned for her use of meenakari - an old Persian technique that involves applying enamel to patterns engraved into gold.
A thin sliver of red enamel adds interest and colour to this  Raphaele Canot bracelet from her Skinny Deco  collection and the material brings a vibrant touch to the revolving central octagon in the  Hattie Rickards Flip Octo  ring.
The way that enamelling blurs the already fuzzy line between jewellery and art is beautifully demonstrated by the pieces created by Russian jeweller  Ilgiz Fazulzianov, who designs under the moniker  Ilgiz F.  In the Burdock ring he designed for  Annoushka,  intertwined enamel flowers climb up a ruby-covered base towards a central pearl.
Former interior designer turned award-winning jeweller  Holly Dyment  creates colourful pieces that are both sophisticated and contemporary. Vivid enamel work brings to life the green eye  in the centre of this flamboyant ring surrounded by diamonds and tsavorites.
One of the most impressive pieces from  Chanel's  Café Society collection is the  gold Sunrise cuff  where red enamelling snakes its way around white and yellow diamonds to create a mesmerising colour effect.
At the subtler end of the colour spectrum, a delicate tone-on-tone combination brings a serene lustre to the  Astley Clarke  Giant Moonlight Cosmos  locket in rose gold while a dark blue enamel circle illuminates the white diamonds in the smaller version.
There is something infinitely fascinating how in our modern world, with its rapid technological advances, an ancient technique like enamelling lives on and continues to be treasured by both creators and wearers of jewellery. 
Chanel gold Sunrise cuff featuring enamelling and white and yellow diamonds, from the Café Society collection.

Alice Cicolini Jodhpur Shinkara Pendant made with vitreous enamel, hand-carved Brazilian rose quartz and crystal, freshwater pearls, sapphire, fine Australian chrysoprase and gold beads.

Holly Dyment Green Eye ring featuring vibrant enamel work, diamonds and coloured stones.

llgiz F collection for Annoushka combines extraordinary faceted pearls and exquisite enamel in designs inspired by nature and depicted in intricate detail. The Burdock ring features enamel painted flowers which climb up a ruby-covered base towards the central pearl in an innovative design.

Hattie Rickards Flip Octo Ring with a revolving central octagon in enamel set in Fairtrade Fairmined ecological gold.

Ilgiz F for Annoushka drop earrings with enamelled flowers and diamonds.

The art of enamelling is thriving today as contemporary artists and historic maisons like Chanel employ this ancient technique to bring colour and life to their creations. Pictured here: Chanel gold Sunrise cuff; llgiz F for Annoushka Burdock ring; and Alice Cicolini Jodhpur Shinkara Pendant.