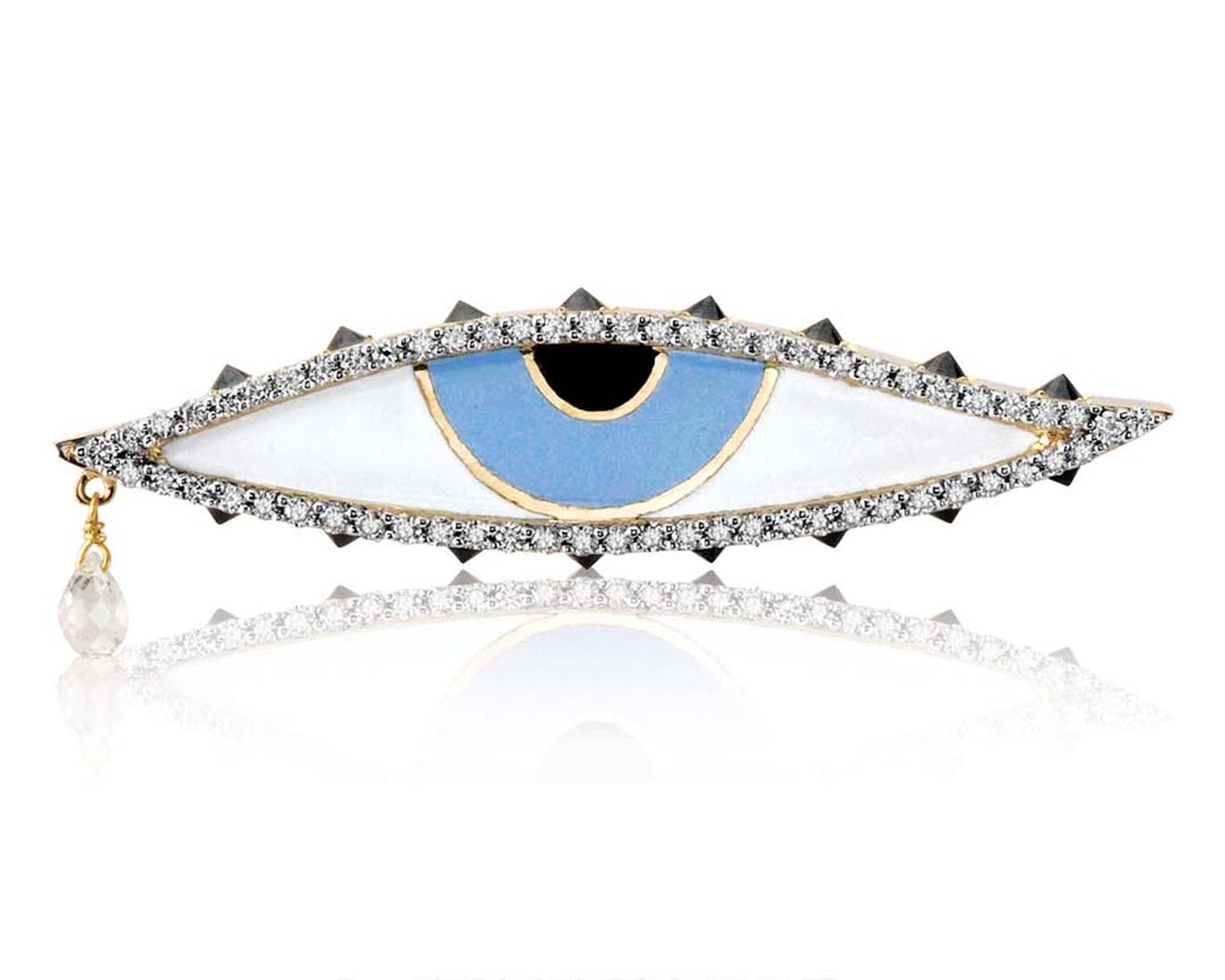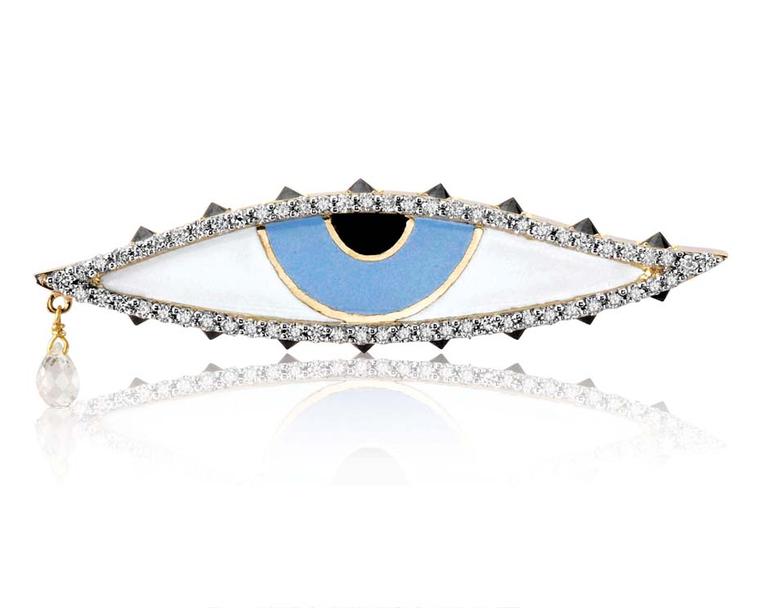 The evil eye has been used as a motif in jewellery for thousands of years. Evil eye beads were thought to reflect negative energy back to its source, thereby protecting the wearer and bringing happiness, love, success and wealth.
Today, the eye symbol has transcended its talisman status and become a fashion statement thanks to celebrities such as Madonna, Paris Hilton, Salma Hayek and Britney Spears, who have all been spotted wearing evil eye jewels.
Canadian jewellery designer Holly Dyment has incorporated the motif into a series of fun yet glamorous pieces. A white sapphire tear dangles from the corner of a diamond-encrusted blue eye on her Teary Eye Enamel ring, while the Green Eye ring features bold geometric shapes and flamboyant gems in the form of diamonds and tsavorites.
Peering out from behind a solar quartz stone, the eye in Bibi van der Velden's Solar bracelet has been cleverly recreated by taking advantage of the natural striations in the quartz, which form the iris, and adding silver eyelids, which peep through from behind the stone. A more dramatic take on the evil eye is offered by Delfina Delettrez's Cartoon Eye earrings, which team pearls and diamonds with a choice of sapphires, emeralds or rubies.
Hand-painted enamel eyes in green or blue with lids edged in shimmering black and white or green diamonds give an edgy, modern look to the Tu Es Partout pendant necklaces by Lito.
Luxurious and opulent, the evil eye jewels in Sydney Evan's Devout collection may ward off dark spirits but we can't guarantee they will keep envious glances at bay. The rose gold Puffy Evil Eye necklace glistens with pavé diamonds in champagne, black and white, while the Enamel Evil Eye necklace features a turquoise eye with a pavé border.
French jeweller Sylvie Corbelin also offers a glamorous take on the trend with her Fascination collection, which was unveiled at Haute Couture week earlier this month. Like mini-works of art with an awe-inspiring attention to detail, each piece is inspired by the human eye. If one eye is not enough for you, the mobile earrings feature no less than three gem-encrusted eyes suspended from a central stud, also in the shape of an eye.
Superstitious or not, these evil eye jewels are far too beautiful to overlook. 
Bibi van der Velden Solar ring in silver with white diamonds and a solar quartz stone.

Holly Dyment Green Eye ring featuring vibrant enamelwork, diamonds and coloured stones.

Lito Tu Es Partout bracelet featuring a blue enamelled eye and black diamonds.

Lito Tu Es Partout pink gold necklace featuring a green enamelled eye surrounded by green diamonds.

Sydney Evan Puffy Evil Eye necklace in rose gold with pavé champagne, black and white diamonds.

Sylvie Corbelin Fascination collection gold ring featuring diamonds, colourful gem-set irises and a turquoise charm hanging from the tear duct.

Sylvie Corbelin Fascination collection mobile earrings featuring three gem-encrusted eyes suspended from a central stud, also in the shape of an eye.

Sydney Evan yellow gold Evil Eye pendant featuring turquoise enamel and a pavé diamond border.

Delfina Delettrez Eye Piercing earring in gold with diamonds, blue sapphires, a black diamond and a pearl.

Holly Dyment Teary Eye ring featuring enamelwork, diamonds and a charm hanging from the tear duct.