Pilot or aviator watches are a style of watch recognisable for their large size, easy-to-read black dial, triangle marker at 12 o'clock and outsized ratcheted crown, often called an "onion". Each of these design features has evolved from the original function of the early aviator watch, which was a vital cockpit instrument in the pioneering days of air travel.
Which was the first aviator watch?
The pilot watches we know today were mainly born in the golden age of aviation, between the two World Wars.  However, the very first watch designed for air travel was the Santos-Dumont watch, which Louis Cartier made for his friend, the Franco-Brazilian playboy pilot Alberto Santos-Dumont.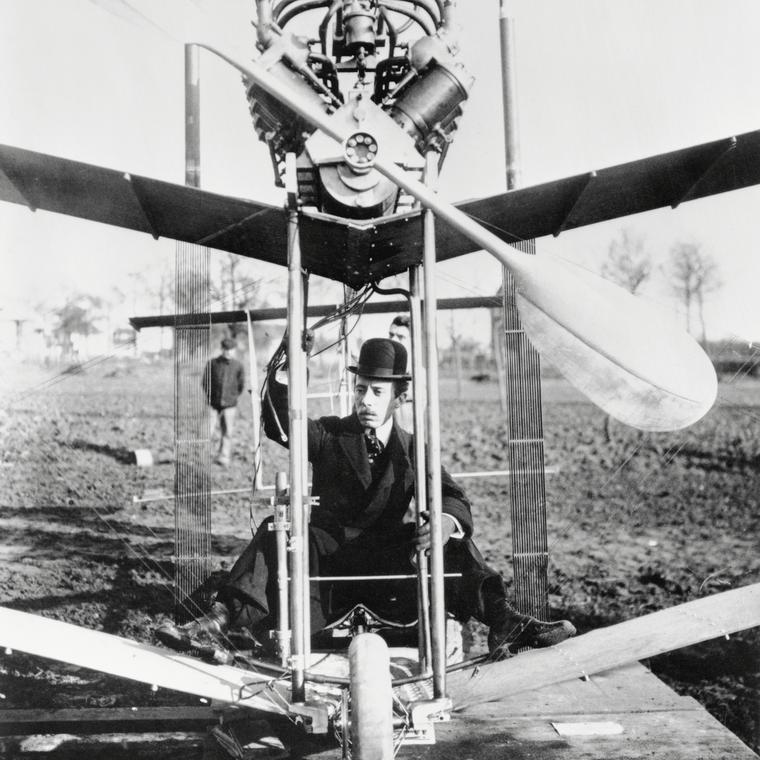 The square watch we now know as the Cartier Santos was designed in 1904 after Santos-Dumont commissioned it in honour of his successful flight in a dirigible around the Eiffel Tower. A pilot needed access to a watch without fumbling in his pocket while at the skittish controls and the square Santos wristwatch, with a clear white dial with Roman numerals in a practical bolted-down case, was the solution.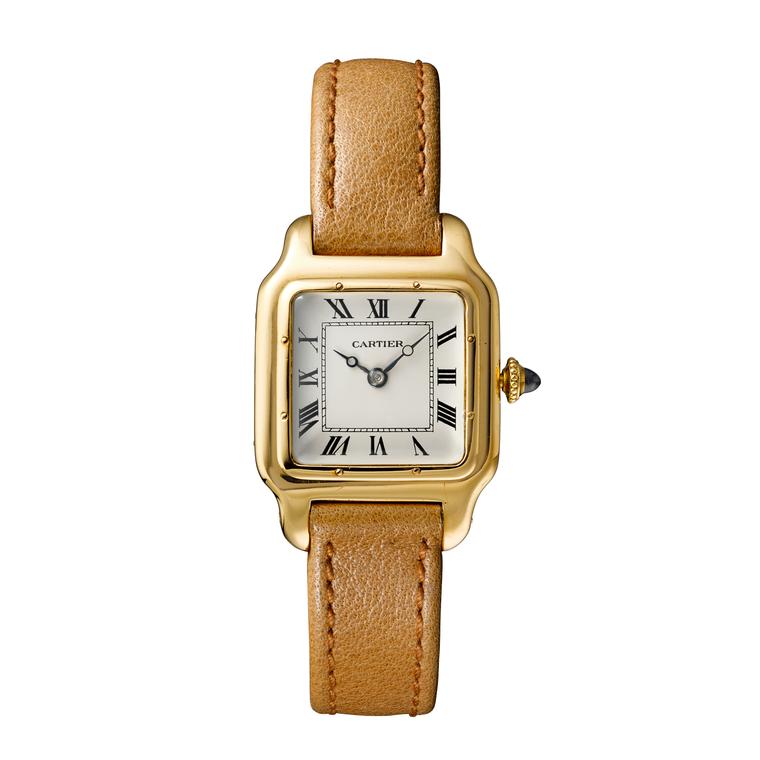 Santos-Dumont then moved on to develop the Demoiselle bi-plane in 1906, for which he is best remembered. At the time, only women were wearing wristlet watches developed by Patek Philippe and the style was considered unsuitable for men. That changed when Cartier began to produce the Santos, right, commercially in 1911, making it the first serially produced wristwatch. The arrival of World War I temporarily halted production.
The Santos is one fo the few square aviator watches as the World Wars changed the demands placed on aviator watches. From WWI onwards, pilots' watches were considered key equipment and military specifications demanded round watches. Ever since, all aviation watches have been round.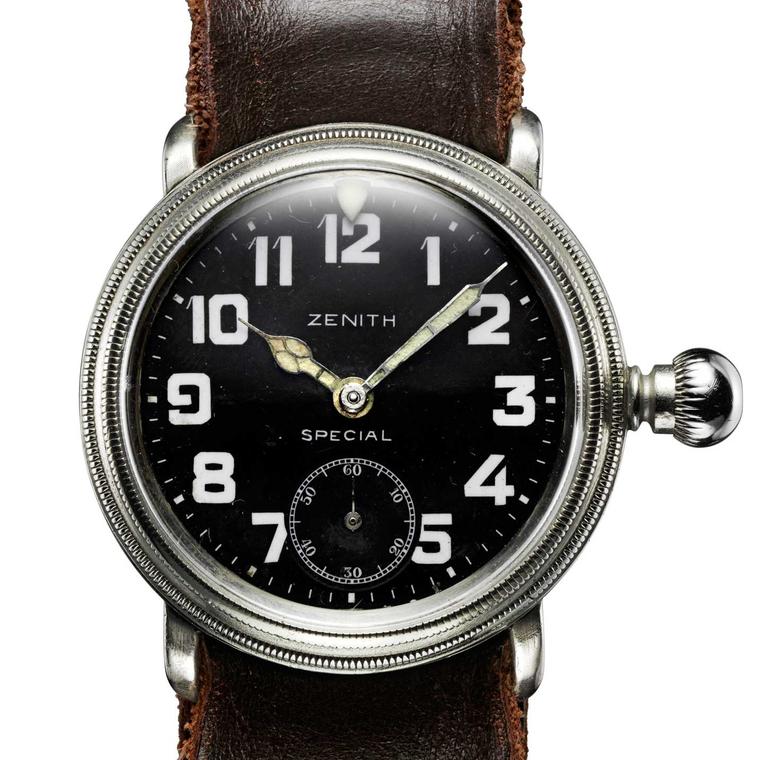 The other famous name associated with the early days of flying is Zenith. In 1909, Frenchman Louis Blériot crossed the Channel to win a £1,000 prize with a Zenith strapped to his wrist.
The watch demonstrated the first practical aviator features we see in pilot watches today: large, luminous markings on the dial, Arabic numerals, an over-sized ratcheted crown and an anti-magnetic hairspring. Often the watches could be detached from their canvas straps and set into the cockpit.
No aviator watch story would be complete without a mention of the Wright brothers. And though they did not wear a Zenith watch, the Swiss firm pays homage to their 1903 flights with this vintage-looking watch, below, complete with aged hour markers, on a strap adapted from one originally designed to wear a pocket watch on the wrist.
Zenith continues to make aviator watches, such as the one above and the Pilot Type 20 GMT (£5,200), top of article. The outsize bronze 48mm case houses the brand's in-house automatic Elite 679 calibre, and every detail harks back to the early days of military air combat.
What watches did World War I pilots wear?
Until the First World War, aviator watches were used mainly for timing flight duration. But as war demanded more precise flying and therefore more accurate instruments, pilot watches became more sophisticated.
The British Royal Flying Corp issued adapted pocket watches to its pilots, mainly produced by the Smith Watch company. These watches are known as the Mark watches because of their distinctive and simple case-back markings: an arrow and the regiment of the corps.
The Mark IV and V were used to aid navigation, monitor fuel consumption and, crucially, coordinate attacks, making them essential military equipment. Luminous dials were introduced for night-time flying.
American pilot watches
After the First World War, flying became more commonplace, particularly in the United States. As pilots strove to break new records, navigation across vast expanses of sea became the new challenge.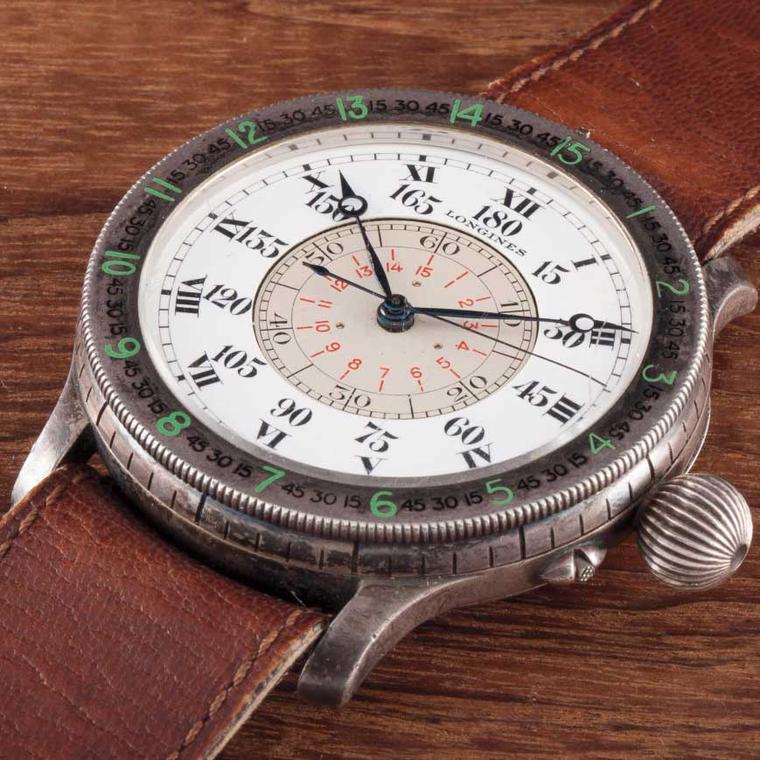 The Swiss watch company Longines timed Charles Lindbergh's 1927 Atlantic crossing in the Spirit of St Louis. Shortly after landing in Bourgeut outside Paris after his record-breaking 33 hours and 30-minute flight, Lindbergh worked with Longines to develop the Angle Hour watch, a refinement of the Weems watch that allowed pilot to maintain the precision of the watch by adjusting the time via the oversize crown while listening to minute radio beeps, thus eliminating potential navigational errors.
This style of watch is characterised by a rotating centre seconds dial and models are still in production today.  The 90th anniversary of Lindbergh's flight is commemorated in Longines' Lindbergh Hour Angle watch (£3,890).
What did World War II pilots' watches look like?
Aviator watches in the Second World War were worn over thick flying jackets so came on a double strap long enough to slip over the cuff.  More precise mechanisms eliminated the need for constant correction, but the oversized crown allowed to wearer to use it while wearing gloves.
Highly legible black dials with luminous white markings, easy-to-read sword hands and a triangle at 12 to indicate whether the plane was flying upside down or not were made for both the German Luftwaffe and the British Royal Air Force. Often chronometers, these precise and robust watches were used for plotting courses and navigation. IWC's Big Pilot is an evolution of the Luftwaffe's B-Uhr.
One of the most iconic aviator watches is IWC's Big Pilot (£11,450). At a sizeable 46mm with an IWC-made mechanical movement, it is as authentic as a contemporary aviator watch gets.
Aviator watches since the World Wars
As flying became more advanced, so did the watches. But rather than critical pieces of equipment, as they were in the early days of flying, jet travel relegated the mechanical watch to a back-up instrument.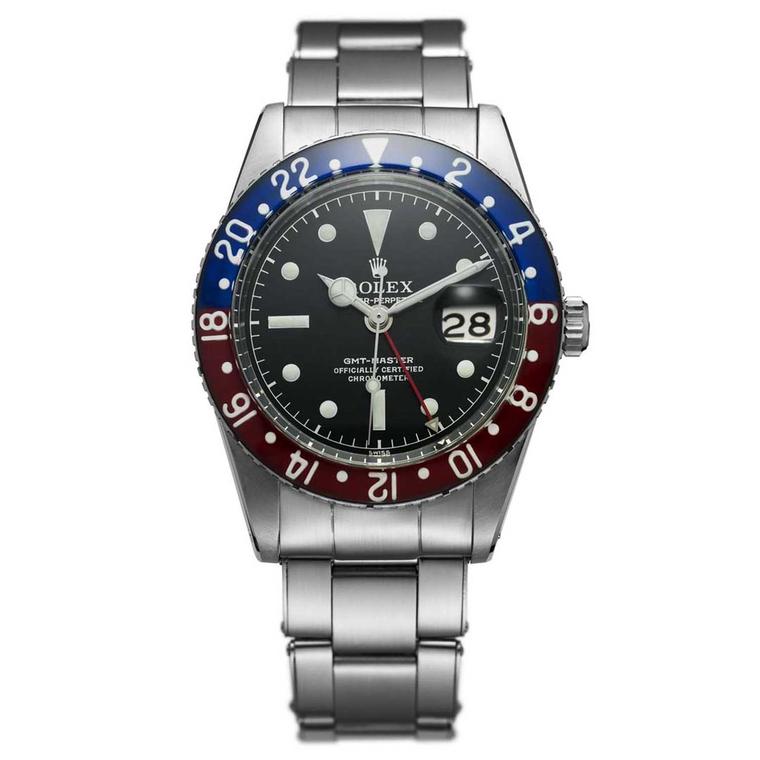 The most famous watch associated with commercial aviation is the Rolex Pan Am GMT Master, originally developed for the airline's commercial team in conjunction with Rolex in 1954. It was designed with the innovative function of a fourth hand to tell the time both at the destination and at home. The blue and white bezel, for which the watch got its long-standing nickname Pepsi, helps jet-lagged pilots differentiate between am and pm at a glance.
Breitling's links to aviation date back to the 1936 when, during World War II, the firm provided timing equipment to the RAF. Its first aviation watch was the Navitimer, which in 1952 became the official watch of the international AOPA (Aircraft Owners and Pilots Association). Its circular slide rule was able to perform navigation calculations, from remaining fuel to currency conversion rates.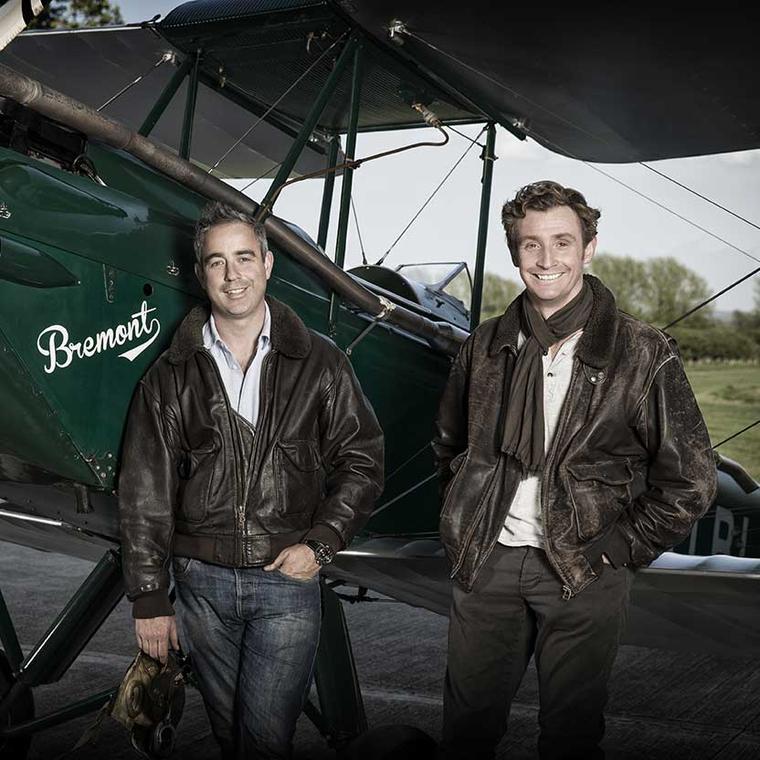 British brand Bremont grew out of the founders' love of vintage airplanes and treats its cases with the same process as the turbines of jet engines to increase their strength. Limited-edition models include material from World War II airplanes or are inspired by contemporary bombers and fighter jets.
Other houses to produce aviation watches today include Oris, Fortis, Longines, Graham, Bell & Ross and Alpina.
What does an aviator watch do? 
Unlike a dive watch, there is not a specific set of rules that determine what qualifies a manufacturer to brand his model an aviator watch. The style of most pilot watches is retro, harking back to the first aviation watches and their distinctive and practical look. Their main functions are precise timekeeping, ruggedness and clear dial markings for ease of legibility.
The most common look for an aviator watch is a large, round case, black dial, luminous markings, outsize crown and triangle at 12 o'clock. Often the strap will be canvas, imitating the standard-issue pilot watches from World War II. In some cases the strap may be extra long to fit over a bulky aviator's jacket.
Post-World War II styles such as the Breitling Navitimer 01 include a circular slide rule that can be used for all navigation-related calculations required to pilot a plane. Other models such as the Oris Big Crown ProPilot Altimeter provide a scale to measure altitude printed on the edge of the dial. Chronograph functions are useful to pilots should equipment fail and can be used for emergency timings, fuel burn and even navigation. The GMT function displaying the time in different zones is still useful for both pilots and travellers alike.
What are the five best aviator watches today?
1 
One of the best-value mechanical aviator watches made in Switzerland is the Oris Big Crown Pro Pilot (£1,060), which, as well as showing the day and date, has a useful 38-hour power reserve. At just over £1,000, this Oris combines reliability with classic WWII pilot styling for an almost retro price.
2 
IWC's Mark VIII (£3,690) captures the purity of function-led design that shaped the style of the aviator watches we know today. The Mark VIII is one of the most iconic aviator watches on the market from a house with a history of producing pilots' watches.
3
British watch house Bremont was born of the English brothers' love of aviation and restoring old combat airplanes in their father's workshop. The resolutely British, no-nonsense look of the Alt1-Classic chronograph (£4,395) sums up the firm's philosophy of robust, functional watches with impeccable mechanics. 
4
Patek Philippe's Calatrava Pilot Travel Time Ref 5524 (42,000 CHF) is ideal for the watch collector who wants it all: manly looks and a purebred pedigree. Useful functions include a second time zone hand – also known as a GMT function – with indicators on the dial signalling if it night or day in the two zones displayed. The dial at 6 o'clock indicates the date. All this in a white gold case and powered by the automatic Calibre 324 SC FUS.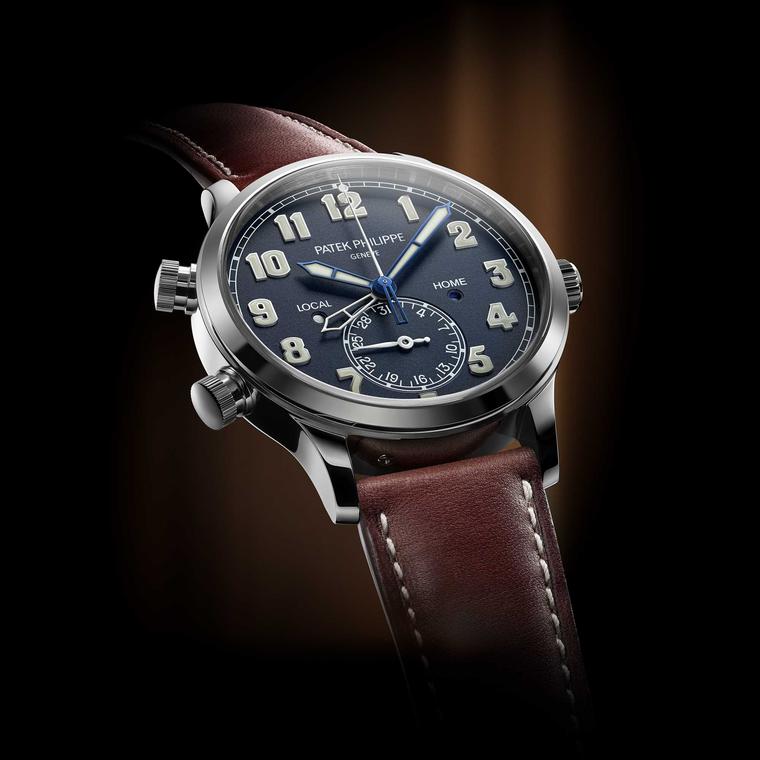 5
The rarest aviator watch is the original Santos Dumont that is in Cartier's collection of vintage watches. As a one of a kind, it is fair to say it is priceless. However, for a more affordable option, the Cartier Santos-Dumont watch (£13,100) in white gold embodies the dashing and extravagant spirit of the Brazilian aviator. Far from looking like other round, functional aviator watches, this elegant model is the most faithful memento of the birth of the aviator watch. 
Patek Philippe Calatrava Pilot Travel Time Ref. 5524 confirms the demand for retro-styled pilot's watches. The 42mm white gold case frames a navy blue lacquered dial with large luminescent numerals and two time-zone indicator. 

A piece of aviation history: the wristwatch once owned by Louis Blériot, who crossed the Channel to win a £1,000 prize wearing a Zenith timepiece. 

An original Longines Angle Hour watch dating from 1931. It sold for CHF 143,000 at Phillips' Geneva Watch Auction in 2015.

Pioneering aviator Alberto Santos-Dumont aboard his aeroplane No. 15 in 1907. Cartier Archives ©Cartier.

The Rolex GMT-Master watch from 1954 was specifically designed for Pan Am pilots who crossed multiple time zones. Also known as the Pepsi watch because of its red and blue rotating 24 hour bezel, it is one of Rolex's most sought-after watches by collectors.