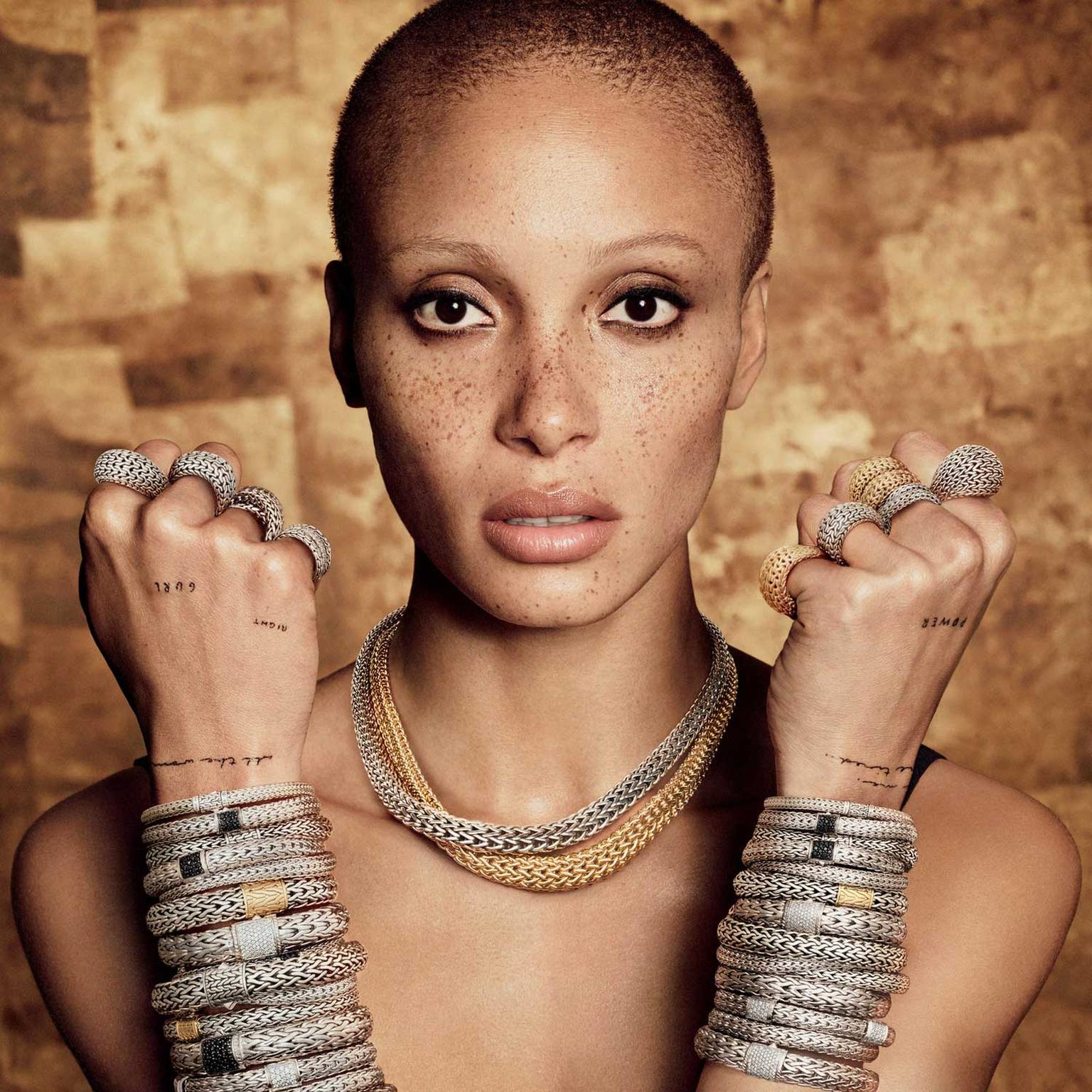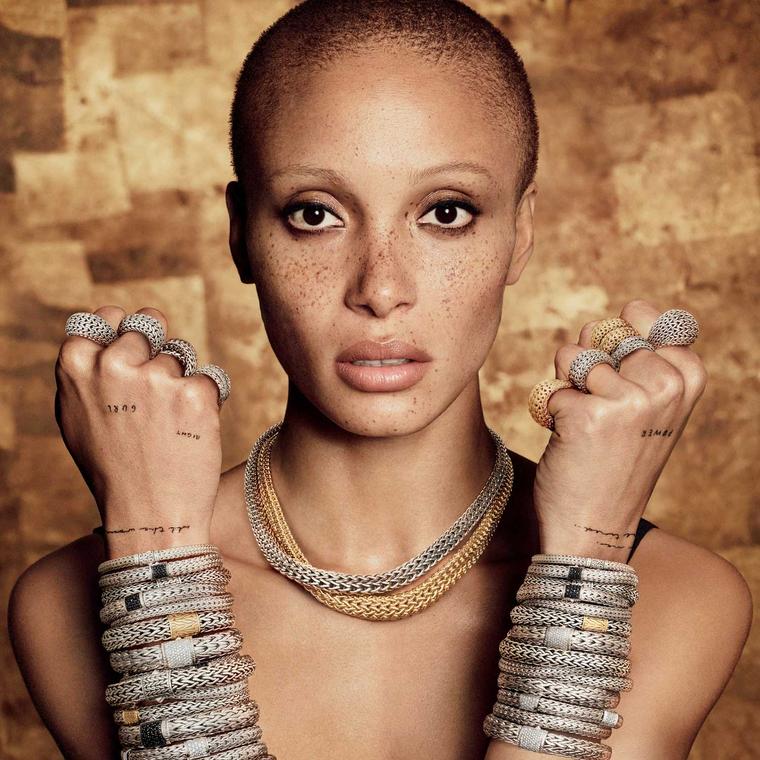 It started when I met Dominic Jones, Astley Clarke's recently appointed creative director, in London in February for the launch of his first collection for Astley Clarke. He had chosen the British model Adwoa Aboah, a good friend of his, to front the new Astronomy campaign. With her buzz cut and tattoos – "gurl" on one hand and "power" on the other – Jones wanted someone who would engage with customers on a deeper level for his design debut at the British jewellery brand, and he hit the jackpot with the feisty, freckled, mixed-race model.
Ever since, there has barely been a day when Adwoa has been out of the limelight, culminating in her taking home British GQ's Woman of the Year award in September. This week, it was revealed that she was chosen by Edward Enninful, the new editor-in-chief of British Vogue, as his first cover star, and she is hotly tipped to win Model of the Year at The British Fashion Council's 2017 Fashion Awards in December. 
Astley Clarke's new creative director Dominic Jones chose his close friend, GQ Woman of the Year Adwoa Aboah, for his design debut at the British jewellery brand.

With a "power" tattoo visible on her hand, model-of-the-moment Adwoa Aboah fronts the Astronomy ad campaign for Astley Clarke.

A behind-the-scenes view of model and activist Adwoa Aboah during her photo shoot for John Hardy's Made for Legends campaign.

John Hardy chose Adwoa Aboah, founder of Gurls Talk, for its new Made for Legends campaign for her purposefulness, passion and fearlessness, together with her authentic voice in activism.

British model Adwoa Aboah also fronts John Hardy's new Made for Legends campaign alongside Hollywood legend Julianne Moore. 
When I was with him, Jones hinted that Astley Clarke would be making an appearance at the Met Gala in May, and it was Adwoa who did the honours, her Astronomy Saturn and Earth rings among the fistfuls of jewels she paired with a bespoke ear cuff and gown by British fashion designer Conner Ives. Retro-styled in Bhagat earrings and a silk head wrap, she makes an arresting Vogue cover girl. But Adwoa is not just a pretty face. She has quickly become an international sensation because she is one of the fashion industry's most vocal activists. 
A poster girl for diversity and female empowerment, in 2016 Adwoa launched Gurls Talk, a digital forum for women from all backgrounds to talk in a safe and environment. Covering many issues, including mental health, body image and sexuality, by speaking out honestly and openly about the challenges facing women today she has encouraged many to voice their thoughts and concerns in a safe environment. From someone who has suffered from depression and addiction in the past, Adwoa has become a trusted voice. 
She has been blown away by the reaction to Gurls Talk. "It was everything I ever needed at school," she said in a recent In Conversation video with Vogue editor-in-chief Enninful, launched to coincide with the arrival of the December issue. "I never would have dreamt in a million years that I'd have young girls coming up to me at Glastonbury or on the streets of LA, New York and London and telling me how much Gurls Talk means to them or how much seeing my picture in a magazine means to them as a woman of colour." When asked to define being black and British in 2017, she replied with "100% empowering and fabulous".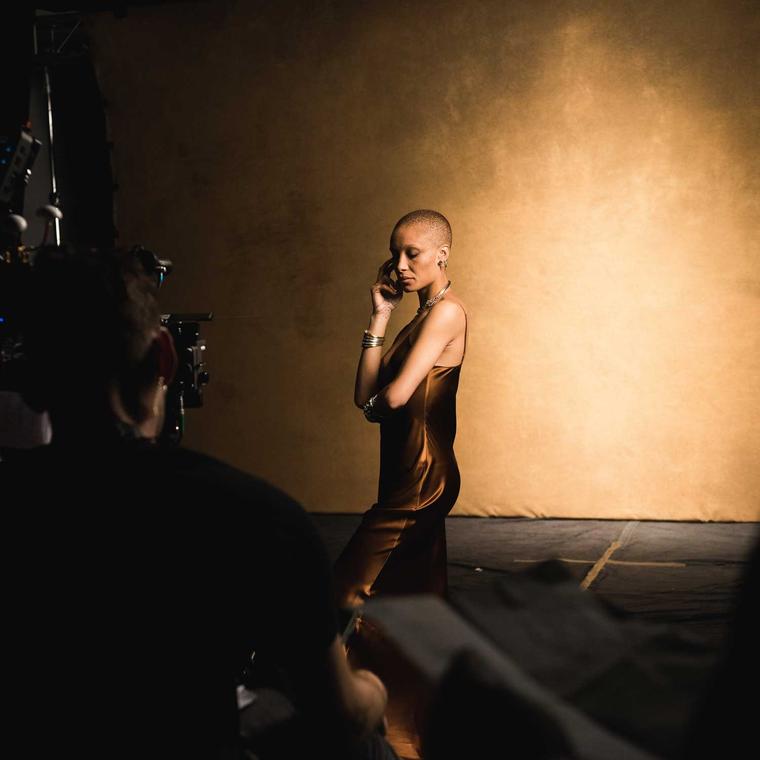 Mid-way through October, the Bali-based jewellery brand John Hardy launched a major new advertising campaign called Made for Legends starring Adwoa alongside Hollywood legend Julianne Moore. Chosen for their shared values of purposefulness, passion and fearlessness, and Adwoa's authentic voice in activism, it's a fierce campaign, with both women photographed, Wonder Woman style, with bracelets stacked up each wrist.
Never photographed without jewellery, Adwoa's personal style is eclectic and always evolving, with a more-is-more approach to adornment: big hoops, multiple earrings, layered necklaces and rings on every finger. "I cover myself in jewellery, I'm obsessed," she said, unscripted, during the John Hardy shoot. "Jewellery feels like it has got some soul, it's not afraid to be different."  
All jewellery lovers can take a leaf out of Adwoa's book. Wear your jewellery with the same mindset as her and celebrate a woman's right to be herself.