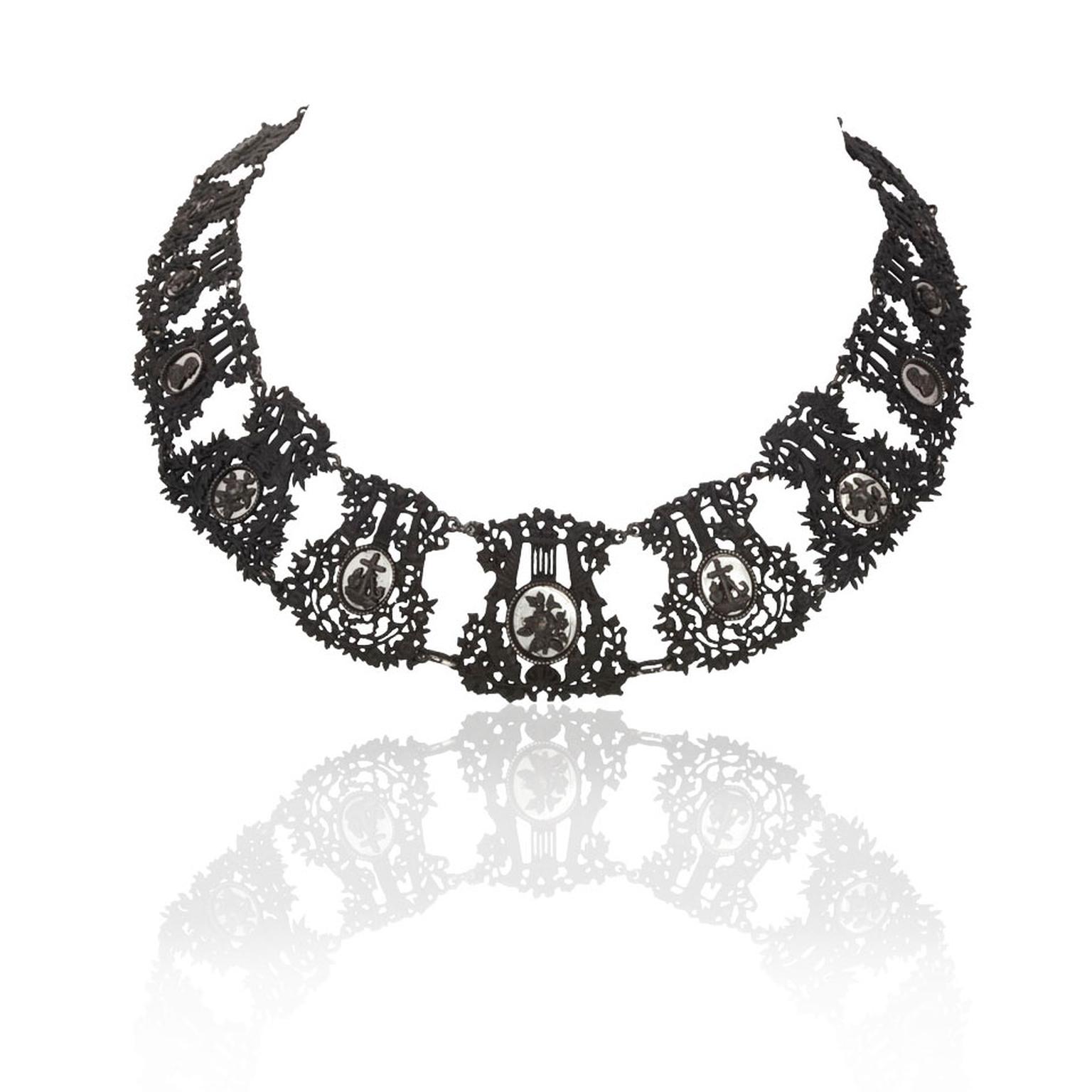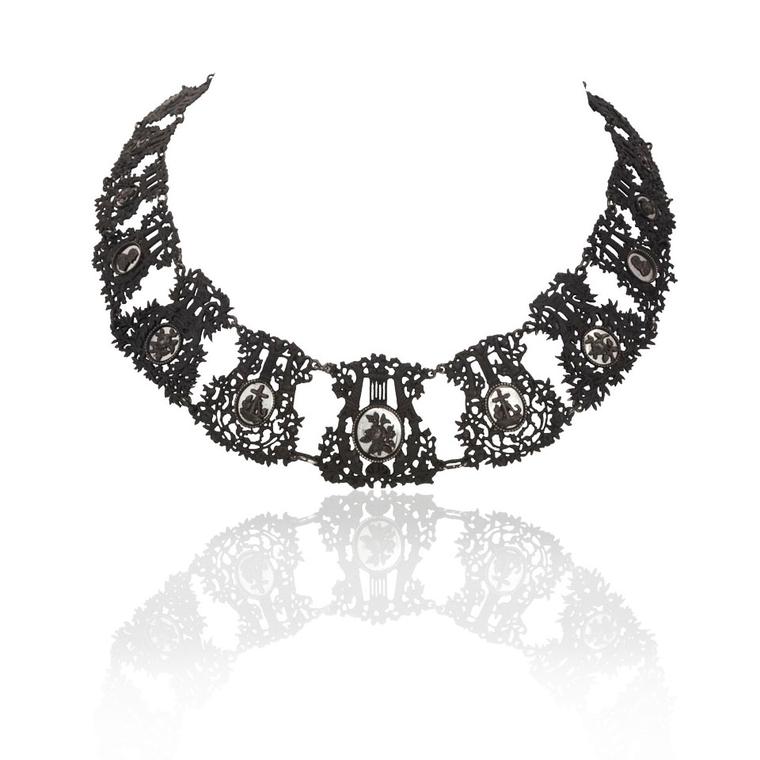 These days, when we hear the words iron or steel, we usually associate them with the installation of gates, functional items for the home, or structural materials for buildings. Antique jewelry tends to be the furthest thing from our minds. That is, until we see a faceted cut-steel necklace twinkling like diamonds in a display case, or the dark intrigue of a detailed Berlin Iron bracelet.
In the 18th and 19th centuries, cut-steel and cast iron were used for various purposes before they featured in some of the most fashionable jewelry of the time. Dealers and historians usually speak about Berlin Iron and cut-steel jewelry together as they came into vogue for similar reasons: their craft outweighed their preciousness, and their popularity increased during wartime efforts.     
Cut-steel jewelry became the height of fashion when King Louis XV requested that France's wealthy society donate their precious gems and jewelry to help fund his military campaigns during the Seven Years War.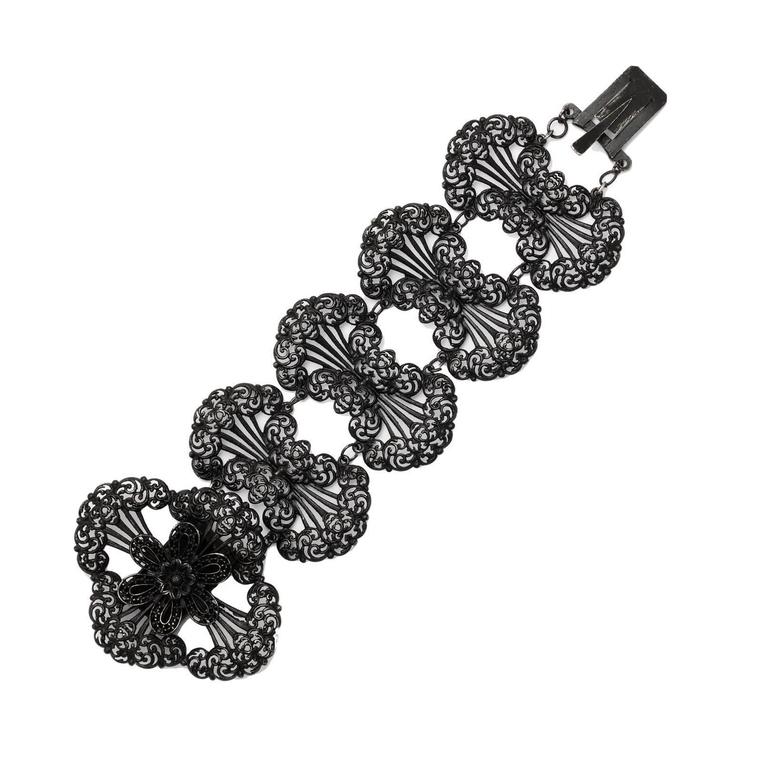 Berlin Iron, while first crafted into jewelry in approximately 1804, gained international attention during the Napoleonic Wars (1803-1815) when the Prussian Royal family requested that the aristocracy and upper classes contribute their precious jewelry to help fund the War of Liberation. In return, these citizens were given iron jewelry as gifts for their loyalty, and many of those pieces were inscribed with the phrase Gold gab ich für Eisen (I gave gold for iron).
Before then, it achieved international acclaim due to patriotism and beautifully detailed craftsmanship. The matte black lacquer finish it was given to prevent rust also allowed Berlin Iron to be worn as mourning jewelry. The process was said to have originated with the Gleiwitz Foundry in Silesia, Prussia, in the 1790s, but was then taken over by the Royal Berlin Foundry in 1804. This foundry had previously been known for the production of decorative items such as vases, candelabra and plaques, as well as larger architectural items such as fences, bridges and garden furniture. But only two years later, Napoleon confiscated the casting moulds and gave them to France's jewelers to perfect the craft, while production continued in the Royal Berlin Foundry.
In 1815, after the Allied victory at Waterloo, European travel was once again open to England, and it was not long before iron jewelry was being cast in Great Britain throughout the Regency period. From 1804 through to 1850, there were three distinct styles of Berlin Iron jewelry: the earliest was neo-classic with moulded cameos and medallions portraying classical figures in between decorative chains; the motifs then changed in approximately 1815 to reflect more delicate, lacy and intricately embellished floral and naturalistic forms; while 1825 saw a Gothic revival in which many of the pieces evoked cathedral windows and wrought iron gates.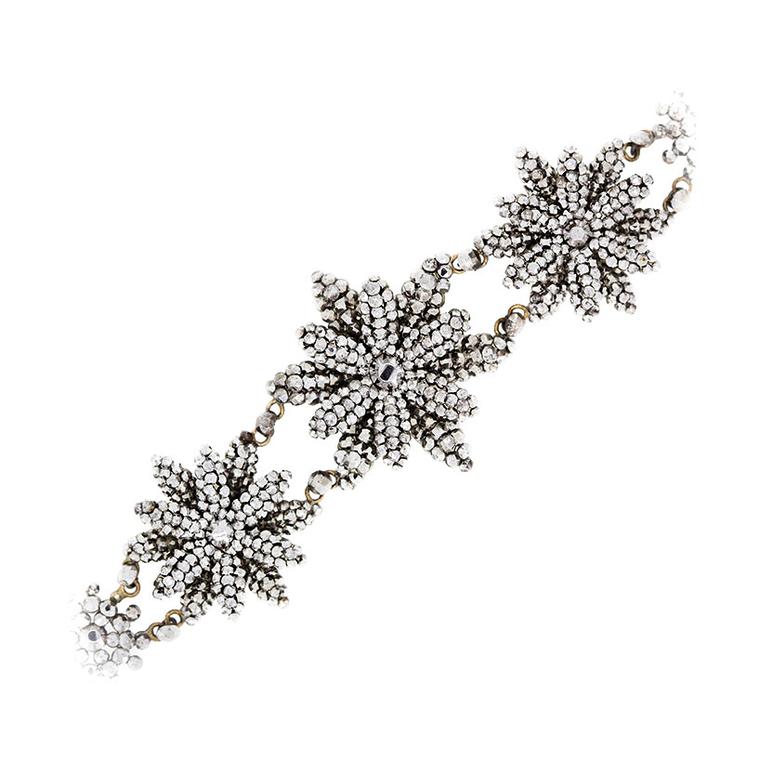 Cut-steel jewelry was created from what was originally used for horseshoe nails in the 18th century. It was set with small, individually faceted and polished steel studs, fashioned to catch the light and sparkle like the diamond cuts of that period. The jewelry was crafted into necklaces, brooches, earrings and bracelets, plus full parures, shoe buckles and buttons. Each of the earlier tiny studs had 15 facets and were riveted into a base plate of brass or low-grade silver. Very ornate examples had more than one base plate to give the piece dimension. 
Although steel work reportedly dates back to the Elizabethan era, the mid-18th century saw the rise of this type of jewelry in a factory in Woodstock, Oxfordshire. The demand continued to grow in England and France for both jewelry and other wearable items, and the industrialist Matthew Boulton began manufacturing these in quantity in Birmingham in the late 1700s, until it went out of style in the late 1800s.
Shoe buckles as a fashion statement declined in the 1700s, as did many other trinkets, but jewelry flourished with a variety of different size studs and drops to create a more brilliant effect. Much of what Birmingham created in the mid-1700s was exported to France, until a British entrepreneur named Sykes moved to Paris in 1780 and began a cut-steel industry there. The pieces fashioned in these factories were in such popular demand that they went for higher prices than that of gold jewelry. Napoleon bought Empress Marie Louise a parure of cut-steel, and Catherine the Great was painted in the late 1700s wearing a huge parure of cut-steel with a tiara, stomacher and massive necklace. 
While the history of both jewelry styles offers the consummate collector more of a reason to purchase when found in their original condition, the price point and delicacy of these authentic pieces are definitely not to be worn every day. And here is where Lauriston & Daughters comes in, and rather brilliantly I might add. In addition to wanting to breathe new life into past treasures such as French buttons and other flea market and antique fair finds, founders and designers Virginia Orr and Leanne Benson have created a collection based on cut-steel objects such as large and small buttons, pieces that have gone astray from their original designs, buckles and other ornaments in amazing condition that were for some reason discarded, and have re-imagined these into the most current of designs. 
"The look and finish of cut-steel is as modern today as when it was first created, almost transcending time and trends, yet always fashionable," explains Orr. "For example, we love to work with pieces that are no longer relevant, and then bring them back into an arena in which they are not only significant, but also beautiful, easy to wear and waiting to shine again."
Benson adds, "We are bridging the gap between antiquity and modernity - and offering access to those who want the history and character but perhaps not a specific period piece. For example, creating styles that are much less obviously from the past such as a collar with a cut-steel buckle or the simplicity of a large oval ring on a less ornate shank."
Benson is a photographer and collector, while Orr has a long-standing background in the fashion and antique business. She dropped out of university in the 1970s to work her way up the ladder at Browns in London, where she started as a stock girl and was then responsible for the retail partnerships of fashion greats such as Calvin Klein, Donna Karan, Romeo Gigli, Giorgio Armani, Ralph Lauren and a host of other international designers. Orr struck out on her own in 2000 to consult with small design firms and to work with her mother, Pat Novissimo of London's Lowther Antiques - one of the most well respected and knowledgeable dealers for the past 40 years.
Orr concludes: "We are repurposing these pieces that had no purpose in the current climate in the form they were in, and we are doing this with a brand new aesthetic and sensibility. These are not conversion pieces - brooches or stickpins - like others we see in the market, but rather we have designed a collection around bits and bobs you could not wear any other way. We have the beauty of knowing we have created something totally new from something old, which will also have a history as well as a lasting value well into the future."
Wide, intricately detailed Georgian Berlin Iron bracelet from Glorious Antique Jewelry ($7,800).

Georgian cut-steel flower motif bracelet from Lowther Antiques (£850).

Georgian cut-steel bracelet from Lowther Antiques (£850).

Lauriston & Daughters choker crafted with a cut-steel buckle.

Lauriston & Daughters station necklace crafted with two, large, cut-steel buttons.

Cut-steel tiara from Spare Room Antiques ($2,400).

Rare Berlin Iron musical motif necklace from Glorious Antique Jewelry ($11,300).