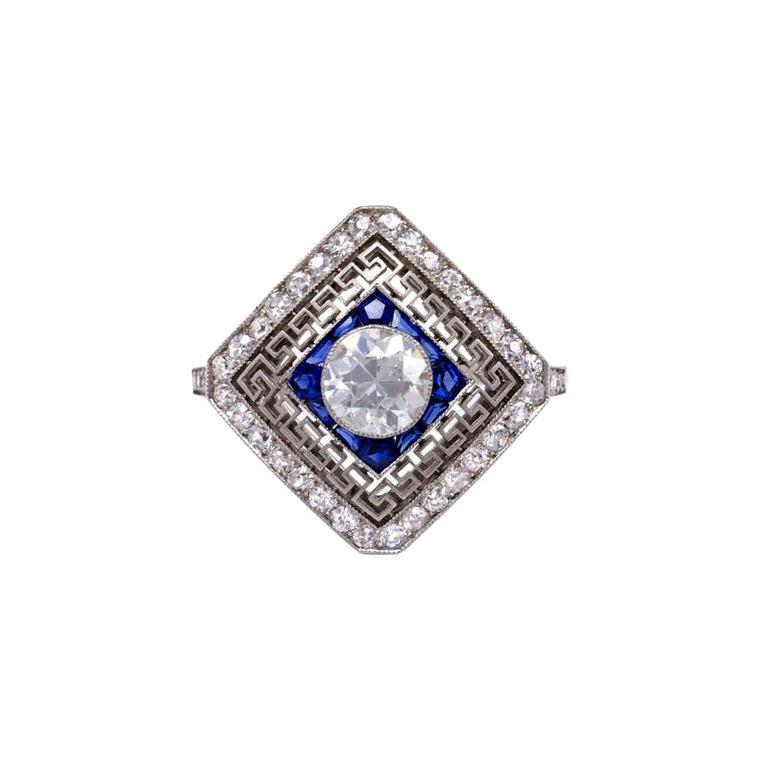 It was a time of speed, the machine age, and advancements in travel, architecture and fashion. Chanel's sporty chic and elegant classics took Paris by storm and then crossed Europe, the Atlantic, and finally hit the US. Hemlines were up, necklaces plunged down to the navel, and the Jazz Age and the right to vote in the US offered women a newfound freedom. This all crossed over into the wonderful world of jewelry and, in particular, antique engagement rings.  
With the turn of the century, structured bodices and tight-waisted, full-skirted dresses with deep décolletage gave way to loose-fitting, elongated torsos and flounced, flared, fluted and pleated skirts. The delicate and intricate work found in the Edwardian/Belle Époque antique jewelry from this era - garlands, bows, frills and flourishes - gave way to more geometric rather than naturalistic jewelry forms.  
Fast forward to the 21st century and, once again, women began rejecting the status quo - as discussed in part 1 of our series on Georgian, Regency and Victorian engagement rings. They began asking for something that would be more fitting to their personal styles, rather than keeping up with whose rock was bigger and comparing the diamonds in their six-prong-set Tiffany rings.  
While some women choose more modern, alternative bridal rings such as the various cuts of diamonds and vivid gemstones of Erica Courtney's dramatic collection, or the raw, natural-colored diamonds in exclusive cuts by Todd Reed, other women are mesmerized by the range of choice of platinum over 18 carat gold Edwardian/Belle Époque rings, and the cleaner lines, yet artfully detailed styles, of the Art Deco periods.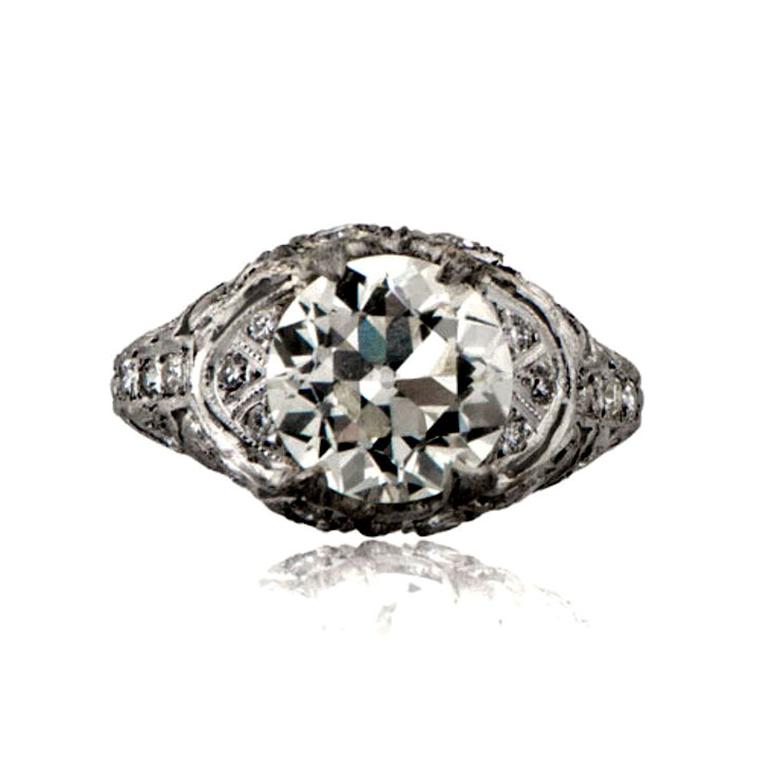 Michael Khordipour, expert in antique jewelry and owner of M. Khordipour and Estate Diamond Jewelry, which sells period and vintage engagement rings, explains: "Approximately 10-15 years ago, we saw a real boom in women looking at Edwardian and Art Deco engagement rings. The time was right - women wanted individuality and one-of-a-kind pieces, and there is such diversity in early 20th century rings. We see this in the more understated, all white, European-cut diamonds surrounded by piercing work, and from tiny melee, rose or single cuts to the more intricate clusters and floral/garland designs of the Edwardian era."
Khordipour believes that younger women, aged 20-35, are looking towards late Georgian and early Victorian rings for certain motifs, meanings and sentimental value. "They also prefer to wear yellow gold," he explains, "but the trend toward  'everything old is new again' began with the all-white look of the Edwardian and Art Deco periods and is the choice among women in the same demographic, as well 40s and up, or those getting married for the first or second time around. It is a growth category and we need to keep finding the rings to keep up with the demand," he adds.
Here are the most popular among brides-to-be in these categories.
Playing solitaire
The single center-stone ring took on a whole new meaning in the Art Deco period. Not only were there advances in diamond cutting, creating whiter diamonds with deeper culets, but jewelers of the day created three-dimensional objects of beauty with piercing work, filigree and engraving all around the shank. There was also the use of black onyx to pop the diamonds - these ranged from the black onyx almost looking like the bezel, or a smaller stone set into a larger onyx oval.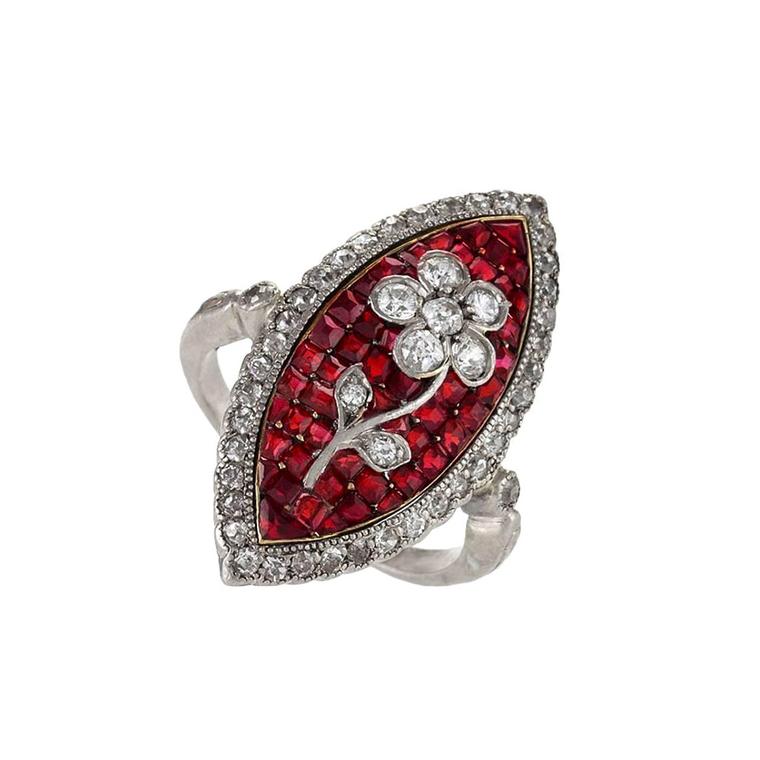 Color me beautiful
Although many Edwardian/Belle Époque and Art Deco rings were rendered in all white, there are a range of rings from both eras with alluring new cuts and settings such as caliber, French-cut baguettes, half circles, and emeralds, rubies and sapphires, which were cut to accent the surround of the diamond. Navette styles, which were originally seen in memorial rings, or caliber-set turquoise rings in the Victorian period, also came into vogue again in diamond and precious gemstones.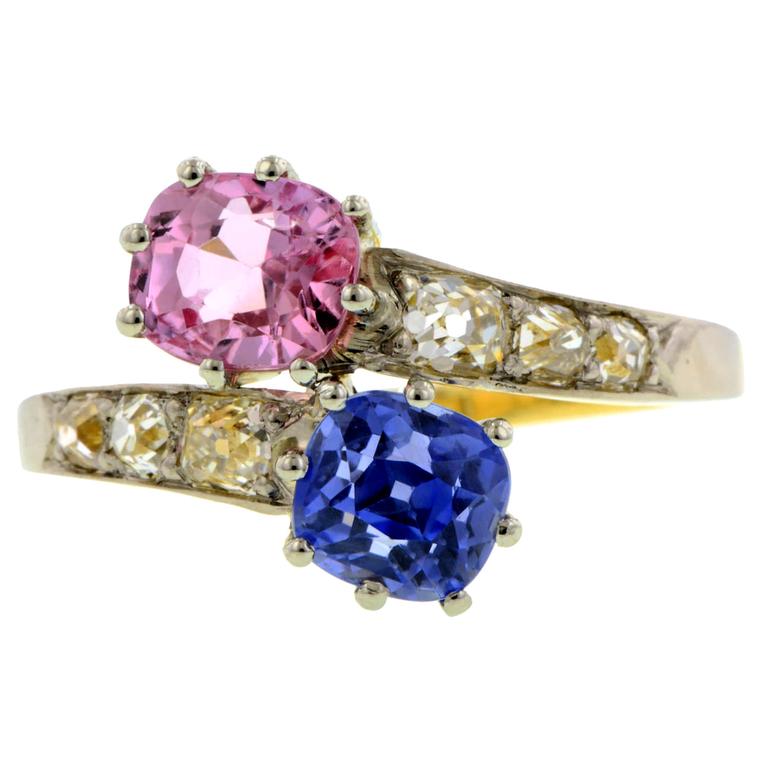 You and me
Sometimes called bypass rings and, at other times, Toi et Moi - translating as "you and me" - this style featured a diamond-set shank with either two different-colored gems - a sapphire and diamond for fidelity and endurance, or a ruby and diamond for passion and endurance - or completely unusual sapphires that were usually bespoke for the betrothed couple. These were popularized in the Edwardian era and continued into the Art Deco period. Contemporary designers take their cue from these styles, and both vintage and modern styles continue to be a favorite among today's brides.
Set in style
Cluster-style rings remained in style throughout the Georgian through Edwardian periods, evolving with advances in metal and cutting techniques. Those with a natural pearl center defined the white-on-white look of the Edwardian period.
Berganza natural pearl and diamond Tiffany cluster ring, circa 1915.

Estate Diamond Jewelry Old European onyx engagement ring.

Estate Diamond Jewelry Art Deco engagement ring, circa 1920.

Craig Evan Small Edwardian, European-cut diamond ring with four channels of French-cut sapphires.

Baume French sapphire, diamond and gold Toi et Moi ring, circa 1920s.

Macklowe Gallery Edwardian diamond, ruby, platinum and gold navette ring with rubies and a diamond center flower.

Doyle and Doyle pink and blue sapphire ring of Toi et Moi bypass design, with six bead-set, old mine-cut diamonds.

Sandra Cronan Edwardian pearl and diamond bypass ring with rose-cut diamond shank in yellow gold.

Kentshire platinum Edwardian diamond ring surrounded by sapphires and a diamond-set border.