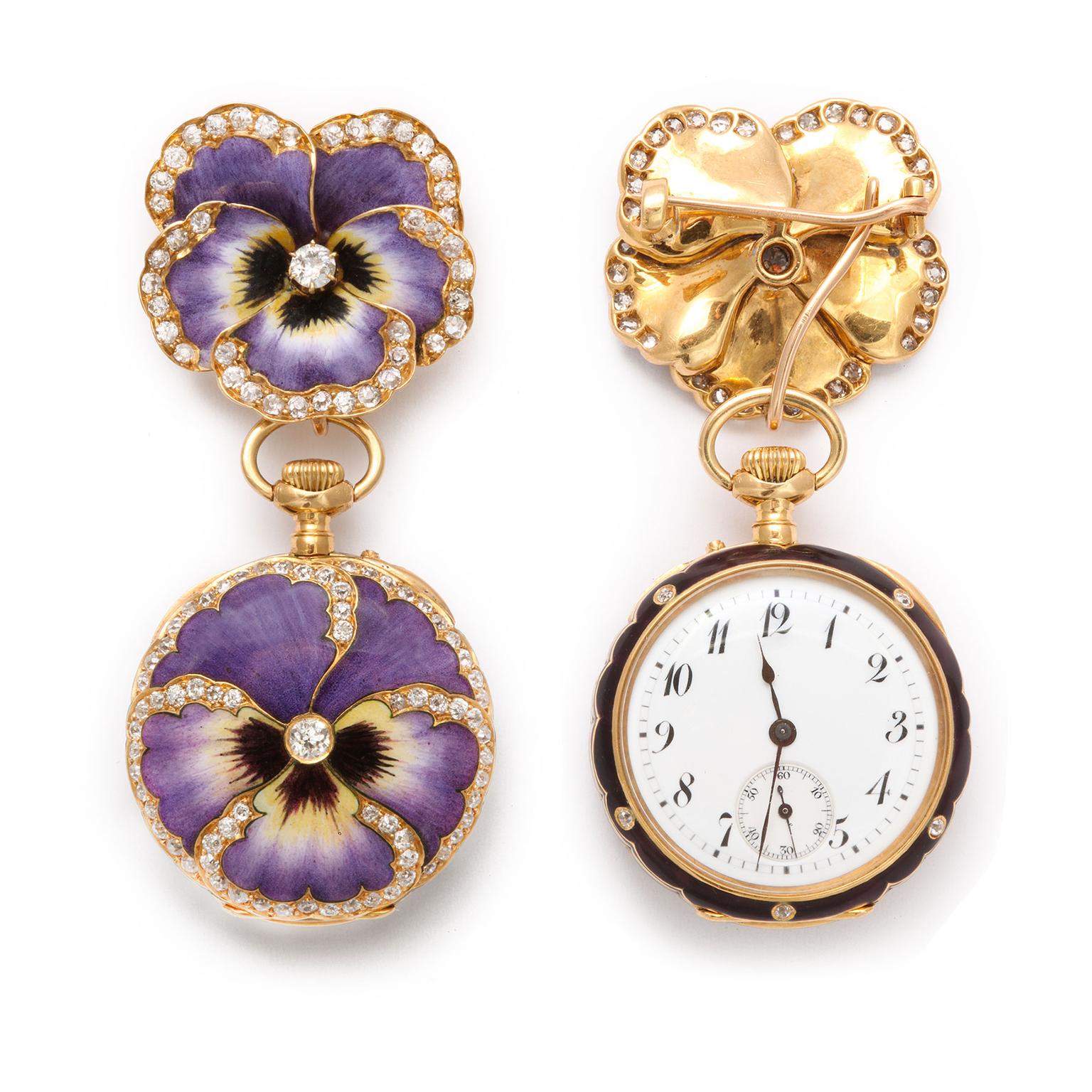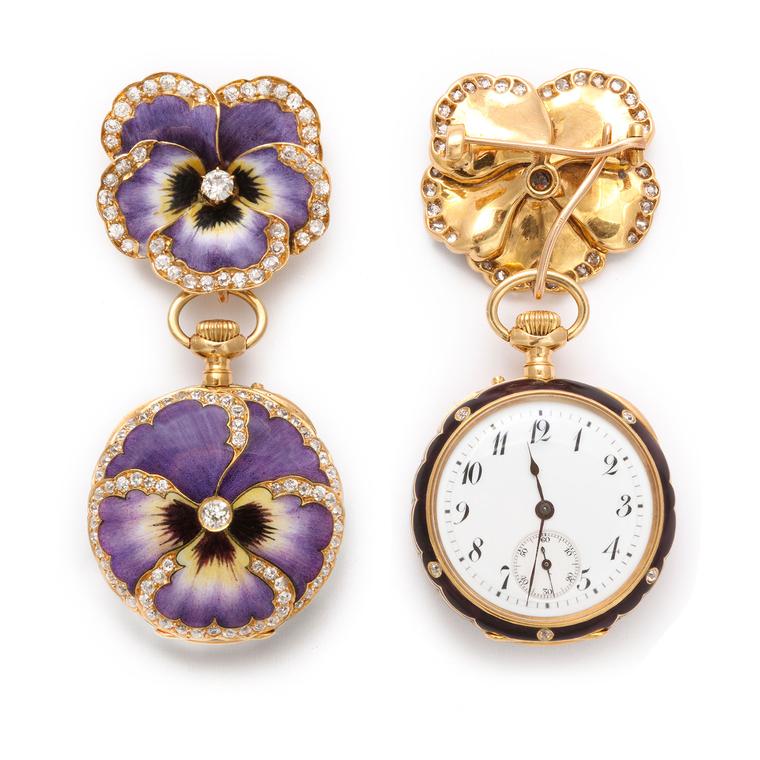 With the return of lockets, seals and vignettes, sometimes worn with other charms on chased split rings, it was only a matter of time before decorative watches on long chains made their way onto the necks of jewelry collectors.
Edward Faber, co-author of American Wristwatches: Five Decades of Style and Design and owner of the Aaron Faber Gallery, which features a vast collection of men's and women's antique and vintage watches, attributes the recent interest in both encased and pendant watches to "the desire for something beautiful as well as functional. These timepieces are versatile in that they act as both a piece of ornate and often colorful jewelry and a mechanical device that is highly fashionable." Faber further explains: "Contemporary designers have taken lockets and other pendant styles to a new level, and what's happening in the antique and modern jewelry market often influences one another."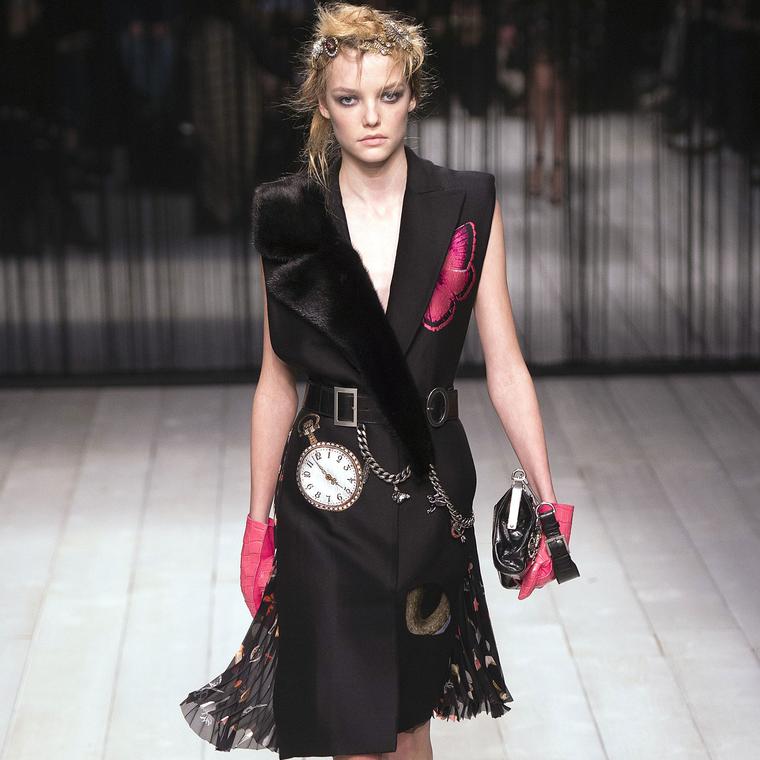 It is interesting to note that antique enthusiasts are wearing hunting watches - which cover the dial on both sides with elaborately detailed cases - and pendant watches - with one side embellished and the other revealing an exposed dial - in the same way they were worn in the past. Time seems to have stood still, except that today's woman is wearing hers with a modern wardrobe. At the recent runway shows, these styles of vintage watches cemented the trend and were worn alongside the ready-to-wear creations of designers including Alexander McQueen and Dolce & Gabbana.
"Watches worn on chains around the neck date back to the 16th century," explains Faber. "But they became even more popular and began to evolve in design between the 18th and 20th centuries." Throughout these periods, women wore elaborate repoussé and chased designs on chatelaines with seals and watch keys, which wound the watch and were equally beautiful in design. These seals and keys would later become independent pieces to add to charm necklaces. The timepieces were also worn on hooks sewn into dresses or on chains that would be passed through a belt and worn in a pocket, which was created specifically to hold the watch.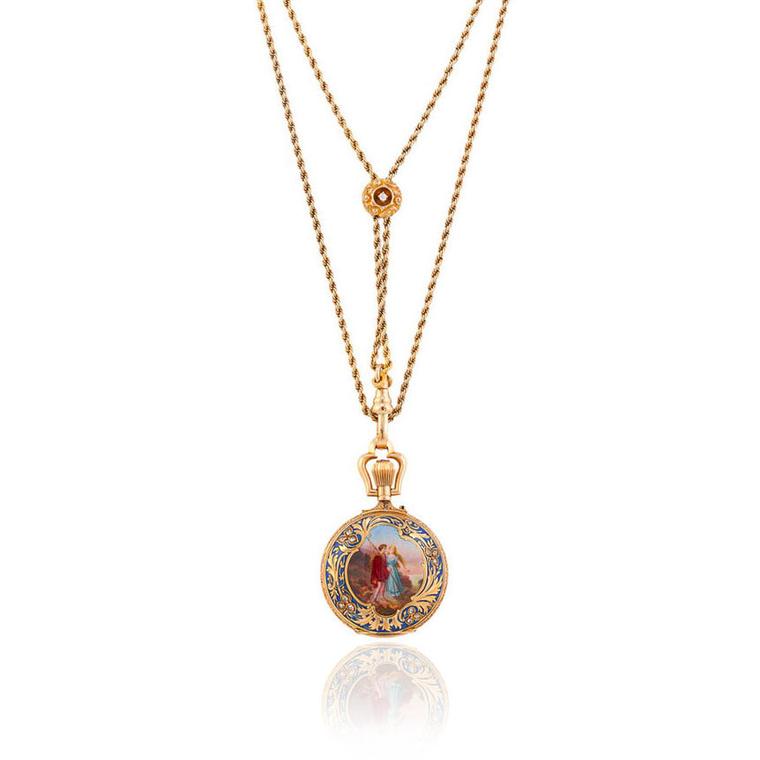 They have made their comeback in much the same way as they were worn in the Regency and Victorian periods - worn on slide chains in which the slide would serve to shorten the necklace so that the timepiece could be attached with a small brooch to the bodice of a dress. Today, the same style is being used to accessorize the side of a shift dress or a black jacket. Women are also wearing the popular long guard chains of these eras, doubled with swivel clasps to hold the watch to either accent white shirts or elongate cashmere sweaters, fitted suits and dresses.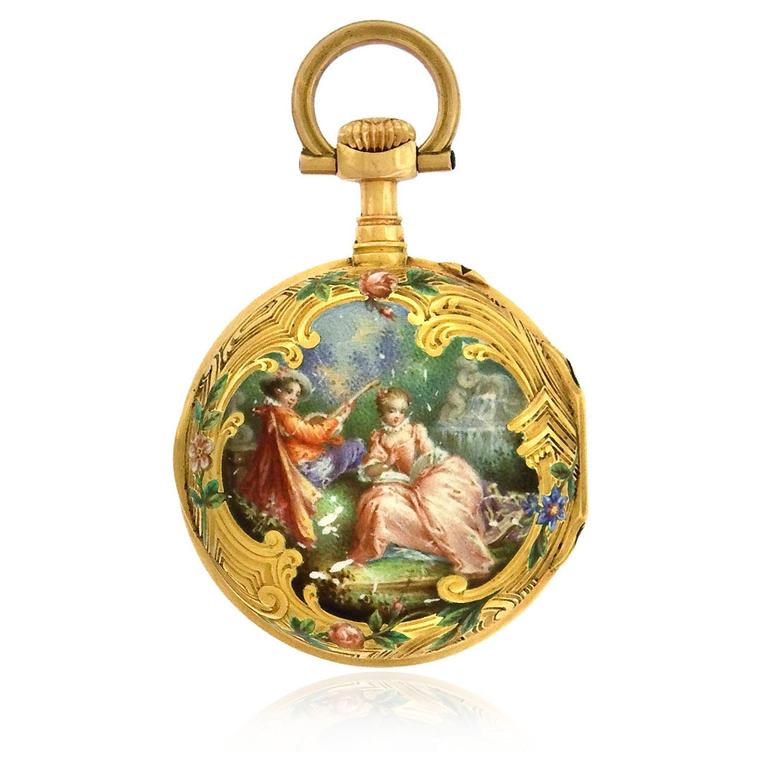 In the late 19th and early 20th centuries, guilloché and other types of enamel decorated the front of pendant watches, which often resembled lockets and featured sentimental, floral, hunting and pictorial scenes. Perhaps the most versatile are those that display a single color of enameling, such as sea blues, hues of rose or blue, and light violet tones with accents of diamonds in snowflake and star patterns, as well and other precious gemstones. The numerals on exposed dials are often upside down so as to be able to lift them and tell the time more easily. Many of these are complemented by matching enamel chains. In the 1920s through to the 30s, some took on a dressier look in diamond and platinum styles. These are also highly coveted and can be seen styled in the same way today.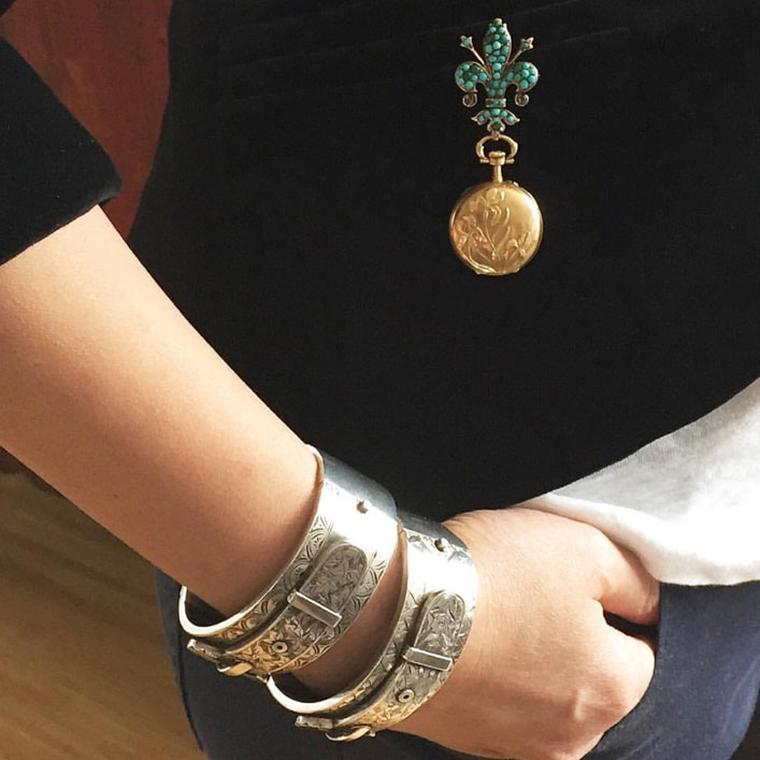 There were also timepieces attached to brooches, often repeating the design on the front of the watch, or designed in the form of bows, fleur-de-lis and coordinating motifs. These were shown on the runway this season and have been spotted on the streets and on jewelry collectors' Instagram accounts. They are worn on the lapel or bottom pocket of a jacket, the side of a skirt, or hanging from a ribbon around the neck. Doubling up different short fob and vest chains to produce one long chain creates a more unique, unstudied look, with additional charms - keys, tassels and seals - from the period in which the watch was popular, giving the wearer almost infinite opportunities to personalize their look.
There are myriad ways in which to style these functional jewels, for a timeless and timely statement of style.
Edwardian hunting-style watch pendant with fob, key, anchor and locket that says "friend" in French, worn by Beth Bernstein (@bethbjeweled).

Betteridge antique pendant watch with the movement signed by Patek Philippe and the dial signed by Tiffany, circa 1910.

The Three Graces platinum, diamond and black enamel watch pendant, set with 69 diamonds, circa 1925. 

Aaron Faber Gallery Patek Philippe enamel and diamond-set hunting case with pendant brooch watch in hunter green. 

Peter Suchy rose, yellow and green gold pocket watch with rubies, diamonds and an enamel dial, circa 1890s. 

Alexander McQueen's recent runway show featured vintage-style watches worn alongside the ready-to-wear collection (courtesy of Alexander McQueen).

Sheila Goldfinger hunting case watch attached to a gold rope guard chain with a diamond on a button-shaped slide. 

Aaron Faber Gallery Leroy women's hunting watch with intricate enamel pictorial case, circa 1890s. 

An engraved hunting-style watch with a turquoise fleur-de-lis brooch, as worn by Yvonne @luckandlockets on Instagram.

A La Vielle Russie Belle Époque gold and enamel pansy brooch with a matching gold and enamel watch, circa 1900.