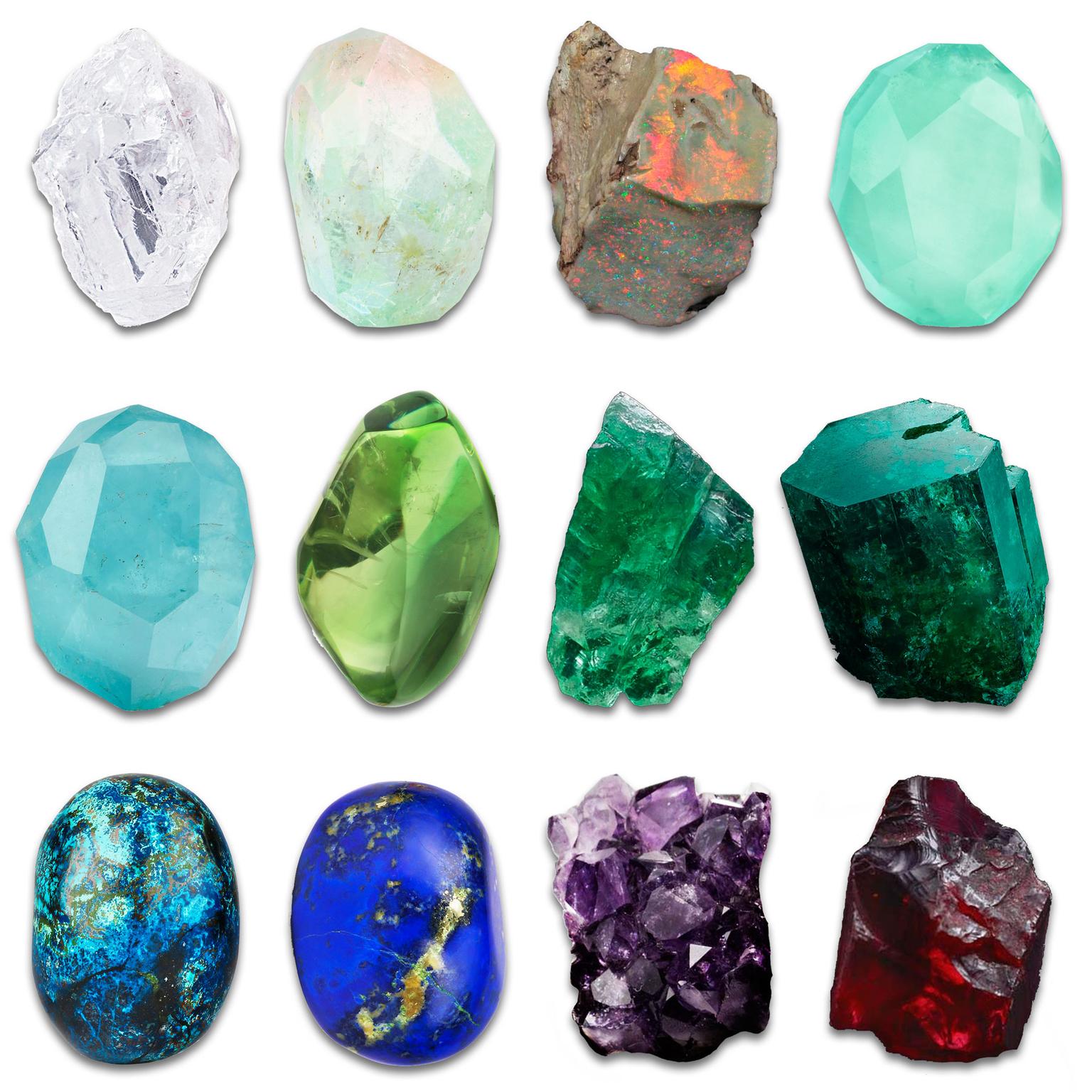 If you want to travel the world, you could do worse than follow the trail of exotic countries where our most popular coloured gemstones are found. From Africa and Asia to Australia and South America, you will have to head to all corners of the globe to find out where semi-precious stones come from.
Before we head off, let's take a look at the origin of the term semi-precious. Most of us are familiar with the four precious gemstones: diamonds, rubies, sapphires and emeralds. This classification dates back to ancient Egypt, Greece and Rome when these rare and valuable stones were treasured for their beauty and religious importance. Amethysts were also considered precious until the 18th century when large deposits were found in Brazil, causing the stone's value to plummet.
Strictly speaking, any gemstone outside of the "Big Four" is semi-precious, and the term was originally invented by the industry to describe gems that were more abundant. However, some coloured gemstones, such as the very rare Paraiba tourmaline, are so sought-after that they rival precious gems in value. In fact, many people who work in the gem trade have abandoned the "semi" prefix altogether, choosing instead to refer to all minerals as gemstones. According to CIBJO, the World Jewellery Confederation, a precious gemstone is a "natural inorganic material". Under this definition, almost all gems could be classified as precious, with the exception of pearls, which are formed with organic, rather than inorganic, matter.
Our world tour starts in East Africa, home to a myriad of gemstones including tanzanite, alexandrite, aquamarine, rhodolite, tsavorite garnets and tourmaline. They are mined in countries such as Kenya, Tanzania and Mozambique, which also produce precious gems like rubies and sapphires. Sometimes the name of a gemstone can give us a clue as to its country of origin. Tanzanite, for instance, is named after Tanzania, while tsavorite got its name from the Tsavo National Park in Kenya.
Located off the east coast of Southern Africa, the island of Madagascar has become a leading producer of sapphires over the past two decades. The country is also a major source of popular semi-precious gemstones such as aquamarine, quartz, morganite, tourmaline, tsavorite, demantoid garnet and labradorite, to name but a few. Similarly, Myanmar (formerly Burma) is best known for producing around 90% of the world's rubies, but it is also home to many other gemstones, including spinel, peridot, garnet, iolite and imperial jadeite. The latter is the most expensive form of jadeite in the world and is mainly exported to China, where Burmese jade is prized for its deep green colour.
Some of the Burmese spinels have such a deep colour and high level of fluorescence that they are easily mistaken for top-quality rubies. Two of the red gemstones in the British Crown Jewel collection, the 170ct Black Prince's Ruby and the 352.50ct Timur Ruby, are, in fact, red spinels. If you need further proof of how easy a slip-up like this is to make, take a closer look at the emerald-cut spinel in the K.Brunini ring from the designer's new bridal collection, which boasts a fiery glow that more than holds it own against the adjoining two rubies.
Katey Brunini says: "The ring is an expression of mono-chromatics – red, on red, on rose gold. The effect is so rich and delicious, like chocolate and strawberries. It makes me wonder why anyone would choose the absence of colour, when one could have the depth of fire tones, the richness of wine."
Sri Lanka is one of the world's most gem-rich countries and is known as the "Treasure Box of the Indian Ocean" thanks to its abundant supplies of garnet, zircon, tourmaline, beryl, topaz and quartz. The country's mining industry is centred in the town of Ratanpura, which has been nicknamed The Gem Town. Sri Lankan gemstones are found in the alluvial deposits in old riverbeds, which have been covered by centuries of overlay from the eroding of the surrounding hills. The most famous mining areas are situated on the downward slopes of the central hills in the south-east of the islands.
Brazil is also renowned for its abundance of gemstones in a colour spectrum as rich and varied as the country's famous carnival. A veritable gem cornucopia, its natural gemstone resources include tourmaline, amethyst, topaz, beryl, morganite, aquamarine and quartz. It is also home to the aforementioned Paraiba tourmaline, although the original mines in the state of Paraiba are now virtually depleted. Other South American countries that produce semi-precious stones include Chile, which is the leading source of lapis lazuli, Uruguay, Bolivia and Peru.
Next, let's head over to Australia, the world's leading supplier of multi-coloured opals, with mines located at Coober Pedy and Andamooka in the south as well as the famous Lightning Ridge in New South Wales. Their kaleidoscopic colour play makes opals a favourite with contemporary jewellery designers such as Katherine Jetter. Born in Australia but now residing in New Mexico, she is known for her luxurious yet laidback pieces that showcase the brilliant prismatic fire of opals sourced from her home country. Her latest couture collection also incorporates other semi-precious stones such as topaz, aquamarine, tourmaline, and rubellite, all hand-selected for their alluring colours and radiance. In a number of pieces, precious stones such as diamonds and sapphires are used as accents, with colour-graduated pink, yellow and orange sapphires mirroring the shifting hue of a 17.43ct Imperial bi-coloured topaz in a stunning cocktail ring. This particular gemstone was mined in the Vermillion mine in Brazil and only three of its kind are currently available for purchase in the world, making it a true collectors' stone.
Other countries that produce coloured gemstones include India, where moonstone, iolite, aquamarine and garnet are mined in the southern states of Tamil Nadu and Karnataka. Also worth noting are Thailand, Peru and Chile, with the latter being a major source of deep-blue lapis lazuli. Closer to home, Russia's vast mineral reserves include deposits of alexandrite and dermatoid garnet.
If further proof is needed that the jewellery industry has wholeheartedly embraced the mesmerising beauty of semi-precious gemstones, consider the fact that esteemed houses such as Boodles, Dior and Chopard have all incorporated them into recent collections. Having first dipped its toe in the realms of high jewellery eight years ago, Louis Vuitton also presented an assured collection at Paris Couture based on its iconic flower monogram, blooming with a colourful bouquet of gems.
While our whirlwind tour is by no means comprehensive, it does give some insight into the origins of where semi-precious gemstones come from around the world. From the elegant, pale glow of a rosy-hued morganite or pale blue aquamarine to the fiery hue of a red spinel or mandarin garnet, these coloured gems from all corners of the globe open up a limitless world of creativity and innovation.