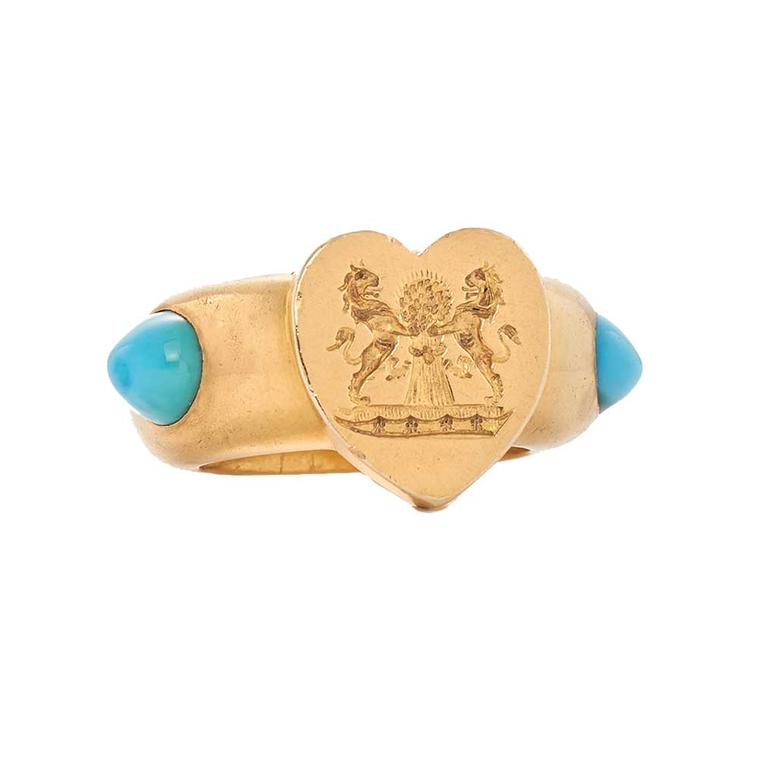 By Beth Bernstein
Super stylish signet rings, which date back to 1800 BC, have become a mark of personal distinction and individuality. Unlike the more delicate rings bearing hearts, flowers and cluster designs, these antique signet rings are gutsy, statement pieces that can be worn on any finger, just as their original owners did.
Read more about the rise in popularity of antique rings here
It's not surprising that contemporary jewellers have now picked up on these standout pieces and are re-imagining them with their own unique brand of engraving, size, shape, motifs and gemstones.
Throughout history, signet rings took many forms and were designed in diverse materials ranging from bronze or gold, to hard stone or crystal intaglios with reverse carvings. In the book Rings: Jewelry of Power, Love and Loyalty, author and historian Diana Scarisbrick writes, "At a time when only a few could write, seals that bore a distinguishing mark or badge - equivalent to a signature - which could be impressed on wax or clay so as to stand out in relief as a mirror image, were essential for rulers, government officials and all engaged in business, to authenticate documents and establish the ownership of property. For convenience, they were worn as rings on the finger, ready for use when needed."
The signet as a seal continued throughout time, but this style also took on different roles, which included representing occupations, beliefs, hobbies, heraldry, classical and mythological subjects, great ancient pictorial scenes, and everyone from poets to nobility. These were engraved into gold or into hard stone intaglios, most often carnelian, bloodstone, onyx, agate and sardonyx, which were then set into gold. Mottos and monograms were also the stuff of signet rings and either one's initials were engraved or the initials of a married couple would be linked together in a beautiful design, sometimes accented by leaves and floral motifs.
See more floral-inspired antique jewellery here
Today's collector is attracted to those mottos and engravings that have a personal meaning. A lion holding a heart, symbolising "protector of my heart", or a ring that depicts wheat for prosperity, and mottos in English, French or Latin that speak of trust, truth, loyalty, love and wisdom, are all highly desirable. Finding antique rings with your initials or of someone in your family is truly a must-buy. Personally, I have found my mother's initial in agate, both my niece and nephew together in gold, and a ring with two birds that says "love" in old English font in a carnelian intaglio, all of which express what I hold dear.
Contemporary designers will custom monogram and also create one-of-a-kind shanks, accented by your favourite stones. They have also been inspired by their own messages and motifs, and even poetry. Whether authentic and antique, or with a modern stamp of style, these vintage signet rings deserve your seal of approval.
Bernardo Antique & Estate Jewelry gold and steel signet ring, with the oval bezel engraved with a winged dragon. Germany, circa 1800.

Berganza medieval gold seal ring, with the shape of the shield indicating a continental coat of arms featuring the ermine (a member of the stoat family prized for its fur and a symbol of high status and royalty), the martlet (mythological swallow-like bird), mascle (repeated lozenge shape), and cinquefoil (five-petal flower), circa 15th century.

Butterlane Antiques Victorian 18ct gold classic oval-faced signet ring, engraved with a mythical unicorn, circa 1880.

Five Mile Antiques late Victorian 18ct gold signet ring with engraved flowers on the side and initials engraved on the front. 

Foxing's turn-of-the-century shield-shaped signet ring with bloodstone centre and foliate-engraved shank in 18ct gold. 

Foundwell 18ct gold English bloodstone intaglio crest ring.

Marie E Betteley ring set with oval agate in an 18ct gold bezel. The shoulders have been designed as stylised fleur-de-lis, beads and leaves, and stamped with the French eagle head hallmark for Paris, circa mid-18th century.

The Circa 1700s Inspired Collection 18ct gold ring, set with peek-a-boo rubies symbolising passion, is engraved by hand, and can be customised with peek-a-boo gemstones of one's choosing.

Fred Leighton gold heart motif accented with turquoise cabochons on the shank, and a crest engraved with "Cor unum, via una", meaning "one heart, one way".