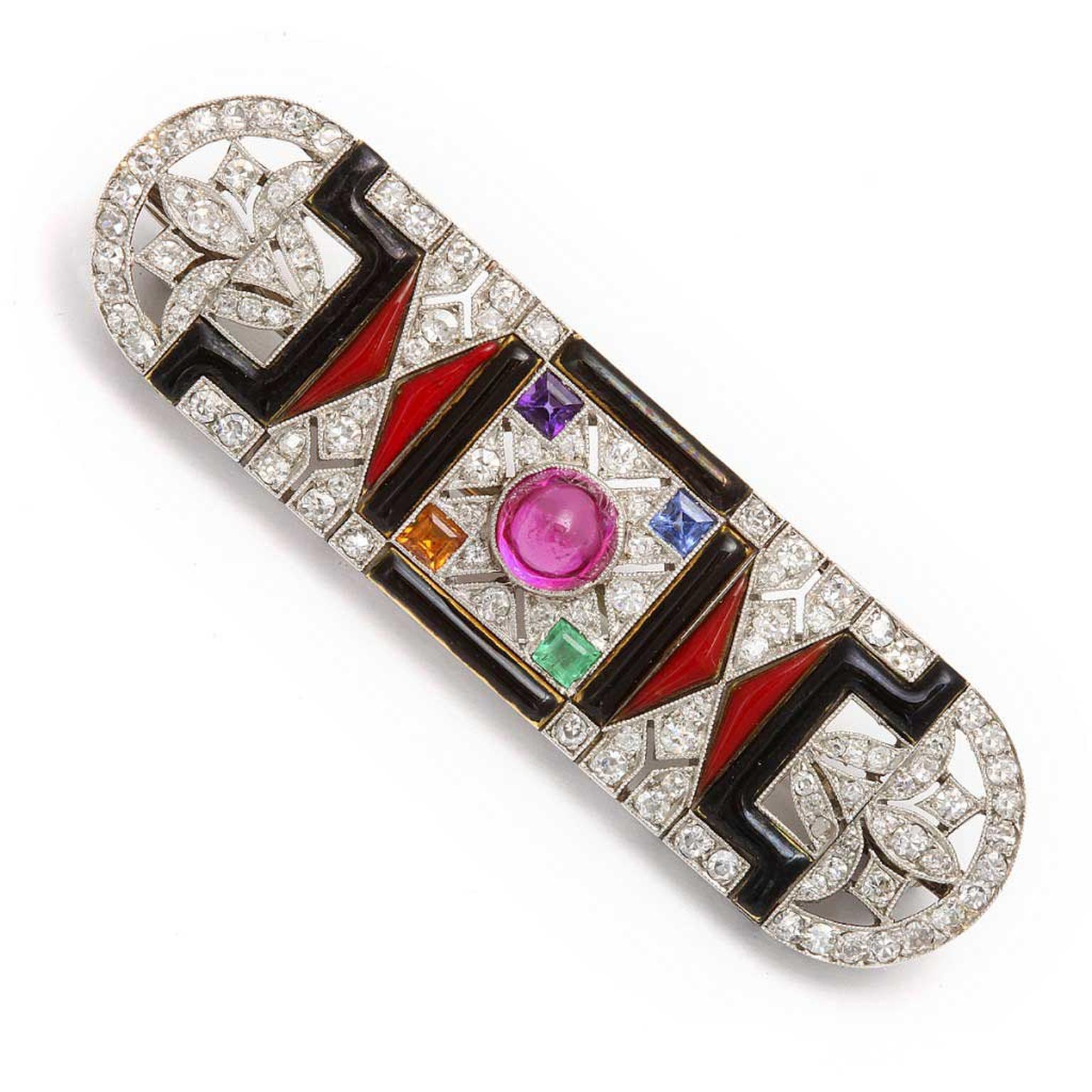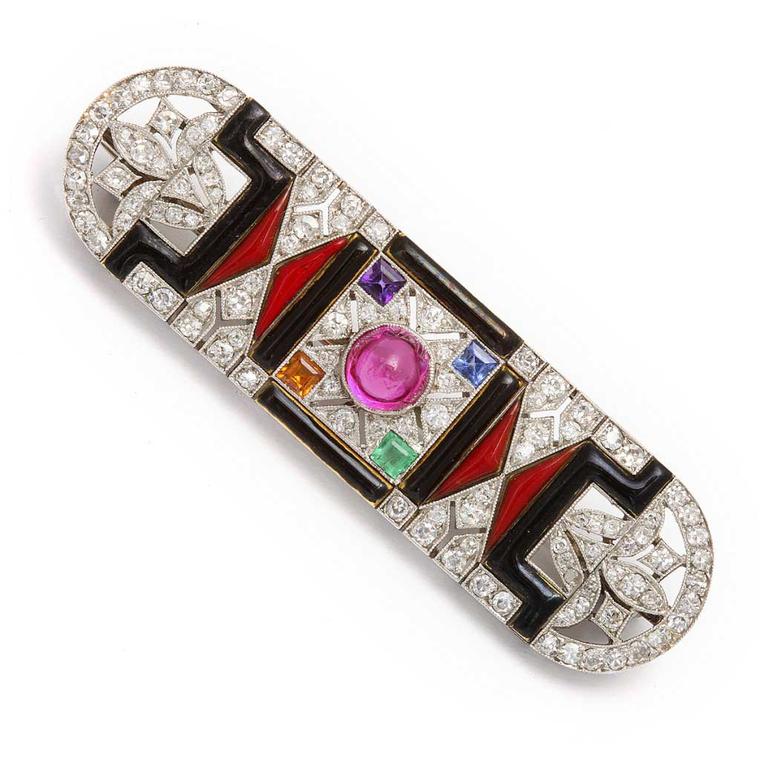 Sapphires for prosperity, rubies for passion and emeralds for hope - the "big three" in the world of coloured gemstones have all had a vivid history, with the vibrancy of past legends and nobility being set into antique jewellery ranging from ecclesiastical rings to the Crown Jewels.
But sapphires, rubies and emeralds aren't the only stones with an intriguing past. There were also a range of coloured gemstones that identified various time periods, and were both influenced by and influential in the fashion, cultural and economical climate of the day.
Although garnets date back long before the Georgian era, it was during the mid to late 1700s that they became the jewel du jour. These garnets were flat cut and enhanced by backing them with tinted metal foil in a closed back setting. This style of garnet was desirable for its naturalistic cut, which accented the foliate motifs. They were also affordable and complimented almost every complexion.
Read about the history of garnets here
Harlequin jewels combined complementary coloured gemstones in all classifications of jewellery in the late 18th and early 19th centuries. These gems consisted of aquamarine, amethyst, topaz, citrine and chrysoberyl, and were also foil backed. Topaz was a staple of Portuguese and Spanish jewellery prior to the French invasion of Portugal in 1809.
Victorian times ushered in jewellery for women from a wide range of socio-economic backgrounds. While much of the antique jewellery during the early Romantic and Victorian periods were handmade, the Industrial Revolution introduced cutting techniques that sped up production, which allowed pieces to be made more affordably. The Victorians also found meaning and symbolism in many forms of jewellery and believed in the gem-lore from medieval and Egyptian times that stones had healing and/or mystical powers. The gems became part of the message or secret code of these antique jewellery pieces. Pearls, for example, represented tears when paired with onyx on mourning jewellery.
Due to the length and the three different periods during the Victorian age, gemstones were both plentiful and diverse: carnelian and bloodstone for engravings on fobs and intaglios; and moss and autumn-coloured Scottish agate were all popular during the 19th century. And onyx was, of course, widely used after the death of Queen Victoria's husband, Prince Albert.
Perhaps one of the most popular and fashionable stones of the earlier and later parts of the Victorian era was turquoise. It showed up in sentimental jewellery, pavé set with cabochons or calibre stones, which covered the head of serpent motifs or the full body of a dove. It was the gemstone for the forget-me-not that turned up on rings, brooches, lockets and padlocks.
It was also during this era that opals first gained their reputation for bringing bad luck to the wearer if it was not their birthstone. Sir Walter Scott's Anne of Geierstein, in which an opal hair ornament brought catastrophe to its owner, is said to have started this superstition. After a huge opal discovery was made in Australia, a British Territory, in 1870, Queen Victoria set out to dispel the superstitions surrounding opals. By the later part of the period, opals were being designed into all categories of jewellery and so were in favour again, and remained so throughout the Art Nouveau movement.
Find out more about Australian opals
Art Nouveau jewellers only used gemstones to enhance the entire design of a piece and were mostly drawn to cabochon cuts. This mystical and magical moonstone appeared in many of the naturalistic designs, as did amethyst and periodot as they often took on tonal colours of the enamelling of the day.
During the later half of the Art Deco movement, coloured gemstones came back into play. The earlier pieces featured highly geometric lines with various cuts of diamonds and rock crystal or, in some cases, onyx. But as jewellers became inspired by Asian and Indian influences, they incorporated gemstones of carved jade and lapis lazuli in addition to emeralds, rubies and sapphires, which were part of the artful designs.

The post-war Retro period consisted mostly of what was then considered semi-precious stones in huge emerald and oval cuts. The stones were less per carat than gold and made for a statement piece, which became the look of the day when affordability and accessibility were key buzzwords. These gems consisted of aquamarine, citrine, chalcedony and amethyst, and were often accented by synthetic rubies or sapphires. 
Jewelry Finds 1940s emerald-cut citrine cocktail ring with diamond accents set into 14ct white and yellow gold.

Victorian turquoise forget-me-not bow necklace from Glorious Antique Jewelry.

Kentshire antique gold and pavé turquoise bracelet in the form of a serpent with ruby eyes, in sterling silver and 18ct gold. France, 1838.

Georgian closed back, foliate flat-cut garnet bracelet from Simon Teakle.

Betteridge Edwardian diamond foliate spray brooch, suspending a natural saltwater Baroque-shaped pearl, mounted in platinum-topped yellow gold. 

Bentley & Skinner Victorian opal and diamond pendant, with the heart-shaped opal set to the centre of an old brilliant-cut diamond cluster surround, all mounted in yellow gold, circa 1860. 

DB Gems Portuguese girandole pendant/brooch, silver set with faceted and foiled Imperial golden topaz in cut-down, closed back plump settings, circa 1730.

Shreve, Crump & Low Art Deco platinum pin featuring a carved rectangular jade set with diamonds and enamel accents, with an intricate floral-engraved backing, circa 1920.

A La Vieille Russie Art Deco diamond and black onyx brooch, set in platinum, with the centre embellished with a cabochon-cut natural ruby with an emerald, sapphire, amethyst and citrine in each of the four corners. France, circa 1920.