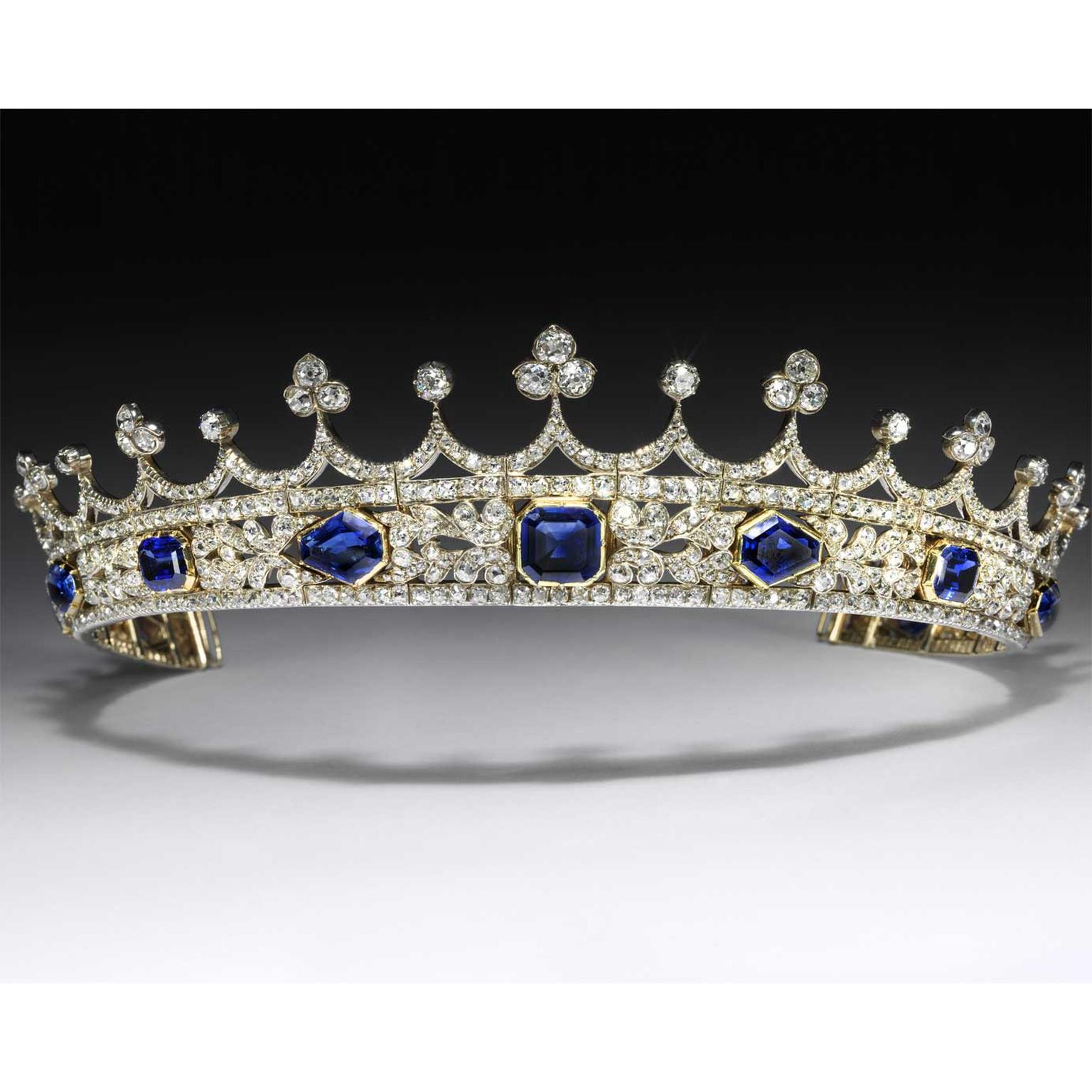 by Josie Goodbody-Ellis
On April 11th the Victoria & Albert museum's jewellery gallery will re-open after three months of extensive refurbishments. As well as exciting updates to the infrastructure, displays and enhanced interactive resources, new jewels will be added to the world-class collection. The most significant of which is Queen Victoria's coronet, which will be at the heart of the gallery. The refurbishment is by the original architects Eva Jiricna and Georgina Papathanasiou of Atelier A&D.

Since its unveiling in 2008, The William and Judith Bollinger Jewellery Gallery has welcomed over 4.8 million visitors to view its collection of 3,500 pieces, considered one of the finest and most comprehensive of its kind. Richard Edgcumbe, Senior Curator, explains: "Together with an array of eighty new acquisitions and loans, made possible by the generosity of many supporters, the display of the coronet inaugurates the next phase in the life of the much loved gallery."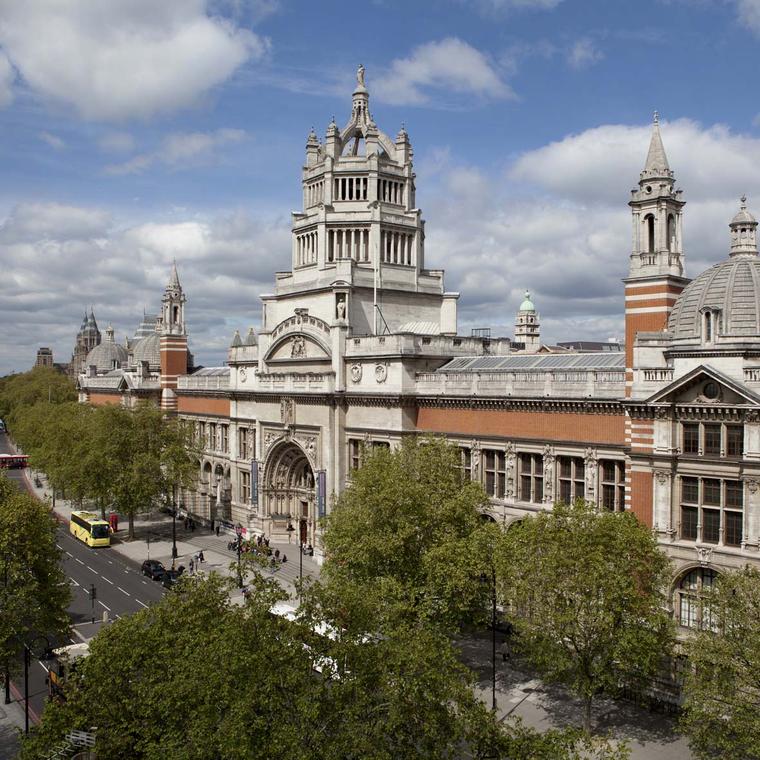 The coronet in question is none other than Queen Victoria's sapphire and diamond coronet, that is finally at home in the museum named for her and her husband Prince Albert. The jewel is of such importance that three years ago the then Culture Minister, Matt Hancock, put a temporary export bar on Queen Victoria's coronet. A bar is a rare decree that is issued for pieces of immense importance to the culture of the country. This tiny coronet merited the decree as it is considered to be one of the most significant jewels of Queen Victoria's reign and when the jewel came up for sale it was hoped it would remain in the UK. Fortunately in 2017 it was acquired for the V&A, purchased as a gift for the Nation and Commonwealth by William and Judith and their sons Douglas and James Bollinger.
The coronet was designed by Prince Albert in 1840, their wedding year, to match a sapphire and diamond brooch that he had given her the day before their marriage on 10th February. He based the design upon the Saxon Rautenkranz, a circlet that was part of the German prince's Saxony family coat of arms. Made by Joseph Kitching for the sum of £415, the coronet is set with both sapphires and diamonds that had been given to her by her uncle, King William IV and Queen Adelaide.
Prince Albert knew that the Queen loved coloured gemstones and she was happy to have him play a key role in the design of her jewels as she noted in her journal: "My dear Albert has such good taste and arranges everything for me about my jewellery." The poignant piece remained precious to her for the rest of her life.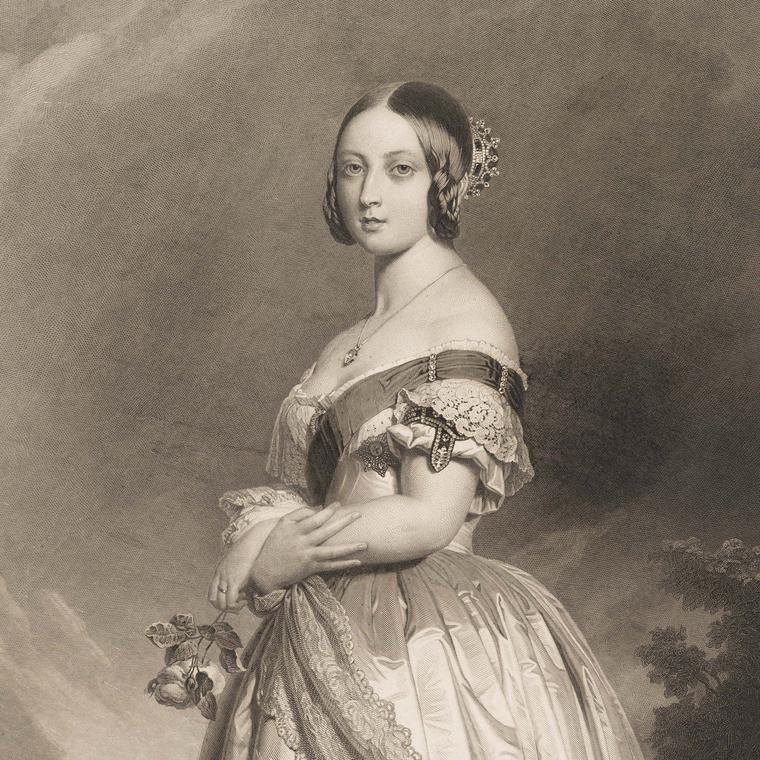 In 1842 she wore the jewel in the first of many portraits by Franz Xaver Winterhalter, which was replicated and displayed throughout the British Empire and the world; and still remains one of the most familiar portrayals of the young Queen (above). Twenty years after the death of Prince Albert, when she felt able to come out of mourning and was formally allowed to wear coloured gemstones, she opened Parliament in 1866 wearing the coronet over her widow's cap. Traditionally she would have worn the Imperial State Crown which instead was carried on a cushion.  However, from 1870 she wore a miniature replica of the Imperial State Crown that was created by Garrard, so she could continue to wear her widow's cap and this became an iconic image of the widow until her death in 1901.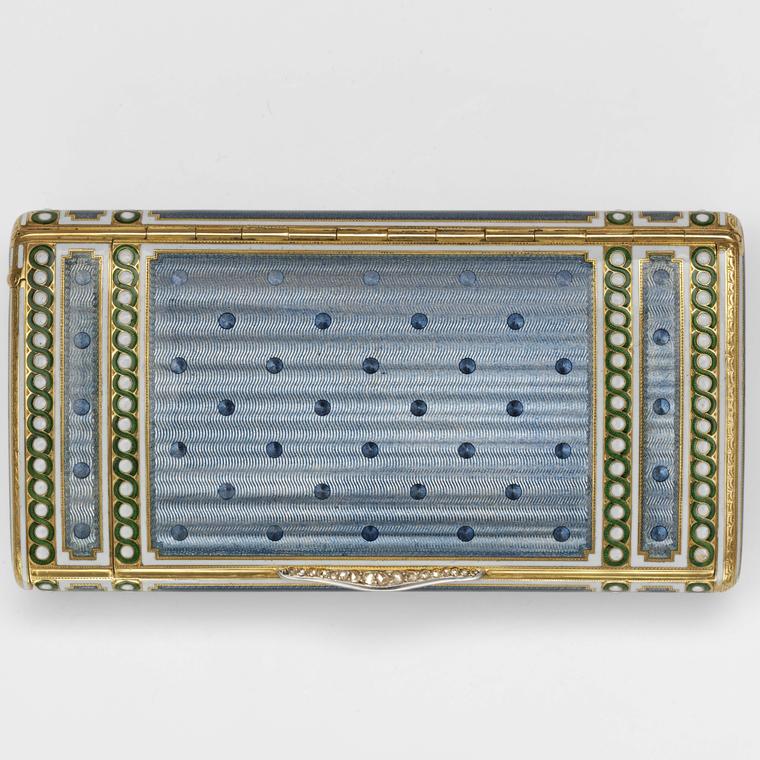 Alongside Queen Victoria's stunning coronet, several other significant jewels have been added to the already extensive collection of priceless pieces of jewellery. In memory of her brother Freddie Mercury, Kashmira Bulsara has loaned and promised as a gift to the museum a collection of 49 Art Deco vanity cases. Inspired by the ancient kingdoms of Persia, Egypt, China and Japan, as well the Modernist school of art, the cases were created by leading jewellers including Cartier, Lacloche and Van Cleef & Arpels. Fashioned in richly coloured hardstones, enamel and lacquer, the outstanding array of cases will utterly transform the presence of this important period of jewellery in the gallery.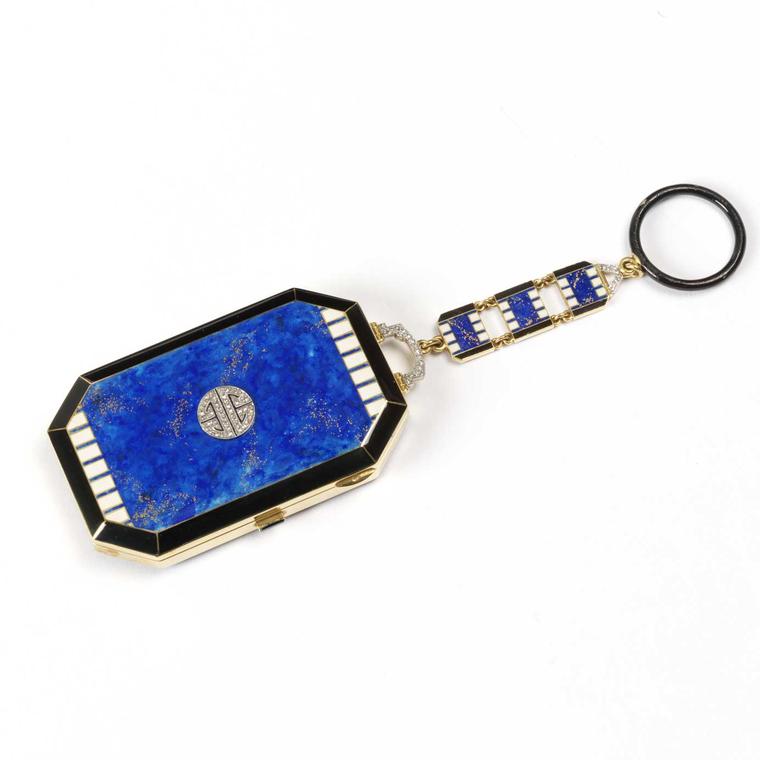 One of my favourites is a frosted rock crystal card-holder by the early 20th century Parisian jeweller, Maison Lacloches Frères (below). Set with diamonds and enamel to create a weeping willow design, the case is exquisitely finished with rows of diamonds and lapis lazuli at both the top and bottom.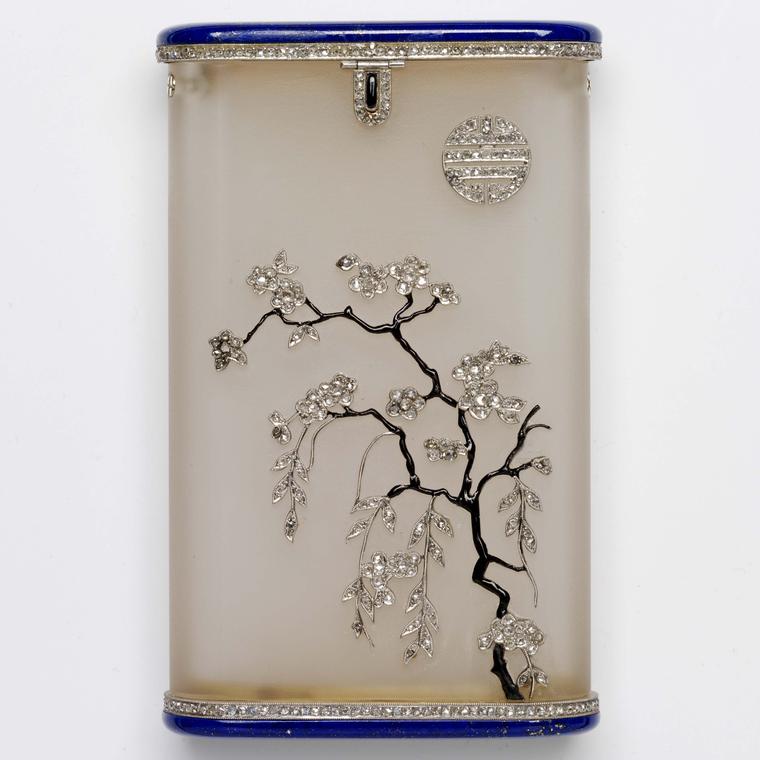 Thirty pieces of jewellery, which range from the late 19th century to the present day, will be added to the gallery including a whimsical 1975 Paddington Bear gold pendant from Cartier. Pieces by UK-based jewellers are from Ute Decker and Charlotte de Syllas (below).  Visitors will also be able to see Glenn Spiro's Papillon Ring, gifted to the gallery in May 2018 by Beyoncé along with a photograph of her wearing the ring taken by her husband Jay-Z.  A film of the butterfly's featherweight wings made of blue titanium and set with tsavorites and diamonds, is projected in the gallery, fluttering through the gallery.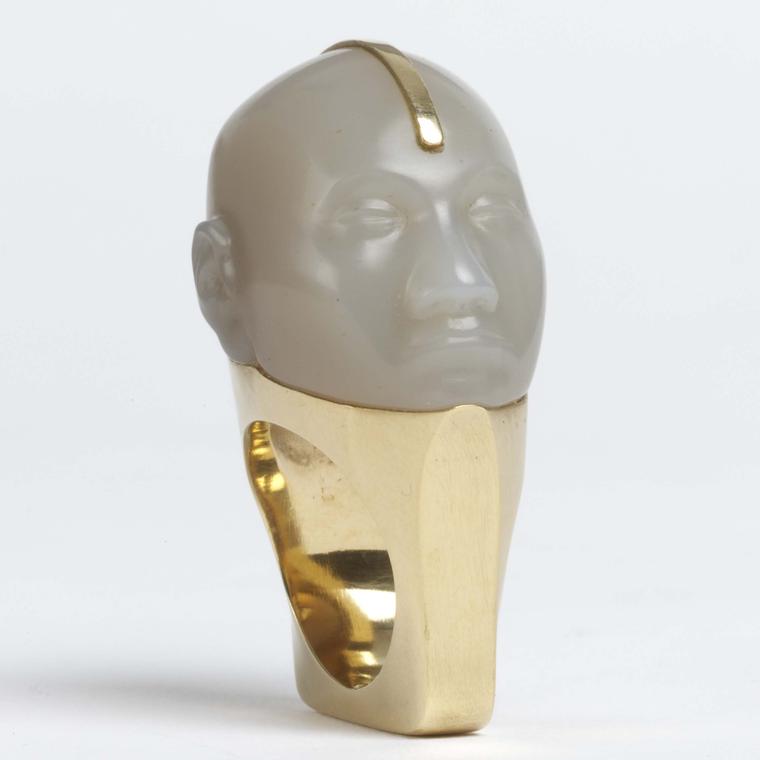 Richard Edgcumbe, remarks of the re-opening that coincides with the bi-centenary of the museum: "Queen Victoria's sapphire and diamond coronet is one of the great jewels of her reign. Designed by Prince Albert, it is an iconic symbol of their love, worn by Victoria as young queen and as widow.  We are entirely indebted to William and Judith Bollinger and their sons for the gift of this masterpiece of the jeweller's art, which is so intimately associated with Victoria and Albert that it will become part of the identity of the V&A. Together with an array of eighty new acquisitions and loans made possible by the generosity of many supporters, the display of the coronet inaugurates the next phase in the life of a much-loved gallery." 
Showing a wide range of jewellery style, this gold pendant in form of Paddington Bear by Cartier, London, 1975 was given in memory of James Doherty by Clive Kandel.

Another of the new pieces joining the 3,500-strong jewellery collection is the 2016 Natura Morta poppy necklace in gold, enamel and diamonds by Christopher Thompson Royds of the Netherlands

Beyoncé  Knowles-Carter took her 'Papillon' ring from her finger to donate it to the V&A museum. The ring can be seen on Beyoncé's finger in two portrait photographs taken by Jay-Z of his wife.

The wings of the Papillon ring by Glenn Spiro are made of titanium capable of being formed into large shapes while remaining light and strong, while the blue titanium adds a tonal richness to the jewel.

Charlotte de Syllas 1969 Bobby's ring in  gold with grey chalcedony ring is one of the 30 new pieces added to the refurbished William and Judith Bollinger Gallery.

Evoking the glamour of a gilded era, this gold, enamel, engine-turned cigarette case with a diamond thumbpiece was made by Cartier circa 1907-8 and is one of the dozens of loans and promised gifts from Kashmira Bulsara.

A gold vanity case with 'laque burgauté panels by Cartier, Paris circa 1925. It is on loan and a promised gift from Kashmira Bulsara in memory of her brother Freddie Mercury and featured in the book 'A Kind of Magic' about the collection.  

Enamelled gold vanity case and lipstick holder mounted with coral and set with diamonds and emeralds, Cartier, Paris, 1923. A loan and promised gift from Kashmira Bulsara in memory of her brother, Freddie Mercury

One of the 49 Art Deco vanity cases from Kashmira Bulsara is this frosted rock crystal card-holder by MaisonLacloches Frères. It is set with diamonds and enamel to create a weeping willow tree and finished with rows of diamonds and lapis lazuli. More of its intriguing history is revealed in the book 'A Kind of Magic.'

One of the most iconic jewels belonging to Queen Victoria is the sapphire and diamond coronet as seen in this engraving by François Forster Paris, 1846, after Franz Xaver Winterhalter (1805-73). 

London's Victoria & Albert museum, fondly known as the V&A celebrates its bi-centenary this year. At the centre of the celebrations will be Queen Victoria's sapphire and diamond coronet designed by Prince Albert. 

Enriching to the Art Deco section of the gallery is Kashmira Bulsara generous donation that includes this Lacloche, 1925 vanity case decorated with blue, black and white enamel & diamonds on a chain.
For those who want a keep-sake of this historic moment, a revised edition of Jewels and Jewellery by Clare Phillips will be published by Thames & Hudson to coincide with the reopening, featuring the coronet on the front cover.  Also A Kind of Magic: Art Deco Vanity Cases by Sarah Hue-Williams and Peter Edwards reveals The Kashmira Bulsara Collection (Unicorn Press in 2017).

The William and Judith Bollinger Gallery reopens on April 11th 2019, entrance is free.
The author's third novel The Monte Carlo Connection will be released in June 2019.