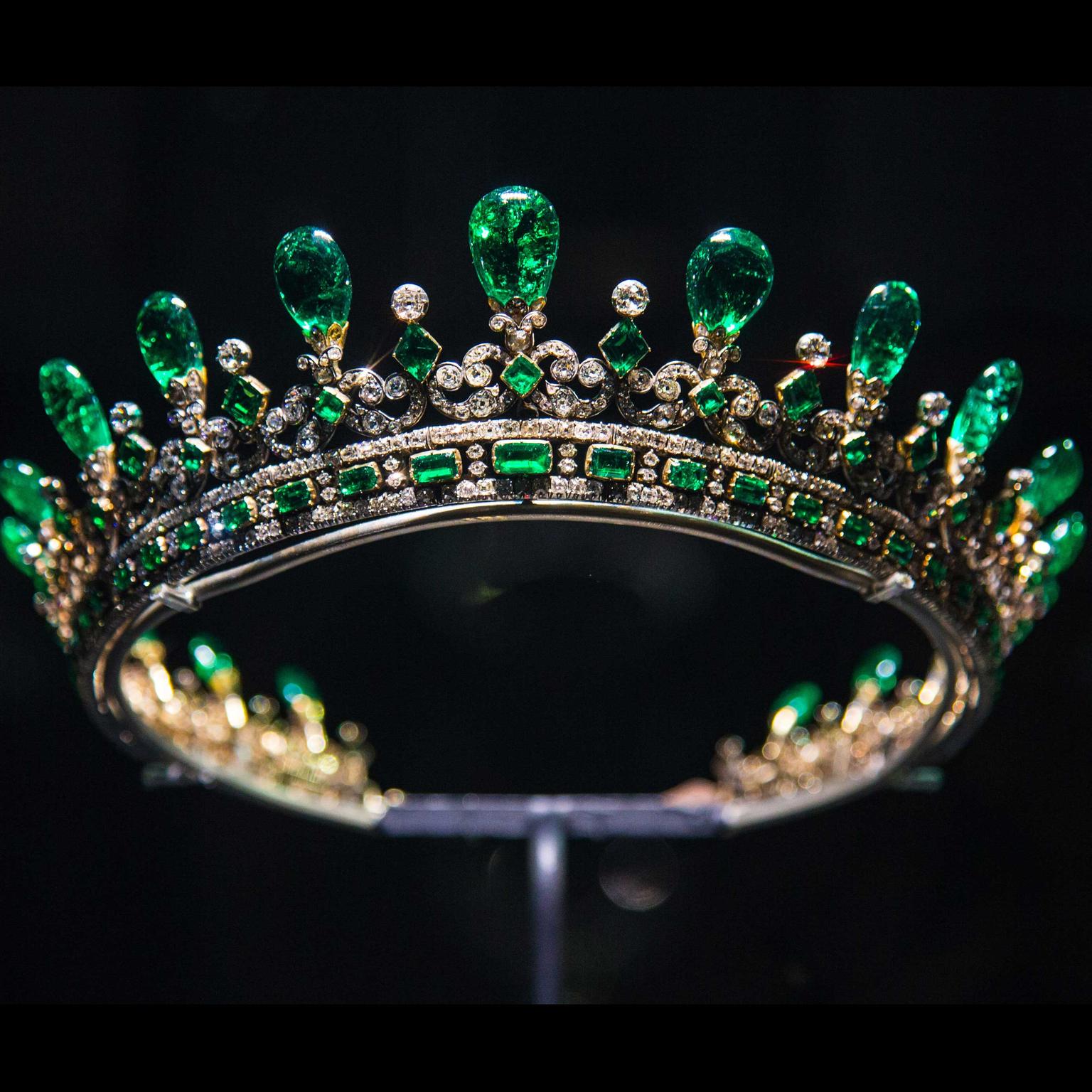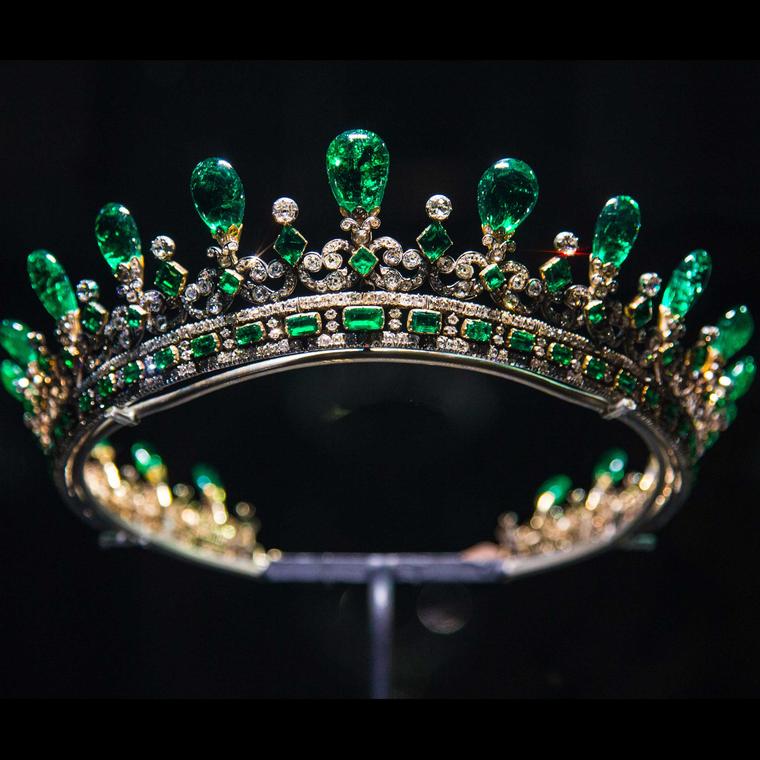 An arrangement between HM Government and the estate of the 3rd Duke of Fife, has allowed the public to enjoy some of the most significant and beautiful jewels belonging to Queen Victoria and her descendants at Kensington Palace. The Fife tiara has been accepted in lieu of Inheritance Tax and is now on display at Kensington Palace alongside Queen Victoria's emerald parure and Princess Louise's  kokosnhik style tiara, jewels last seen many decades ago.
Impressive yet with a touching story, the emerald jewels speak eloquently of the love between Queen Victoria and Prince Albert during their 21-year marriage. And one of the most spectacular yet poignant pieces is the emerald tiara he gave her in 1845, six years on from their wedding.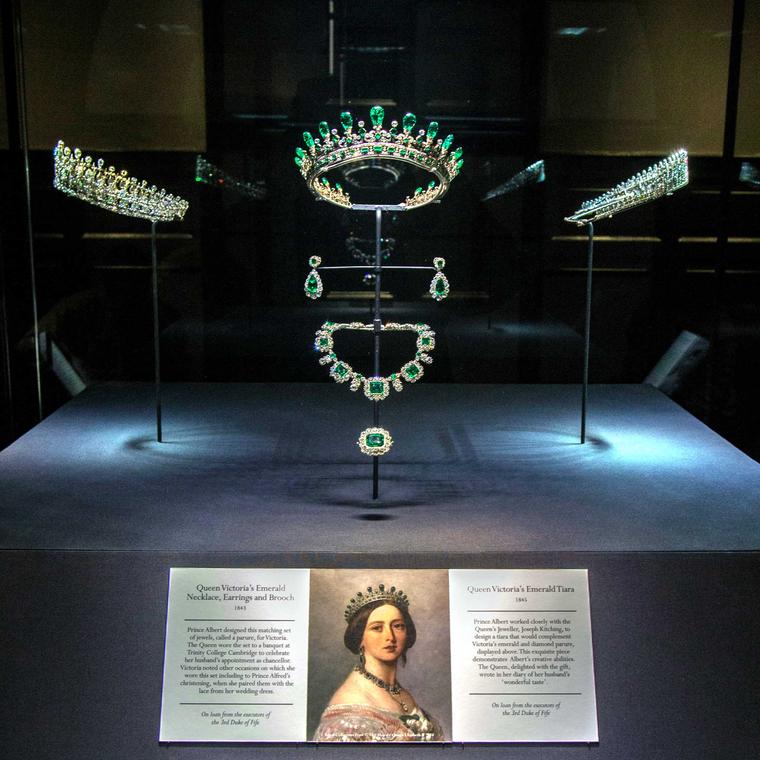 The tiara was the final flourish to the emerald parure (below) that Prince Albert had given the Queen, comprising of a necklace, brooch and earrings. Beyond its beauty and value, it is the only tiara designed by a consort for his Queen. Made by the Queen's Jeweller, Joseph Kitching, Victoria was very taken with Bertie's gift and wrote in her journal of her husband's 'wonderful taste', and her delight at wearing this 'lovely Diadem of diamonds and emeralds designed by my beloved Albert.'  Jewellery specialist at Sotheby's Justin Roberts who was involved in the project comments: "The influence of Prince Albert in Victorian jewellery should not be underestimated. Both Victoria and Albert were very interested in art, culture, theatre and of course jewellery."  Victoria was painted by artist Franz Xavier Winterhalter in 1846 and 1859 wearing the jewels and she chose them for her son Prince Albert's christening.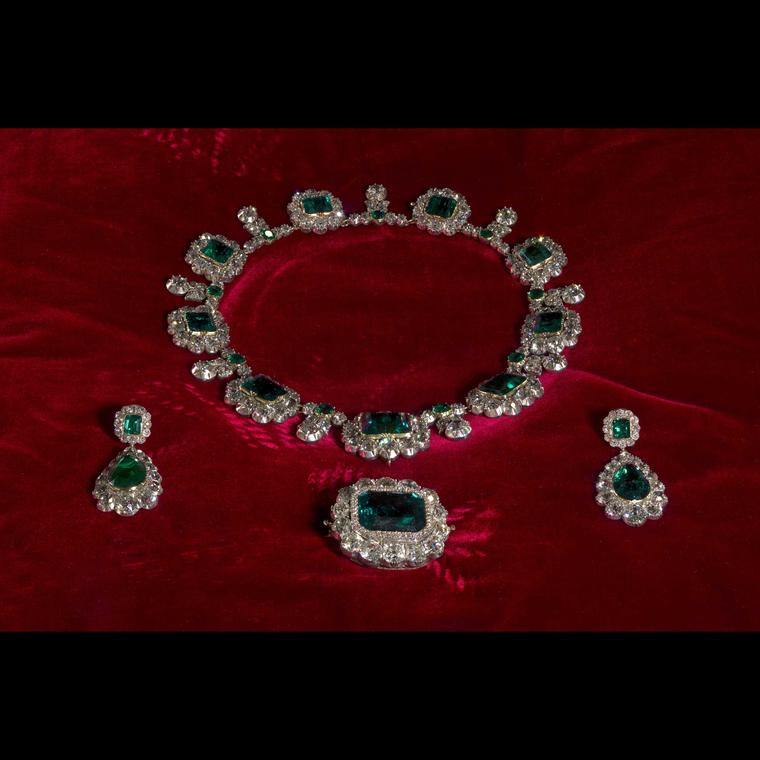 Prince Albert's fascination with jewellery is evident in the lavish design of the headpiece that is both delicate yet regal (below). Nineteen graduated pear-shape emeralds, the largest of which weighs 15 carats, rise out from a row of diamond-scroll motifs that in turn are placed atop a band with a geometric pattern created from cushion-cut emeralds and diamonds. Roberts remarks that in his 25 years at Sotheby's he has not seen a set of emeralds of such quality and is unlikely to see such a suite again as this is material from the 1830's.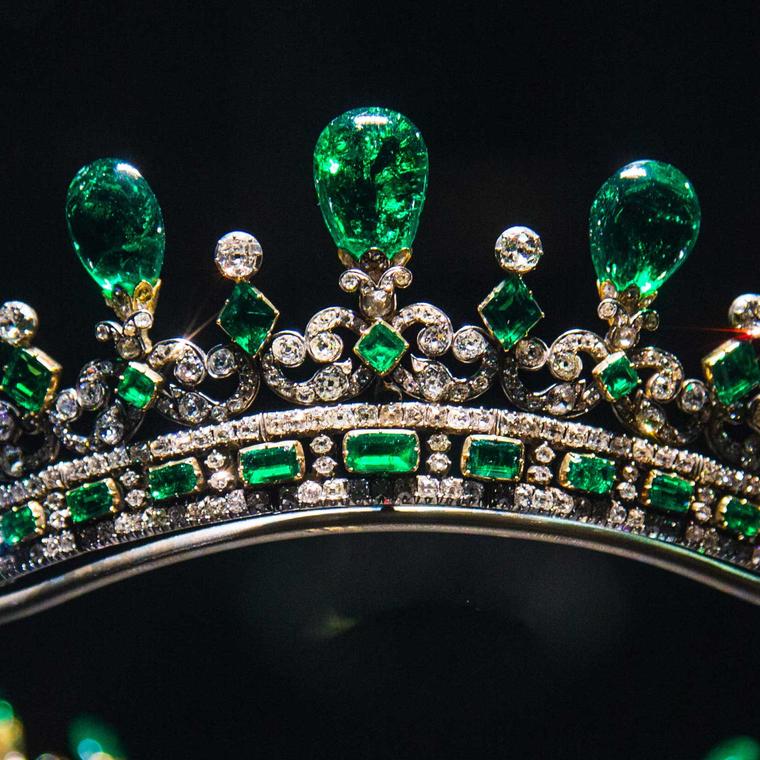 As for the style, Roberts says: "If you look at it very closely it is Gothic. It is not apparently Gothic but there is a Gothic influence in the arches and the emerald spikes. It is a fabulous pieces and it is extremely rare as it was made by Prince Albert for his wife," explains Roberts. The Gothic style is probably due to the influence of the Plantagenet Ball the couple held in 1842. Watch our video of Justin Roberts explaining the origins of the parure below.
The tradition of giving jewels to mark significant events carried on through the family and Victoria and Albert's children and grandchildren kept jewellers busy with their commissions. The Duke of Fife gave the eponymous tiara (below) to his bride Princess Louise - Queen Victoria's granddaughter and Queen Alexandra's daughter - on her wedding day.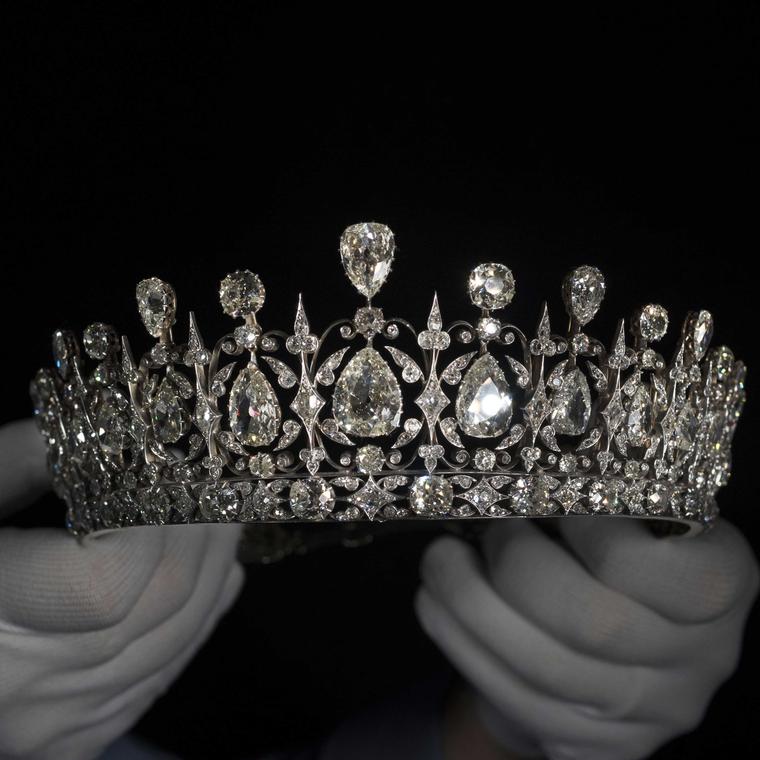 Produced by the famous Parisian jeweller Oscar Massin, the diamond tiara (above) is a spectacular example of design and craftsmanship. The impressive pear-cut diamonds are swing-set appearing to float above the head and would have sent out a shower of light as they gently swayed with every step the Princess took down the aisle. The impressive carat weight of the hundreds of diamonds is off-set by the lightness and delicacy of the tapered points of the folliate scrolls and lightness of the gold and silver structure. 
"The 1887 Fife tiara is highly-innovative because of the use of invisible settings," explains Roberts. "Massin has hidden the settings by turning them on their side and everything is on knife-edge bars. A conventional tiara from this period would have been very heavy and with a lot of metal, but with this tiara you can't see any settings, it's all diamonds. It's very clever."
"The other thing to point out is that tiaras of this importance have not have survived," adds Roberts. "Because of changes in fashion they were dismantled and broken up as recently as the 1990's. This makes them both extremely rare survivors."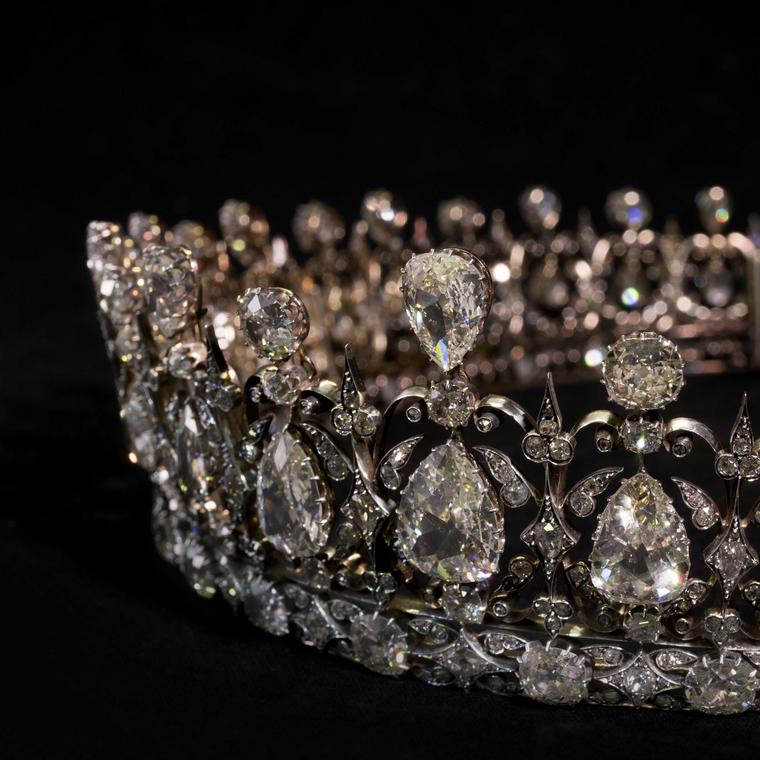 More geometric in its design, a kokoshnik-style (or cock's comb) all-diamond tiara (below) that converts into a necklace was one of Princess Louise's favourite jewels purchased from Hancocks at the height of the vogue for Russian-influenced style. The loan of these jewels adds an extra sparkle to the re-opening of Victoria Revealed at the monarch's childhood home.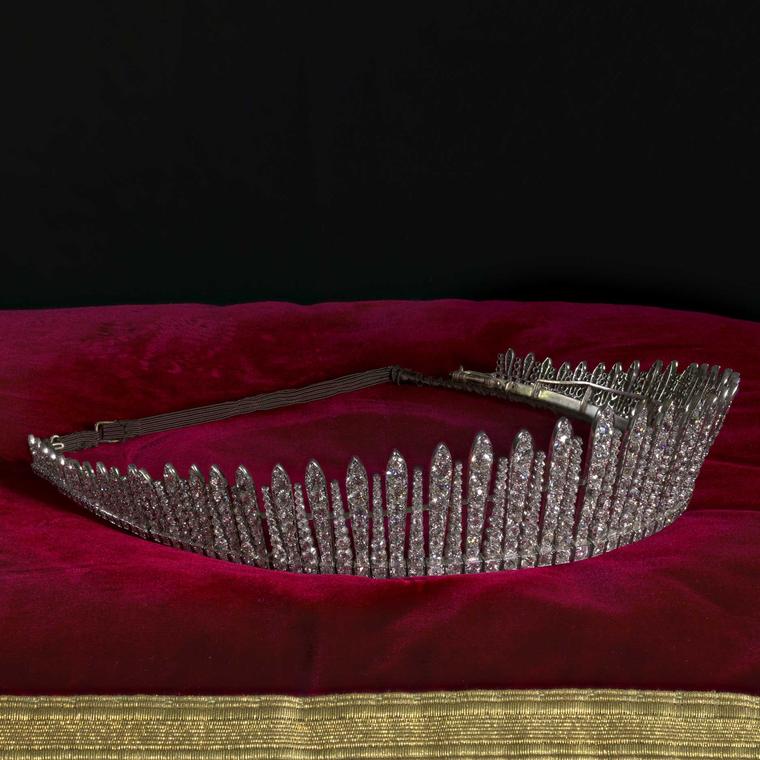 Victoria Revealed runs at Kensington Palace from 30 March throughout 2018. For more information visit www.hrp.org.uk/Kensington-Palace
Queen Victoria's diamond and emerald diadem was was the crowning final addition to an emerald and diamond parure given to her by Prince Albert. c. Historic Royal Palaces

Of a very refined high Gothic style, Queen Victoria's diamond and emerald diadem was probably last seen in public in the 1960's when worn by the Duchess of Fife. It will go on display at Kensington Palace from 30 March 2018 (c) Historic Royal Palaces

An emerald brooch, earrings, necklace and tiara make up the parure given to Queen Victoria by Prince Albert. Designed by Albert, Victoria wrote in her journal: 'of her husband's 'wonderful taste', and her delight at wearing this 'lovely Diadem of diamonds and emeralds designed by my beloved Albert.' C. Historic Royal Palaces

Queen Victoria's 1945 diamond and emerald diadem, which goes on display in Victoria Revealed at Kensington Palace from 30 March 2018 (c) Historic Royal Palaces

The tiara presented to Queen Victoria by Albert in 1845 was the centrepiece of a parure he had gifted her earlier and for the first time on display at Kensington Palace, Victoria's childhood home. (c) Historic Royal Palaces

Princess Louise's fringe tiara, a gift on her marriage to the 1st Duke of Fife from her parents Edward VII and Queen Alexandra (c) Historic Royal Palaces

The spectacular Fife Tiara, made for Queen Victoria's granddaughter Princess Louise, being prepared by a curator to go on display at Kensington Palace  (C) Historic Royal Palaces

The spectacular Fife Tiara, made for Queen Victoria's granddaughter Princess Louise represents the very zenith of tiara design and was made by Parisian jeweller Oscar Massin. It was accepted by HM Government from the Estate of the 3rd Duke of Fife in lieu of Inheritance Tax. (C) Historic Royal Palaces

A conservator prepares the spectacular Fife Tiara for display at Kensington Palace as part of the Victoria Revealed exhibition. The large diamonds are swing-set which meant they would gently sway with the lightest movements.(C) Historic Royal Palaces

This jewel is the only tiara made by a consort for a monach.  Prince Albert commissioned it from the Queen's jeweller  Joseph Kitching. It is set with 19 sepctacular pear-shape emeralds. (c) Historic Royal Palaces