I head to Shoreditch, the heart of hip East London to find out more about the multiple award-winning jewellery and accessory designer Tomasz Donocik. As a graduate of London's Central Saint Martins (CSM) and the Royal Academy of Arts, (RCA) Donocik describes himself as both an artist and a designer. His range of styles is as eclectic as it is fascinating and he is known for both darkly romantic men's jewellery and fine jewellery for women with a retro-futuristic air. On a mission to always do things differently, when creating Donocik looks beyond jewellery making traditions and experiments with accepted materials. Donocik has a loyal male clientele for his bespoke work in the UK  as well as 15 points of sale around the world for his female fine jewellery collections that include Stellar, Electric Night, Cosmic and a bridal range. The easy to wear Fine Leather bracelets for men and women, studded with gold and precious gems, are top-sellers in the USA.  He has a strong following in Japan for his men's collections and is developing a line of men's accessories.  From zips for YKK, to leather, magnets, an emerald brooch for a lord, crocodile cuff links - and a lot in between - Tomasz Donocik talks to me through the 12 year journey so far. 
Tell me about how you came to be a jeweller.
I was born in Poland and when I was nine months old, my father who was a United Nations diplomat, was moved to Vienna and I studied at the International School where I learnt English and German. 
When the time came, I was torn between studying law, which my parents favoured, or art as I had always been into painting. At 18 I chose to come to London and obviously Central Saint Martins was the best place to continue my path as a professional artist. If I hadn't been a jeweller I would probably have been a painter.
I started with an Art Foundation Course and we did a wide range of things from space and graphic design, to textiles and jewellery. It turns out that jewellery was my favourite because you could still draw and express yourself through art and you also get to make something. And like an artist, you can be conceptual or quite commercial as jewellery has a huge spectrum. What's more, jewellery gave me a discipline that meant if I couldn't be a jeweller myself, I could be a maker for someone or a designer for a brand. 
After CSM I went to the Royal College of Arts (RCA) which was the ultimate goal. What I loved about it was that it was all under one roof, so I made a lot of friends in other departments like sculpture and fashion. It was here that my interest in fashion developed. They helped me when I wanted to make scarves and I really cross-pollinated with them, bringing leather and textiles into my jewellery. 
How do you define yourself?
I am an artist who specialises in jewellery. I am not going to pigeon-hole myself into being a designer or a maker. As a maker I would be bored just perfecting the craft. I don't have that traditional set of rules that means that I have to make everything myself. If I did that, I would limit myself to doing what I already know. I am not a stone-carver for example, and there are people out there who can do it much better than I can – and without having to put myself through more training.  My speciality is definitely design and coming up with ideas.  So when I was in CSM I really put a lot of emphasis in making sure that all the projects I did were executed to the fullest in terms of design. This gives me the freedom to do what I want like a leather range of bags for men that is coming out next year.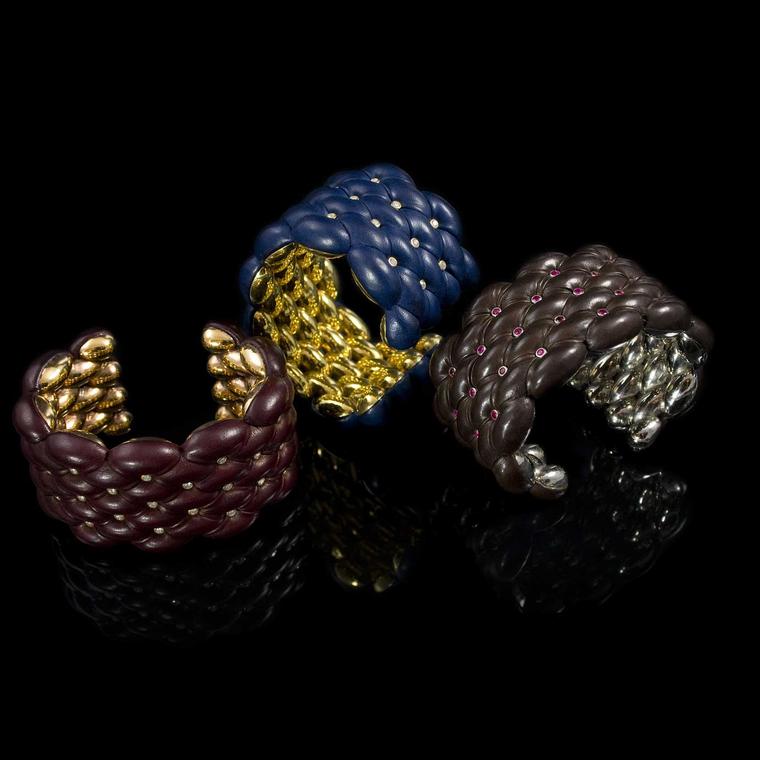 Gemstones embedded in leather, magnets and zips tell me about your interest in unconventional materials. 
If I believe the design needs a certain material, I will use it, even if it is not considered precious. I won't follow the old rules about stone combinations, and I will use the stone it takes to get the colour as the effect is all that matters. The same is true for my passion about leather that I used in my first Chesterfield cuffs for men and that I continue to use in my fine leather bracelets. 
More recently, with the Dusk Halo ring I worked with unexpected stones like grey hematite and howlite in different cuts combined with morganite and diamonds.  For me, the design is more important than the rules of the trade. As I am art college trained, I don't have that jewellery mind set, I am more open. 
How did your career develop after graduating from the RCA?
At the beginning of my career the idea was to make men's jewellery. That is how Stephen Webster discovered me at my degree show in 2006 where I had won The Goldsmith's Company 'Jewellery Designer of the Year' award. When Stephen Webster asked me to work for him in 2007, I didn't even know who he was, back then we were just doing out own thing. 
I worked with Stephen Webster part-time for a year, mainly focused on men's jewellery and special projects. Then I moved away and worked freelance for Garrard, De Beers, Links of London and others. I was also making silver jewellery for men under my brand. Then suddenly between 2010 and 2013 we had a big hit in Japan and it became our biggest market. We were in 70 stores selling men's silver jewellery and leather bracelets. My image suited what they liked, that London rock and roll look, but not too hard-core nor sinister and dark but romantic. It was a big change from being an artist at the RCA to being a businessman.  
In parallel, I was taking fine jewellery commissions such as the very elaborate Hornbill and Phoenix rings and Crocodile cufflinks. Still today, my best clients are men in terms of my bespoke requests for crazy pieces. There are men out there who are really hungry for cool stuff but they prefer to commission as they know what they want and can't find it in the shops. 
Tell me about the evolution and range of your styles of jewellery.
While I was at the RCA, I based my collection on the book 'A Hero of our Time' by Mikhail Lermontov and the military officer Pechorin, the Byronic antihero. I created a wardrobe for him that was alluring, aloof and seductive, a sort of Russian Maltese Falcon. He wore bejewelled scarves and the Chesterfield cuff. It was set in Tsarist Russia, so it was very opulent and with rich colours. After the RCA my style changed, and the idea was that Pechorin was now in post-Soviet Russia: he has lost his money but not his pedigree or taste. This is when I started the Rising Star collection in leather and silver with military star type brooches that were still cool but didn't have diamonds. 
In 2017 we had an unexpected success with the Lily Pad ring that was part of the Garden of Good and Evil collection that explored forgotten British garden ponds. Fans of the Beauty and the Beast film interpreted it to be the Enchanted Rose, though it was never my intention. It has been one of my best sellers and a popular engagement ring choice over the past twelve years.  
In 2014, I brought out Electric Night and then the Stellar collections as I was interested in sci-fi and the future as seen by writers and film makers in the 1980's. I was inspired by Ridley Scott's film 'Blade Runner' and its vision of a rain-slicked, neon-lit future cityscape. I also love the work of the 1970's US minimalist artist Frank Stella and his use of geometry combined with soft colour palettes. 
So what's new? Tell me about your latest work.
My newer women's collections are very abstract and I work with negative space, exploring different levels and heights. Negative space is very important in my designs and in the Blade Runner ring for example, the gaps are as important as the stones. I borrowed this concept from painting, where white space is as significant as a block of colour. You need both to communicate. 
Baguette-cut stones were vital to the design as I wanted to create highways for the colour to travel freely along with no interruption of metal. I could create the same effect using enamel but I made a decision years ago to not use enamel and committed to stones though back then it was very difficult to find baguette-cut stones as very few jewellers were using them. Today baguettes are definitely in vogue, which means on the plus side, that this cut is more readily available. But on the down side, many jewellers started using them, so it is time for me to experiment again with unusual cuts and materials for my next collections to set me apart from the crowd again.
My new collection for 2020 takes design in a different direction as I always strive to rejuvenate my look. The collection is based around the pentagon using transparent crystals and baguette and Asscher cut stones to bring something new to the table. I am trying to push stones further than ever to create an illusion about where colour starts and ends. 
What is the greatest recognition of your work so far?
The 'Best Colored Gems Design Under $20,000' and 'Editor's Choice' awards at Couture, Las Vegas in 2016 were quite important as I was competing with huge companies at a really high level, so it meant a lot to me to win them as a small person in a massive market. However the most prestigious recognition was the diamond necklace commission from the Goldsmiths Company in 2017. I spent the entire budget on materials so I walked away without a profit but the reward for me was that it was a real seal of approval and it is now part of history and in the Goldsmiths collection.
What can we expect next from you Tomasz?
My mission statement is: 'do something different'. I am not sure if from a business point of view it is the best thing but my work is always original. As an artist, I want to do lots of different things but in the last few years I have become more business-minded and have started to create a language. 
But what is right or wrong: does my jewellery all have to look the same or do I go crazy and do what I want ?  As long as you go to extremes then I think it is ok. Anything in the middle is bad, so I won't do that. 
Donocik's first jewels after he graduated from the Royal College of Art in London were created for men such as these Chesterfield cuffs that feature button detailing as found on traditional English leather sofas. 

Tomasz Donocik trained as a jeweller as well as an artist. He has a team of jewellers but still works at his bench in his workshop in Shoreditch, London on special pieces such as the Stellar diamond necklace. 

The Art Deco Stellar rings merge Donocik's interest in retro-futuristic themes with and Art Deco air using diamonds, emeralds and black spinel, the gemstones mostly closely associated with this design era. The rings can be worn separately or together as shown to create the illusion of one cross-finger wing-shaped ring.