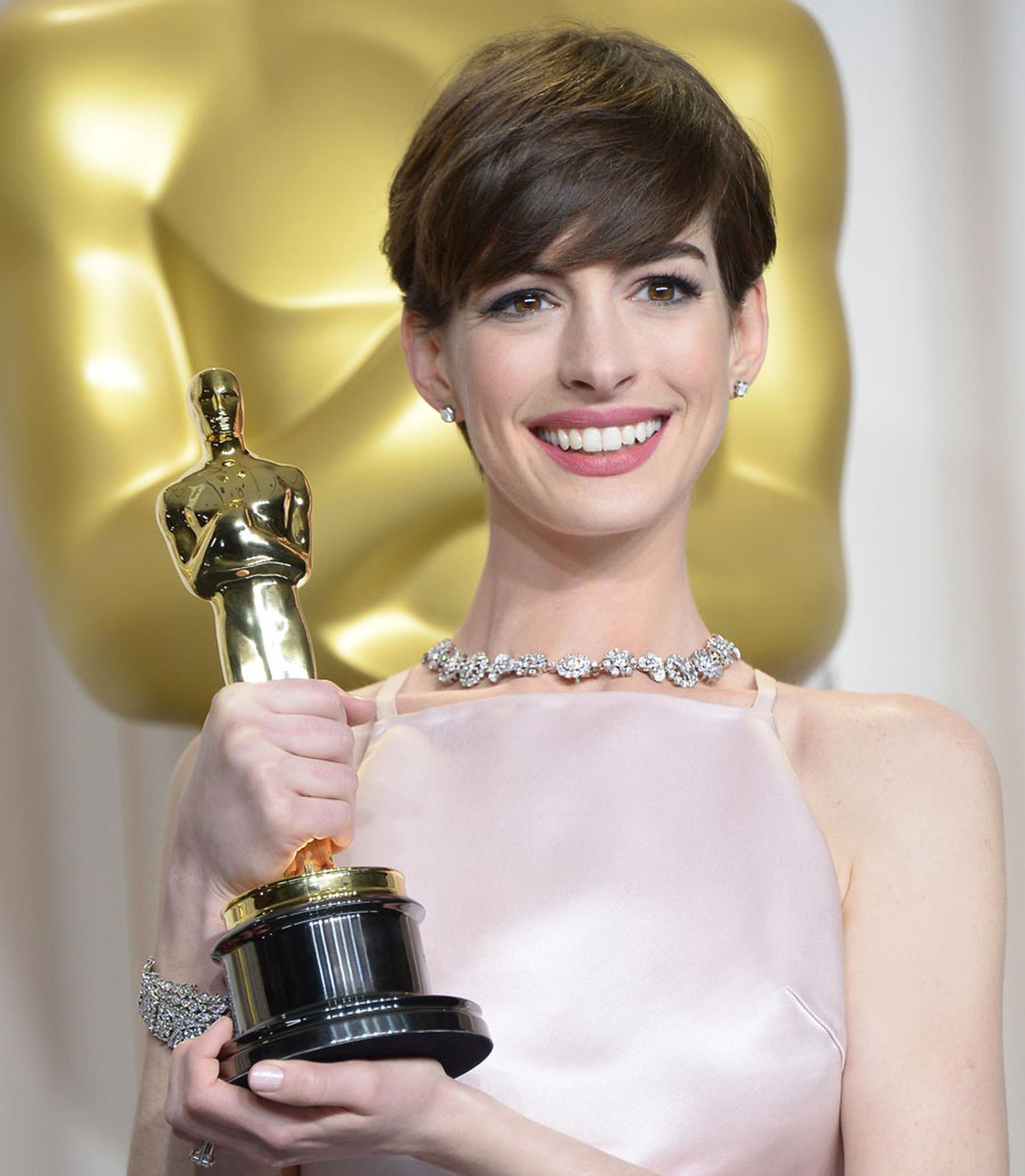 Perhaps it was inevitable that diamonds would steal the show at last night's 85th Academy Awards, the most important night in cinema. With just a sprinkling of the colourful, showy jewels we saw at the recent BAFTAs, the Oscars red carpet was dominated by that classic combination: white gold and diamonds. Necklaces - unless worn back to front - were few and far between; instead, the focus was on earrings, bracelets and some choice finger baubles.  
With her blonde crop and white peplum Dior gown, presenter Charlize Theron notched up an impressive carat count with her Harry Winston diamond jewels, worth a reported US$4.5 million. Dating from 1959, there were more than 100 carats in two of her vintage bracelets alone. Oscar winner Adele performed her song from 'Skyfall' at the ceremony looking every inch the vintage diva in 1970 Van Cleef & Arpels 'Feuilles' earrings, while Jessica Chastain, who hasn't put a fashion foot wrong this awards season, stepped out in another smash-hit dress by Armani Privé. She, too, opted for vintage Harry Winston: white gold and diamond earrings and a beautiful 24ct diamond and gold bracelet, both from the 1960s. 
The award for most impressive dress of the night went to Jennifer Lawrence, star of 'Silver Linings Playbook'. The train on her pale pink Dior gown may have caused her to trip on the way up to collect her Oscar for Best Actress, but it was a small price to pay for what was the ceremony's most impressive red-carpet moment. Lawrence was the first to be spotted wearing the backward necklace trend: a long Chopard necklace in white gold, set with 73ct of diamond beads, that reached all the way down her back. Deserving winner Anne Hathaway, whose Oscar for Best Supporting Actress was always in the bag, also chose to wear her necklace back to front so that on first glance it looked like she was wearing a choker. It was only when she turned around that the impressive Tiffany & Co diamond necklace, from the 2013 Blue Book Collection, was revealed.
Bringing some welcome colour to the party was presenter Renée Zellweger, who coordinated her jewels with the red carpet: two fabulous Van Cleef & Arpels bracelets set with more than 90ct of rubies. Coloured stones were also the jewel of choice for Chinese actress Fan Bing Bing, who wore Chopard pink sapphire, rubellite and diamond earrings, rings and bracelet, and the fabulously glam Jane Fonda, who chose yellow diamond chandelier earrings and ring by Chopard to match her canary yellow Versace gown. 
Proving that you're never too young to be nominated for a Best Actress Oscar, pint-sized Quvenzhane Wallis, aged nine, paired her Forevermark diamonds with an Armani dress and a fluffy puppy handbag. Could Wallis be the cutest red-carpet entrance in Oscars history? And finally, ramping up the glamour was Britney Spears, who arrived at Elton John's post-Oscars bash wearing a super-sparkly frock and an enormous smile - but wouldn't you if you had access to those wonderful one-of-a-kind black diamond, blue and yellow sapphire de Grisogono earrings for one night only?
de Grisogono one-of-a-kind high jewellery earrings in white gold set with heart-shaped blue and yellow sapphires and black diamonds.

de Grisogono Boule ring, set with white diamonds, as worn by Britney Spears at Elton John's Academy Award viewing party.

Fan Bing Bing wore a Chopard white and rose gold bracelet set with pink sapphires (282ct) and brilliant diamonds (8ct); white and rose gold earrings set with navette-cut rubellites (35ct), pear-shaped rubellites (18ct), pear-shaped diamonds (2ct), heart-shaped emeralds (2ct), rubies (2ct) and brilliant diamonds; and two yellow gold rings set with pink sapphires (13cts) and brilliant diamonds.

A closer look at Jane Fonda wearing Chopard gold chandelier earrings, set with 28ct yellow diamonds.

The de Grisogono signature Galuchat Cuff (below), set with white and black diamonds, worn by Britney Spears to Elton John's post-Oscars party.

Best Actress nominee at the Oscars 2013, Jessica Chastain, in vintage 1960s Harry Winston diamond earrings and diamond and gold bracelet.

A closer look at the Harry Winston jewels Sandra Bullock wore to the 2013 Oscars.

Award presenter Sandra Bullock in US$1 million worth of Harry Winston diamonds: diamond earstuds; diamond cluster brooch; and three diamond rings.

Best Original Song winner Adele in US$1 million worth of Harry Winston diamonds: Winston cluster diamond earrings at 21.51ct and a Harry Winston diamond ring.

Best Director nominee Steven Spielberg with his wife Kate Capshaw, who wore a Harry Winston diamond Qipao necklace; diamond bracelet; diamond earrings all set in platinum; and for the legendary director a pair of Harry Winston cufflinks.

Award presenter Charlize Theron in US$4.5 million worth of Harry Winston diamonds at the 2013 Academy Awards: emerald-cut ear studs; a vintage 1959 58.07ct diamond lattice bracelet; a vintage 1959 'Cluster' bracelet; a diamond marquise lattice bracelet; and marquise-cut diamond cluster ring, all set in platinum.

Actress Olivia Munn wore Harry Winston yellow diamond floral earrings and a sunflower diamond bracelet.