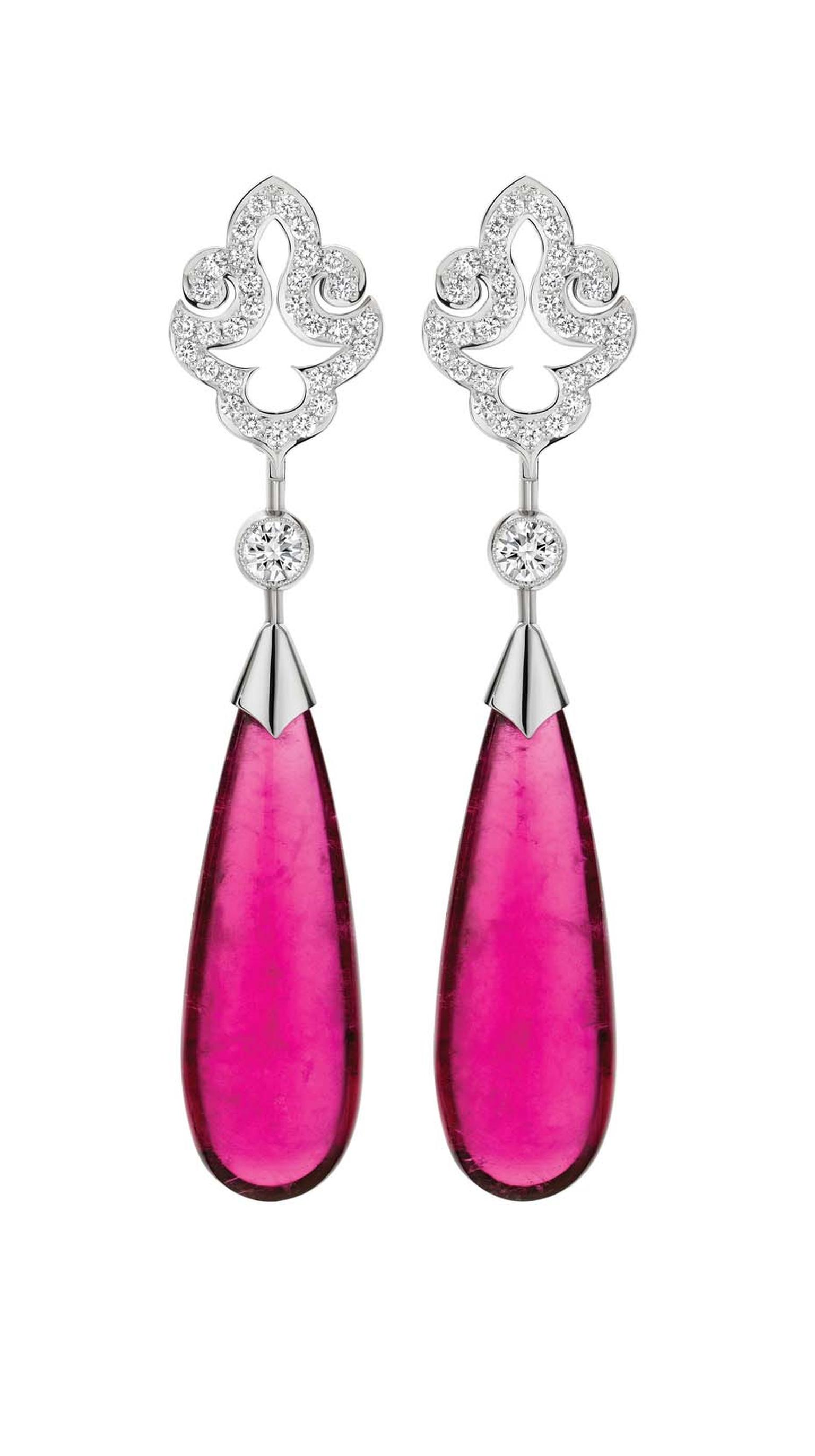 By Jordan Clary in Reno, Nevada
One of the most stunning sights where I live on the high desert is the sunlight. It doesn't matter if it's sunrise or sunset, but there are a few moments when the sun slips from one contrast into another and the entire desert is bathed with every shade of red and violet imaginable. If a stone bled, it would be this colour. 
Rubellite could be described in the same words. From soft, dusky pink to the most vivid crimson, rubellite is not only stunningly luminous, but an extremely wearable gem as well. It has a hardness of 7 to 7.5 on the Mohs scale and is very easy to care for. 
A member of the tourmaline family, rubellite is known for its nuances of red. However, not every red tourmaline is worthy of being called rubellite. The thing that distinguishes it from other red tourmaline is the way it holds its colour in either natural or artificial light. Many coloured gemstones change colour depending on the lighting, but a true rubellite will hold its colour under both natural and artificial light. 
Rubellite is also unusual because of its inclusions. Inclusions are generally considered unfavourable qualities in a gemstone, but many collectors find rubellite's subtle inclusions make them more interesting. Nevertheless, fewer inclusions do make for a more valuable gem. 
The beauty of rubellite makes it an exceptional centrepiece in high-end jewellery such as Van Cleef & Arpels' Lady's Cocktail Ring in yellow gold. The turquoise and diamond accents provide a perfect contrast to highlight the central rubellite.
Diamonds and sea-colour chrysoprase in Piaget's new Rose Passion earrings compliment the deep-pink pear-shaped rubellites. My favourite earrings, however, are by Calleija with pink rubellite with diamond accents. The delicate elegance of the design allows the scintillating pink stones to reveal their natural beauty.
Rubellite has a playful, almost flamboyant side as well, as shown by Avakian's Joker collection earrings and ring with rubellites and black and white diamonds.
And it's a gem that works well with others. The Bulgari Diva high jewellery necklace combines rubellites with amethysts, emeralds, turquoise and diamond pavé to create a look that's colourful and very, very precious.
Avakian Joker earrings set with rubellites and black and white diamonds.

Avakian Joker ring set with rubellites and black and white diamonds.

Inspired by the pebbles along the Sardinian beach of Costa Smeralda, Bulgari's pink gold Diva Gala in Costa Smeralda necklace is set with 18 rubellites totalling more than 420ct, six round rubellites, peridots, garnets, round brilliant cut diamonds and pavé diamonds.

Jacob & Co. Harlequin earrings in white gold featuring two rubellites totalling 83.81ct, 14 apatite stones and diamonds.

Jacob & Co. platinum Harlequin rubellite drop earrings featuring two round rubellites and six drop rubellites highlighted with brilliant-cut diamonds.

Cabochon rubellite and diamond earrings by Martin Katz in white gold, set with two pear-shaped rubelites (22.58ct) and two "fang"-shaped diamonds, microset with diamonds and pink sapphires.

Robert Procop Parisian deco rubellite and diamond earrings.

Robert Procop oval-shaped rubellite cocktail ring, with a central 31.74ct rubellite, pavé set with rubies, pink sapphires and diamonds.

Van Cleef & Arpels Lady's Cocktail Ring in yellow gold, with round diamonds, carved rubellite and turquoise.

Paloma's Olive Leaf cabochon rings with diamonds, peridot (left) and rubellite (right), in 18ct gold by Paloma Picasso for Tiffany & Co (£12,000).

Paloma's Olive Leaf earrings with pear-shaped rubellites and diamonds in 18ct gold by Paloma Picasso for Tiffany & Co (£35,300).

Piaget Limelight Couture Précieuse Necklace in white gold with a 12ct pear-shaped rubellite, three cushion-cut rubellites totalling 26ct and brilliant-cut diamonds.