Chinese fireworks are set to explode when jeweller-philosopher-artist Wallace Chan brings his extraordinary gem-encrusted treasures to London for the first time.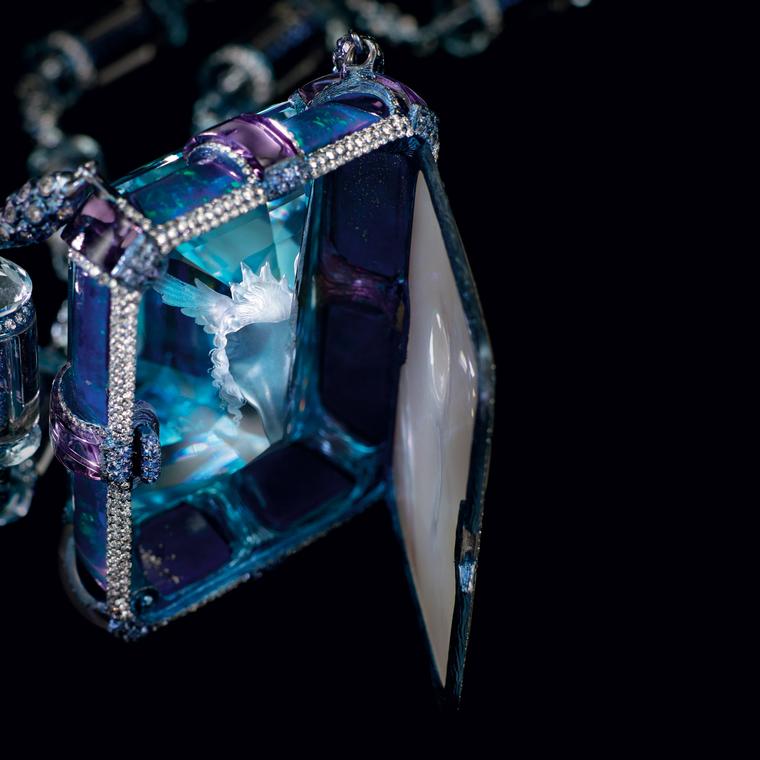 Chan, attracted by the English capital's international mix and its historic links to Hong Kong where he lives and works, launches his book Dream, Light, Water at the V&A Museum on 27 June. Within days of that he will go on to make his debut at Masterpiece, which runs from 30 June to 6 July. On previous visits, Chan found it "a dynamic fair and fast growing" and he believes it will continue to gain in importance for art, antiques and design. His presence as an exhibitor is bound to give it a rocket-powered boost. 
At the Biennale in Paris and TEFAF in Maastricht - the European fairs where he has already shown - Wallace Chan's spectacular bejewelled sculptures attract crowds. Some are mesmerised by the sight of his fantastical pieces; some are passionate collectors. Indeed, his collectors are so avid that only a few of the 40 jewels at Masterpiece are still for sale.
Dream, Light, Water is an opulent creation. Wallace Chan wears simple-framed eyeglasses and dresses in black. He has an aura of deep calm. It is no surprise, therefore, that the slipcase for his book is black cloth. But while there is something almost weightless about Mr Chan, that cannot be said for the book, which is a hefty 6.5 kilos. There is nothing calm about the explosion of coloured gemstones, technical wizardry and far-flung imagination that fills its 369 pages with brooches, necklaces, rings and earrings featuring fishes, insects, flowers, butterflies and bejewelled fantasies. Dream, Light, Water is Wallace Chan's creative autobiography, and what a bewitching 40-year-long story it is.
The book opens with a black and white, front-facing portrait of Chan and closes with another - this time seen from the back. He appears to be walking away but he is very much still with us and still creating. With so much to feast on, ensure you spend time gazing at "Stilled Life" - this compelling Imperial jadeite cicada nestled in a densely bejewelled sculptural garden is his signature piece. It makes his life with him.
Dream, Light, Water is a limited edition of 2,000 copies. Priced at £185, it will be on sale at both Masterpiece and the V&A.
The beautiful Wallace cut on this Now and Always necklace by Wallace Chan, as seen from the back. Photo by S Tung and F Tsang

Wallace Chan's mastery of working with titanium is shown in this Heart in Bloom brooch with life-like exquisitely coloured titanium petals.

Wallace Chan's development of the claw setting is beautifully demonstrated in the Plum Flowers in Snow parure.

This necklace featuring diamonds set in white jade is part of Wallace Chan's Plum Flowers in Snow parure. Photo by S Tung and F Tsang