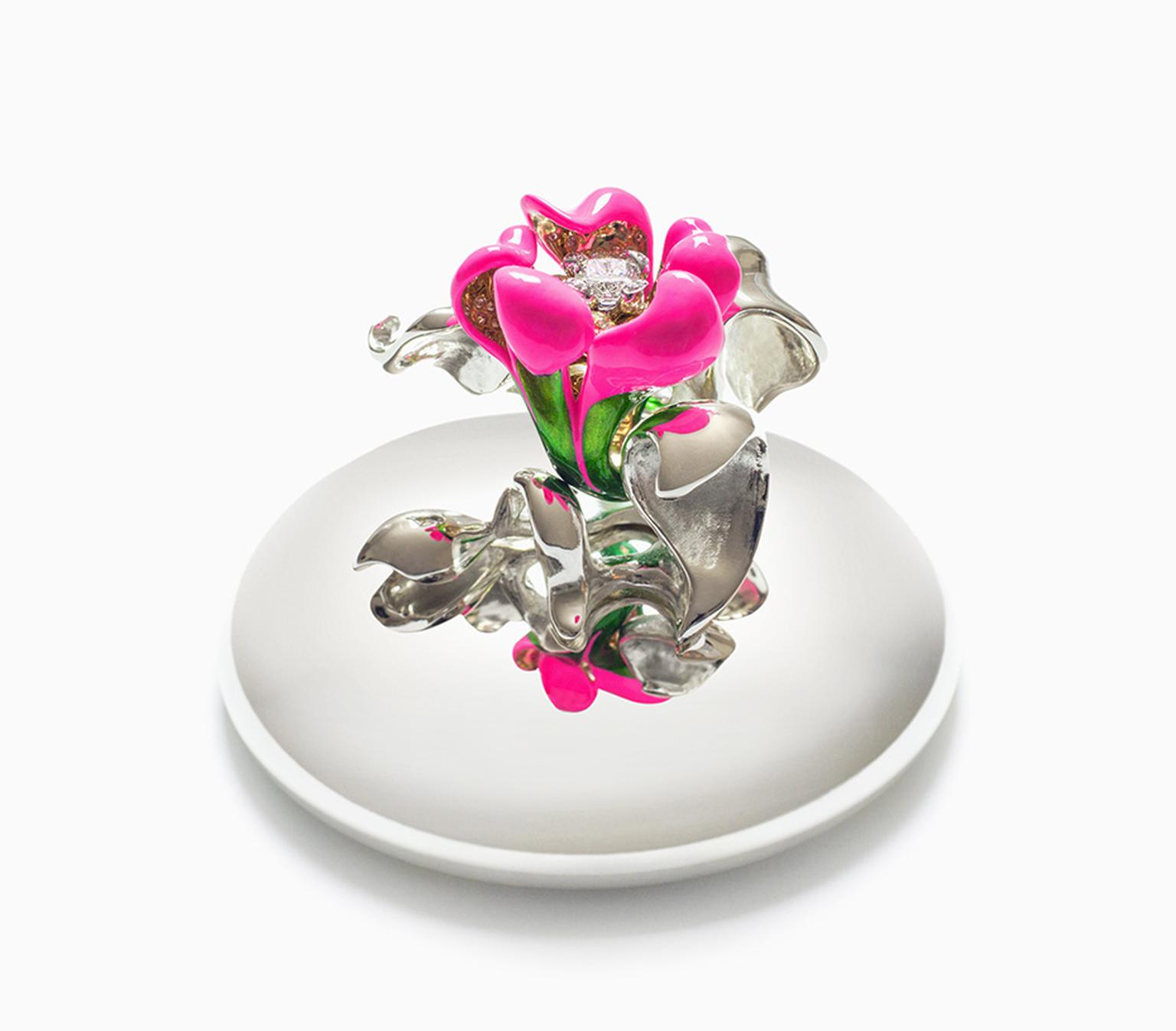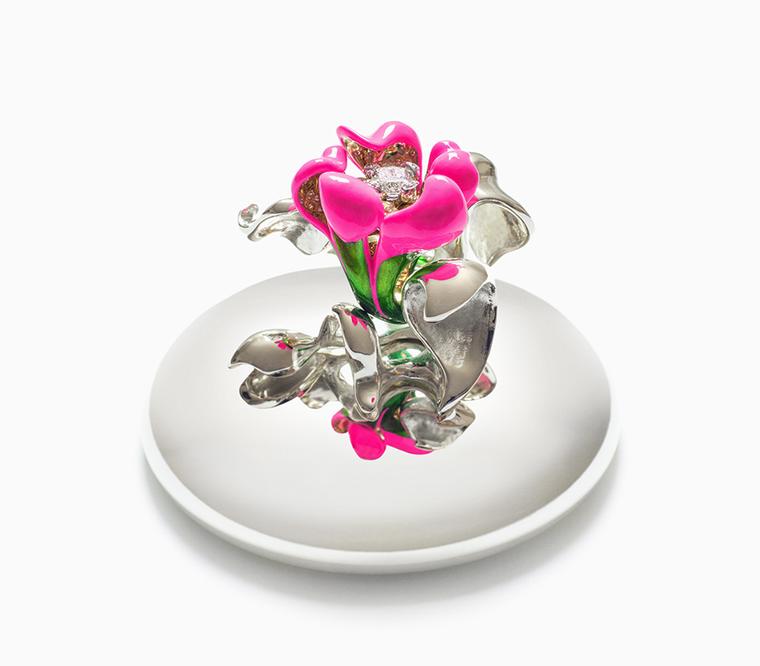 By Melanie Grant in London
Discovering the new personal collection of Victoire de Castellane at the exhibition 'animalvegetablemineral' is akin to a pirate stumbling across treasure for the first time. I was dazzled, not by the customary combination of fat, juicy precious stones or the sheer weight and size of each piece, but by the sculptural nature of the designs, which sat in my hand like an undulating living thing. 
"My jewels are propositions," says de Castellane, "speaking about concept and form as opposed to objective value. They become sculpture."  
She is, of course, jewellery royalty, but it was de Castellane's loneliness as a child that compelled her to create an imaginary world full of eye-popping colour and scale. It was René Lalique who first scared, then inspired her, and the cartoons of her youth shaped the secret domain she created for herself. Self-taught, she then spent 14 years at Chanel before moving to Dior in 1988, where she remains its first Creative Director of Jewellery.  Her creations for Dior are the sumptuous, extravagant yet grown-up alter ego to the wild, flamboyant rebel that is de Castellane. 
Intense, sugary-pink alien flowers bend in a mythical wind, a midnight-blue lacquered bangle curls around the arm like a belligerent serpent, and bunches of intensely coloured sapphires, rubies and emeralds perch provocatively on their own sculptured base, making this a collection of objets d'art as much as jewellery to be worn. Themes of feminine power and fragility, pleasure, danger and sensuality flow through her work with compelling force, creating a unique creative voice.  
This is her second exhibition at Gagosian. Her first, 'Fleurs d'exces', at Gagosian Paris in 2011, was an ornate feast, drunk with colour, beautiful and very intense. This is simpler, with cleaner, more structural lines, accommodating a wider aesthetic variety.  The organic twists and turns of de Castellane's work are thrilling in a world of high jewellery that can sometimes play it a little too safe.   
Victoire de Castellane's 'animalvegetablemineral' exhitibition runs from 12 March - 5 April 2014 at the Gagosian Gallery, 980 Madison Avenue, New York.
Victoire de Castellane Honey Florem Peach Frutti, 2013 featuring yellow gold, opal, diamonds and coloured lacquer. © Victoire de Castellane. Courtesy Gagosian Gallery. Image: Vito Flamminio

Victoire de Castellane Lunae Lumen Holly Colorum, 2013 featuring yellow gold, diamonds,? multi-coloured sapphires and rubies. © Victoire de Castellane. Courtesy Gagosian Gallery. Image: Vito Flamminio

Victoire de Castellane Vitam Industria Abstract Sugar, 2013 featuring white gold and diamonds. © Victoire de Castellane. Courtesy Gagosian Gallery. Image: Vito Flamminio

Victoire de Castellane Crystal Shocking Pink Baby, 2013 featuring yellow gold, diamonds and coloured lacquer. © Victoire de Castellane. Courtesy Gagosian Gallery. Image: Vito Flamminio