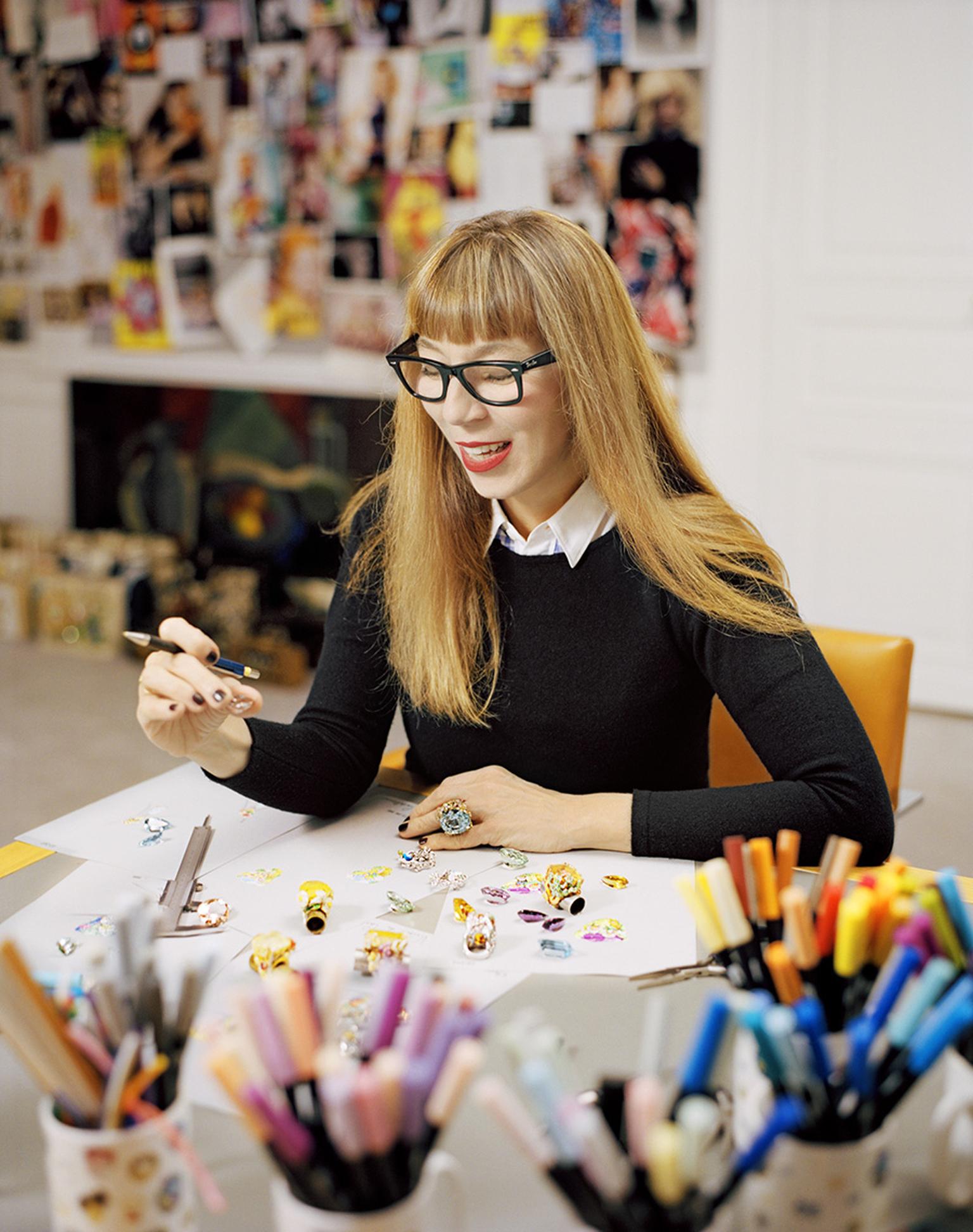 Victoire de Castellane is one of the most colourful and exciting jewellery and watch designers working today. As head of design for fine jewellery at Dior, she brings her playful but highly sophisticated style to jewels and watches that all bear her trademark exhuberance and originality. Here is an extract of an interview with Victoire de Castellane to coincide with the launch of the new 'Dear Dior' fine jewellery collection in Paris. I have also added images of her earlier designs to give you an idea of the breadth of her style.
Where did you get your taste for jewellery?
From my grandmother, Sylvia Hennessy. She wore jewels matching her outfits and could change them up to three times a day. She was impeccable, lipstick and nail polish forever on her hands and feet. She was a true vision of loveliness and she was fascinating. She wasn't a grandmother in the classic sense of the term. She was a bit like a Hollywood heroine. She was a close friend of Barbara Hutton, the American millionairess married to Cary Grant, who wore emerald tiaras during the day and lived in a Palace in Tangiers. She lived in a totally eccentric world peopled with a mix of writers, Hollywood stars and fashion designers (including Christian Dior). This was the real jet set.
When, for the first time, and how did this translate?
At the age of 5, I dismantled a pair of earrings that my mother had offered me because I liked them better like that. At 12, I had my religious medals, which were on a charm bracelet made "with love" by my mother, smelted down so that I could make my own ring.
Where did you get your fascination for volume and disproportionate jewels?
Once again, this comes from my childhood while I was looking at the jewels worn by my paternal grandmother Sylvia Hennessy. Through the eyes of a child, her stones, mounted in a very classic manner, seemed enormous to me. This disproportion is also found in haute couture where ball gowns can need up to five hundred metres of silk. The equivalent in jewellery is an eighty carat stone. When I updated the taste for cocktails rings, people thought I was crazy!
What is it about women that inspires you?
Women have fascinated me since I was little and continue to do so. They are my heroines. I am obsessed by the female body and I love pinups as mush as coquettish old ladies. I adore the glamour, the Hollywood style artifice, Marilyn and Liz Taylor in Cleopatra.I look at them, young or old, generous and beautiful or less so, masculine or very feminine; I find them very inspiring. I love their voices, their way of walking, their heels, their jewellery and their gestures. I make jewels that are their friends; that protect them. Women can hand them down to their daughters which makes them eternal.
When I wear a piece of jewellery that my great- great grandmother wore, I feel her presence. She continues to live through me. In four thousand years, if an asteroid has not wiped out the earth, jewellery will still be here! It's a bit of eternity. I would like my jewels to give women the power of escaping from reality. It must also allow them to be free because if a women needs to run away she can take them with her.
How is a collection born?
Always in the same way: I have the image of the finished jewel in my head, I make a quick sketch on a Post-it, I talk about it with my studio who, at the end of this make a gouache drawing (drawing in the real dimensions of the jewel, often from various angles). We submit this design to the ateliers based in Paris. Then follow many comings and goings between the atelier and myself, so that each stage - from the green wax for casting to the setting or polishing - complies with the image that I had of the jewel.
Is it the story or the stone that is at the origin of your creations?
Except for the "Coffret de Victoire", for which I start from a material, I always start from a story. When I arrived at Dior, I wanted to develop the House themes: Christian Dior's garden at Milly-la-Forêt, the couture and the eccentric grand balls.
Where do these stories come from?
From everywhere: art, exhibitions, films, photography, the street, the female world, love, sexuality, psychoanalysis, life itself... The jewels I create are like characters to whom I give names.
What is your favourite stone?
The opal. Because of its fires, it seems to be alive. Like Monet'sWater Lilies,it possesses every colour as if a genie was living inside it.
Have you always designed jewellery?
Yes, even when I was at Chanel, where for fourteen years I designed the costume jewellery. At lunchtime I used to go and buy antique jewellery that I customized. I was never really satisfied because I never found the jewels big enough. So I had a very big ring made for me in a small Parisian atelier... and that's where it all began...
Who are your favourite jewellers?
Lalique for his interpretation of women, Boivin, Belperron.    
Dior Fine Jewellery le Bal des Roses Bal Venitian ring yellow gold, diamonds, fancy coloured diamonds, pink spinel, fire opals, spessartite garnets and pink sapphires from Dior in 2011

Dear Dior creator Victoire de Castellane in the design studio by Francois Halard

Dior Precieuses Rose ring by Victoire de Castellane from 2010.

Dior Fine Jewellery le Bal des Roses bal de l'opera earrings white and pink gold, diamonds, spinels and rubies from 2011.

Victoire de Castellane by Patrick Demarchelier

Dior Toucan ring by Victoire de Castellane from a previous collection.

La Mini D De Dior by Victoire de Castellane with snow-set Paraiba Tourmalines 19mm quartz - White gold, diamonds, Paraiba tourmalines and tsavorite garnets at £25,700

La Mini D De Dior in white gold by Victoire de Castellane. Measuring 19mm and with a quartz movement, it features snow-set pink sapphires, diamonds and Paraiba tourmalines. £22,000.

Dear Dior Dentelle Chantilly Multicoloured ring, starring a magnificent central Paraiba tourmaline.

Dear Dior Dentelle Medaillon Soleil Earrings (front)

Dear Dior Dentelle Opale d'Orient ring

Dior high jewellery ring with enamelled snake designed by Victoire de Castellane from an earlier collection.