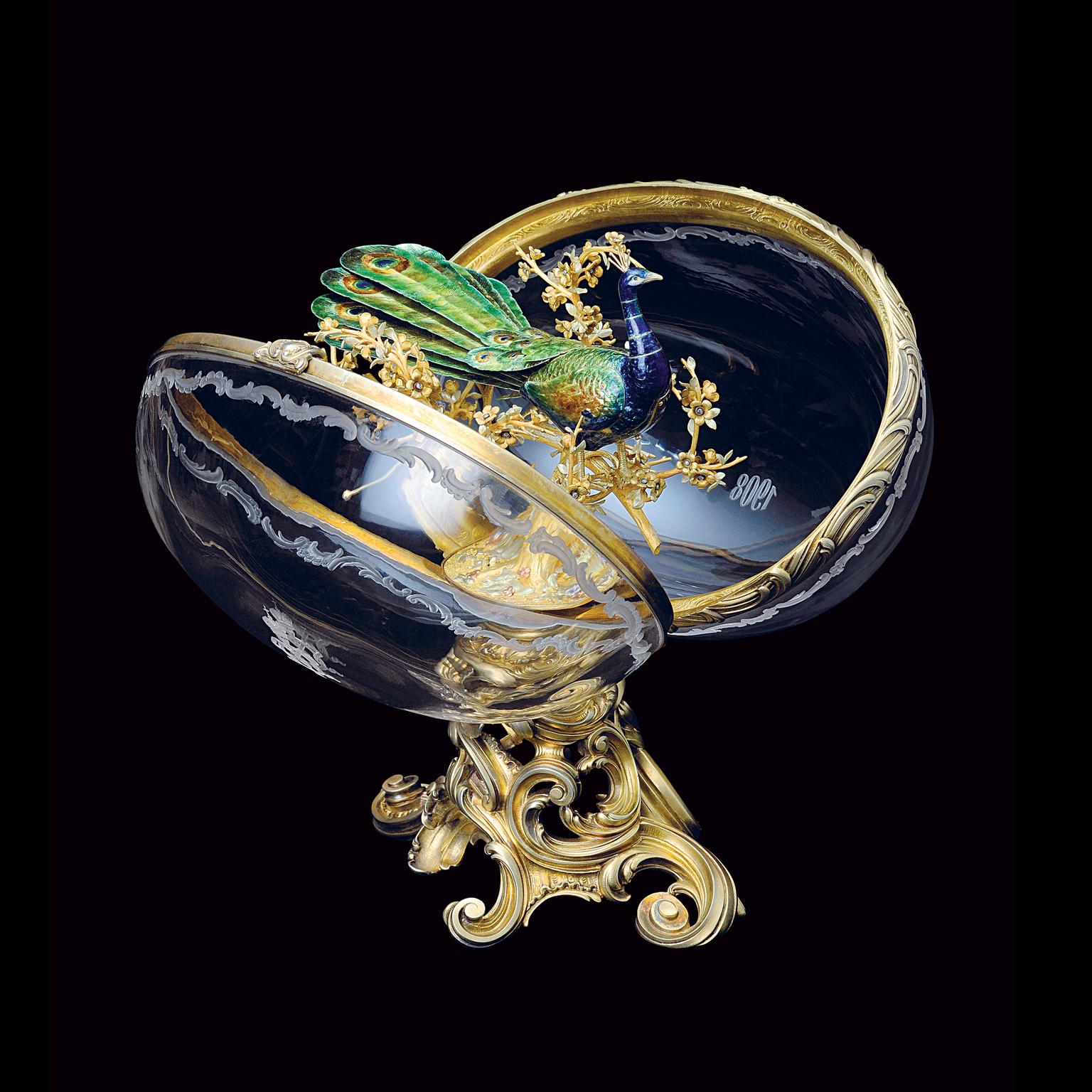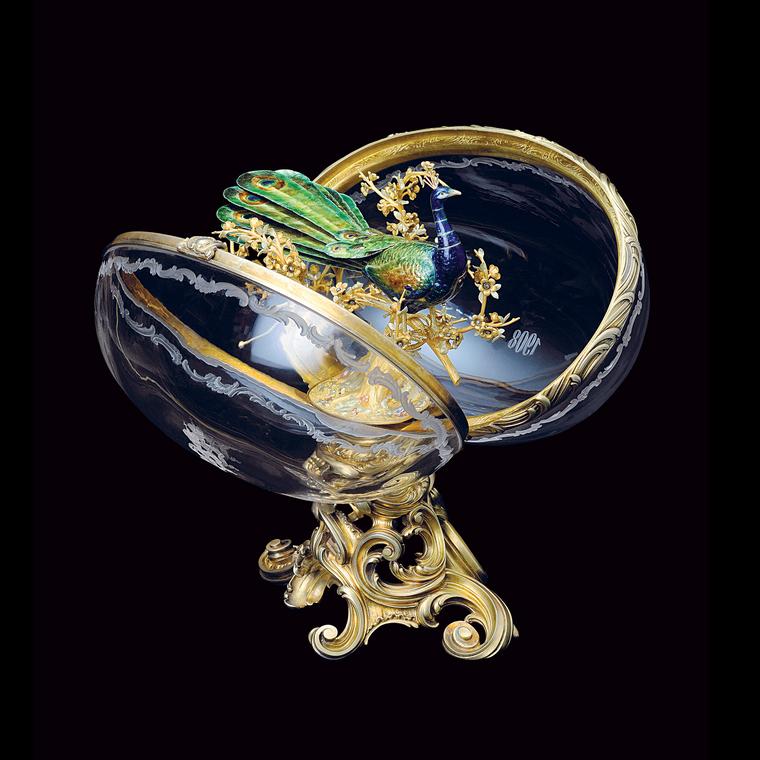 The 'Fabergé in London: Romance to Revolution' exhibition will open at the V&A museum on 20th November and run through until 8 May. Amongst the 200 items will be three of the famous Imperial Fabergé eggs, on display for the first time in the UK.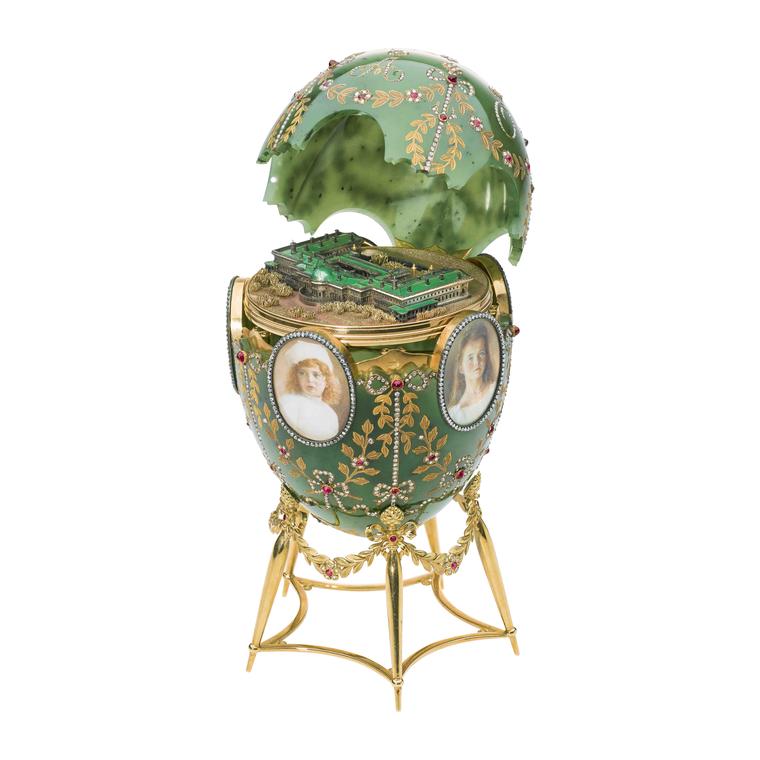 Many of Carl Fabergé's exquisitely made creations are reunited for the first time since the Russian revolution in this major exhibition. The Third Imperial Egg of 1887 (see video below) that was saved from a scrap heap will also be on show alongside some of the rarest pieces including the 1907-08 Peacock egg and two human sculptures. After the eggs, the human figurines are the most coveted Fabergé items as only 50 were recorded as having been made. The Peacock egg carved of rock crystal houses an automaton of the magnificent bird that when wound up, struts regally and fans out his tail feathers. The automaton was restored by the Swiss watchmaker Michel Parmigiani and is still functioning.
Read more about the history of Fabergé here.
As the name suggests, the focus is on works by the Russian jeweller Carl Fabergé for his British clients highlighting the truly international nature of his reach, at a time when few other jewellers worked beyond their home turf.  His London shop provided luxurious gifts for Britain's wealthy Edwardian elite and royalty including a commission from King Edward of a stone carving of his wire-haired fox terrier Caesar. Fabergé was successful beyond Russia thanks not only to the opulence of his works but his success in innovating and combining playfulness with ingenious mechanics as seen in the Carp cigar cutter. Delicate jewels, stone carvings and enamel flowers are just some of the masterpieces that showcase the range techniques that the firm Fabergé employed in its St Petersburg workshops known for experimenting with new materials, technologies and novel manufacturing solutions.
The exhibition runs from 20th November – 8 May 2022
Click here for tickets on sale at V&A.
Imperial presentation box by Fabergé, nephrite, coloured gold, diamonds, ivory. Chief Workmaster Henrik Wigstrom, St. Peterburg, 1904.  Private collection, images courtesy of Wartski, London

Copy of the Imperial Regalia, Fabergé. Master Julius Rappoport (1864-1916), Master August Wilhelm Holmstrom, 1900 © The State Hermitage Museum, 2021

Painted enamel rose with nephrite leaves standing in a rock crystal pot, from Fabergé's London stock when the branch closed in 1917 © Wartski, London

Cigarette case, Fabergé, two colour gold, guilloché enamel, diamonds, 1908. Royal Collection Trust  © Her Majesty Queen Elizabeth II 2021 

Cigar Box with a view of the Houses of Parliament, Fabergé. Chief Workmaster Henrik Wigstrom, nephrite, two-colour gold, sepia enamel, 1908. Royal Collection Trust © Her Majesty Queen Elizabeth II 2021

Caesar, by Fabergé. Chalcedony, gold, enamel, rubies c. 1908 Royal Collection Trust © Her Majesty Queen Elizabeth II 2021

An important aquamarine and diamond tiara by Fabergé, aquamarine, diamond, silver, gold. Workmaster Albert Holmstrom, St. Peterburg, circa 1904. Photography courtesy of HMNS. Photographer Mike Rathke

The Moscow Kremlin Egg, Fabergé. Gold, silver, onyx, enamel, 1906 © The Moscow Kremlin Museums

Fabergé's premises at 173 New Bond Street in 1911. Image Courtesy of The Fersman Mineralogical Museum, Moscow and Wartski, London

'Ice crystal' pendant, Fabergé. Designed by Alma Pihl. rock crystal, platinum, diamonds. Courtesy of the McFerrin Foundation, Houston

Romanov Tercentenary Egg, Fabergé. Chief Workmaster Henrik Wigstrom, 1913 © The Moscow Kremlin Museums

The Alexander Palace Egg, featuring watercolour portraits of the children of Nicholas II and Empress Alexandra opens to reveal  a model of the palace.