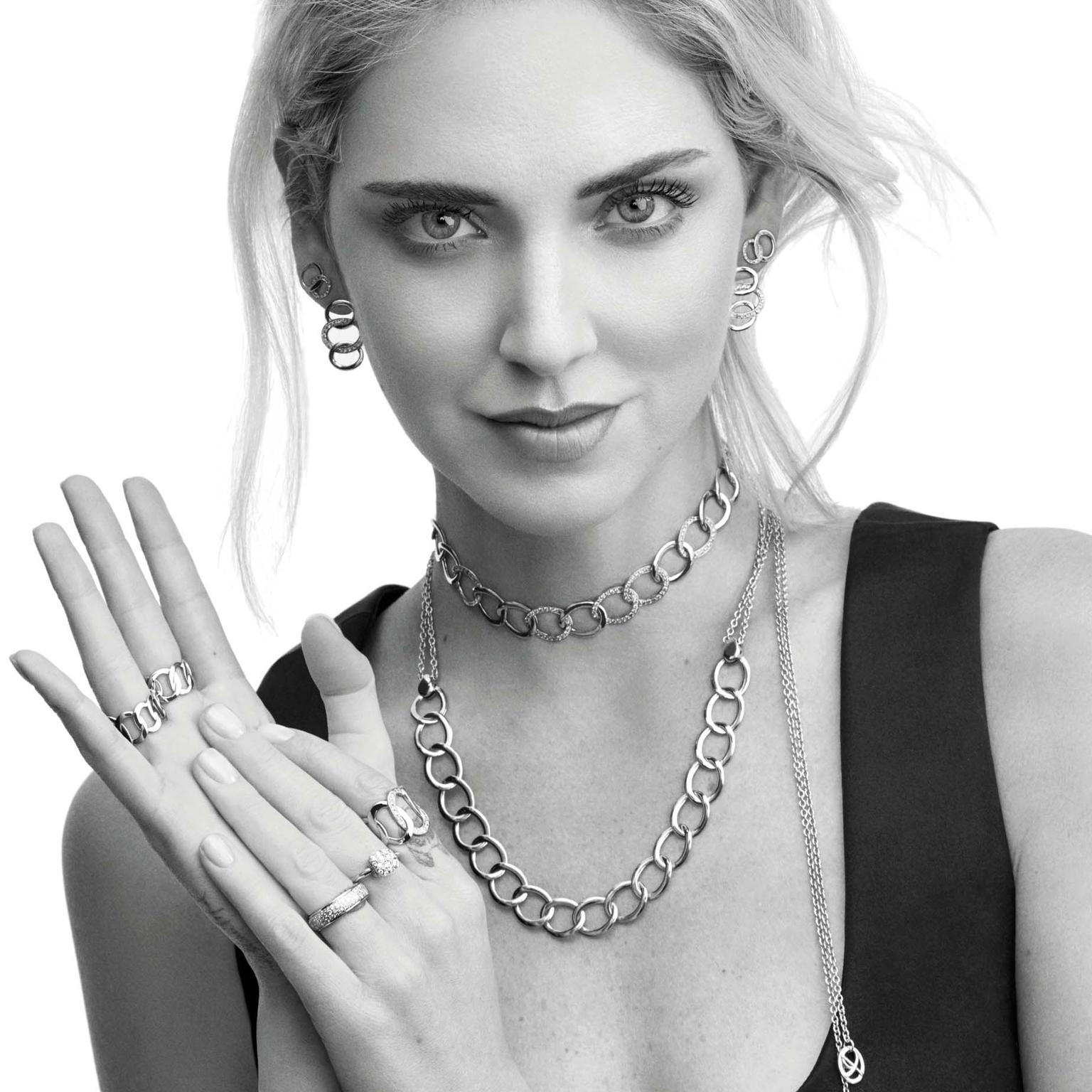 Cast your mind back to Milan in the year of 1967 and in particular the Brera district. The young Pino Rabolini, entrepreneur and son of a goldsmith family is at the Bar Jamaica in the Brera district referred to as the Montmatre of Milan. Here he rubs shoulders with the most exciting, progressive and eccentric artists, actresses and free-thinkers that over espressos or Negronis are keenly seeking out a very Milanese expression of modernity. Meanwhile in San Francisco, the Summer of Love is about to blossom and women will wear flowers in their hair and trail vintage long dresses in their barefoot wake.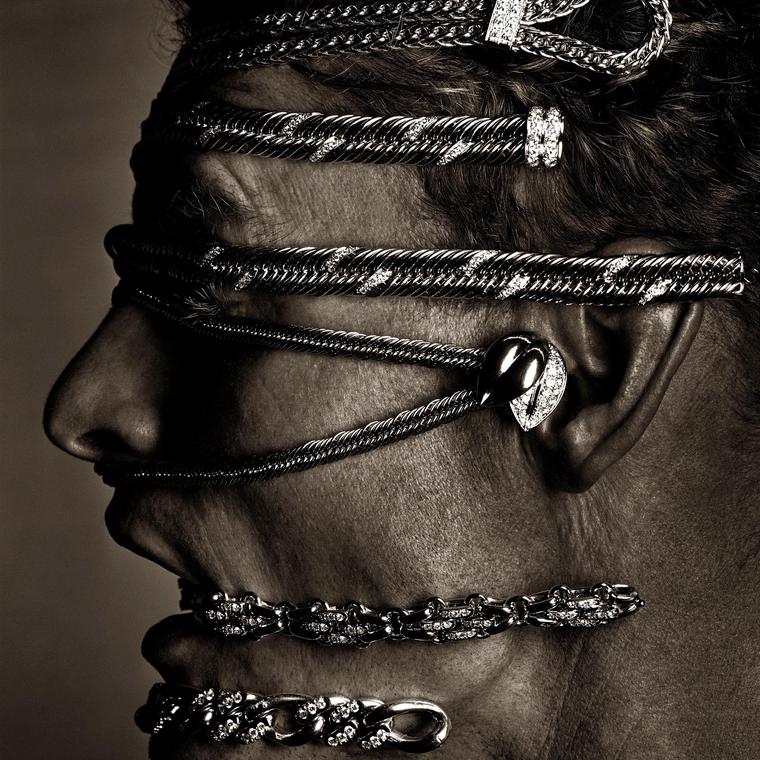 In this fertile era of change, Pino Rabolini was searching for jewels fit for a new age. While earnest intellectuals hammered out revolutionary philosophies, Pino Rabolini hammered gold into a new style of jewellery and he called it 'Pomellato'.  Empowering women by giving them chains may seem counterintuitive.  But this elegantly subversive thinking appealed to the capable and intelligent women of this generation. Re-writing the rules of jewels, forward-thinking women adopted this chic way of being both rebellious and making a feminist statement.
Pino Rabolini's brilliance lay in a simple idea: rather than limit chains to functional, humble servants, his 1967 prêt-à-porter approach celebrated the function-led design and utilitarian beauty of the chain. Immersed in the world of jewellery, Pino Rabolini knew how to move beyond the established rules yet always with an utmost respect for the craft of the men and women who made each jewel.
Pino Rabolini said of his inaugural 1967 collection: '… thirty pieces (of jewellery) in which I concentrated the rebellions of that crucial decade and the experience of tradition…I told myself this was the prêt-à-porter of jewellery that transforms gold into pure modernity.'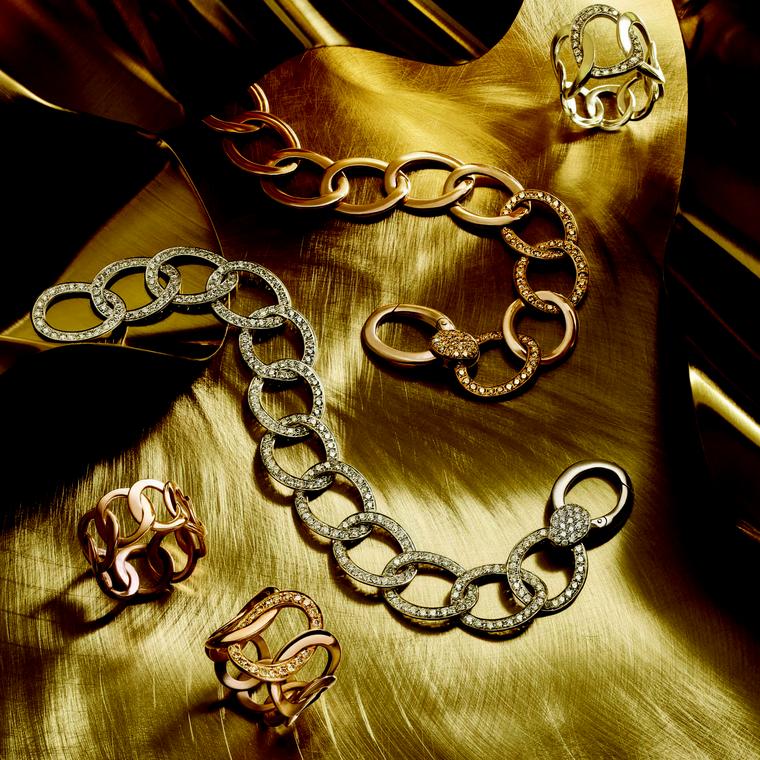 Today once again, Pomellato, in sync with the desires of women, breathes new life into chains with the aptly named Brera collection. The new pieces pay homage to Pomellato's first jewels with the lightest ever collection of sinuous, wafer-thin chain jewels. Recalling Pino Rabolini's emphasis on soft rounded forms that are comfortable against women's skin, these chains drape and caress thanks to the lightness and undulating forms of interlocking links. Multi-tasking like every woman today, the jewels can be worn in different ways. The bracelets can be flipped to reveal or conceal diamonds and earrings can be worn as studs or dressier three-link drops. The choker is particularly clever as it can be worn high on the neck or as a long chain in several different ways.
A drawing of the new Brera Collection from Pomellato designed by Creative Director Vincenzo Castaldo.

The Brera collection was named for the neighbourhood in Milan, a hotbed of intellectual and artistic change that inspired the founder of Pomellato to create in 1967 jewels for a new generation of women.  

Pomellato's Creative Director Vincenzo Castaldo is charged with keeping alive the essence of Pomellato's creative impulse founded by Pino Rabloni in 1967.

An image from the 1984 Pomellato advertising campaign shot by Albert Watson captures the rebellious nature of Pomellato that has always remained faithful the skill of the craftsmen and women who make each piece by hand. 

Cass Bird shot Pomellato's 2019 campaign including behind the scenes shots of Pomellato ambassador Chiara Ferragni wearing the new Brera jewels.

Super light, the Brera reduces Pomellato's iconic chains to their minimal expression for silky-soft, light as a feather jewels. 
The Italian genius for marrying strong design with refined craftsmanship is evident in the new Brera jewels that seem to defy the very nature of gold. This highly sophisticated concept is thank to a constant emphasis on craftsmanship that is at the heart of every Pomellato creation. Each and every link and clasp is handmade in Pomellato's Milan workshop. From smelting its own gold to final polishing, each step done with a reverence for the skills of the goldsmiths and jewellers.
Chiara Ferragni the fashion influencer and business woman is the face of the new Brera campaign. Cass Bird, the American photographer has captured with her lens a generation of women from intimate portraits of the Obamas to career-defining shots of super models like Adwoa Aboah.   Rebel yet self-possesed, vulnerable yet strong Chiara rekindles the spirit of Brera for a new generation.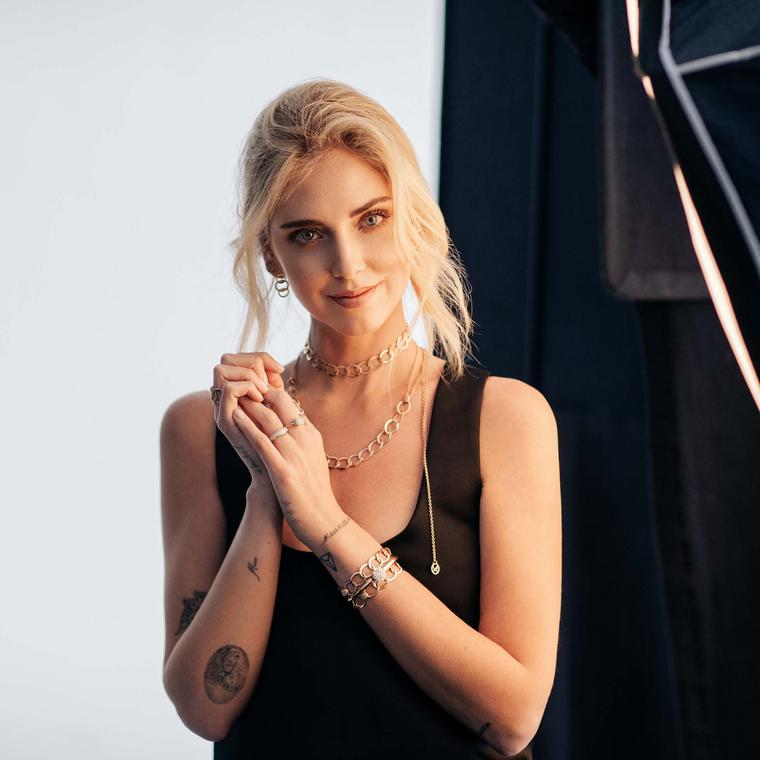 With the Brera, the essence of Pino Rabolini's Milanese understated style comes alive for a new generation of women who are once again, re-writing the rules.