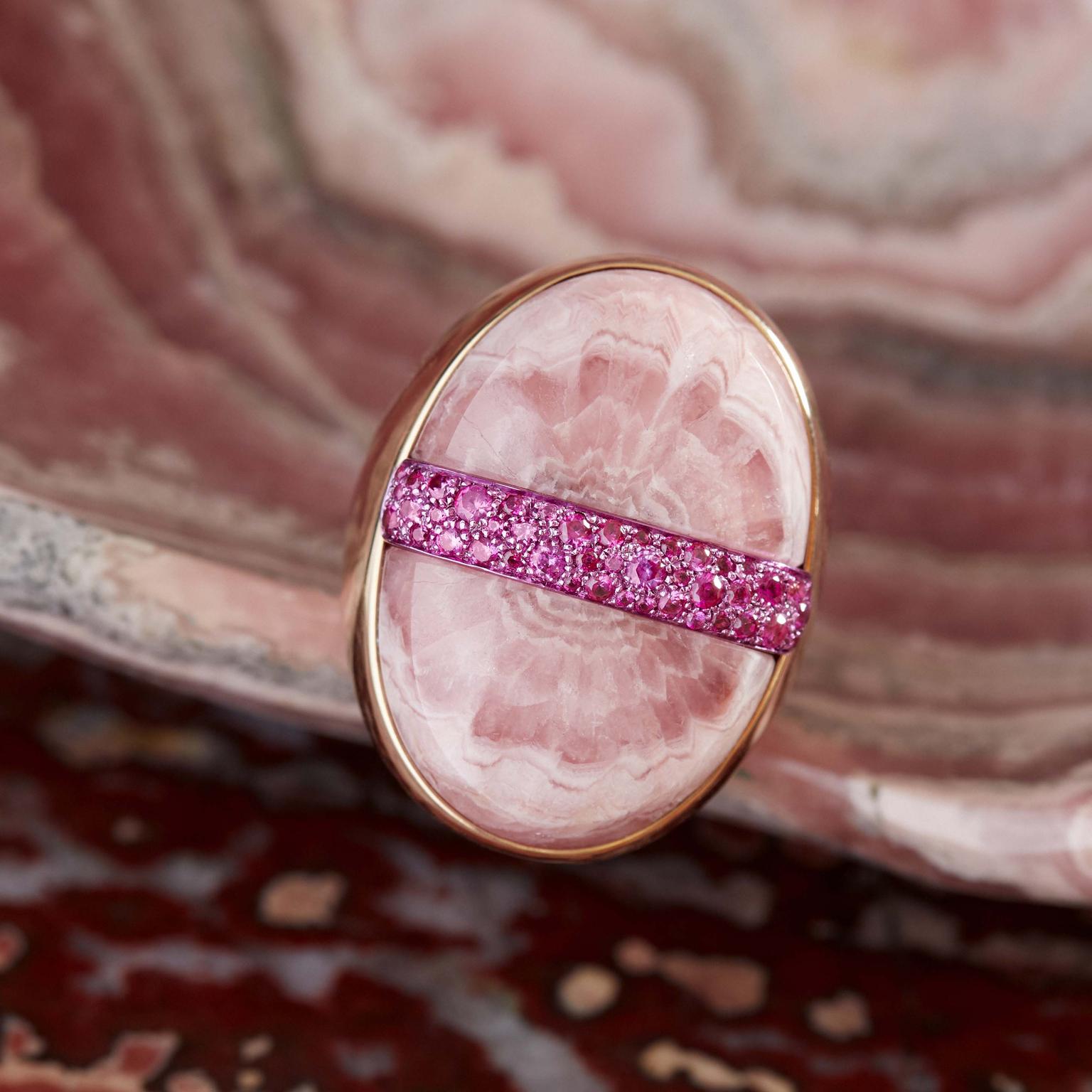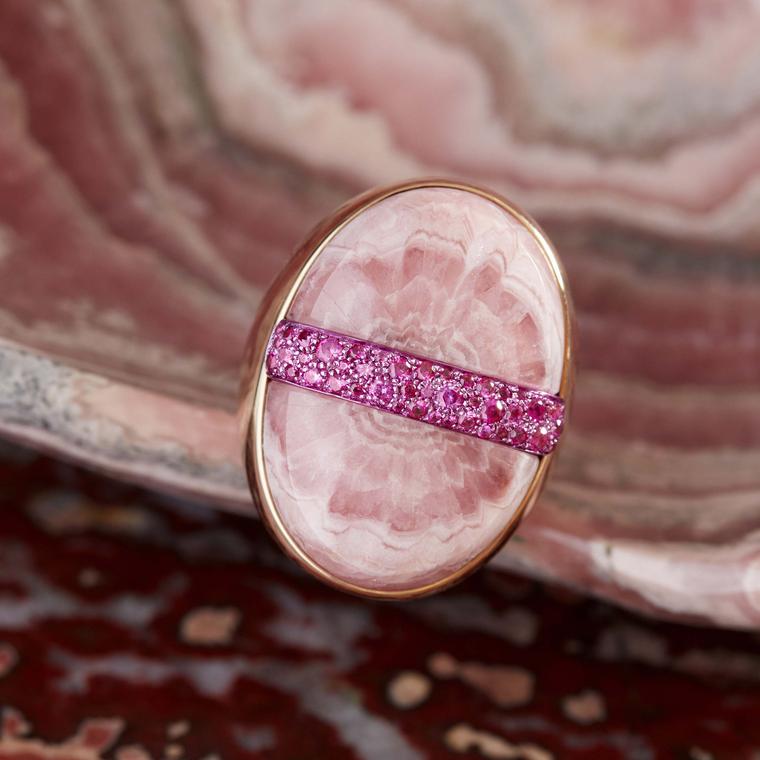 Part raw beauty, part miracle of nature, part design brilliance Armonie Minerali is a collection of rings and pendants like you have never seen before. I hate to tell you, this is a whole new level of jewellery lust so brace yourself to be very, very tempted.
If I was in love with Pomellato's Ritratto rings from 2017, then I am nothing short of besotted with this year's Armonie Minerali.  While Ritratto opened a window into the secret life of hard stones, now Armonie Minerali throws it wide open with combinations of stones that will take your breath away. A whole new definition of precious in the form of little-known and often overlooked minerals that in their subtle yet surprising combinations  transport us to a little-known jewellery destination. 
In the words of Vincenzo Castaldo, Creative Director at Pomellato: "This new collection is a game of complicity between Man and Nature, where craftsmanship and natural beauty unite in a joyous dance of unexpected combinations to form a new unity. After all, playfulness, with a touch of irony and irreverence, is a defining trait of Pomellato."
The simplest ideas are usually the best and this rings true in Armonie Minerali. Just two cabochon cut hard stones, one band of pavé gemstones and a smooth rose gold shank have the power to bring us new visions of beauty and harmony deep from the heart of our planet.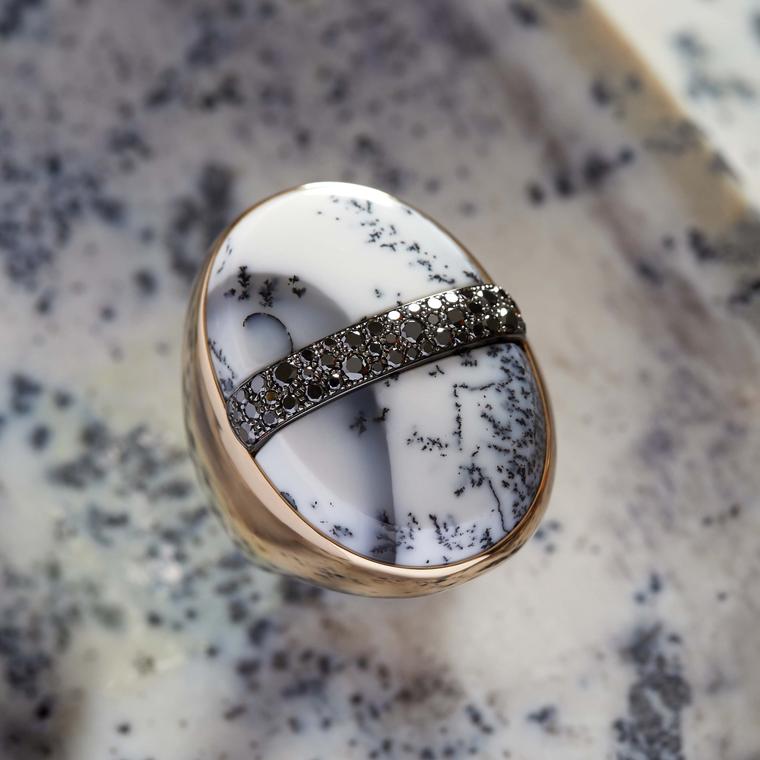 Abstract yet eloquent, in the Japanese Samurai ring, white dendritic opal scattered with little black flecks brings to mind the grace of Shodo, the art of Japanese calligraphy or you may see migratory animals crossing a snowy landscape. Azure chrysocolla and verdant amazonite spirit us to the infinite blue of Bora Bora, a shimmer of Paraiba tourmalines bounces like light on water. The ripples in a pink rhodochrosite in the Adagio di Damasco create a trance-like, pulsating rhythm. Each ring is a universe, polished yet visceral, philosophical yet spontaneous.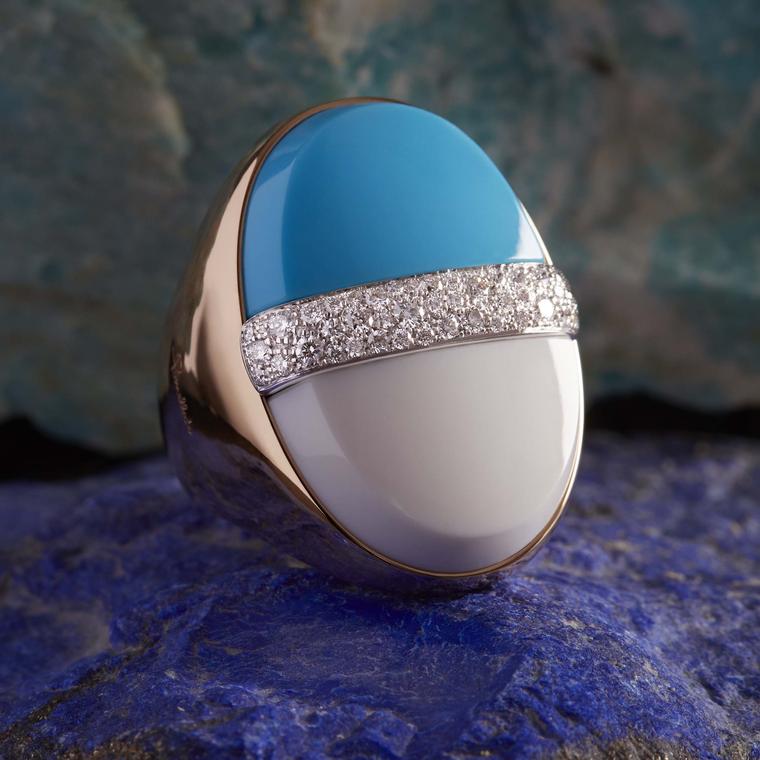 The eternal language of colour is at the heart of these evocative jewels. In Sturm und Drang bands of malachite mysteriously match those of black agate, in harmony yet in a different key. The peaceful white of chacolong resting alongside warm pink opal in Pink Song, creates a deep sense of peace while the earthy lustre of red jasper with a crack like parched earth glows below the blazing light of Tiger's Eye in the Deserto Rosso ring.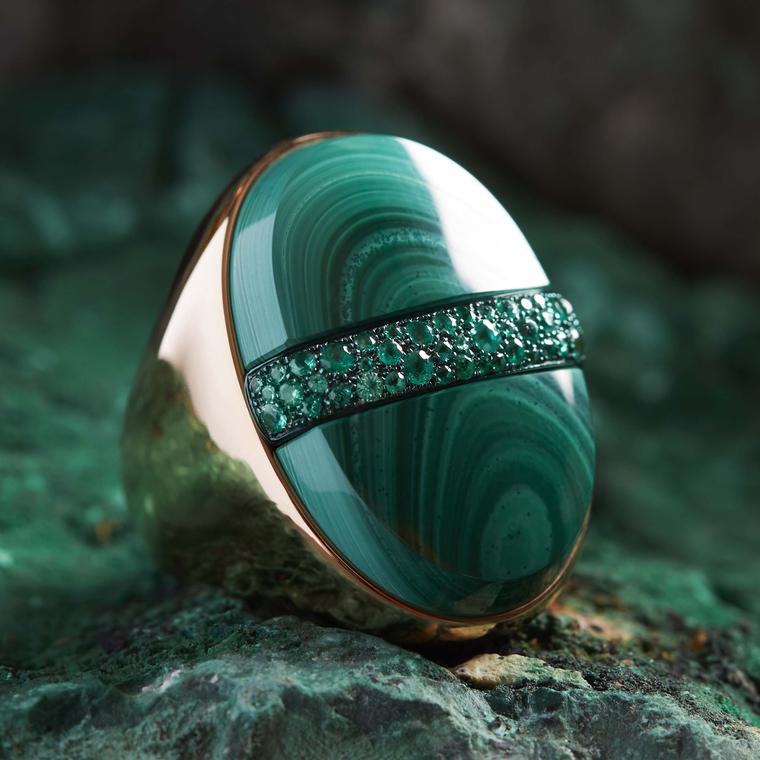 Pomellato scoured the earth to find these outstanding examples of our mineral world. Australian fossilised peanut wood evokes a night on the African savannah in the  Suite Safari ring. I have never set eyes on  Austrian Pinolite with its captivating cloudy appearance off-set by brilliant rubies in the Nouvelle Vague ring, or gazed into such serene midnight blue depths of chalcedony originally from Bithynia, the ancient port of the Marmara Sea captured in the Blue Angel ring. 
These seemingly natural coming together of minerals is of course the result of a rigorous design process headed by the talented Vincenzo Castaldo, Creative Director at Pomellato. Design is at the forefront of everything Pomellato creates and the rings and pendants are divided into three chapters, inspired in turn by the design brilliance of Milan, art and even music. And who would have thought that the towering presence of the snow-capped Mount Fuji could be so perfectly captured in the ripples of blue and white of a Dolomite stone in the Tokyo Blues ring?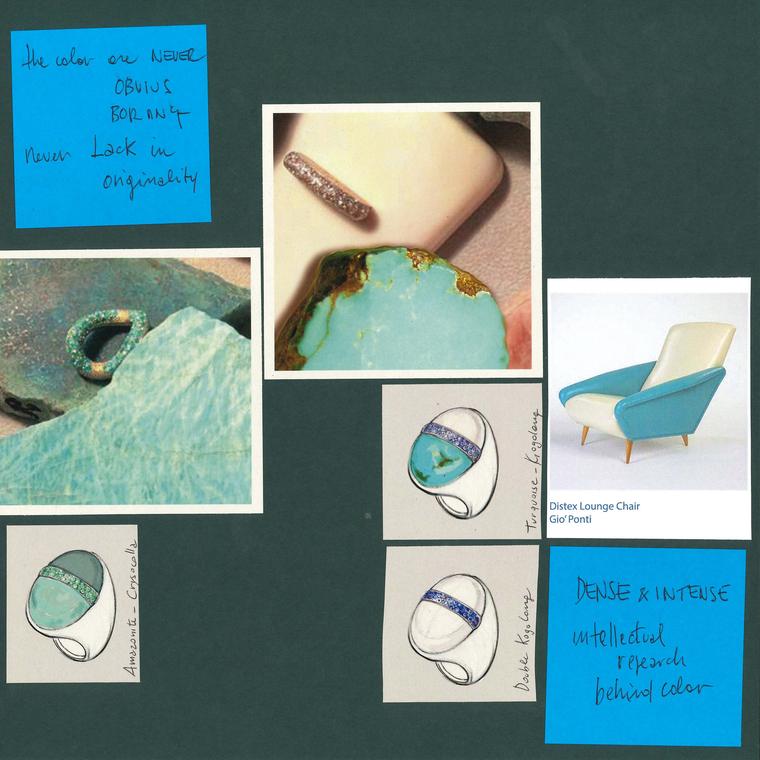 The most colourful of the Armonie Minerale jewels draw on the work of the refined and cultivated Milanese architects and designers who shaped Italian design in the post World War II period . Pino Rabolini, the founder of Pomellato breathed the same air as Gió Ponti, Luigi Caccia Dominioni, Vico Magistretti and Aldo Rossi. And now I have said it, I challenge you not to see a tribute to Gió Ponti in the distinctive pastel green, yellow, blue and orange hues and organic contours of Armonie Minerali.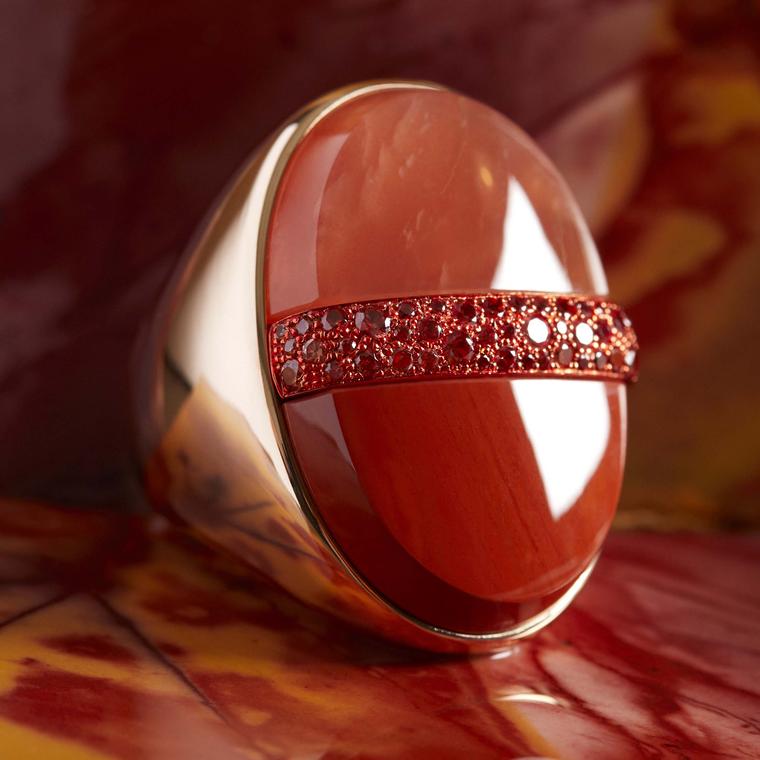 In the black and white jewels, Italy's influential Arte Poverá movement and in particular Jannis Kounellis' Black Rose, may be perceived in the random patterns of snowflake obsidian. The primal appeal of a beating drum or the disharmony of free-jazz thrums and fizzes through the striations, jags and ripples of the ancient patterns revealed in the jewels inspired by music.
Gaze into the crystal clear waters of Bora Bora conjured up in this Armonie Minerali ring by Pomellato created from chrysocolla and Amazonite with a band of Paraiba tourmaline pavé.

Evoking the white houses and blue of the sea, the Santorini ring is inspired by the stark beauty of this Greek island. To create this effect, cacholong opal, also known as Russian opal is paired with turquoise and band of white diamonds.

The colours of the scorching desert sun of North Africa are captured in opaque jasper combined with carnelian and orange sapphires in the Orange du Maroc ring. The warmth of the hues also brings to mind the spices sold in Morroco's souks. 

Turquoise and lapis lazuli come together in the Penelope's Dream ring to create a dreamy combination of blues reminiscent of an idyllic Mediterranean beach.

The ripples of malachite evoke soothing music in the Rhapsody in Green ring that is complemented by a band of emeralds. The generously sized shank is made of rose gold. 

Dendritic blue opal Armonie Minerali ring by Pomellato captures the delicacy of Japanese calligraphy, enhanced by a band of black diamonds.  Dendritic opal is found mainly in Honduras and Turkey and named for the Ancient Greek 'dedron' for tree.

Pomellato's design team created this mood board of the Milanese architects and designers who shaped Italian design in the post World War II period  including works by Gió Ponti, Luigi Caccia Dominioni, Vico Magistretti and Aldo Rossi.

The concentric patterns created by the bands of pink and white in the rhodochrosite mimic the petals of a Damask rose in the Adagio di Damasco ring. A band of rubies adds to the soft glow of the ring. 
Armonie Minerali is a bold move deeper into the world of unusual precious minerals that confirms Pomellato's pioneering spirit in establishing a new take on preciousness. Instinctively appealing, but each with a  story to tell, the most challenging aspect of this collection is how to choose just one of these jewels?