Pomellato always does things its very own way because it can. Founded in 1967, this Milanese jeweller has made its mark with strong, individual designs that has earned it a faithful following. So when Pomellato turned its mind to creating the Nuvola diamond solitaire collection, the most classic of all jewels, it did it in its own very special way.  The Nuvola, which is the Italian for cloud, is an organically-shaped, assymetric design that like a puffy cumulus nimbus, shrouds a sunburst of diamonds in billowing curves of rose gold. And what's more it is squeaky clean and green and made from Fairmined gold and diamonds from RJC certified suppliers.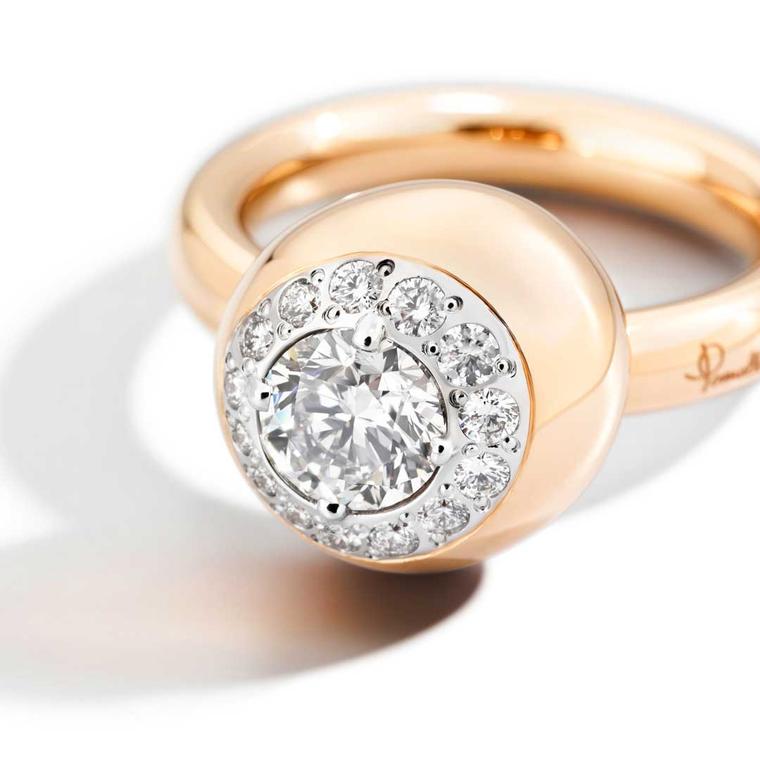 Inspired by the stylish women of Italy and their bold elegance, the Nuvola shuns the traditional claw setting in favour of surrounding the central solitaire with a swirl of smaller diamonds. This halo of diamond pavé not only creates the effect of a larger central stone, it also refracts light from the hundreds of different facets for a truly heavenly cascade of light.
While some, like me, may think that the Nuvola would make an ideal engagement ring for a couple looking for an alternative to the ubiquitous solitaire, these rings are versatile enough to wear as an everyday right-hand ring or to add to your rainbow stack of Nudo rings. The collection also includes stud earrings and a pendant with  0.5-carat diamonds.
Pomellato likes to keep things simple and to avoid the uncertainty over the price of diamond solitaires, the Nuvola rose gold diamond rings offer only three diamond sizes. The smallest ring has a 0.5 carat diamond followed by 1.0 carat and the largest is a 1.5 carat. Each is surrounded by approximately 0.30 carats of pavé diamonds. The 1.0 and 1.5-carat rings are available in two diamond colour options from G to H and in either VS1 or VS2 clarity and prices range from 6,900 to 40,200 euros. 
However, should you have a special request, Pomellato can make a Nuvola for you with any size diamond. Special commissions have included a 2.5 carat diamond of exceptional quality as well as a raspberry juice bright spinel of rare beauty playing to the house's strength in sourcing the most exquisite colour gemstones (below).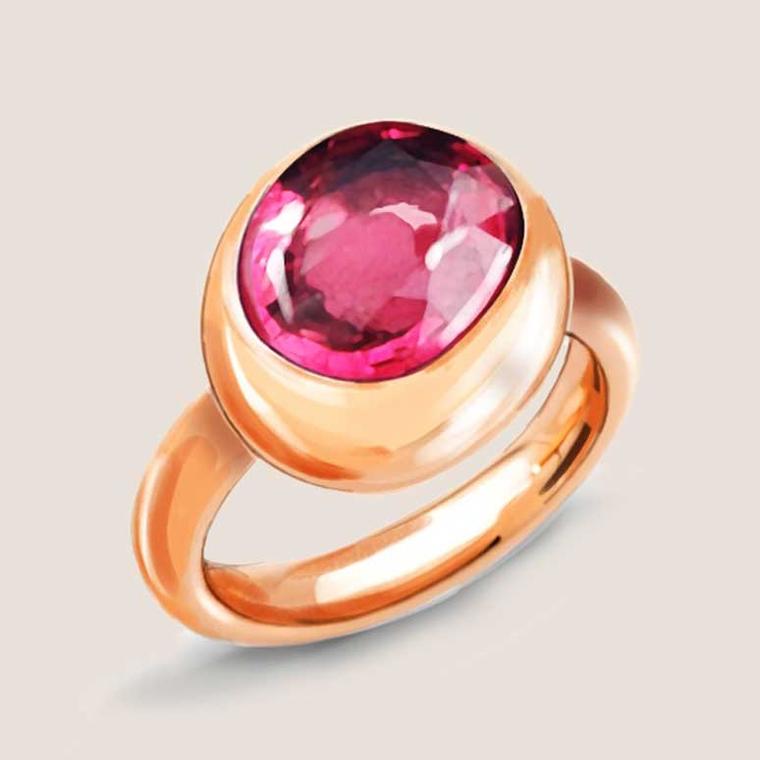 But that is only half the story. Pomellato is part of the Kering Group that is showing a strong commitment to sustainability and ethical practices. On the 31st October this year, group head François-Henri Pinault received the WWD Honour for Corporate Citizenship amongst many other recognitions of the group's commitment to doing the right thing. And Pomellato is a leader in Kering's initiative as Nuvola is entirely made from Fairmined gold and diamonds from RJC members, making the jewels as sustainable as is currently possible. Pomellato states that it: '…creates unconventional and colorful jewelry produced in ways that respect the work of men and women, and promote and safeguard craftsmanship while using precious and innovative materials sourced sustainably.'
Read more about Fairmined Gold here.
Pomellato sourced Fairmined gold from the La Llanada mine in Colombia, owned by a small cooperative of artisanal miners toiling at 2,300 meters altitude who have worked with ARM (Alliance for Responsible Mining) to earn their certification. By complying to the Fairmined standards, the workers receive a premium for their gold that must be used to fund social development for themselves and their families as well as environmental protection. It also helps improve conditions and safety in the mine and ensures no child-labour is used.  So far only eight mines in the world are certified in this pioneering initiative to ensure some of the poorest miners in the world, operating in often dangerous conditions, receive protection and a fair compensation.
Each Nuvola jewel is stamped with the Fairmined trademark and comes with a Fairmined 'passport of origin' guaranteeing full traceability from mine to final finished jewel. Like all its collections, Pomellato produced this limited edition collection entirely in-house in its own 100-jeweller strong workshop. Isolating the Fairmined gold was possible as the firm makes its own gold alloys and every single step of the process from ingot of gold to polished and finished jewel is made in its workshop in Milan.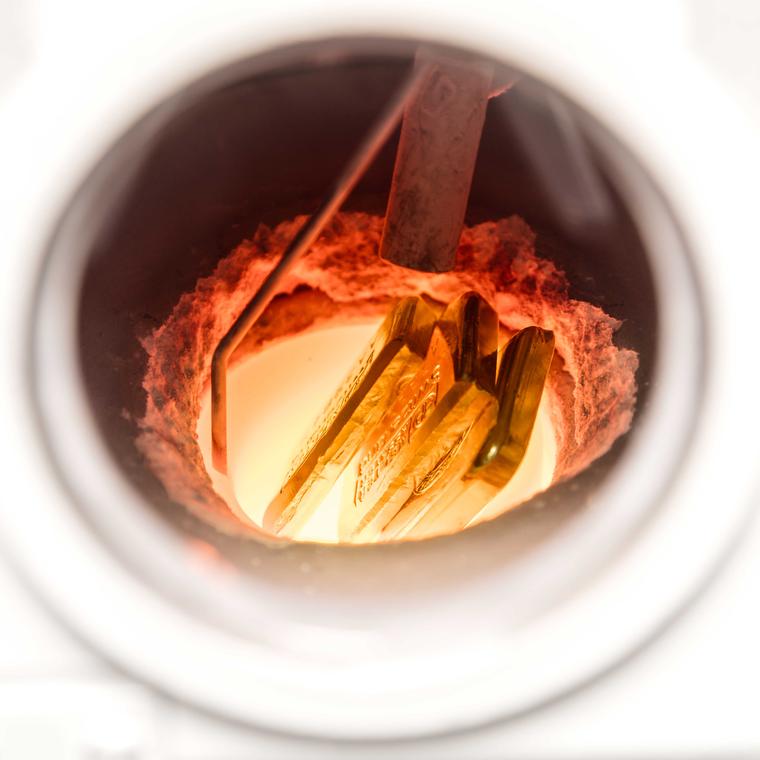 What's more the diamonds are sourced from certified members of the RJC (Responsible Jewellery Council) a non-profit, independent body assisting to guarantee the transparency of the diamond supply chain, promoting ethical practices, human rights, environmental protection and good management practices.  The diamonds also come with a GIA (Gemological Institute of America) certificate for cut, clarity, colour and carats and the certificate number is engraved on the back of each jewel.
This is the medium size of the Pomellato Nuvola ring with a 1.0-carat H colour VS1 diamond surrounded by a further 14 diamonds. The gold is Fairmine certified and the diamonds are sourced from RJC certified suppliers. Price: 18,200 euros

Fairmined gold is still in short supply as to date only a handful of mines have qualified and met the sustainability, ethical and social improvement standards required by the certifying body.

Pomellato mixes its own gold and so is able to create its own exact gold tones. The Nuvola jewels are made using Fairmined gold that had to be handled separately from its normal production process.

During the production of the Nuvola jewels, Pomellato's craftsmen ensured that the Fairmined gold was handled separately and each Nuvola jewel is stamped to confirm a clear chain of custody of the precious metal.

A gold casting tree with components of several different Pomellato jewels. The Nuvola jewels were all cast in one batch using Fairmined gold from the La Llanada cooperative mine in Colombia in the brand's vertically intergrated workshops employing 100 jewellers.

Pomellato is part of the Kering Group that is showing a strong commitment to sustainabiliy in luxury as shown by the brand's first jewellery collection made from Fairmined gold and diamonds from RJC approved suppliers.

The Nuvola design can be used for different gemstones such as this sketch of a special commission which features a raspberry juice bright spinel. 
Only a limited number of pieces have been made of the special first edition Nuvola and are sold in ten of Pomellato's boutiques in Milan, Florence, Paris, London, Munich, New York, Los Angeles, Tokyo and Hong Kong. So if you are thinking of buying a diamond jewel, make sure that it is one that shines its light on a brighter future for our planet and humankind.