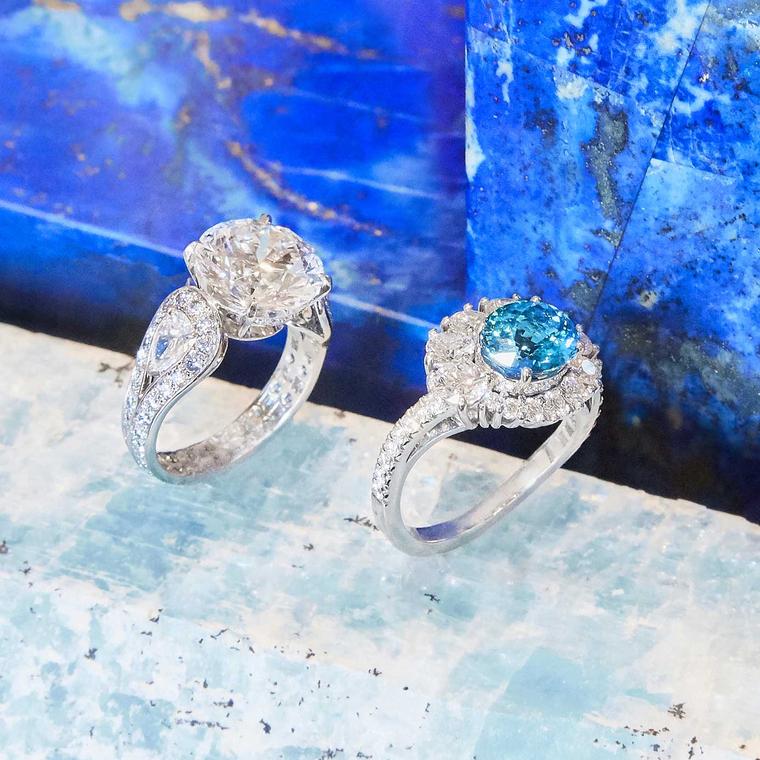 In the heart of London's Mayfair, like the shoemakers of the arcades and the tailors of Savile Row some of the best names in British luxury are quietly doing things the way they have for decades. And Jason and Sophia Hirsh, of the London jewellery house Hirsh London, are part of this niche group of purveyors of the exceptional who believe in traditional values of luxury. 'Our jewellery is entirely handmade in our workshop in London. The idea is that you can come to us and meet the craftsmen who have made your ring,' explains Jason Hirsh, the founder's son.
The values may be traditional, but the jewels fizz with fun and colours beam out bright from the Mayfair boutique. And this is because Hirsh sets itself apart by focusing on natural, rare colour gemstones and diamonds with the largest stock of its kind of any London jeweller. Alongside impressive white and fancy-coloured diamonds, emeralds and rubies, this is the destination to discover the excitement of lesser-known, rare collector-gems such as Paraiba tourmalines, colour-changing Alexandrites (below), Padparadscha sapphires, tsavorites, spinels and rubellites. 'Our selling point is unique as we focus on natural, rare colour gemstones and diamonds including every colour of sapphire and tourmaline,' says Sophia Hirsh.
Like many family businesses, the husband and wife team were both born into the world of gemstones. A kaleidoscope of colour tinted both their youths. Jason's father, who founded Hirsh London in 1980, filled his son's childhood with the light of gemmological wonders while Sophia's grandfather was an eclectic collector of rare minerals and fine gemstones that ignited a passion in the young Sophia.
Destined to work with gems, Jason Hirsh trained as a gemmologist and travelled to New York to cut his teeth in the famous mid-town diamond district where the sharpest diamond dealers operate. He then moved to the jeweller Asprey's where he met his wife Sophia who was working at the London headquarters in a career dedicated to luxury and craft-focused brands. Back in London, the pair married and took over the family business. While both are gem gurus in their own right, from the start their roles were clear: Sophia is 'the brain' and Jason the creative. They both concurred on where Hirsh was going to fit in.  'At this point we made a decision contrary to what the world was doing. In a time of fast fashion and mass-produced 'luxury' we wanted to make things that last, modern heirlooms that you can give to your grandchildren. We currently handcraft around 150 unique pieces a year,' explains Sophia, 'each of them a one-off and entirely made in London'.
One of the first things the couple did was to concentrate the business in just one store and workshop. 'We both worked in luxury,' says Sophia casually wearing a walnut-sized aquamarine and diamond necklace you would stare at on the red carpet never mind on a Tuesday morning at work. 'We saw so many businesses opening dozens of boutiques around the world and witnessed how it changed the way they made their jewellery. London jewellers were made redundant as the work went to China and India but we decided that we would rather make fewer pieces here, where we know the people who are creating them. Nurturing British craftsmanship is something we are passionate about.'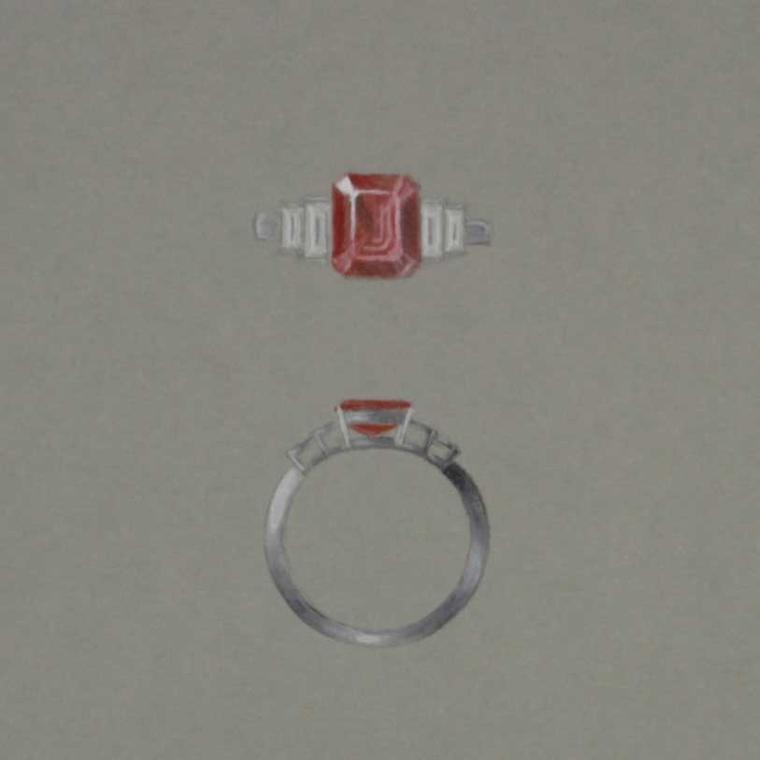 And there are not many jewellers left who can make that claim. At Hirsh, platinum and gemstones come in the front door, and a few weeks later a finished jewel emerges.  'Luxury isn't made in a factory in China. It is about understanding the value of craftsmanship and rare stones. It is about having something beautifully made and for those who prefer the rare, individual and discreet. We have a client who wears a Padparadscha sapphire ring everyday worth far more than a similar-sized diamond. People admire it but are not quite sure what it is. And she likes it that way,' explains Sophia
As we speak, in the workshop a mounter is working on a four and a half carat Colombian emerald (above). Each and every ring mount is handmade, a slow and meticulous process. 'Like a tailor fits a suit to your waist line, we have to fit each mount to every stone and no two are ever the same,' explains Jason. With a small team, it is a hands-on business. Jason goes to Antwerp to personally select even the smallest diamonds. Why? 'Because the best cutters are in Antwerp and I am very picky about even the smallest diamonds we use for pavé settings,' says Jason. Bespoke commissions are an important part of their offering and the house nurtures a faithful group of clients who turn to them for special requests. 
Jason is equally hands-on about sourcing colour gemstones.  'We know our suppliers and have been to many of the mines,' says Jason (below). 'Often we do business with the same families over generations and we like to see where our gems are coming from as only 10% of colour gems are mined on a large-scale so it is very much about the welfare of small communities. Gem dealers love selling to us. When they have something really special they put it aside as they know we will do real justice to the stone.' Jason has just come back from a trip to the Muzo mines in Colombia, full of footage of mine shafts, sifters and miners and stories of calamitous car crashes on winding mountain roads and bone-soaking tropical storms.  
Each Hirsh jewel is unique and a rendering of each one is made to show to the client before starting work. Shown here is the Artemis ring with a Padparadscha sapphire.

With just a small team, Hirsh prides itself on saying that clients can meet every person involved in the making of their Hirsh jewellery.

Jason Hirsh, son of the founder Anthony Hirsh, visits an emerald mine in Colombia strengthening links with families the jewellers have worked with for many years as well as seeing first hand the conditions in which the miners and their families work and live.  

The jewellers work from sketches created by the design team to make each ring from scratch. As no two are the same, each setting is made to measure to perfectly fit each stone.  

Chosen by Jason Hirsh, this Colombian emerald will be set in firm's London workshops.

Showing the range of exceptional gems in its collection, Hirsh has created the Majestic ring with 5-carat E colour diamond and the Swirl ring with a  2.3-carat unheated Paraiba tourmaline. Both are made in platinum in the firm's London workshop. 
So if you are like me and like a jeweller who does things the meticulous way and can talk the back leg off a donkey when you ask one simple question about anything gemmological, then Hirsh is a name to trust. Few others know their business so intimately or are so passionate about each and every jewel they make. And that is a rare quality in a world of fast changing values and the globalisation of luxury.