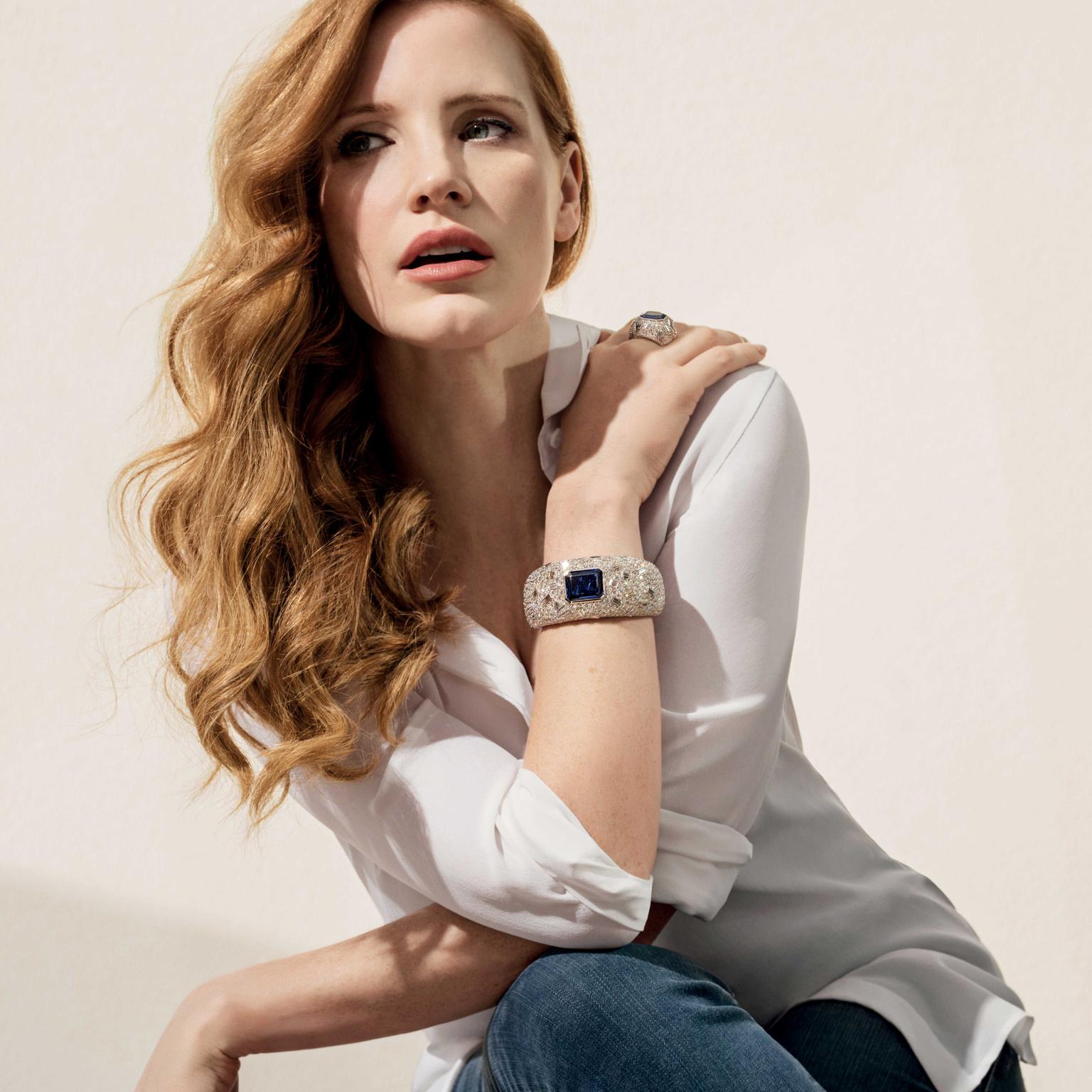 From the dazzling purity of light refracting off a snowy peak to a searing red sun or the fleeting beauty of a glint of light on a melting drop of snow, Piaget's Sunlight Escape is a glowing tribute to our world told in precious stones.
As generous as Nature herself, these jewels offer an abundance of creativity exploding with colour and exciting forms and marriages of materials. The Blue Emotion cuff (below) is one of my favourite pieces of the collection with a serene blue tanzanite adrift in a frozen sea of blue waves.  Looks closely and the trompe l'oeil effect is in fact a meticulously crafted mosaic of feathers, the sheen and matte of the quills cleverly mimicking sheets of an iced-over ocean.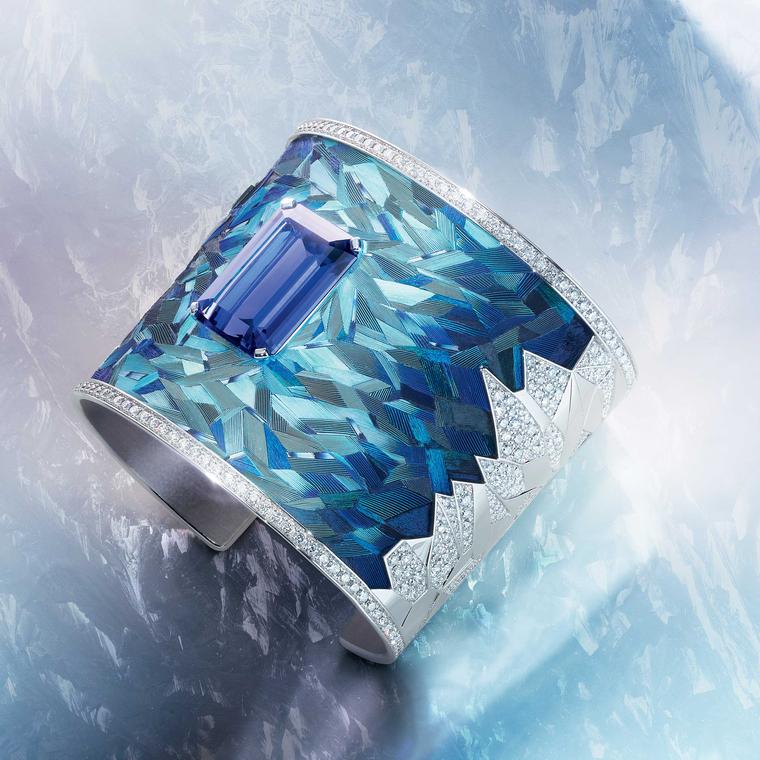 The dazzling beauty of high altitude sunshine on snow is recreated in the Blue Ice necklace (below) and cuff. Master cutters and gem-setters at Piaget meticulously created a flexible frame in which to set over 100 carats of diamonds in seven different cuts. The play of light on the thousands of different facets and angles capture the wonder of light bouncing off freshly fallen snow. A majestic 18-carat Sri Lanka sapphire sits at the centre of this frosty creation.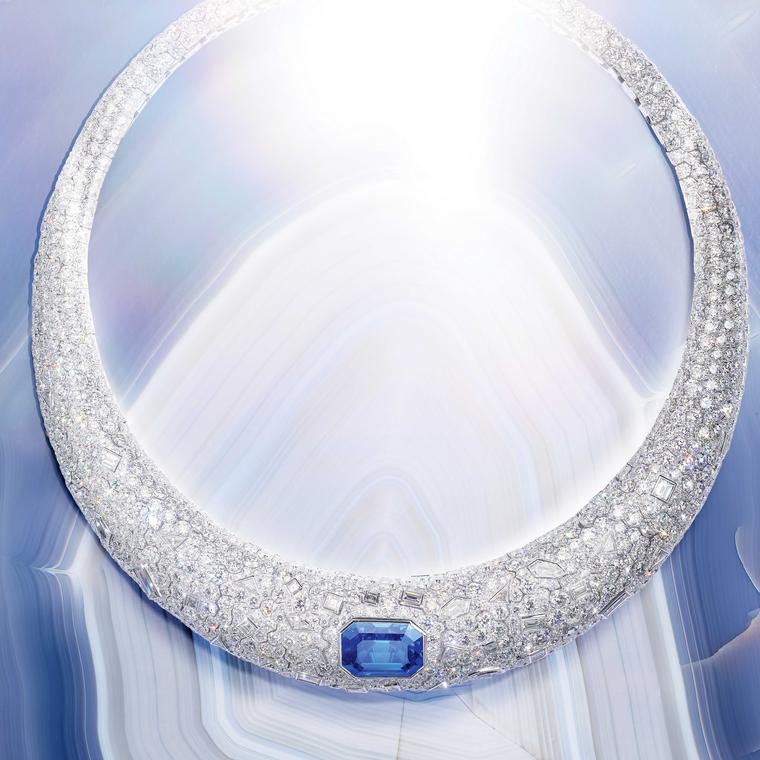 Moving from white light to glowing warmth, spinels, rubies, spessartite garnets and pink sapphires create a halo of colour. I particularly admire the Blazing Sky necklace (below) that nearly burns with its intensity of colour, as it gradually cools into blue hues and diamonds, a perfect blue Paraiba tourmaline dripping from its tip. The necklace is strung on white opal beads adding to the radiance and richness of this unique jewel.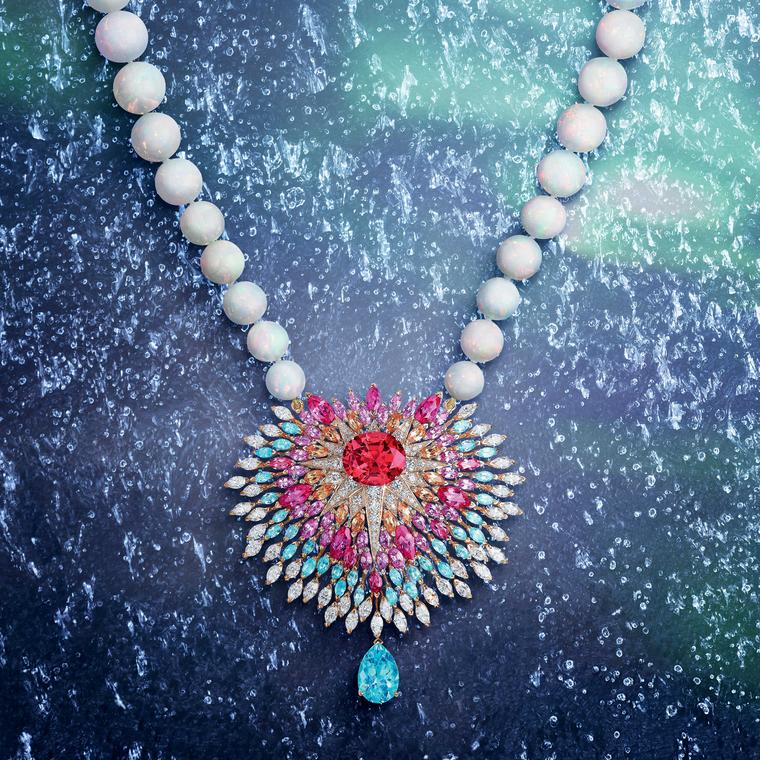 Over the past five years, Piaget has boldly made its mark in the haute Joaillerie arena with brave and distinctive creations, no mean feat for a company that for decades was a traditional family-owned Swiss watchmaker. Tapping into its 1970's heyday of flamboyant cuff watches, exotic stone dials and woven gold watch bracelets so beloved of the groovy jet-setting crowd, Piaget has found its very own high jewellery niche.
Bursting with brightness the Piaget Sunlight Blazing Sky brooch features a 15-carat rubellite surrounded by a halo of rubies, pink sapphires and the sparkle of diamonds.

This Piaget Sunlight Escape watch will keep the colours of the summer ocean forever present on your wrist. The emeralds and sapphires set around the case echo the brilliant colours of the opal dial and diamonds that surround it.

A 14.52-carat aquamarine hangs like a freshly melted drop of water from the Infinite Blue necklace that evokes the geometric forms of ice crystals all in varying shade of blue with Paraiba tourmalines and lapis lazuli, interspersed with over 1,200 diamonds set into white gold.

A stunning 24.36-carat emerald cut tanzanite is star of this dazzling white gold one-of-a-kind Blue Emotion cuff by Piaget with over 600 diamonds with an exotic touch thanks to the addition of striking geometric pattern created from feathers by Nelly Saunier, award winning feather artist. 

The Blue Ice Necklace captures the beauty of frozen expanses with over 100 carats of diamonds cut into emerald, baguette, square, trillion, triangle and round shapes all set to create a frosty masterpiece. At its centre is cool-blue 18-carat Sri Lanka sapphire.

An East African 9.38-carat spinel is at the centre of the Piaget Sunlight Blazing Sky necklace from which radiate yet more red spinels, spessartite garnets and pink sapphires giving way to cool blue pear-shaped Paraiba tourmalines and diamonds with a detachable pear-shape Mozambique Paraiba tourmaline strung on 175 carats of white opal beads.

Jessica Chastain, Piaget's brand ambassador wears the Blue Ice cuff with diamonds and a sapphire from the Sunlight Escape collection of haute Joaillerie presented in July 2018.