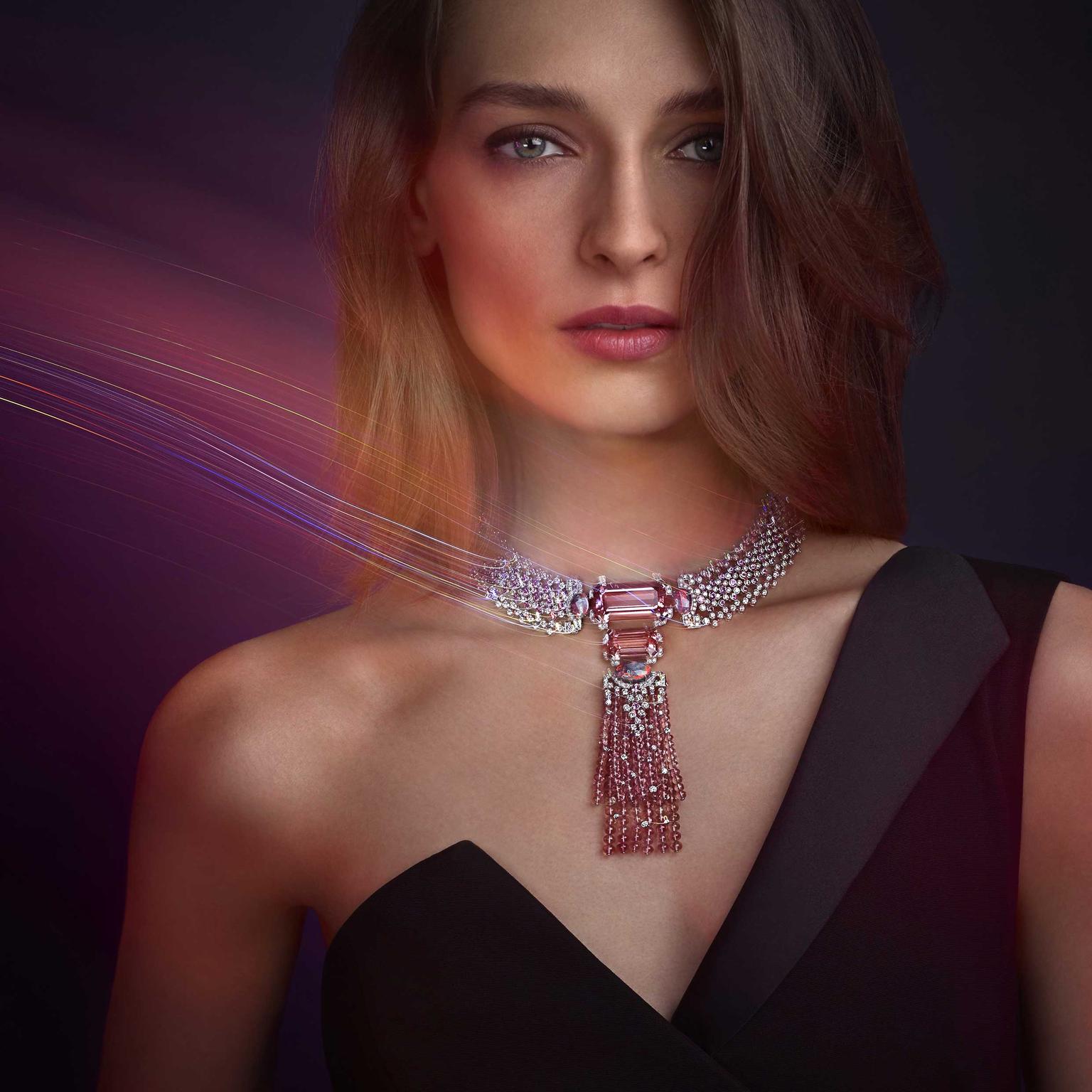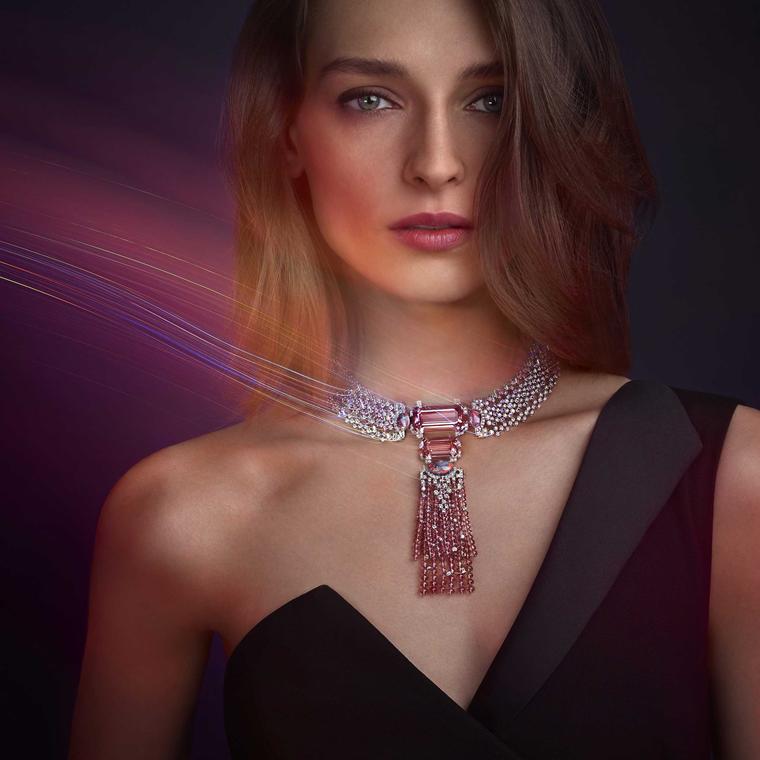 Cartier's crowning achievement of the year is Coloratura, its newest high jewellery collection presented during Paris Couture in early July 2018.  As its name suggests, colour surges through these jewels with stylish bravado.
This bright new look is not entirely a surprise, as over the past decade, Cartier has become increasingly daring in its use of colour stones beyond the safety of the traditional trio of rubies, emeralds and sapphires. But Coloratura marks a new high point in Cartier's multi-cultural and multi-colour approach to haute joaillerie, the haute couture of jewellery.
Made up of 240 pieces, this collection is ambitious not only in the number of eye-popping bright jewels but in its global scope. Following the gem-hunting travels of the pioneering Cartier brothers on the cusp of the C20th, the jewels are inspired by the colours, moods and shapes of India, the Far East and Africa.
The designs are unquestionably Cartier. The house style is evident in the Art Deco symmetry of the red coral, diamond and onyx of the Orienphonie watch or in the sensual gemstone bead tassels of the Yoshino necklace (main picture). But look again and a sea change is afoot. Like a good mix of guests at a party, the highly precious rub shoulders with the interestingly different. Personalities rarely seen together in the same setting create an effervescent and eclectic atmosphere. Take the Matsuri ring: where you would expect a Colombian emerald to provide the green note in a composition, a fresh mint colour tourmaline shakes things up (below).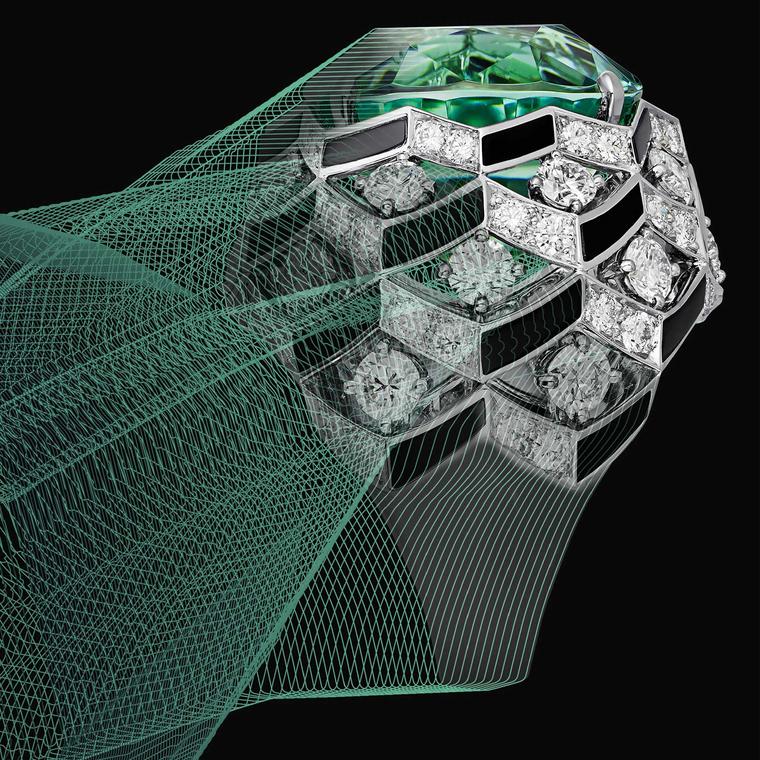 The Yoshino ring (below) is a glorious coming together of three stones that rarely find themselves together at one gathering: a vibrant pink morganite is flanked by two rainbow-bright opals that in turn are complemented by the softer glow of pink sapphires.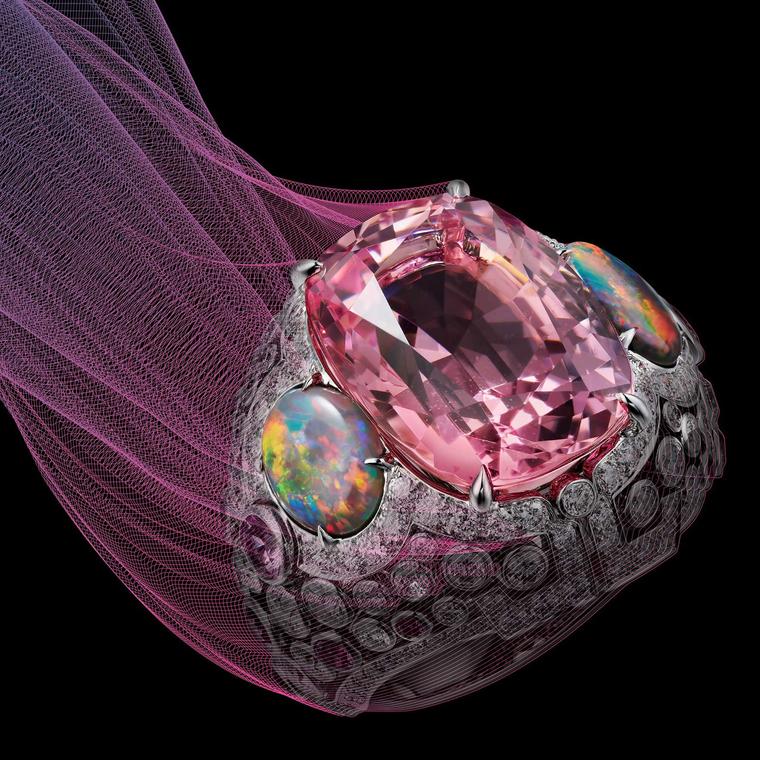 The magnificent Kanaga necklace (below) strings berry-red spinels into a cascading fringe to re-create the classic red and white duo so beloved of the maison. The look may appear to be Place Vêndome through and through but the inspiration is in fact from the fringed costumes from Mali in West Africa as worn during ceremonial Kanaga mask dances.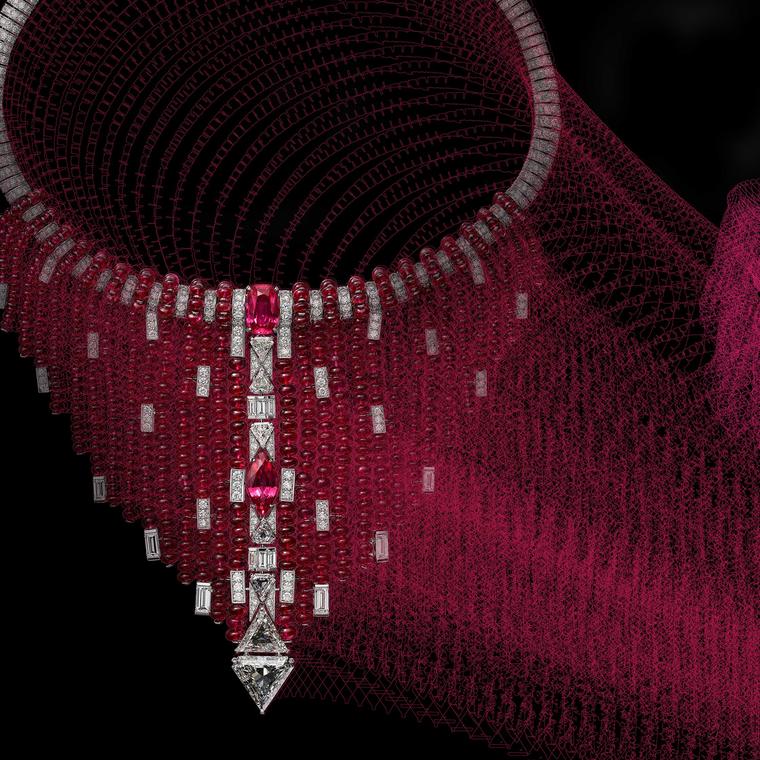 Like the spontaneous colour bombs that soar through the air to stain revellers with random colour patterns at the Indian Holi Festival the joyous Holika ring is a riot of colour (below). Zesty green chrysoberyls and neon-blue tourmaline beads create a giddy clash of colours around an impressive 15-carat rubellite.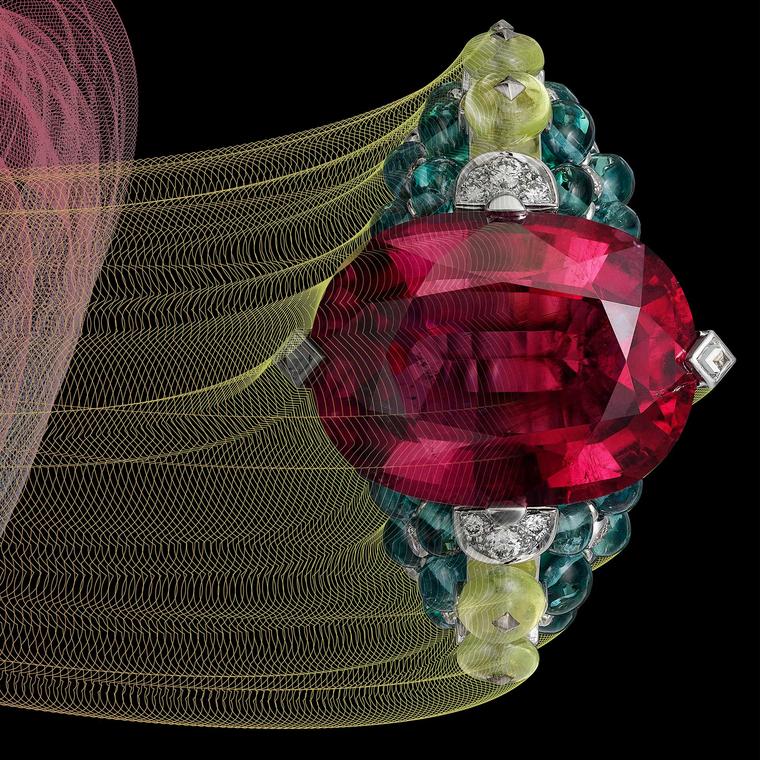 In the same global spirit, the Chromophonia necklace (below) presents a very open-minded approach to the jeweller's colour palette by fusing the Hindu references of baroque emerald beads with Eastern European folk costume motifs.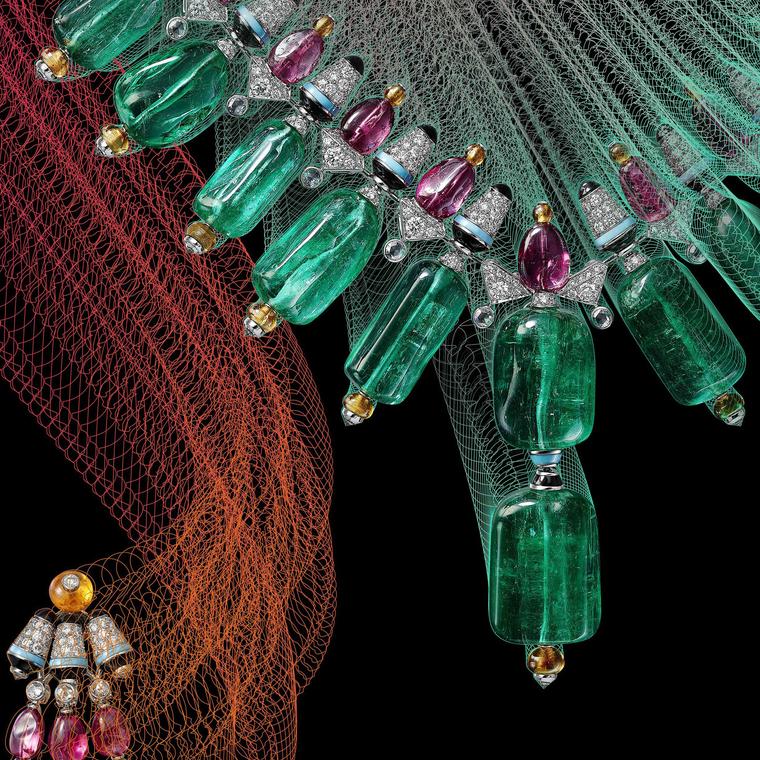 With such a dizzying melding of colour, nationalities and backgrounds, Coloratura is one jewellery party that has kicked off with a bang.
Cartier Chromophonia necklace from the Coloratura collection with twenty-two baroque emerald beads from Afghanistan weighing
nearly 200 carats, spinel beads, mandarin garnet beads, turquoise, onyx, rose-cut diamonds, brilliant-cut diamonds.

Detail of Cartier Chromaphonia necklace and earrings in white gold that fuse both Indian and European influences for a new wave of colour combinations rarely seen in high jewellery. 

Cartier's signature Art Deco look is evident in the Orienphonie wristwatch in white gold with nineteen orangey red coral beads totalling 130.46 carats, onyx and brilliant-cut diamonds with a quartz movement.

Inspired by fringed red tribal costumes from Mali, the Cartier Kanaga necklace features two orangey pink spinels totalling 7.58 carats, two triangular-shaped step-cut diamonds totalling 8.39 carats, spinel beads, and triangular,  baguette and brilliant-cut diamonds.

Referencing the red fringed tribal costume from Mali in West Africa, the Cartier Kanaga Necklace is composed of rows of spinel beads, orangey pink spinels triangle-shape diamonds as well as the more traditionally shaped baguette and brilliant-cut diamonds.

Recalling the chaotic colour of the Indian festival of Holi, the Cartier Holika ring makes a joyful combination of rubellite, tourmaline and chrysoberyl.

Cartier Holika Ring in white gold with a 15.05-carat cushion- shaped rubellite, blue tourmaline beads, chrysoberyl beads, square-shaped diamonds, brilliant-cut diamonds.

Evoking a mysterious past with airs from the Orient, the Cartier Matsuri necklace in platinum features a 14.82-carat cabochon-cut opal, 7.25-carat oval-shaped tourmaline, tourmaline beads, tourmalines, opals, onyx and rose-cut diamonds, brilliant-cut diamonds.

The unusual combination of a 17.12-carat morganite combined with two fiery opals and  pink sapphires create an exciting kaleidoscope of colour in Cartier's Yoshino ring.

An invigorating freshness emanates from the Cartier Matsuri ring in platinum thanks to a 26.20-carat cushion shaped green tourmaline combined with an almost holographic effect of a lattice of onyx and brilliant-cut diamonds.

Cartier Yoshino necklace in white gold with two emerald-cut morganites totalling 55.18 carats, three cabochon-cut opals, tourmaline beads, pink sapphires and brilliant- cut diamonds. The necklace has an additional chain and can be worn in three different ways.