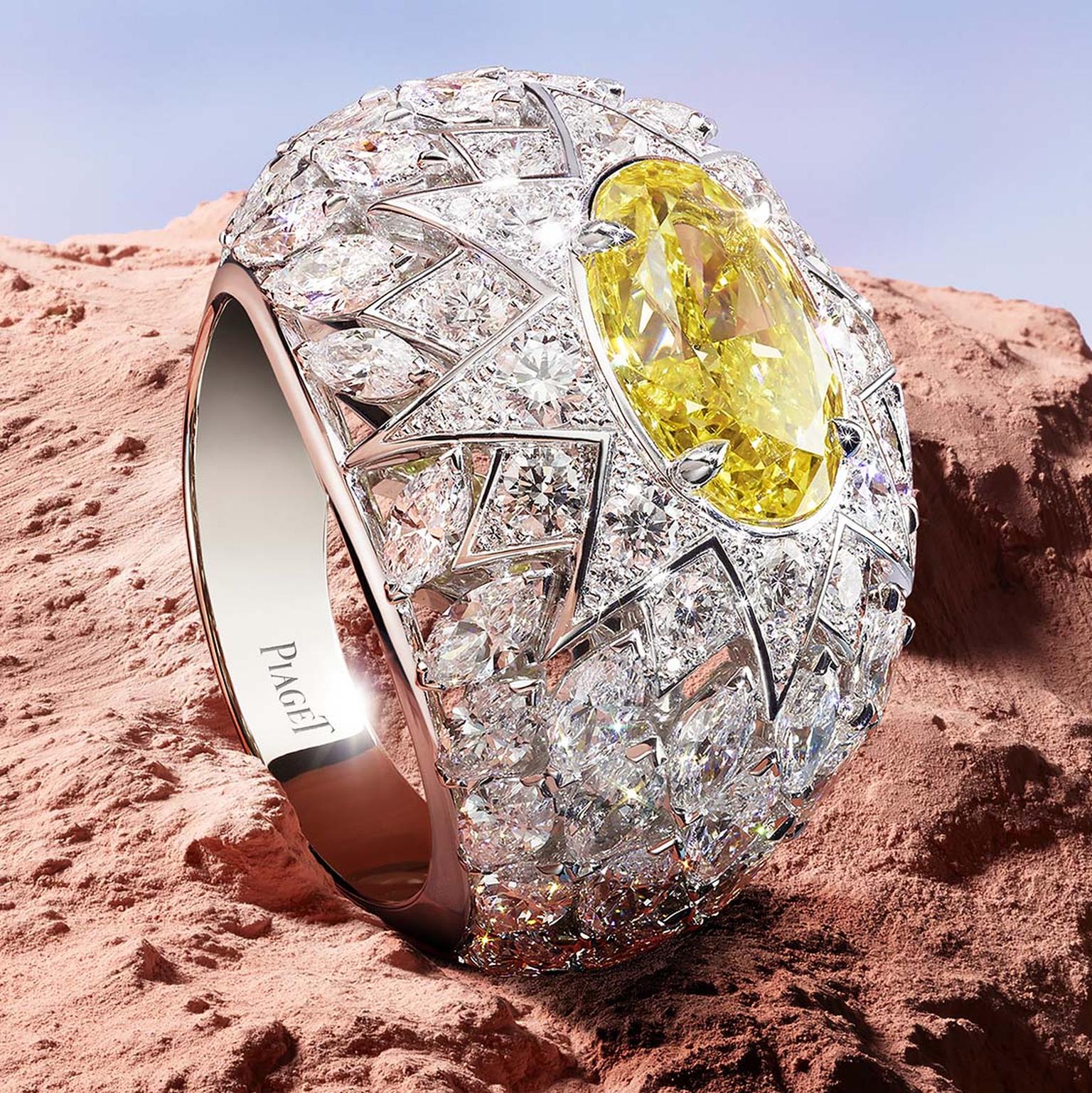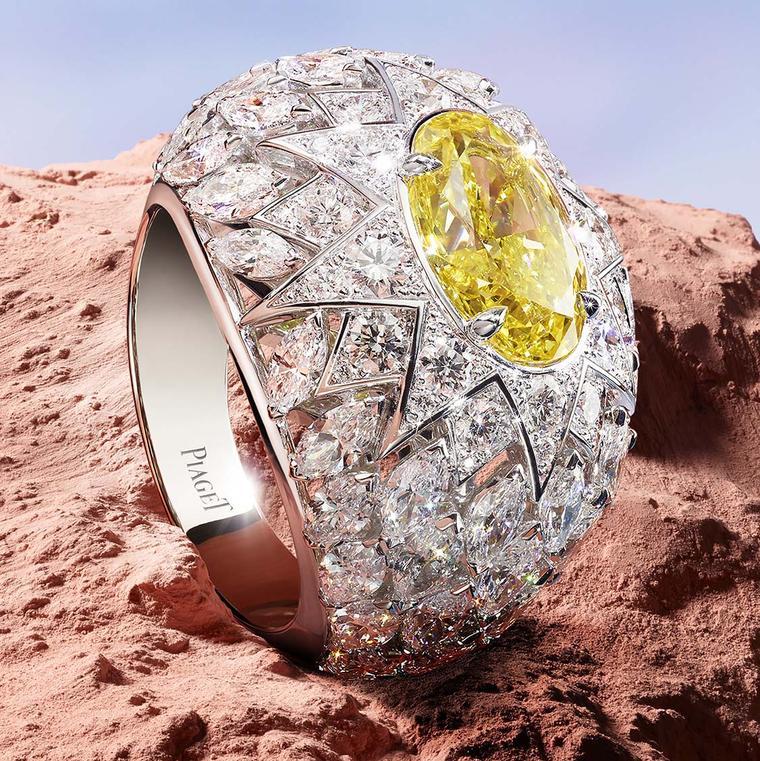 Piaget's new collection of high jewellery, with the evocative name of Desert Oasis, was presented in Paris during the July Couture Week. This highly original collection uses a reduced but intense colour palette of gemstones and makes ample use of the house's famed skills of creating rich textures with gold engraving techniques.
Golden Oasis is a garden of Eden where light shines through lush foliage, palm leaves rustle in the breeze, and sun bounces off water droplets as they cascade down into a cool pool in this shimmering, desert mirage of sun-soaked colours.
Golden Oasis confirms that Piaget is the purveyor of choice for jewels inspired by the sun. Piaget set off on a heat-seeking journey with Mediterranean Garden in 2015, the helio-centric jewels were followed by Secrets and Light, Sunny Side of Life, Sunlight Journey and Sunlight Escape, paving the way for the sun-drenched Golden Oasis.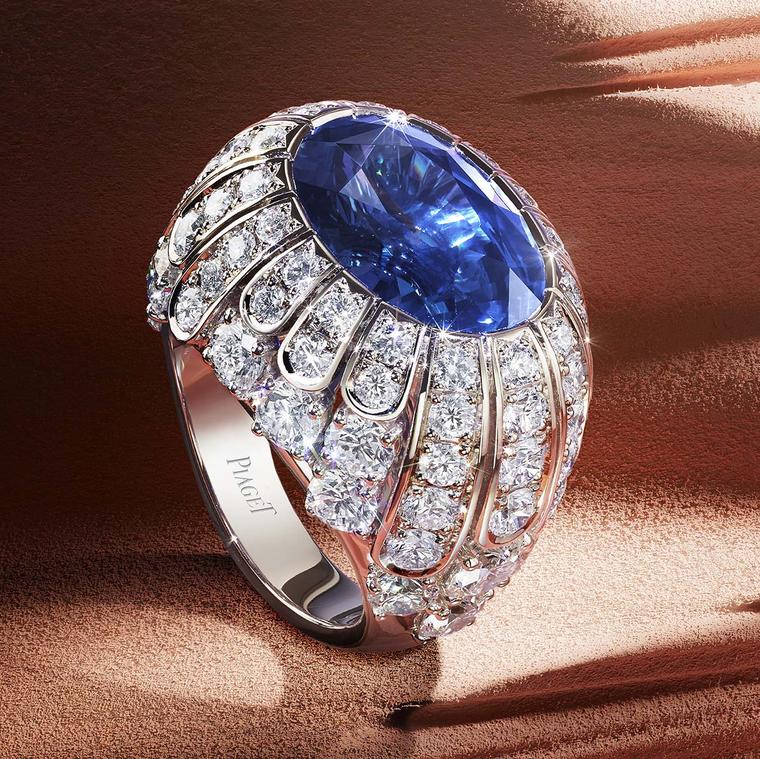 This strategy places Piaget apart from the other high jewellery houses as simultaneously it also subtly references the Swiss watchmaker's 1960's design heyday. This was a time of SPF-free poolside lounging and carefree cocktail optimism when Andy Warhol, Jacqueline Onassis and every groovy cat worth their Paco Rabanne cologne owned a hard-stone dial Piaget Altiplano or dress watch. With a deftness of touch, the intense colours of the hard stones such as malachite, lapis lazuli, tiger's eye and ruby slices are echoed in the rich colours of the gemstones, while the gold-engraving techniques of the watch bracelets neatly transfers to light-catching details in the jewels.
Read more about Jackie Onassis' Piaget watch here.
Golden Oasis is presented in three stages, as the collection tracks the sun moving across a vast desert and its alluring oases. Play of Lights bursts with the energy of yellow and white diamonds as the sun reaches its glaring zenith at midday (above). As day lengthens, rubies, pink sapphires and spinels, set into engraved gold, capture the setting rays as the once-fiery orb casts a peaceful glow as it disappears over the horizon.
Desert Minerals summons diamonds and pearls to evoke blinding mirages interspersed with flashes of fiery orange spessartite garnets and sapphires. Blue sapphire droplets (above) and diamond sprays bring to mind waterfalls and fountains, a delirious vision of refreshment, perhaps a figment of the imagination of a weary explorer in the Sahara.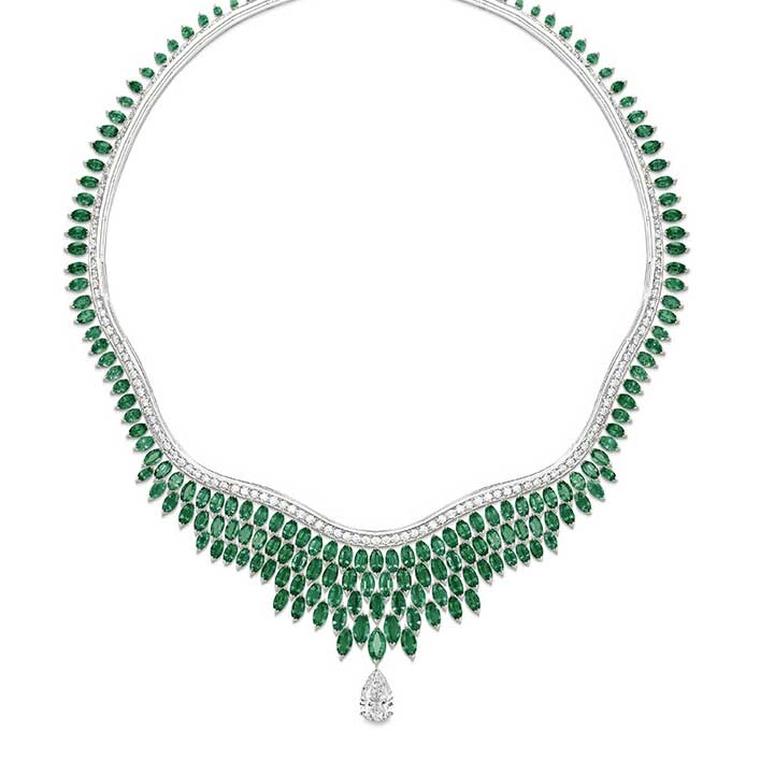 In contrast, Native Bloom offers a luxuriant oasis of emeralds and diamond droplets as seen in the Vegetal laces ear cuffs and necklaces cascading with emeralds (above). Golden palm fronds are captured in the Desert Palm necklace (below) with warm sandy gold worked into a delicate fringe set with diamonds.
How Piaget will continue on this path of golden sun rays is an intriguing thought, but what is clear, is that all things solar is a strong theme with ample room for interpretation and scope for revisiting Piaget's unique positioning as the watchmaker to the first-ever generation of  jet-setters. 
Evoking a verdant garden lush with vegetation, the  Piaget Golden Oasis Luxuriant Oasis necklace drips with 177 marquise-cut emeralds and 172 diamonds. The 3-carat pear-shape drop can be removed and worn separately. 

The Diamond veil ring has a 13.15 carat Madagascar sapphire with 72 brilliant-cut diamonds that drape from the blue stone like a veil.

The collection also includes watches such as the Piaget Golden Oasis Vegetal Lace model with malachite leaves fringing the dial. 

A 2.77-carat fancy vivid yellow diamond beams out from the centre of the Piaget Rising Star ring. The yellow diamond is surrounded by dazzling rays of 46 marquise-cut and 34 brilliant-cut diamonds.