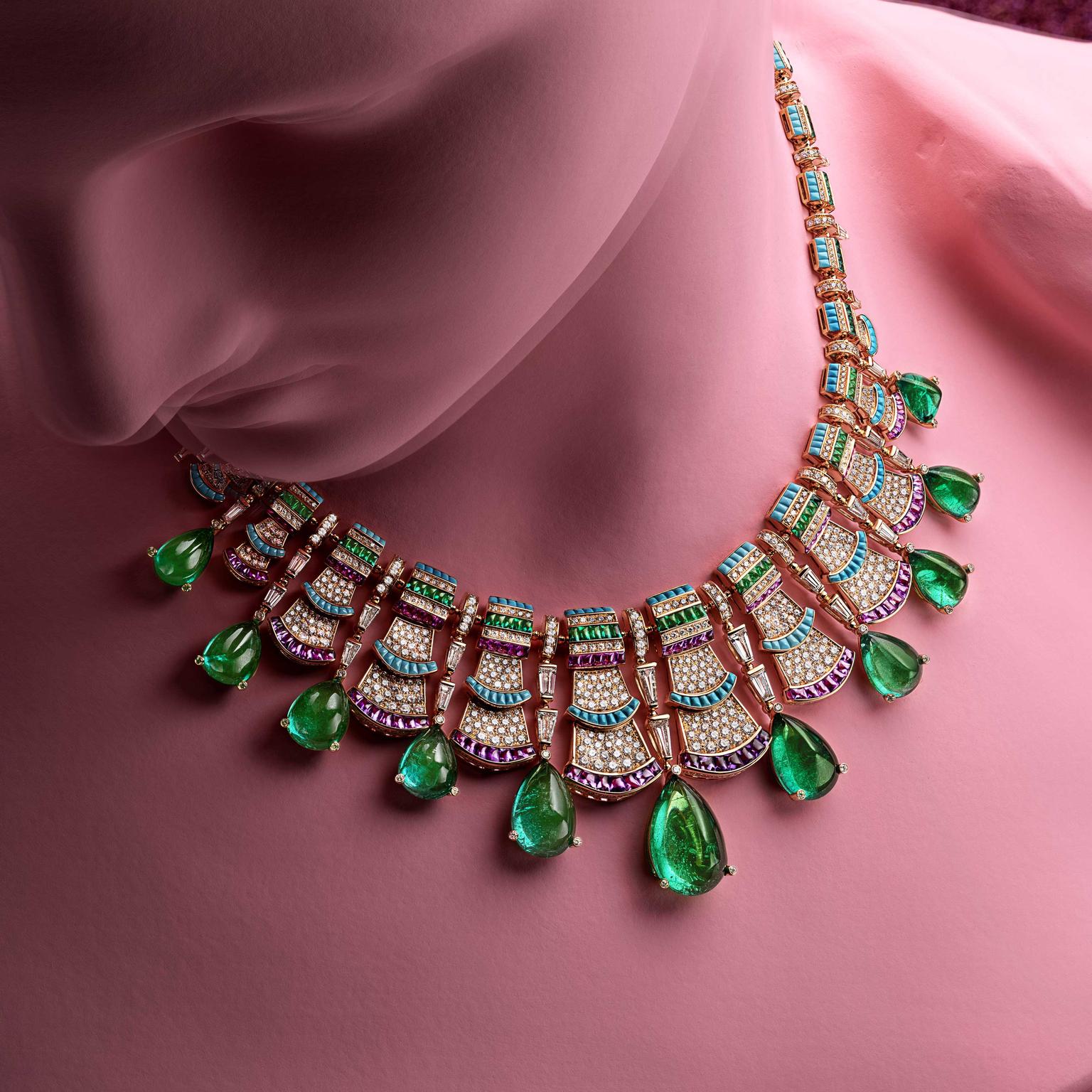 Crazy as it is, I can't say I was totally surprised to discover Bulgari's new Wild Pop collection launched at an event on a hot June evening in Rome's Stadio dei Marmi to an epic assembly of A-list models (below) and celebrities.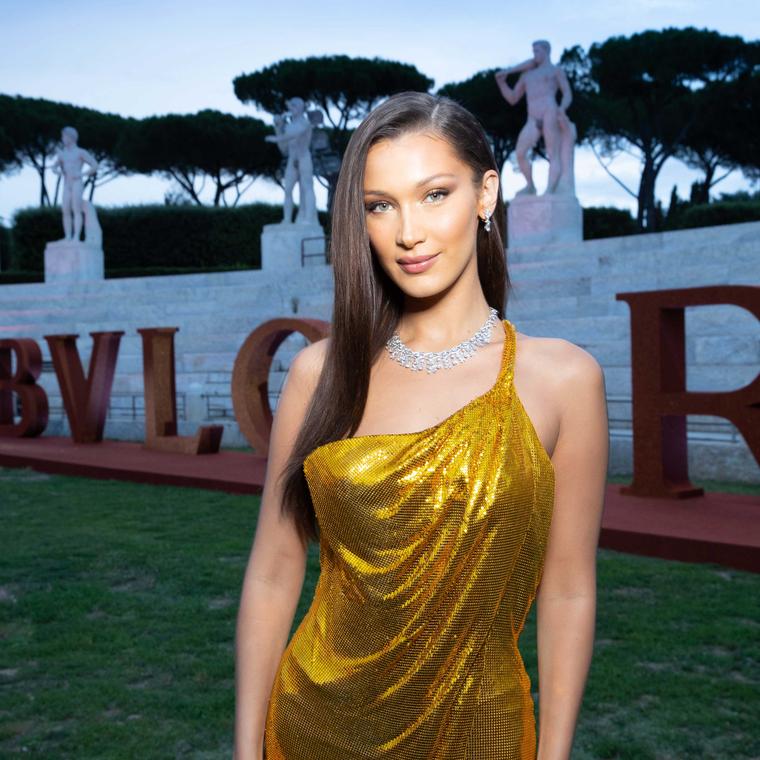 To some the jewels may look out of tune with the house style, but a look at Bulgari's history of design confirms that the Roman house was rocking a big attitude long before the 2011 LVMH takeover and its subsequent turbo-boosted growth. What's new is that Bulgari is returning to its dare-devil ways and these jewels strut their stuff with attitude. The gem stones and the craftsmanship is everything you would expect from Bulgari, but the design volume has been pumped up to rock the kasbah. 
Read more about the history of Bulgari design here.
Bulgari punched well above its weight in the 1980's when a small, family-owned jeweller with a little shop on a cobblestoned street in Rome become an epicentre for style arbiters and those in the know. A kind of covert wealth that made Jackie Collins' big-old rocks look so mainstream. The utilitarian-chic Tubogas watch was the choice of Grace Jones and Andy Warhol; Princess Caroline of Monaco, Jane Fonda and Nancy Reagan wore Monete jewels that fused ancient Roman coins with funky goldwork and the rebel Bulgari Bulgari watch dared to make a design feature of a logo.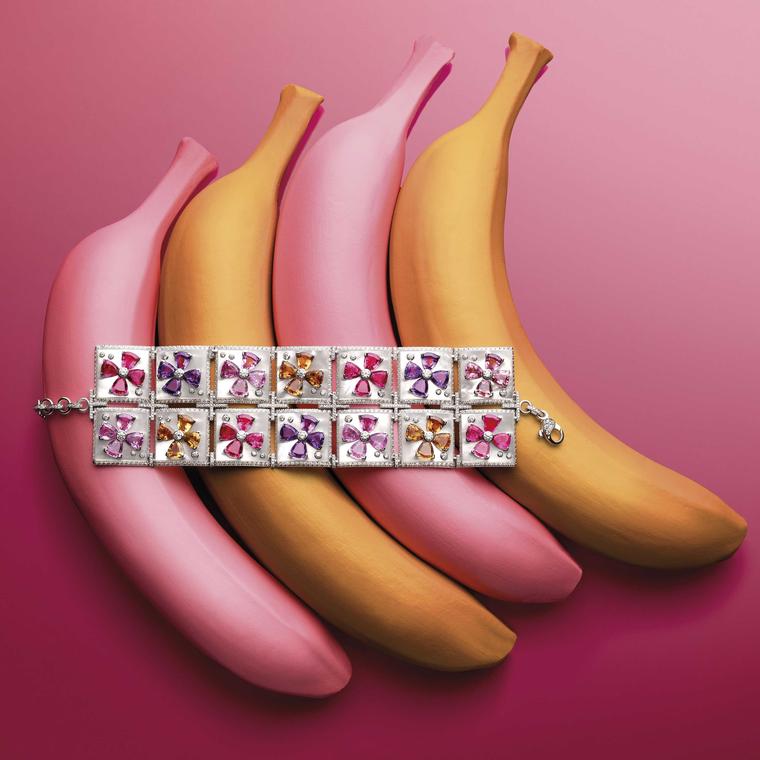 Proof of Bulgari's earlier ground-breaking spirit is immortalised in Andy Warhol's words: 'When I am in Rome I always visit Bulgari because it is the most important museum of contemporary art.' Although no date is attributed to this quote, I think we can safely assume it was in the mid-1980's when Bulgari's outsized jewels in eye-catching colours captivated the attention of the king of Pop Art. In fact when Nicola Bulgari went to live in New York he became a friend of Warhol.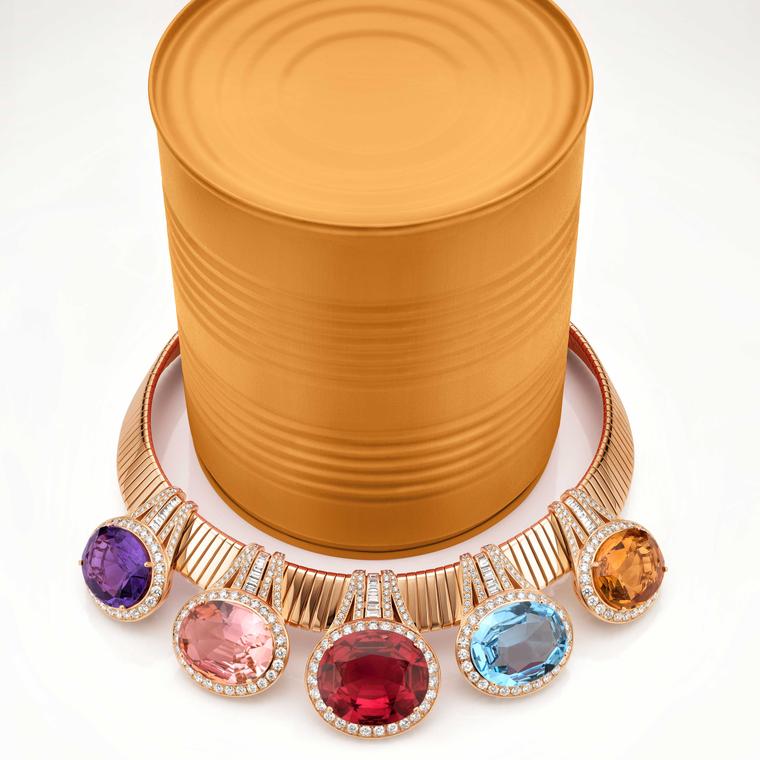 Fast-forward thirty years and Bulgari's Creative Director, Lucia Silvestri, taps into the rich vein of inspiration from the era of shoulder pads and killer stilettos. Following a visit the Andy Warhol Foundation for the Visual Arts in New York City Lucia tells us: 'I wanted to do something about this fantastic dialogue between Bulgari and Andy Warhol.'  Looking at Warhol's trove of Bulgari catalogues and correspondence reminded Lucia of how ground-breaking Bulgari jewellery could be as she remembered the most important lesson she learned from working side-by-side in the design studio in Rome with Nicola Bulgari and Paolo Bulgari: "You have to dare."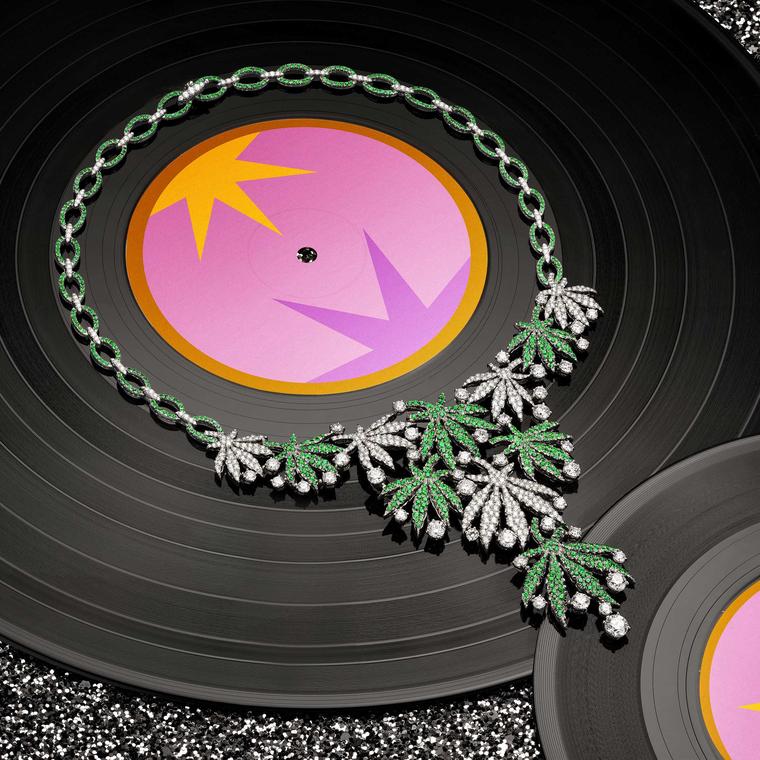 And dare she did. The vision for the 80-piece collection is as eclectic as the 1980's and spans cannabis plants (above) endearingly called 'Happy Leaves'; the TV series Dynasty and Miami Vice; Madonna and of course Andy Warhol.  The 'Precious Ruffles' (top) with a show-stopping  34.12-carat Colombian emerald is a tribute to Dynasty character Alexis Carrington's fashion advice: 'When in doubt, add some ruffles to your dress.'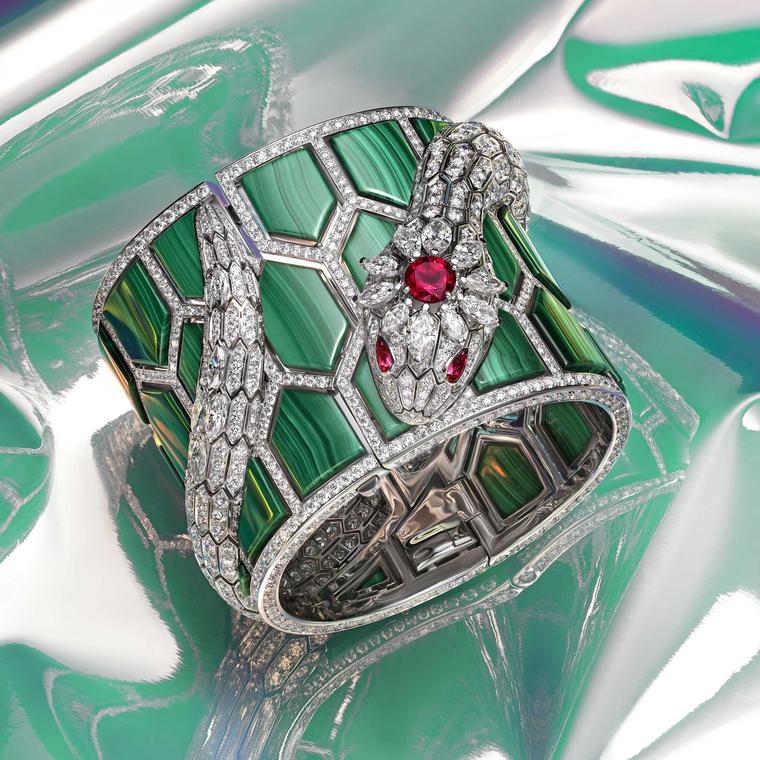 It was the cheesy TV series Miami Vice that sparked the tropical look of the Serpenti My Handcuff watch (above) honouring the importance of Miami-style glamour in the disco decade. There is substance to this style as the thirty malachite hexagons jiggle with each move thanks to a clever system of tiny hidden springs.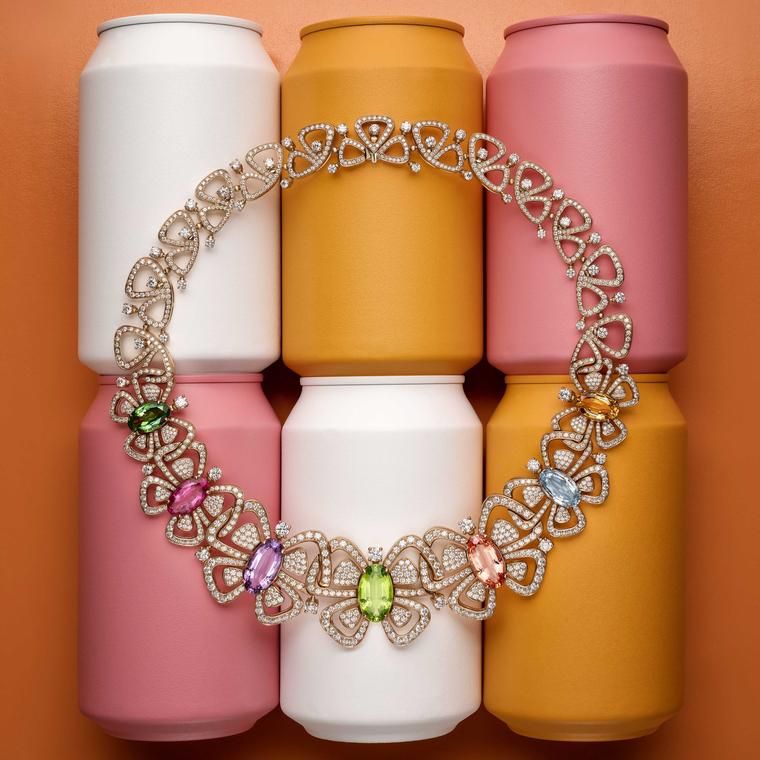 The links to Andy Warhol and New York are evident in the Pop Flowers, Butterflies and Egg jewels (above). In this well-thought out collection there is even a philanthropic element. Michael Dayton Hermann of The Andy Warhol Foundation tells us: 'Proceeds from the sale of items directly inspired by Warhol shall contribute generously to the Foundation's endowment.'
Is Wild Pop progressive or retro? Perhaps the answer is in a snippet of conversation between Andy Warhol and Nicola Bulgari recorded in a conversation between the two in Interview magazine. 'I think your jewelry is the 80's' said the artist, only to add: 'Everybody is trying to copy this look.' To which the sage Mr. Bulgari replied: 'But they can't because we are always breaking our heads to do better, always better.'
Serpenti Misteriosi Pallini High Jewellery secret watch from Bulgari Wild Pop high jewellery collection with diamonds and emeralds in rose gold.

'Play it again' brooch from Bulgari Wild Pop high jewellery collection in white gold with onyx, rubies and a 1.61-carat rose-cut diamond.

'Eggs' necklace from Bulgari Wild Pop high jewellery collection in pink gold with a 101.9-carat citrine, a 112.78-carat milky chalcedony, a 115.38-carat rubellite, a 107.80-carat blue chalcedony, a 98.06-carat amethyst and 24.97 carats of diamond pave.

'Butterflies' necklace from Bulgari Wild Pop high jewellery collection in pink gold with a 10.79-carat peridot, amethyst, rubellite, topaz, citrine, aquamarine, tourmaline and over 30 carats of diamonds.

'Pop Flowers' bracelet from Bulgari Wild Pop high jewellery collection 2018 in white gold with mother of pearl, 28 rubellites and pink tourmalines, 12 amethysts and 16 citrines and diamond pavé.

Lily Aldridge, Bella Hadid and Jasmine Sanders at the launch of Bulgari Wild Pop high jewellery collection in Rome June 2018.

'Spacecruisers' high jewellery necklace from Bulgari Wild Pop collection in pink gold with rubellite, citrine, topaz, pink tourmaline, amethyst and tapered step-cut and pavé diamonds.

'Homage to NYC' necklace from Bulgari Wild Pop high jewellery collection 2018 in pink gold with white and grey mother-of-pearl, four 8.04-carat brilliant-cut diamonds and a further 10 round brilliant-cut diamonds.

Poster-girl for Bulgari Bella Hadid wears an all-diamond necklace from the new Bulgari Wild Pop high jewellery collection launched in Rome in June 2018.

Serpenti Misteriosi My Handcuff watch from Bulgari Wild Pop high jewellery collection 2018 in white gold set with malachite, diamonds and rubellites.

Breaking the rules the Bulgari Pop Way, this Happy Leaves necklace is inspired by cannabis leaves and is set with 14.63 carats of diamonds and 5.6 carats of emeralds.

'Precious Ruffles' necklace from Bulgari Wild Pop high jewellery collection in pink gold with 11 Zambian drop-cut emeralds totalling 65.74 carats, amethysts turquoises and diamonds.