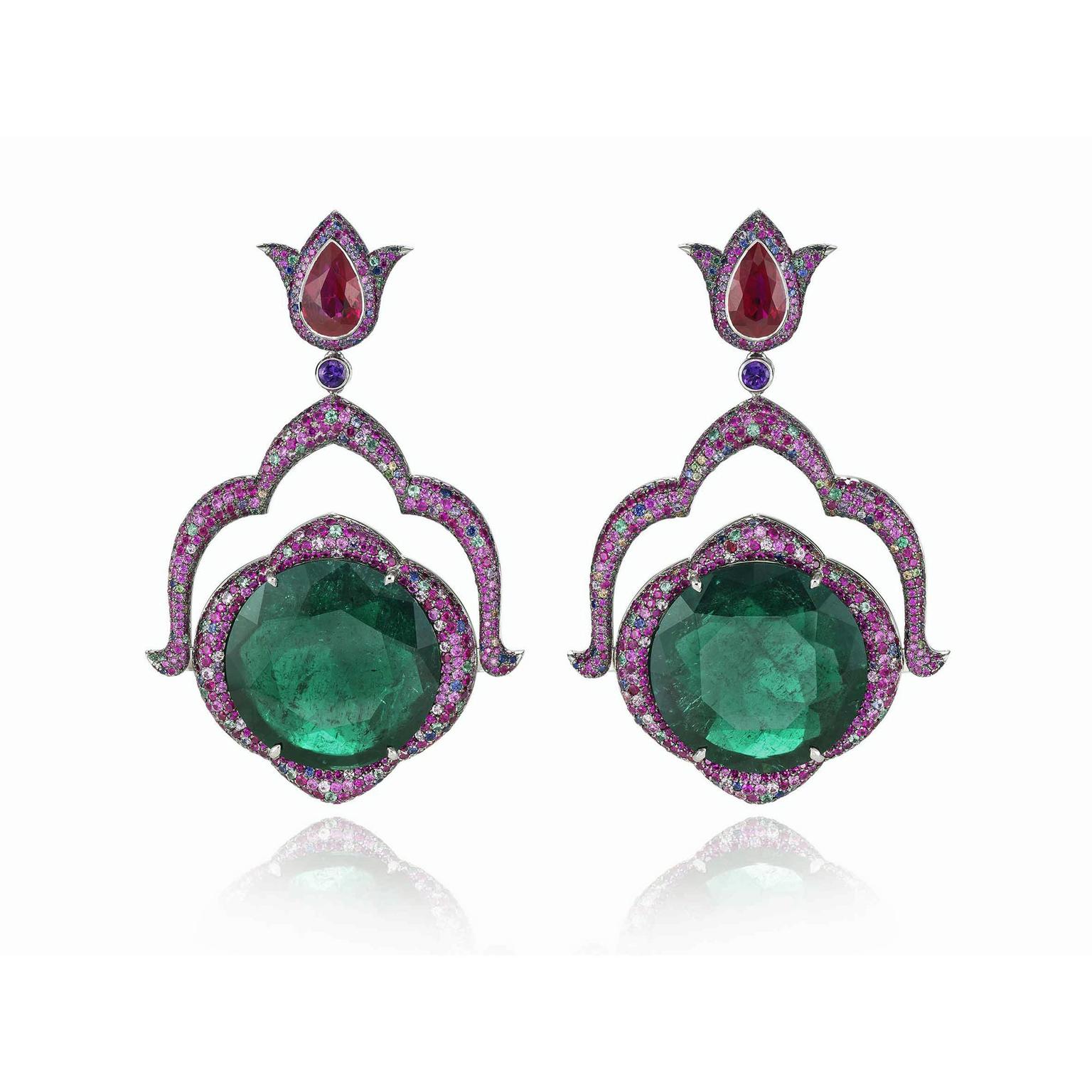 It's no coincidence that the phrase "emerald green" is used to describe the most vibrant and intensely lush of all grassy hues. Since ancient times, this gemstone has found its way into emerald rings, necklaces and earrings worn by royals and those at the very highest echelons of society, from Cleopatra to Queen Elizabeth and Kate Middleton. 
Together with the ruby and sapphire, it is one of the big three coloured gemstones, treasured for its beauty, colour and historical provenance. Emeralds are the most popular gemstone in the beryl family, which also includes aquamarines and morganite. With a Mohs hardness rating of 7.5 to 8, emeralds are more delicate than diamonds, rubies and sapphires. They're not the most suitable choice for engagement rings and are sometimes referred to as an "evening stone" because of their inability to withstand daily wear and tear.
Read about Colombian emeralds vs Zambian emeralds
While it is not known precisely who discovered emeralds, it is believed that the gemstones were first mined by the ancient Egyptians as far back as 3500 BC. Egypt remained the main source of emeralds until the 16th century when Spanish travellers discovered deposits in Colombia. However, while the Spanish Conquistadors are credited with discovering Colombian emeralds, historians believe that the native Indians were mining the gems as early as 500 AD. 
The Spanish exported the emeralds to Europe and the Philippines where they were treasured for their alleged medicinal benefits, which included the treatment of conditions such as dysentery, fever and epilepsy. The gemstones also made their way to India where the Mogul emperors inscribed them with sacred text and wore them as protective talismans. Known as Mogul emeralds, many of them are preserved in museums around the world. 
Read more on Colombian emeralds at Baselworld
With their intense deep saturation, Colombian emeralds are widely considered the most desirable and covetable, often commanding higher carat-for-carat prices than diamonds of a similar size. The hydrothermal process that forms Colombian emeralds is different from other gemstones of the same family and contributes both to their distinctive deep glowing colour and larger size. Columbia now accounts for between 70-90% of the world's emerald market, with the majority of the mining taking place in Boyacá and Cundinamarca on the eastern ridge of the Andes Mountains. The most important emerald mine in the world is the Colombian Muzo mine, and the term Muzo emerald is also used to describe gems with a warm, grassy green colour. In recent times, the yield has considerably slowed down, which has only served to push the price of emeralds into increasingly astronomical figures. 
As a result, Colombian emeralds frequently play a starring role in high jewellery creations by the likes of Chaumet, Chopard, Louis Vuitton and David Morris. While jewellery designers often use white diamonds to accentuate the green colour, creating a contrast between two different coloured gemstones is also very effective, as demonstrated by these emerald earrings from the Chopard jewellery collection. 
This summer's Louis Vuitton jewellery also featured an imposing old-mine Colombian emerald as the centrepiece of the Art Deco-inspired Metamorphosis ring. Similarly, the rich, dazzling colour of the 16.26ct cabochon emerald cocktail ring from Jacob & Co is further enhanced by the rounded dome shape that allows light to enter the stone. Emeralds are Jeremy Morris' favourite gems and he spends years sourcing stones from carefully selected suppliers in Colombia and putting them together in sumptuous fine jewellery collections. The latest statement piece from David Morris is this pear-cut emerald necklace surrounded by marquise-cut diamonds. Emeralds in this dark green colour can only be found in the deepest mines of Colombia and are considered the most beautiful and valuable due to their scarcity. 
Coloured gemstones sit at the centre of Anna Hu's artistic jewellery creations and the Asian-American designer has a particularly soft spot for emeralds. She says: "Green is my favourite colour so I've always been viscerally drawn to emeralds. Once I began studying them, my passion grew and I now focus on Columbian emeralds that have intense colour and clarity - a rare combination."
She adds that the stone's delicacy and proneness to cracking only serves to heighten its appeal: "I also love that they require highly trained artisans to cut and polish them properly as they are so challenging to work with. This adds to their preciousness, since creating exquisite pieces with these stones requires mastery, which is my forte."
American designer Irene Neuwirth also incorporates Colombian emeralds into contemporary jewellery designs that showcase the versatility of this classic coloured gemstone. 
As one of the oldest gemstones in the world, the allure of the lush green emerald is as strong as ever. The stone's enduring appeal is perhaps best summed up in the words of Roman historian Pliny the Elder who wrote in 50 AD: "Nothing greens greener".
Read about Colombia's Muzo Emerald
Chaumet ring from the Joséphine collection featuring a cushion-cut emerald, one pear-cut diamond and brilliant-cut diamonds, all set in platinum.

Louis Vuitton Metamorphosis ring from the Acte V high jewellery collection set with an old mine-cut Colombian emerald and white diamonds.

David Morris necklace in white gold set with 65.50ct of pear-shaped Colombian emeralds with white diamond marquise surrounds.

David Morris earrings in white gold with Colombian emeralds and white diamonds.  

Emerald bangle by David Morris featuring 42.34ct emerald-cut Colombian emeralds and white diamonds set in white gold.

One-of-a-kind earrings by Irene Neuwirth featuring Colombian emeralds set in yellow gold with pavé diamond hooks.

The cabochon Colombian emerald on this Jacob & Co cocktail ring has a dome shape that allows light to enter the stone and enhance its rich, green hue.

Irene Neuwirth one-of-a-kind ring in yellow gold set with a Colombian emerald.

The combination of richly hued Colombian emeralds and white diamonds makes a stunning statement in these tear drop-shaped earrings by Jacob & Co.

A 19.12ct Colombian emerald is surrounded by carved leaf emeralds, yellow and white diamonds, coloured sapphires, moonstones and emerald beads in this stunning ring by Asian-American jewellery designer Anna Hu.

Anna Hu emerald ring from the Modern Art Deco collection in white gold set with three Colombian emeralds, round brilliant-cut white diamonds and tsavorites.

Chopard earrings in white gold set with coloured gemstones and round-shaped Colombian emeralds weighing 22.11 and 21.66 carats respectively.