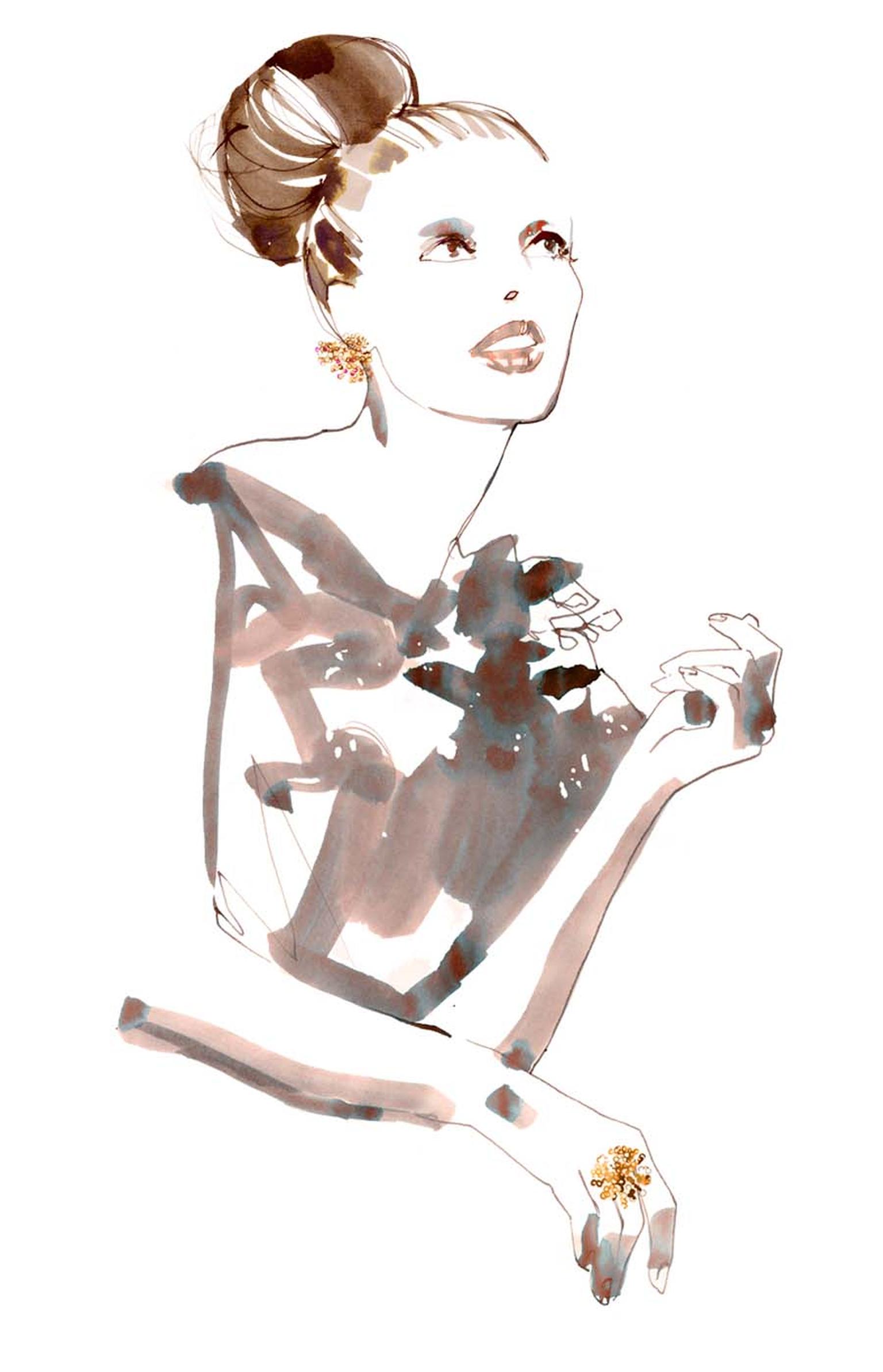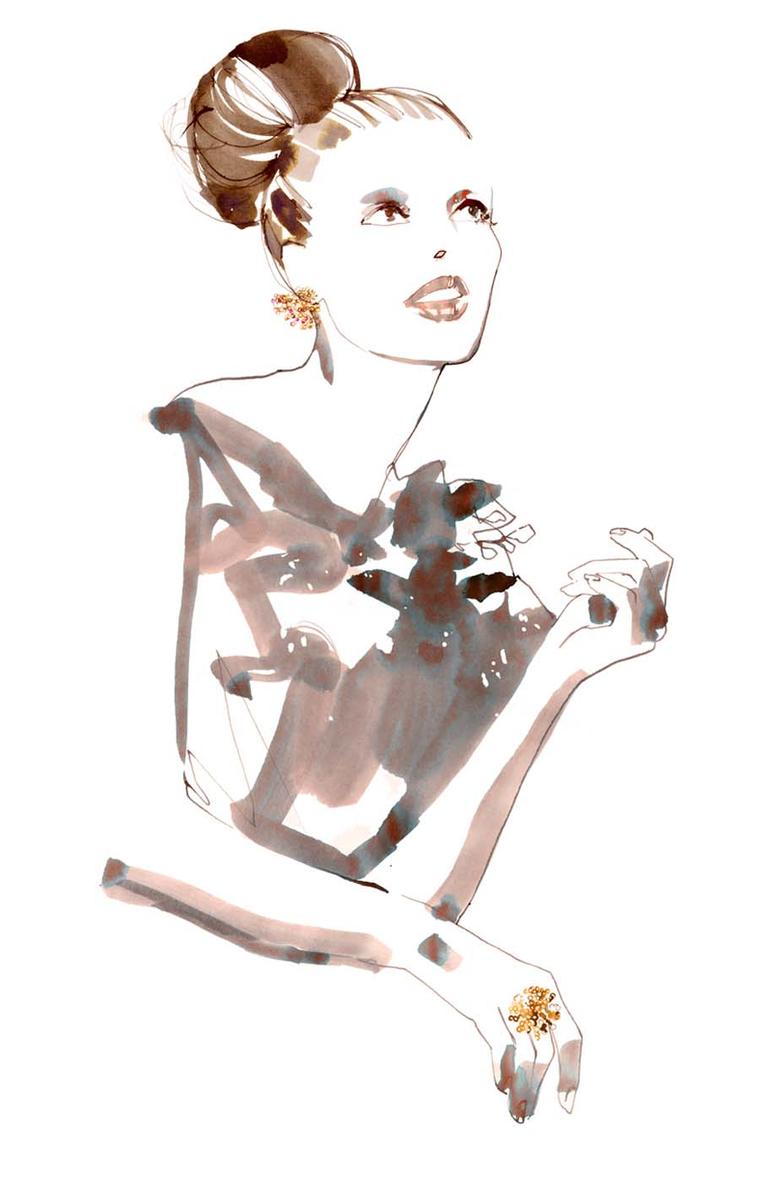 Cartier is soon to release its new Paris Nouvelle Vague collection and, alongside it, a range of stunning illustrations by artist Sara Singh, designed to capture the spirit of the new jewels. 
This ambitious project of fine jewellery follows on from Cartier's original "Nouvelle Vague" collection from 1999. When I first heard about the new collection - inspired by the moods of a Parisian woman - I wondered how such an enigmatic creature could be interpreted in jewellery. And just how extreme are her moods?
Rest assured, there is no foot-stamping captured in these pieces, but there is a whole lot of character. The seven different looks are 'Delicate', 'Emancipated', 'Glamorous', 'Impish', 'Sparkling', 'Voluptuous' and 'Mischievous', each of which represents a suitably alluring character trait.
We know that the 'Voluptuous' lady drinks Lapsan Souchong tea, has a rose named after her in the Bagatelle Gardens and swims at the Ritz. Ms. Emancipated, on the other hand, is a determined professional clutching two phones and whirling up a storm around Paris. As for the rest of these charming characters, you will have to wait and see the full line-up of 'femmes parisiennes' when the collection launches on the 1st June.
But to start setting the mood, artist Sara Singh was commissioned to bring to life one or two pieces from the seven different looks, worn by a colourful, watercolour-rendered woman. Three of her illustrations are featured here - 'Sparkling', 'Emancipated' and 'Voluptuous' - which perfectly encapsulate the mood of the jewels - and the spirited women who wear them.
A renowned fashion illustrator, Sara Singh has worked for numerous jewellers and luxury retailers, which she attributes to her work's timeless quality. It was Cartier's associations of luxury, glamour and mystery that made Singh excited to work with the renowned jewellery brand. Drawing on French films for inspiration, she also looked to the jewellery itself before she started sketching. "It was my intention to let the mood as well as the jewellery dictate each drawing. I did many drawings and then edited down my selection to the ones I felt more strongly about," says Singh. "I let the shapes and colours of the jewellery dictate the clothes and makeup. I wanted the clothing to reflect the gesture of mood and jewellery in both colour and shape."
Though Singh's work has a distinct style featuring strong, inky brushstrokes, she tried to find a "sense of balance of line, colour and composition that really brought forth the jewellery." Her personal favourite is the 'Emancipated' series. "To me, the pieces feel very Art Deco," she explains. "I love the architectural and powerful, yet elegant, shapes and beautiful choice of materials and colour."
A pink gold pendant, adorned with diamonds, from Cartier's 'Delicate' Paris Nouvelle Vague collection.

From Cartier's 'Paris Nouvelle Vague collection, this swirling pink gold 'Voluptuous' cuff is set with diamonds and freshwater pearls.

Cartier's 'Sparkling" ring in yellow gold, from the soon-to-be-launched Paris Nouvelle Vague collection.

Each circular section of this geometric ring - taken from the 'Impish' series - is adorned with a different precious material: diamond, white gold, onyx and lapis lazuli.

A necklace from Cartier's 'Emancipated' Paris Nouvelle Paris collection. Made from pink gold, the Art Deco style adornments feature diamonds, pink opals, amethysts, smoky quartz and hematite.

Pink gold earrings from the 'Glamorous' series of jewels, part of Cartier's new Paris Nouvelle Vague collection. The two round waves are adorned with diamonds.

'Emancipated' illustration by Sara Singh, featuring jewels from Cartier's new Paris Nouvelle Vague collection.

'Voluptuous' illustration by Sara Singh, featuring pieces from Cartier's Paris Nouvelle Vague collection.

'Sparkling' illustration by Sara Singh, which will launch alongside Cartier's Paris Nouvelle Vague collection this September.