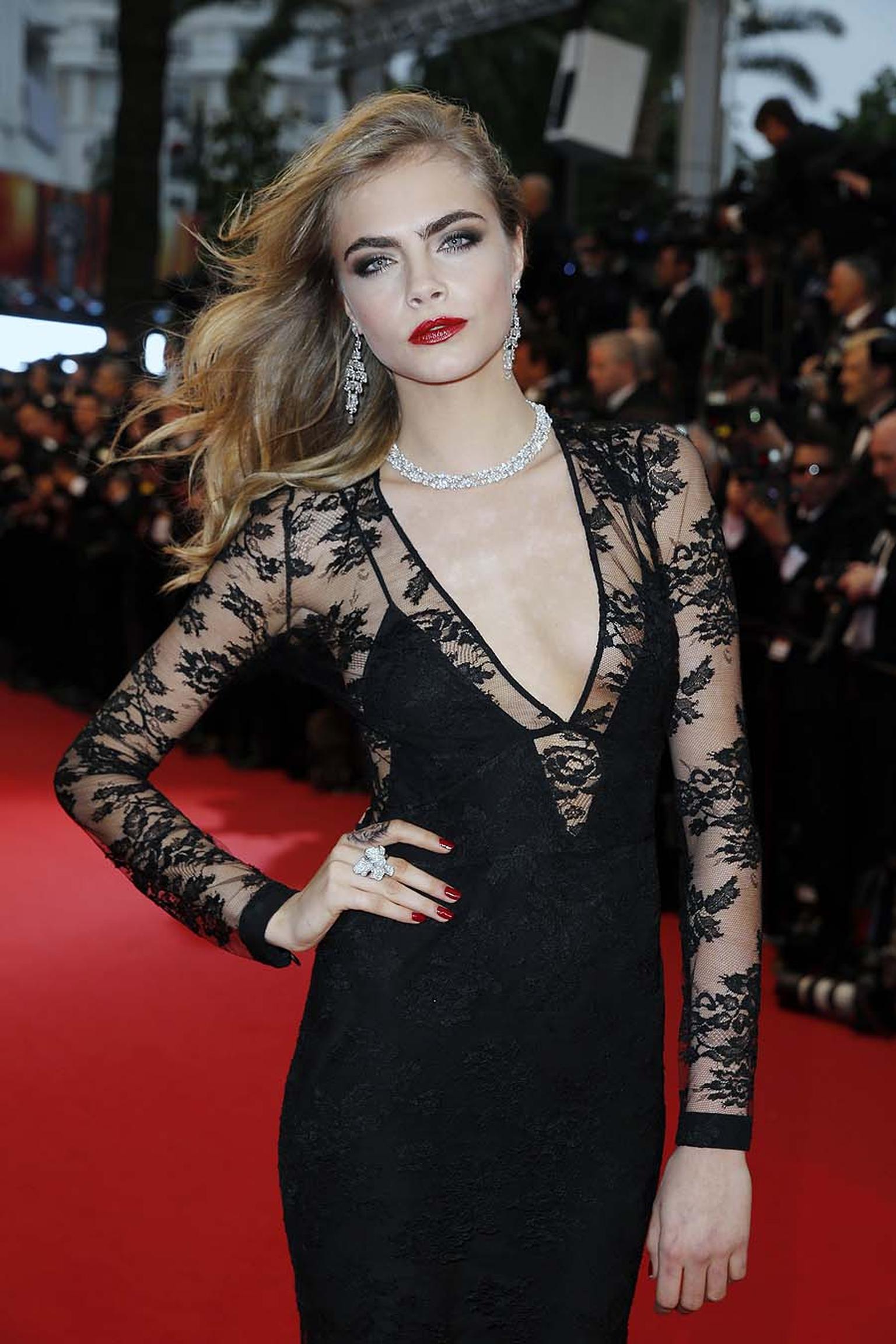 Kick-starting the trend for statement earrings on day one of Cannes was Britain's supermodel-in-the-making, Cara Delevingne. My favourite look of the festival, she took to the red carpet in a plunging 80s-style black lace dress, side-swept hair and diamond Chopard earrings in a classic chandelier style. Tricky for someone alive in the era of big hair and even bigger jewels to pull off, but absolute perfection on 90s child Cara.
On the same day, the Chinese actress Ziyi Zhang stepped out on the red carpet in a pair of de GRISOGONO earrings that were so fabulously different that we didn't see anything quite like them for the rest of the festival. Set with sapphires, rubies and white diamonds, they descended from her lobes like psychedelic jellyfish.
As the days passed, the statement earrings appeared in many different guises. Lana del Rey chose some impressive Chopard emerald drops that perfectly suited her retro style, as did Hunger Games star Jennifer Lawrence. Fan Bingbing's Chopard hearts looked perfectly pretty next to her 50s-style Elie Saab dress. And Dita Von Teese's Avakian Haute Jewellery earrings, featuring two beautiful marquise-cut rubies, were both vampy and elegant, just like the queen of Burlesque herself.
Some impressive Indian jewels also made their debut on the red carpet, worn by the actress Vidya Balan. For sheer size and ornate style, Balan's Amrapali earrings also made it into our round-up of the best statement earrings from this year's Cannes Film Festival. 
Italian model and actress Bianca Balti wore 20th anniversary collection black and white diamond earrings from de GRISOGONO.

This is the how you make your inaugural appearance on the red carpet in Cannes. Cara Delevingne shows the world why she's quickly heading towards supermodel status in some heavyweight Chopard diamond jewels and a black Burberry gown with lace detailing.

Dita Von Teese wore Avakian Haute Joaillerie marquise ruby, diamond and pearl earrings on stage for her famous burlesque show in Cannes.

Sharon Stone wearing de GRISOGONO jewels on the amfAR red carpet.

Heidi Klum paired her Marchesa dress with statement green de GRISOGONO jewels, including earrings from the new 20th anniversary collection, rose gold ring set with brown diamonds and "Piccolina" watch in rose gold set with brown diamonds.

Kristin Scott Thomas looking her usual elegant self in emerald and diamond Chopard earrings.

You have to applaud Lana del Rey for her chameleon-like ability to hop between different styles from one week to the next. At Cannes, she went monochrome, accessorised with some magnificent Chopard emerald and diamond earrings.

Sharon Stone, guest of honour at de Grisogono's Eden Roc party, in de GRISOGONO High Jewellery earrings.

Renowned for her striking red-carpet looks, Fan Bingbing didn't disappoint on day two of Cannes. Wearing a pale yellow Eli Saab gown, she looked every inch the princess in stunning diamond earrings, bracelet and statement ring from Chopard.

Alyson Le Borges in decolletage-grazing earrings by Chopard.

A close-up of Chinese actress Ziyi Zhang in her Dior Couture and de Grisogono earrings.

Vidya Balan wore Amrapali jewellery to the 'Bombay Talkies' premiere at Cannes, including huge earrings.