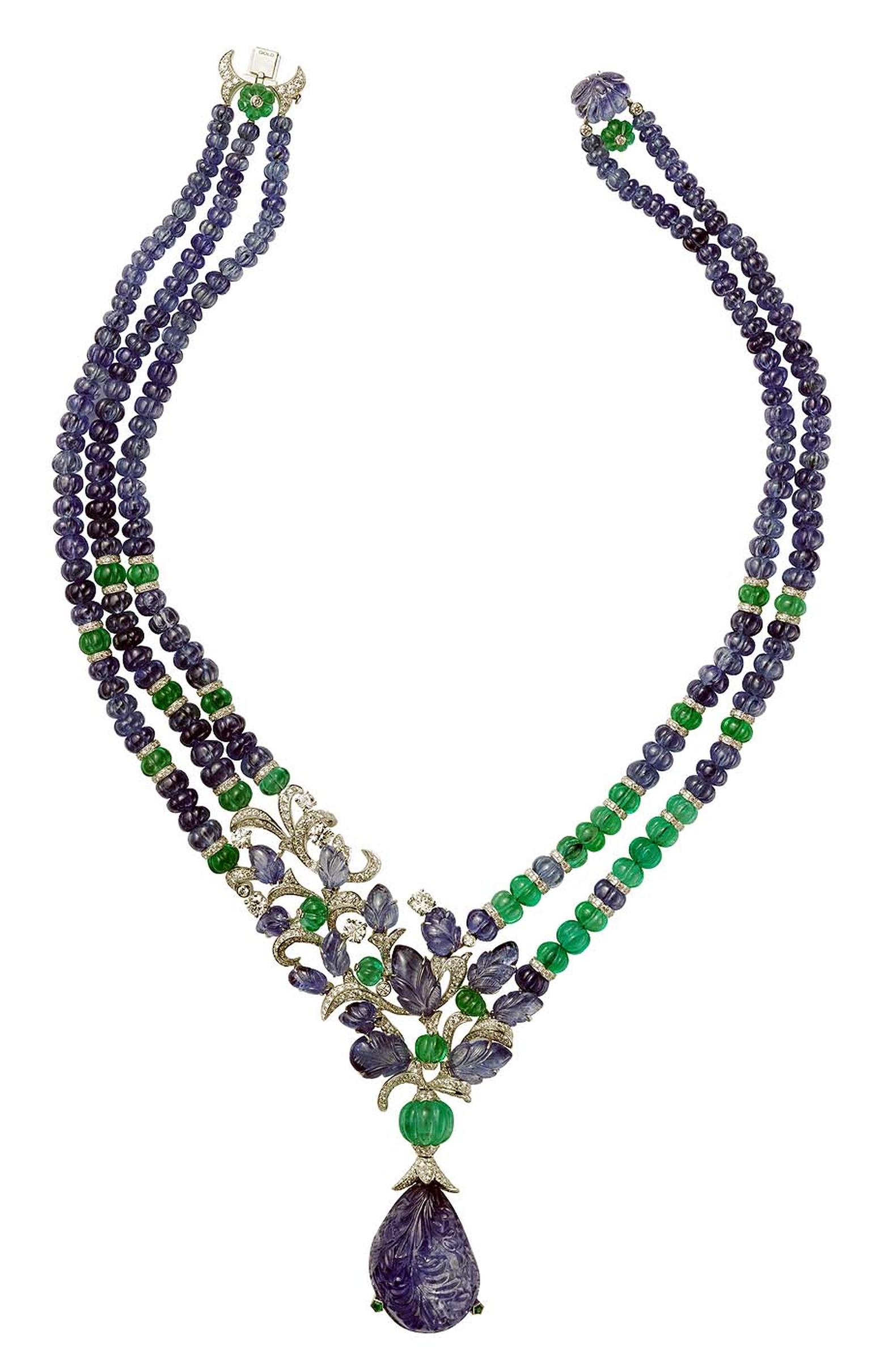 The year of the serpent has been alive with creativity as this selection of some of the most impressive one-off haute joaillerie creations shows.
The globe has been scoured for inspiration as well as the most rare and unusual stones. Out the window has gone the formal old-school hierarchy of diamonds, emeralds, rubies and sapphires and in its place is a wondrous world of shimmering hues and subtle or clashing colours, all singing out a new tune that is both beautiful and strange.
L'Odyssée de Cartier Parcous d'un Style, which took ancient themes, from African bead jewels to Moghul regalia, and gave them a new life coloured in unexpected hues, exemplifies this brave new approach to jewels. The importance of exceptional stones was evident in Van Cleef & Arpels' Pierres de Caractère jewels, which surprised with their extravagant use of stones, employing texture, shade and nuance with an artist's touch.
Boucheron's Hotel de la Lumière was an all-white homage to light with a futuristic edge, while Chanel roared into the limelight with its bold Sous le Signe du Lion jewels. Louis Vuitton trekked around the world to find some of the most surprising neon-bright tourmalines, zesty mandarin garnets, mysterious spinels and milky moonstones to conjure up a new vision of luxury. Dior continued a conversation in gems with Mr Christian Dior, with jewels that exploded with colour and life. And blue was the name of the game at Chaumet. The maison presented a collection of all-blue rings that weaved new forms from the Liens 'X' theme.
Bulgari, the house of colour, provided a feast for the eyes with lots of emeralds off-set with flashes of glossy red rubies. De Beers, meanwhile, presented another strong collection based on the power of nature with the Phenomena collection of diamond jewels. which harnessed the majesty of water in its many incarnations, from ice to crashing waves.
Tiffany & Co. launched a range of styles, from the Savoy headpiece made famous by Carey Mulligan in the film 'The Great Gatsby' to re-editions of Jean Schlumberger designs and a delightful butterfly with black opals and Montana sapphires. Chopard's most important statement was the Green Carpet Collection, the first high jewels ever to appear made with Fairmined gold - a clear indication of Chopard's commitment to sustainable and ethical jewels.
As well as the big, established names, other memorable jewels are worthy of a mention, including pieces by American house David Webb, pearl jeweller Yoko London, Asian wonder Cindy Chao, German master jeweller Hemmerle, Indian high jeweller Bina Goenka, the Genevan house Bogh-Art, artist extraordinaire Paula Crevoshay and the historical Parisian maison Mellerio dits Meller. And if this wonderful collection of jewels seems like the apex of wonder, hold back your gasps as 2014 will see another Biennale des Antiquaires, an event for which the jewellers hold their real fire power. 
Boucheron Hotel de la Lumière Perles d'Eclat white gold necklace with rock crystal bubbles and white diamonds.

Boghossian conch and cassis cornuta pearl earrings, set with diamonds and sapphires inlaid into mother of pearl.

Mellerio dits Meller pearl and emerald brooch from the Médici Collection.

Hemmerle earrings in white gold and copper, set with two amethysts and 202 purple sapphires (£POA).

Chopard's Green Carpet diamond bracelet, made from Fairmined white gold.

Amazona Colombia necklace by Cindy Chao, with over 100ct of fine Colombian emeralds, diamonds and yellow diamonds.

Van Cleef & Arpels Pierres de Caractère Rayons Précieux necklace in yellow gold, with round diamonds, gradation of round yellow sapphires and Mandarin garnets, and pear-shaped Mandarin garnets. The Rayons Précieux suite also incorporates a pair of earrings.

Four Seasons Collection Autumn Maple Leaves brooch with yellow and white diamonds by Cindy Chao.

Dragonfly Collection conch pearl and ruby brooch by Cindy Chao.

Tiffany butterfly brooch with black opals, Montana sapphires and diamonds in platinum, from the 2013 Blue Book Collection (£POA) - as worn by Gwyneth Paltrow at Tiffany's recent Blue Book Ball.

David Morris one-of-a-kind Wildflower necklace, with almost 300ct of faceted emeralds from the Maharajas and 50ct of white diamonds set in delicate flowers.

Paula Crevoshay "Pink Lady" gold pendant, set with a natural Abalone pearl, tsavorite garnets, pink spinels, rubies and opals.