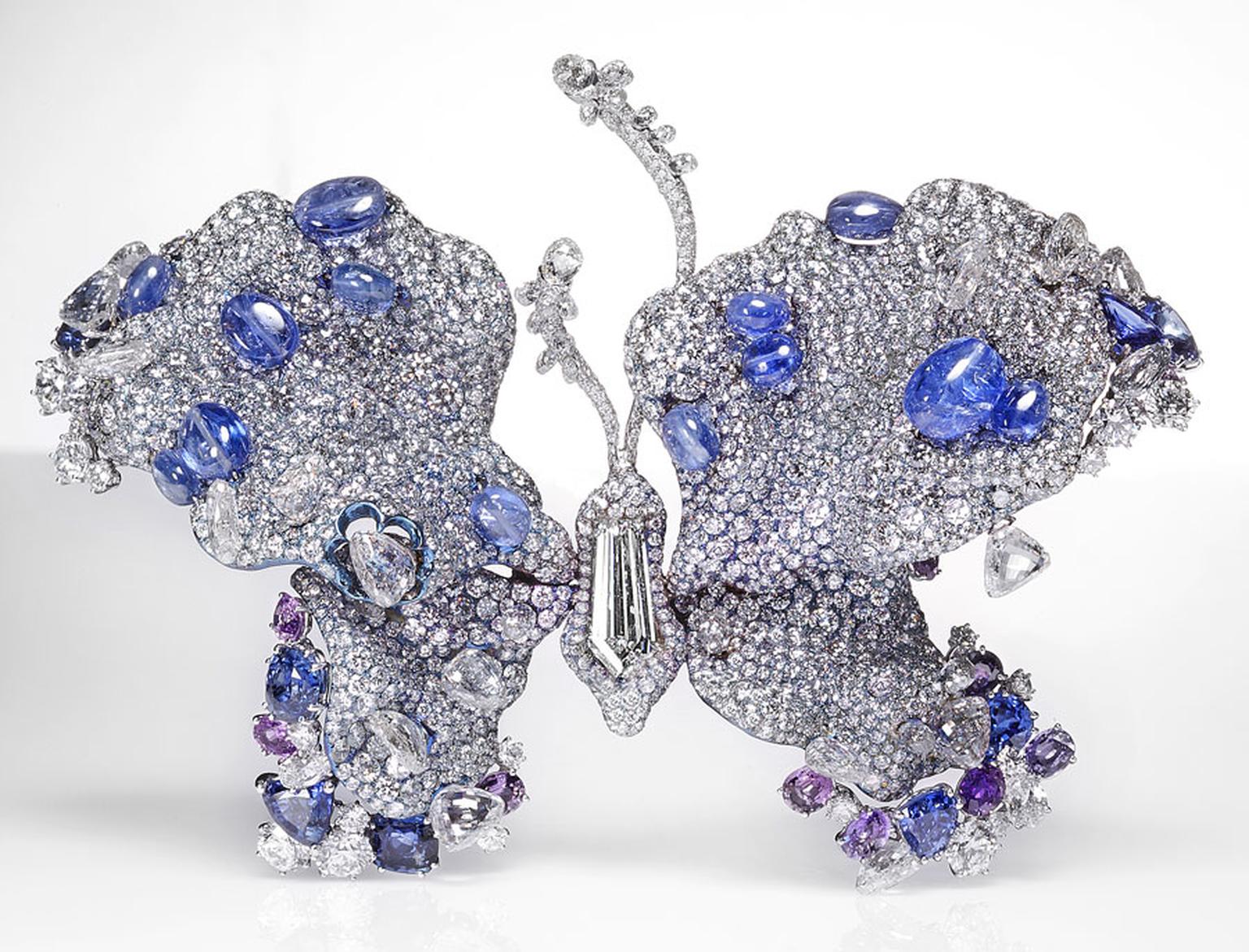 For the first time in her short career, Cindy Chao the Taiwanese jeweller presented 'The Art Jewel' during Paris Couture Week, a coming together of her work since 2008.
Many of the one-off creations on show were loaned by clients, allowing me the rare chance to see 14 of Chao's Black Label Masterpieces in one place, as well as jewels from her White Label collection.
One look at Chao's work confirms that these jewels are unique and exciting, a blend of highly original designs, impeccable craftsmanship and breathtaking stones. Each jewel seems to ripple with life: a leaf looks delicate enough to flutter with the slightest breeze and diamond-set ribbons fall as if made of silk. A butterfly has been caught in a moment of rest before taking flight, its wings shimmering with a powdery beauty. So meticulous is the stone-setting that a dragonfly appears to have been dipped in sugar crystals.
Chao learnt the art of carving - and she carves the wax model of each and every jewel herself - from her grandfather, a distinguished architect of Chinese palaces. Her father is a sculptor and appears to have passed on to his daughter an artistic approach to creating jewels. Her jewels are miniature sculptures that can be appreciated from all angles. Even the back of her jewels are beautiful to looks at.
 "The day I picked up tools to sculpt my first piece of jewellery, I felt free," says Chao. "An invisible force was guiding me. My hands work smoothly and I become the wax I am sculpting. The piece begins to take on the form of the emotions I feel in my heart, and this unique vitality is what I want to present to the world. I sincerely wish that through my hands, and the love for art that has saturated my whole being, I could turn every piece of jewellery into a miniature piece of art."
Chao's work has been recognised as exceptional by both her followers and experts in the auction world. Her bejewelled 'Solstice' azalea cuff sold at Christie's Hong Kong auction in 2011 for US$465,000, and in 2012 her Black Label Masterpiece butterfly sold for close to US$1 million. Another of her butterflies, the Royal Butterfly - her 2009 Black Label Masterpiece - is in the permanent collection of the Smithsonian Museum in Washington.
The newer jewels are studded with lush green emeralds. When I asked Chao if she liked emeralds, she clarified that she only likes very good emeralds and showed me a pair of earrings made from the largest pear emeralds in the world, which were cut from a 500ct rough. 
The theme of this year's Masterpiece is the sea, which came to Chao after her one and only snorkelling experience. Look out for images of this collection, which is yet to be revealed to the public, though I did have a brief look at this year's Masterpiece, and all I can say is that it is marine and took my breath away. And you will be curious to know that, while surrounded by the other-worldy force of Chao's jewels, she was not even wearing a ring or npair of earrings. 
Amazona Colombia necklace by Cindy Chao, with over 100ct of fine Colombian emeralds, diamonds and yellow diamonds.

Ribbon Collection diamond earrings by Cindy Chao with diamonds, yellow diamonds and rose-cut diamonds.

The Genesis Collection emerald ring by Cindy Chao bulges and writhes like a living, evolving primitive lifeform.

Cindy Chao's Genesis Collection diamond bangle from 2012 has soft organic and fluid lines, despite being heavily set with different-sized diamonds.

A variation of the Genesis Collection diamond bangle in yellow gold by Cindy Chao.

Four Seasons Collection Autumn Maple Leaves brooch with yellow and white diamonds by Cindy Chao.

Four Seasons Collection emerald brooch by Cindy Chao.

Dragonfly Collection conch pearl and ruby brooch by Cindy Chao.

Cindy Chao the Taiwanese artist jeweller presented 'The Art Jewel' during Paris Couture Week, a coming together of her work since 2008.

Cindy Chao 2012 Black Label Masterpiece butterfly brooch. Sold for US$954,102, from an estimate of US$206,035-$253,582.