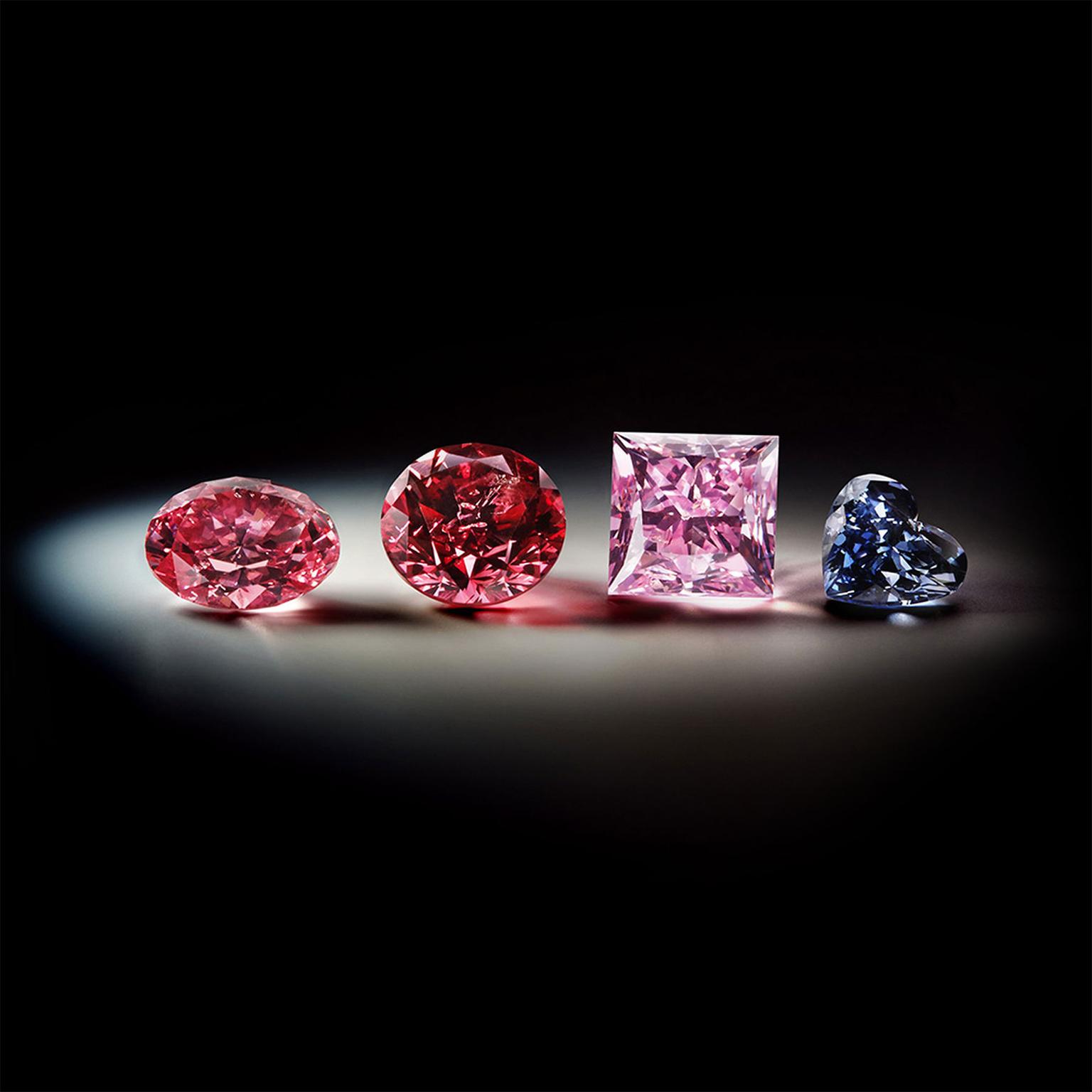 Colour was a strong trend for jewels in 2013, and brightly hued diamonds were no exception. Rio Tinto, the owner of the Argyle mine in Australia, reported record prices paid at its annual auction of cream-of-the-crop red and pink diamonds, and auction houses were the scene of unprecedented bidding for some of the rarest pink, orange and blue diamonds.
The fascination with coloured diamonds sent ripples through the jewellery world, witnessed in an increased offering of pink, blue and yellow diamonds. And, in some cases, even very unusual green diamonds, as seen in Tiffany & Co's 2013 Blue Book collection and at Indian jeweller Nirav Modi.
Perhaps the most extravagant coloured diamond statement was the release of Graff Diamonds' photograph of a model wearing half-a-billion dollars worth of diamond jewels in her hair, a recreation of a 1970s shot in which a model wore a relatively modest million dollars of jewels in her hair. However, Graff's more recent photograph included several coloured diamonds. Set about the model's hair were 22 jewels, including a 10.47ct Fancy Vivid Blue internally flawless briolette diamond pendant, a spectacular 52.73ct Fancy Vivid Yellow emerald-cut diamond ring and a 6.51ct Fancy Intense Pink internally flawless diamond ring. With this amount of coloured diamonds, it is easy to see how the value of the jewels soon escalated to 500 million dollars.
Other memorable coloured diamond jewels from 2013 from around the world include Taiwanese jeweller Ann Lin's sunlight-bright yellow diamond Caesar ring and, from Geneva, Bogh-Art's airy and light orangey-pink diamond ring. David Morris the London jeweller presented one of the most charming coloured diamond jewels of the year: a Butterfly ring sparkling with life, the pink and yellow diamond wings of two butterflies hovering over the hand. 
Graff pink diamond solitaire - a very special engagement ring.

From The Great Gatsby collection by Tiffany & Co, this daisy brooch features a fancy intense yellow diamond set in platinum.

Graff brooch with yellow diamonds that can be clipped on to an Alice band to make a beautiful jewel for the hair.

The Graff pink and white diamond flowers from this multifunctional flower and stem brooch can also be worn in the hair.

Graff's coloured diamond pendant features a Fancy Vivid yellow, orange and grey diamond.

The Graff diamond pendant necklace is set with a 10.47ct Fancy Vivid Blue Internally Flawless briolette diamond.

Martin Katz ring set with a fancy pink cushion-cut diamond with surrounding pink and white diamonds.

Graff emerald-cut Fancy Vivid Yellow diamond ring, set with further white diamonds.

Graff's 6.51ct emerald-cut Fancy Intense Pink oval cut diamond ring is flanked by two pear-cut white diamonds.

Graff's diamond peacock brooch is set with one of the world's largest blue diamonds, valued at around $100 million.

David Morris Butterfly ring, set with white, blue, pink and yellow diamonds, from the Butterfly and Palm Collection.

The 10.06ct Royal Blue Diamond, Type IIb VVSI clarity, one of the rarest blue diamonds in the world and being sold by M. S. Rau Antiques.