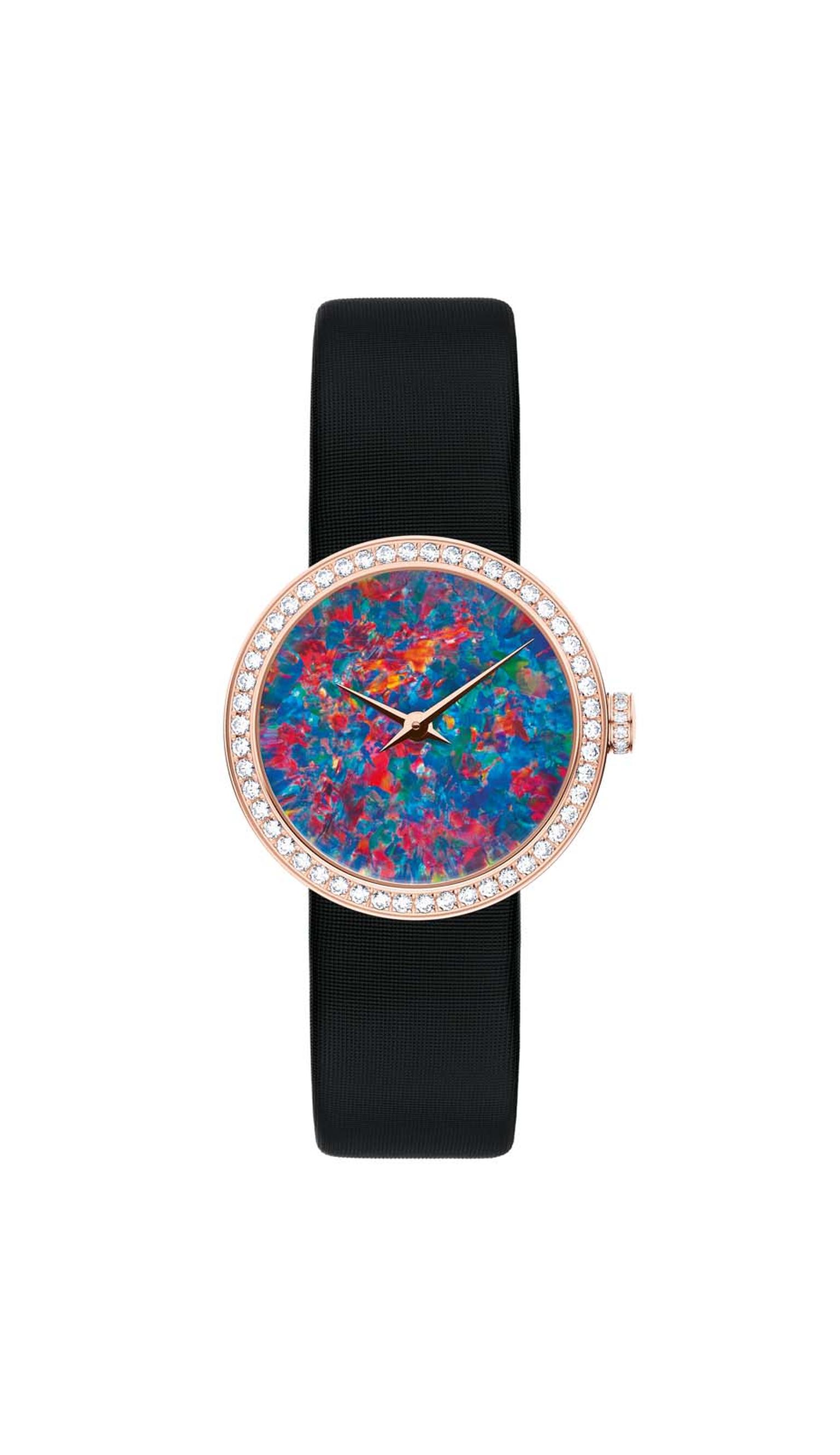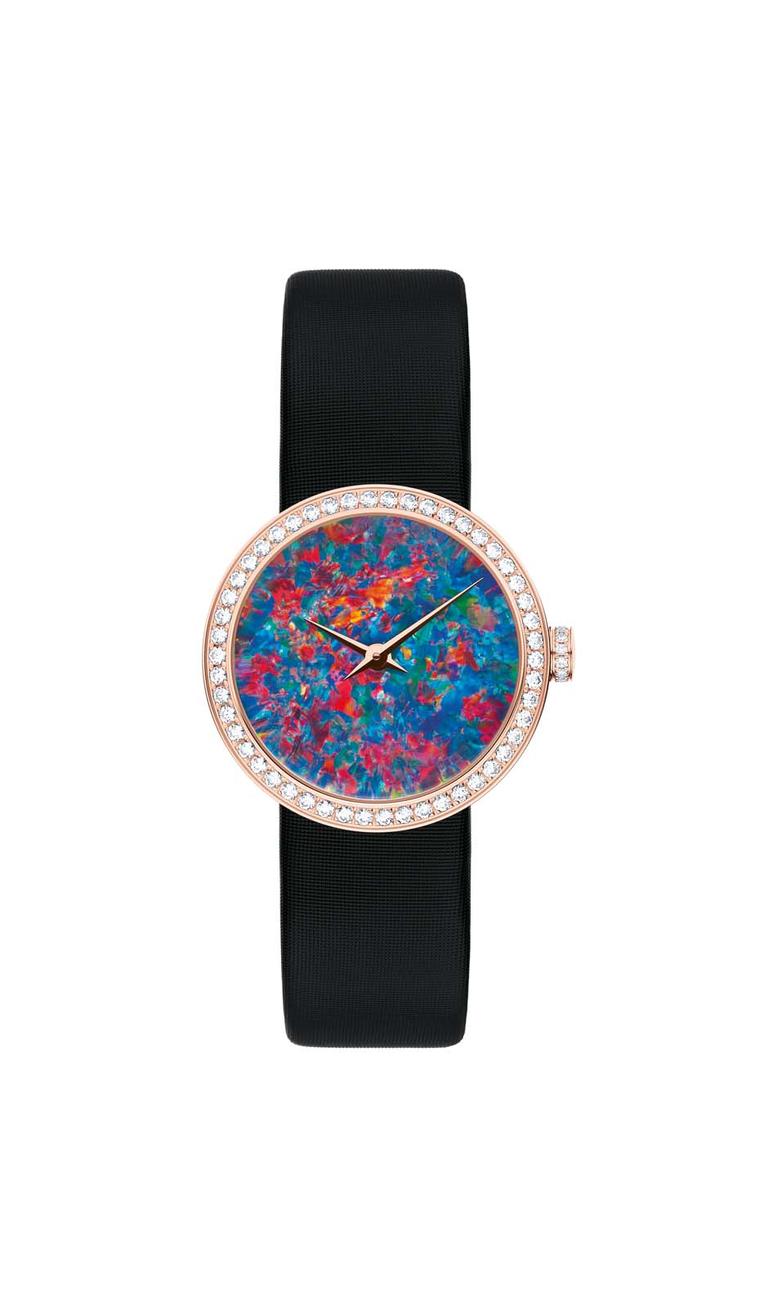 By Rebecca Doulton
Piaget has managed to capture the mood of the groovy 1970s like no other brand with its Extremely Piaget high jewellery collection, which includes ladies' watches with kaleidoscopic stone dials. Thanks to their almost mystical presence and ever-changing mood, opals figure predominantly in the collection. The cuff watch in white gold, snow-set with 1,699 brilliant-cut diamonds on its elongated spherical cage, features a stunning natural blue opal dial with flecks of orange, pink, green and purple. Another dramatic cuff timepiece from Piaget watches features an opal the colour of the Mediterranean, caressed by waves of snow-set white gold loops.
Read about the Extremely Piaget high jewellery collection here
Selecting the right stone for opal watches is more complicated than it seems. Rough opal does not look very enticing and is sold in parcels, which are then sorted by buyers who have to guess the value of the stone from its external appearance. It is an unpredictable world and, after cutting it into rubs, only then will the buyer see whether the opal stone is of any value. A professional stonecutter will then cut, grind and polish the material to the exact thickness - usually a matter of millimetres when it comes to dials - taking extreme care not to fracture the opal or expose it to heat because of the stone's innate water content.
The amazing colours that swim within opals are thanks to tiny spheres of silica in its composition. When light hits the opal, it is broken into colours in a scientific phenomenon known as diffraction. It is easy to understand, then, why opals are considered by many gemologists to be the fifth precious stone, along with diamonds, emeralds, sapphires and rubies.
View our gallery of opal jewellery here
When Victoire de Castellane dreamed up the La D de Dior watches in her 2013 collection, her inspiration gravitated back towards the 1970s, with a creative use of semi-precious stones, bold colours and fanciful forms. Over recent years, the collection has been enhanced with opal stones, such as this mini 21mm D de Dior Précieuse watch with a white Australian opal glinting with fiery pink reflections. Needless to say, opal watches look absolutely amazing when combined with the purity of white diamonds on the case, bezel and crown, sparkling with beautifully set diamonds. 
Looking at the 38mm opal watch from La D de Dior is like looking at an Impressionist painting. The imagination runs wild, and the dial evokes everything from a field of blue and red flowers to a stained glass window. The white Australian opal is offset with slender rose gold hands, and the bezel and crown of the rose gold case is set with diamonds. Unlike many ultra-thin high jewellery watches that run on quartz, these particular opal watches are equipped with an Elite manual-winding calibre made especially for Dior by Zenith.  
Luckily, men have not been overlooked in the renaissance of opal watches and the Louis Moinet watches in white gold, measuring 47mm, from the stunning Treasures of the World collection, fit the bill perfectly with their Australian opal and openworked dials with tourbillons.
La D de Dior Preciéuse 21mm high jewellery watch in white gold with an Australian opal dial surrounded by diamonds.

Extremely Piaget watch cuff in white gold with diamonds and an opal dial.

Cuff timepiece from the Extremely Piaget high jewellery collection in white gold with a natural blue opal dial and 1,699 brilliant-cut diamonds.

Louis Moinet opal watch from the Treasures of the World collection featuring an Australian opal dial, a tourbillon and an open-worked mainspring in a white gold 47mm case with 56 baguette-cut diamonds.

La D de Dior one-of-a-kind ladies' watch in pink gold with an Australian white opal stone dial surrounded by a diamond-set bezel and crown.