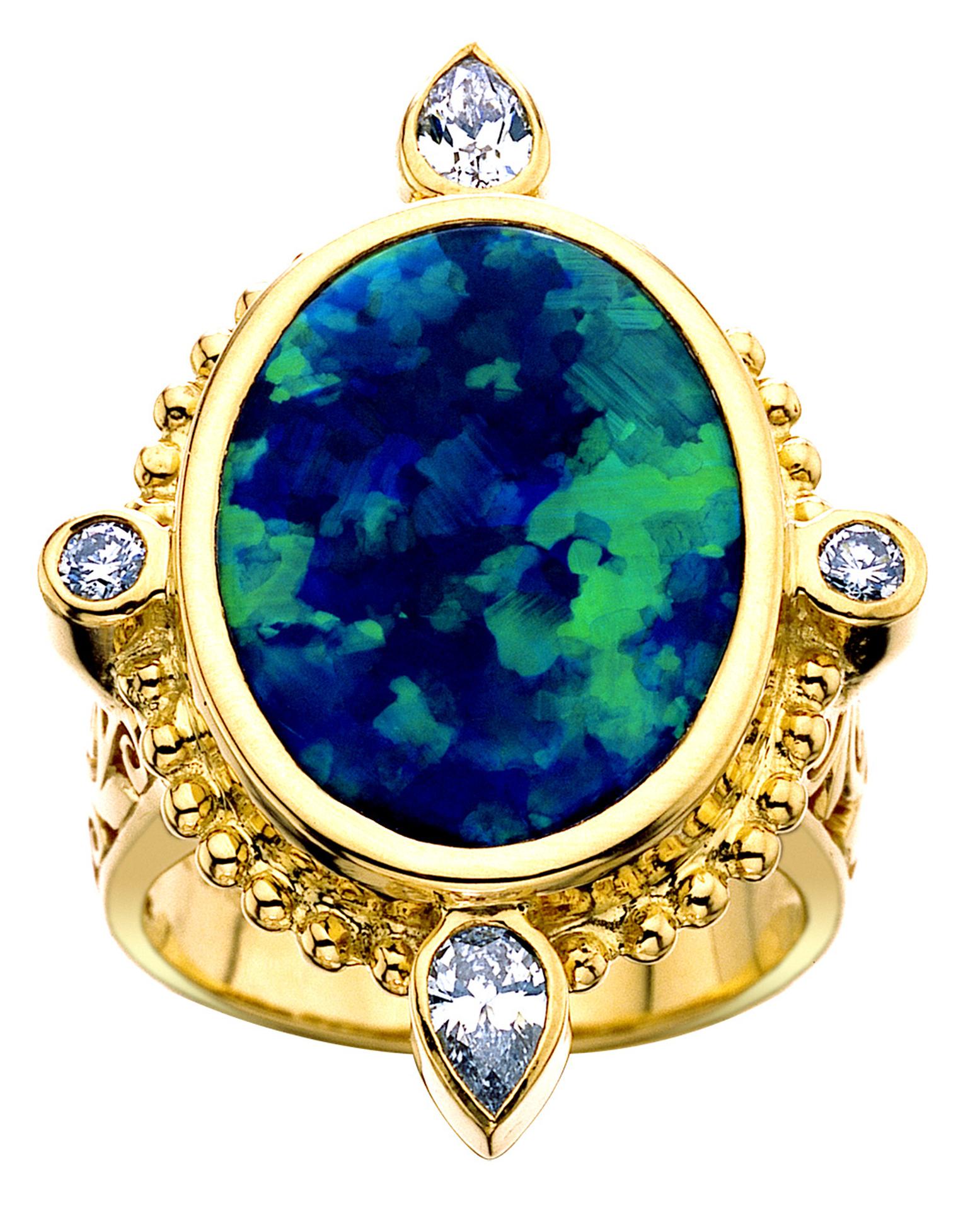 By Claire Roberts in London
Opals have been the surprise hit of 2013. They have starred in two of Louis Vuitton's high jewellery collections. They formed the wings of a Tiffany & Co. Blue Book butterfly brooch, as worn by Gwyneth Paltrow on the red carpet. They became the centrepiece of Parisian jeweller Lydia Courteille's whimsical new Under the Sea collection. They have been carved into the shape of a tulip and set into haute joaillerie of the highest order at Bogh-Art. They have even appeared on cufflinks by Theo Fennell and watch faces at Piaget and Dior.
The fascinating thing about the opals we have seen this year is the sheer variety. Opals are unique - no two opals are the same, even if they originate from the same place. The black Lightning Ridge opal in Paula Crevoshay's Black Beauty ring resembles an Impressionist painting, while the black Australian opal in Louis Vuitton's Voyage dans Le Temps ring glows with an extra-terrestrial light.
We met London-based jeweller Ornella Iannuzzi at the Goldsmiths' Fair earlier this year and had fun trying on her Ethiopian Wello opal rings, with rivers of neon flowing within. And let's not forget Irene Neuwirth's hot-hued Mexican fire opals, burning bright on rings and earrings, or the pink opals on Chopard's Red Carpet Collection necklace and earrings, perfectly carved to resemble ripe fruits.
Several jewellers have put into words the unique appeal of opals on The Jewellery Editor this year. In an interview with the pioneering artist-jeweller Paula Crevoshay in June (read more here), she divulged that "I do use some [gemstones] more than others, such as Oregon opals, in fact all opals on Earth as they are so painterly. I often say my opals look like Monet hand-painted them."
LA native Irene Neuwirth, meanwhile, is one of the largest opal collectors in the world (read more here). She started using boulder and Lightning Ridge opals from Australia long before they became fashionable because, she told us, "They look like the bottom of the sea. They're really precious and unusual, and every one is one of a kind."
Lydia Courteille Under the Sea brooch with opals, sapphires, amethysts and a diamond.

This pear-shaped sapphire has been inlaid into a tulip-shaped opal to create this stunning necklace from Boghossian.

Lydia Courteille Under the Sea brooch with opals, sapphires, amethysts and diamonds.

Fernando Jorge "Shock" ring from the Electric Opals collection.

Annie Fensterstock opal cuff.

La D de Dior Preciéuse 21mm high jewellery watch in white gold with an Australian opal dial surrounded by diamonds.

One-of-a-kind Irene Neuwirth earrings in rose gold with mixed Mexican fire opals and Boulder opal drops.

K Brunini Twig cuff in yellow gold with large opal and 0.51ct diamonds ($39,920).

Piaget Altiplano watch in white gold, with an opal face surrounded by brilliant-cut diamonds.

One-of-a-kind Irene Neuwirth earrings in rose gold with mint chrysoprase, Mexican fire opals, Lightning Ridge opals and rose-cut diamonds.

Tiffany butterfly brooch with black opals, Montana sapphires and diamonds in platinum, from the 2013 Blue Book Collection (£POA) - as worn by Gwyneth Paltrow at Tiffany's recent Blue Book Ball.

Louis Vuitton white gold ring, set with a mandarin garnet, opals and diamonds, from the Chain Attraction collection.