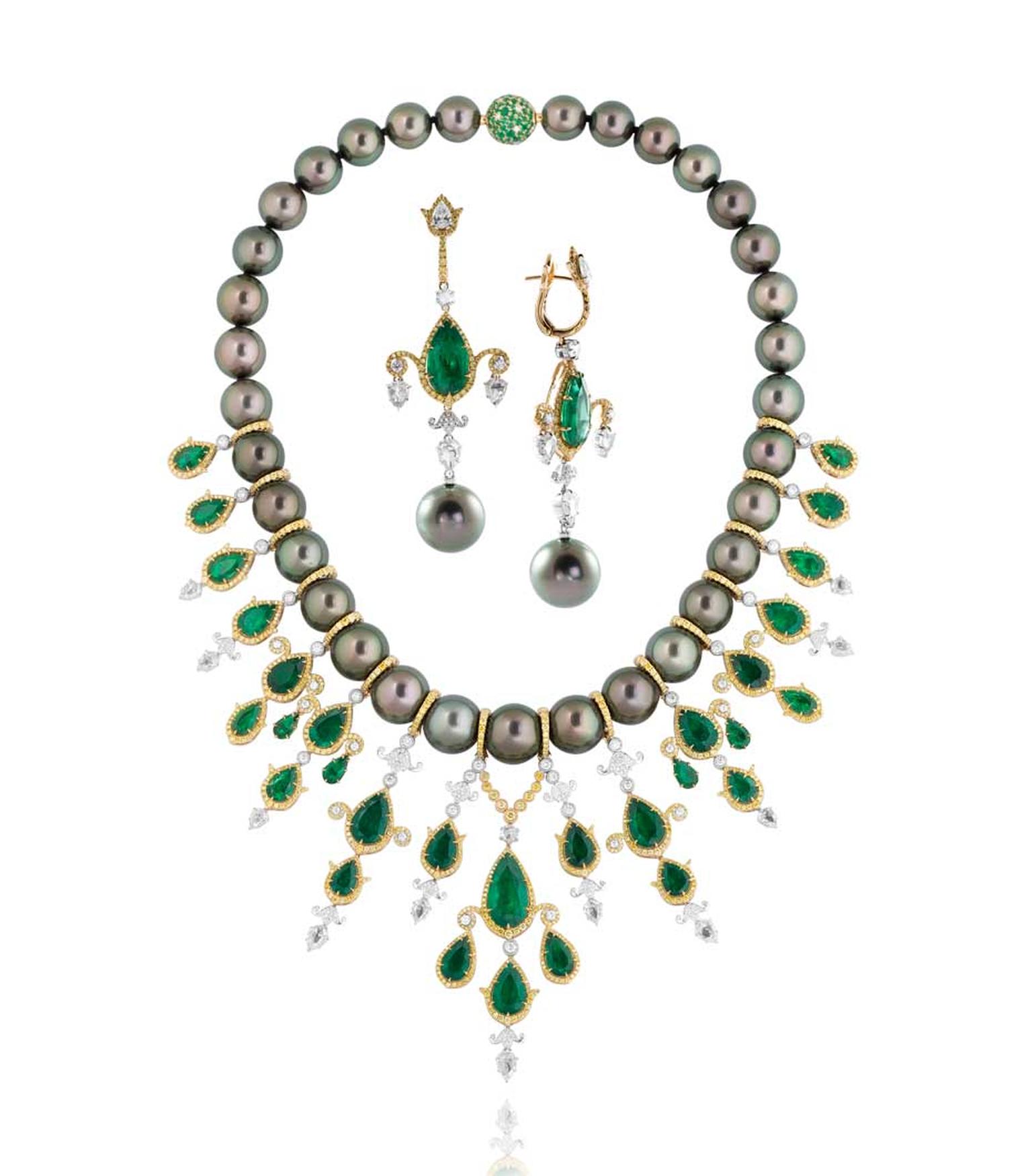 By Åse Anderson 
With less than a week to go until Baselworld 2015, the world's biggest event for the jewellery and watch industry, more than 1,500 brands from 40 countries are preparing to showcase their very best watches and jewellery to a captivated audience. 
As always, more than 150,000 visitors will be stunned by the array of luxury jewellery on display, turning the 141,000 square metre exhibition space into a sparkling haven of diamonds, pearls and precious stones. 
One of the highlights is set to be this ornate sapphire and diamond Graff brooch, with a cleverly concealed secret watch. The brooch, which can be worn in three different ways, is set with more than 330 carats of sapphire beads, which have been meticulously matched by size and colour before being threaded onto the tassels, one by one. Embedded within the cascading tassels is a tiny pavé diamond watch face suspended from a platinum chain. 
We will be making a beeline for Mikimoto during our visit, where last year a perfectly graduated Sun & Clouds pearl necklace stopped passers-by in their tracks. This is where we first spotted the trend for combining pearls with coloured gemstones, and this year promises more exciting colour combinations, including this pair of Hyacinthia earrings, which contrast baroque pearls with polished uncut tanzanites.
Yoko London will unveil a stunning pearl necklace and earrings set at Basel next week that combines natural pearls in luminous tones of blue, grey, lilac, pink and purple with coloured gemstones and diamonds. Both pieces are crafted from black gold to create a sleek and contemporary look that represents one of the key trends in Yoko's fine jewellery collections this season. 
The new pop art-inspired additions to Chopard jewellery's iconic Happy Diamonds collection will enchant even the most seasoned Basel visitor. In rose or white gold, the pendants, earrings and rings capture the beauty and freshness of spring blooms, with diamond-encrusted petals surrounding the signature twirling gem. 
The trend for coloured gemstones shows no sign of abating and several brands have incorporated vibrant stones into their high jewellery collections for Baselworld 2015. Renowned for its glamorous and unique jewellery, Sutra's red-carpet-worthy pieces have been worn by the likes of Rihanna, Katy Perry and Halle Berry. This emerald ring with matching earrings taps into the current appetite for Colombian emeralds, while other pieces of Baselworld jewellery that will be debuted at the show feature rubies from Mozambique. 
View our gallery of Sutra jewellery set with supersized stones here
Rose gold was everywhere at Basel last year, and while the organisers are predicting a resurgence of yellow gold, we can still expect to see an abundance of jewels in this pink-hued precious metal, such as this rose gold Mattia Cielo bracelet. Part of the new Pavone collection, the bracelet consists of several articulated rings in plain rose gold or set with pavé diamonds, which move together in a wave-like motion on the wrist. 
British jeweller Stephen Webster has created a fine jewellery collection inspired by the famous Cheapside Hoard, which was uncovered from under the floorboards of a shop in London more than a century ago. Dating back more than 300 years, the buried treasure included some of the most exquisite examples of 16th and 17th century jewellery ever seen, and is now on display at the Museum of London. Entitled Gold Struck, Stephen Webster's fine jewellery collection combines ancient jewellery techniques with modern design, and pays homage to the vibrant palette of the Cheapside Hoard with a myriad of coloured gemstones from amethyst and tanzanite, to fire opals and emeralds. 
Read about the Cheapside Hoard - the inspiration behind the new Stephen Webster jewellery collection - here
For London-based Jewellery Theatre, "each collection is a drama in itself, and each piece an actor in its own character". If this mesmerising Kaleidoscope pendant is anything to go by, visitors to Baselworld 2015 should definitely grab a front-row seat for the rest of the collection. 
Finally, another jeweller on our must-see list at Basel is last year's Couture Design Awards finalist Alessio Boschi, whose innovative pearl and gemstone creations are always a feast for the eyes.
Watch out for our updates from Baselworld, starting next week.
Pop art-inspired floral diamond earrings - the latest addition to Chopard's new Happy Diamonds collection - in white or rose gold, set with a floating diamond in the centre surrounded by 19 diamonds.

Chopard floral diamond necklace in rose gold, set with a floating diamond in the centre surrounded by 19 diamonds, new to the the Happy Diamonds collection.

Hidden behind the sapphire bead tassels in Graff's one-of-a-kind jewel is a tiny secret watch with a pavé diamond face.

The diamond and sapphire beaded tassel secret watch from Graff is a transformable piece that can be worn in three ways: as a single piece, as individual brooches or as a single tassel brooch.

More than 330ct of sapphires and 40ct of diamonds have been used in Graff's transformable brooch/secret watch.

Jewellery Theatre Kaleidoscope pendant in white gold, set with white and coloured diamonds, rubies, sapphires, spinels and tsavorites.

Mattia Cielo bracelet in rose gold with white pavé diamonds from the new Pavone collection.

Stephen Webster 'Gold Struck' Crystal Haze Two Finger Ring in rose gold set with Rhodolite garnet, ruby, amethyst and amethyst over hematite from the new Gold Struck collection, which was inspired by the Cheapside Hoard.

Sutra Colombian emerald earrings with diamonds in white gold.

Sutra Colombian emerald ring with diamonds in white gold.

Mikimoto Hyacinthia earrings with baroque South Sea cultured pearls, tanzanite and diamonds.

Yoko London pearl necklace in black gold, with 10-13mm natural colour Tahitian and freshwater pearls, diamonds, blue sapphires, pink sapphire and amethysts.