Dominating every window display at the Geneva watch show this January, there was no doubt that Cartier's main launch for 2017 is the Panthère watch. And what's more, for the first time the Parisian luxury maison is launching the watch collection online in partnership with London-based Net-a-Porter, which has exclusive rights for the month of May.
This new approach to e-commerce signals a shift in strategy at Cartier, the flagship brand of the Richemont Group that has, until now, been shy of selling on third-party e-commerce platforms. Going in with a bang, 10 of the 14 variations in both gold and steel, with or without diamonds, are now for sale in Net-a-Porter's pop-up shop.
A slender profile, finely honed links and case as well as the trademark Cartier details, such as the sapphire cabochon on the crown, add to the appeal of the new Panthère watch. 

Presented in two sizes, small and medium, the new Panthère de Cartier watch comes in a wide array of options to suit different tastes and budgets.

The Panthère de Cartier watch strap is made up of finely honed links for maximum comfort and flexibility. 
The Panthère is an ideal candidate for this fledgling e-commerce partnership. Familiar yet revamped, at first glance you may wonder what is new about the Panthère as it is uncannily close in looks to the Cartier Santos Demoiselle, a 1980s favourite that quietly faded out of existence. Unjustly so as its reincarnation – albeit with a sexier name – reminds us that the Santos D was a winner.
The Panthère is an easy-to-wear, all-quartz, all-metal, all-round crowd-pleaser that is set to become a staple of Cartier's offering, with prices starting at £3,200. Arnaud Carrez, Global Marketing Director of Cartier, explained at the presentation in Geneva: "We want to give value to our clients with extremely competitive pricing, which is part of the essence of Cartier."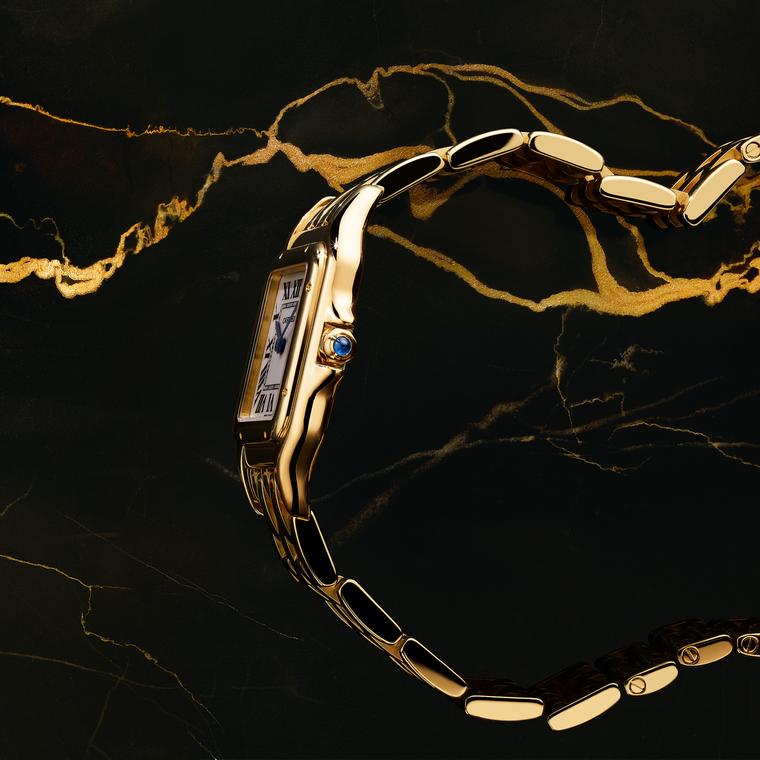 The Panthère takes the best of the Santos and hones it down into a slender, smooth little number that slips onto the wrist with the ease of bracelet. The square face, exposed screws, Roman numerals and link bracelet are all still very much part of the design but upgraded for a new audience. "This watch is a good opportunity for us to engage with many audiences and, in particular, a young generation," explains Mr Carrez. "We are going to present the Panthère as a fashion accessory."
Available in stainless steel or white, yellow or rose gold, the Panthère was born to drape its flexible links around the wrist. Versions include the three different colours of gold and stainless steel models in two different sizes, as well as a mix of steel and gold. A selection of diamond settings allows for more or less glamour and one stand-out design mimics the spots of a panther in diamonds. Mr Carrez explains: "The Panthère is at the crossroads between a jewel and a watch. We don't want to launch it as another watch – we are presenting it as a piece of jewellery." Mr Carrez suggests that women will like to wear it loose like a bracelet or with a stack of Cartier bracelets.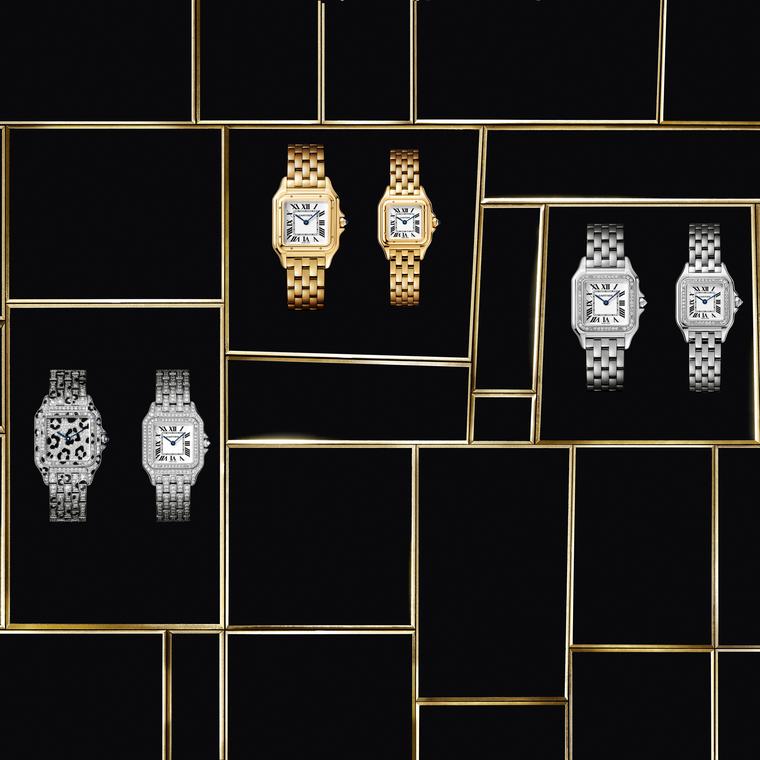 Cartier is betting big on the big cat and the Net-a-Porter collaboration is an astute initial step. Given the easy-to-digest design and competitive pricing, the Panthère is an ideal first toe in the water into expanding online sales with e-retailers and engaging with Millennials.