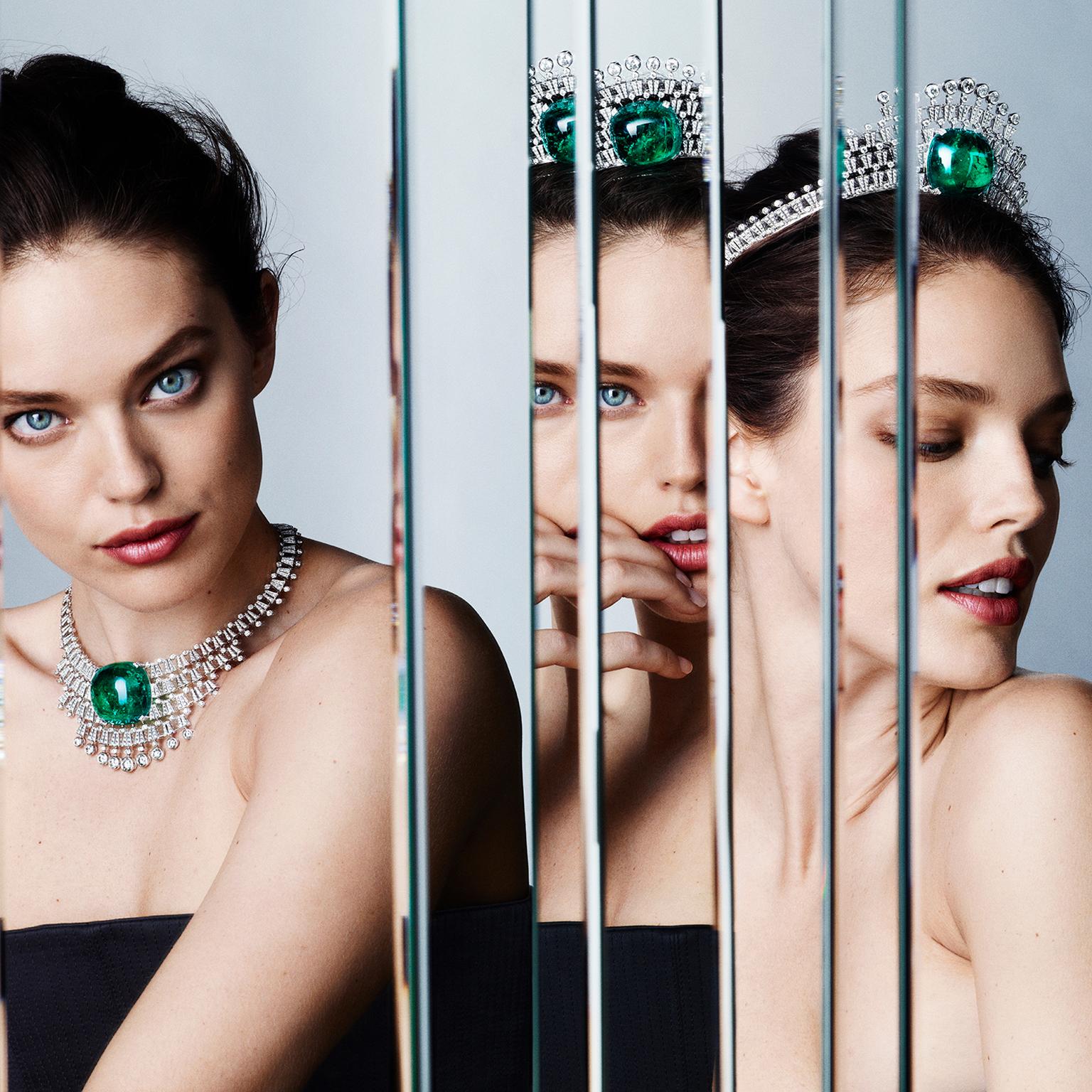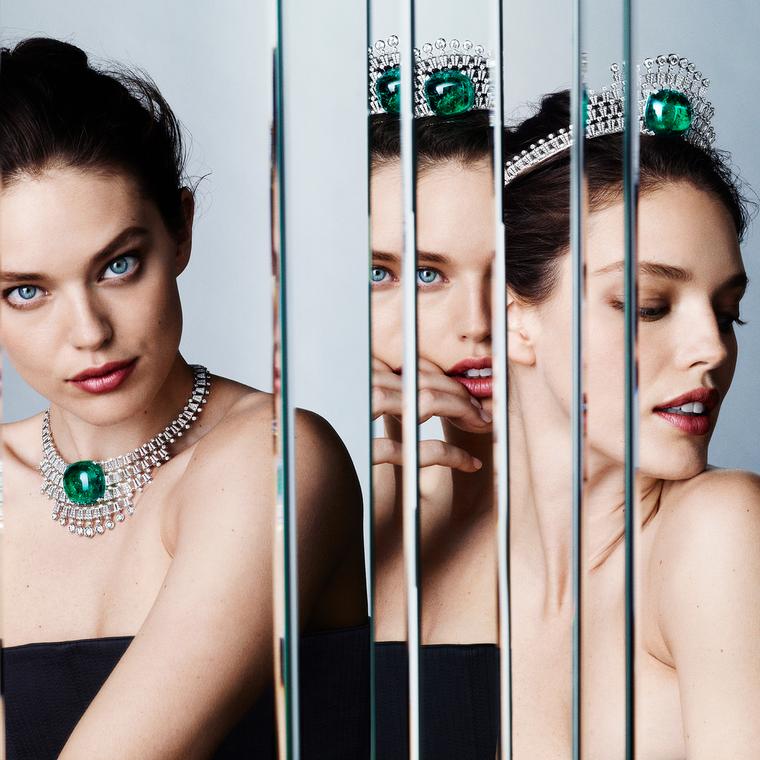 It's no exaggeration to say that Cartier makes exceptional jewels for strong women. Think of the Duchess of Windsor's sultry Panther brooch or María Félix's menacing snake and ferocious crocodile necklaces. And looking at Cartier's new Résonances collection, it is clear that the Parisian maison carries on the tradition with a new collection of powerful yet abstract one-of-a-kind jewellery statements. 
The Orbite ring features two unusual half-moon shaped diamonds of approximately 5 carats each bound by white gold bands set with rubies and diamonds. 

Brave new ways with jewellery are expressed in Cartier's Résonances high jewellery collection as seen in the Twisting Light bracelet in white gold with 4.72 carats of triangular diamonds on the two tips alone. 

The Eurythmie bracelet from Cartier's Résonances high jewellery collection changes colour with every move of the wrist. Set with lapis lazuli on one side and diamonds on the other, the two-faced, articulated discs flip over. 

Cartier's one-of-a-kind Rhythmic diamond necklace from the Résonances collection transforms into a brooch. At its heart is a 10.08-carat kite-shape diamond set in platinum with more diamonds bringing the total weight to 54.43 carats.

A trail of diamond-set platinum V shapes fan out from the central kite-shape diamond in the Rhythmic necklace from Cartier's Résonances collection of high jewels. 

A 2.73-carat black pear-cut diamond sits at the centre of the Carbonado ring from the Cartier Résonances collection, swathed in rhythmic swirls of black lacquer and yet more diamonds.

Ecume, meaning foam in French, sends a spray of yellow and white diamonds and pearls across the skin in this light-filled necklace from Cartier's Résonances high jewellery collection. 

The Ecume necklace, a light-as-air composition of diamonds and natural pearls, is from Cartier's Résonances collection of high jewels. The three Fancy yellow briolette-cut diamonds total 74.42 carats.

Cartier sets a majestic 140.21-carat cabochon-cut emerald amongst rows of dozens of geometrically arranged diamonds in the Résonances Hyperbole jewel, which transforms into a tiara.

A tiara for changing times as demonstrated by the multi-function diamond and emerald Hyperbole jewel, which can be worn two ways. The stark simplicity of the geometric design highlights the raw beauty of the impressive emerald. 
The frames of the Résonances jewels are designed to resonate the beauty of the stones they hold. Inspired by the waves of light or ripples of colour that a brilliant gemstone emits when it catches the light, or the sharp-edged flashes of fire a diamond throws out, each design is an echo of the beautiful stone it has captured. Strong graphic lines, bold repetition and a brave starkness mark these very contemporary-looking jewels. The names alone conjure up a futuristic planet where Twisting Light, Carbonado and Hyperbole shine out their eternal light.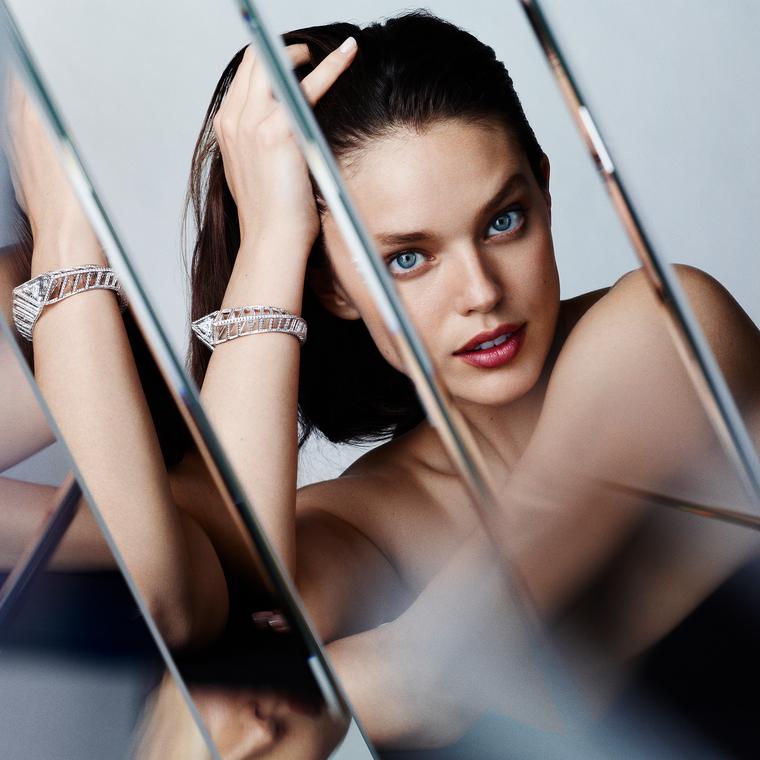 Movement flashes through these precious metal and gemstone creations. Tiaras transform into necklaces, necklaces deconstruct to become brooches and pearls, and yellow and white diamonds fall on the skin with the lightness of foam. With a flick of the wrist, the Eurythmie bracelet changes its colours from royal lapis lazuli to shimmering diamonds thanks to dozens of hinged double-sided discs that flip back and forth with every move. 
With the arrival of Résonances, Cartier reminds us that jewels can be intriguing, impressive and elusive.