Cartier has been creating precious blooms since the earliest days of the house, and this season it has turned its attention to the current plant du jour, the succulent. In a twist on the Parisian jeweller's usual choice of delicate flowers, the new Cactus de Cartier collection recreates a blossom that is beautiful yet untouchable.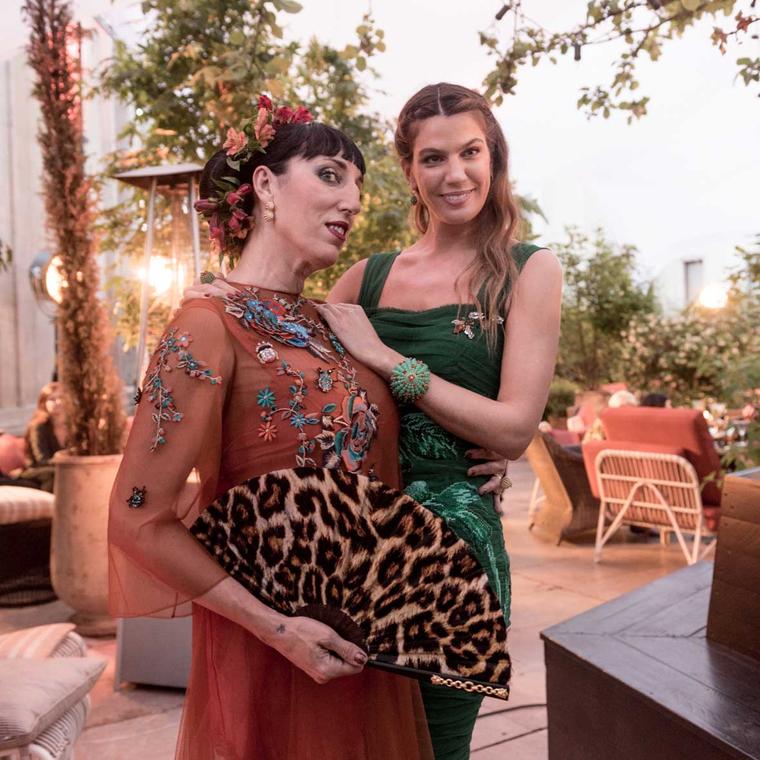 To celebrate the launch of the new collection, Cartier threw a party  at the Palais de Tokyo in Paris, where guests enjoyed dinner prepared by twice Michelin-starred chef José Avillez followed by cocktails on the terrace, live music courtesy of soul sensation Theo Lawrence, a DJ set from Mimi Xu and the chance to see the new collection up close. Walking through sculptural sand dunes set the scene for the jewellery installation, with cubes, backdropped by desert hues, showcasing the jewels in sultry style. Italian socialite and Cartier ambassador Bianca Brandolini accessorised her green dress with one of the most impressive pieces from the collection: an oversized chrysoprase, emerald and carnelian cuff.
The jewels within the Cactus de Cartier collection are bold, with shapes that are at once geometric and sensuous, spiky and soft, and decorated with vivid shades of gemstones set in warm yellow gold that captures the heat of the desert. This is certainly not jewellery for wallflowers.
The modern collection can be split into distinct design avenues, the boldest of which are large, sculptural designs adorned with emerald, chrysoprase and carnelian beads. These jewels represent the cactus in full bloom, which often only happens at night, a metaphor that will appeal to those seeking out new evening jewels.
Taking inspiration from the cacti's want to close up its flowers at daybreak, Cactus de Cartier also includes a large collier and ring made from highly polished yellow gold beads set with tiny diamond flowers and miniature emerald beads that look like the tips of blooms poking out of closed buds.
Lapis lazuli beads are used to crown another, more architectural, line of jewels within Cactus de Cartier that offer generously proportioned cocktail rings and cuffs adorned with great domes of textured gold. On top of these structures, which look very much like the tips of the saguaro cactus of classic Western movies fame, are tiny petals of lapis and dewdrops of diamonds.
Then, with rounded spheres created with an openwork of dots of gold that swirl in on each other, Cactus de Cartier's plain gold and diamond editions pay homage to the squat barrel cactus. Within this line are large cocktail rings, an oversized pendant and drop earrings that each have discrete clusters of white diamonds on top. 
Cartier describes the cactus as "rebellious and resistant, tempting and haunting", and while it may seem like a prickly choice when placed next to the more traditionally beautiful blooms in the Cartier archives, this precious reimagining of an often undervalued succulent has us completely enchanted. 
The new Cartier de Cactus jewels on display at the launch party at the Palais de Tokyo in Paris earlier this month. 

Spanish actress Rossy di Palma and Italian socialite and Cartier ambassador Bianca Brandolini accessorised with Cactus de Cartier jewels.

Actress and model Annabelle Belmondo took the botanical theme to heart at the launch of Cactus de Cartier in Paris. 

Soul singer Theo Lawrence performed on the terrace at the launch of Cactus de Cartier in Paris.